We're into the heart of vacation season in America, where sunny weather and summer temperatures have us all wondering where we can go and explore. Over the past few months, lots of new hotels opened to entice us to different corners of the country: a Hollywood hangover pad, cool long-stay apartments in a historic Detroit skyscraper, a glamping resort in wine country, the new Neighborhood of Play (explained below) and lots more. Let these nine cool new hotel openings inspire you to get out there this summer.
Hotel Genevieve – Louisville, Ky.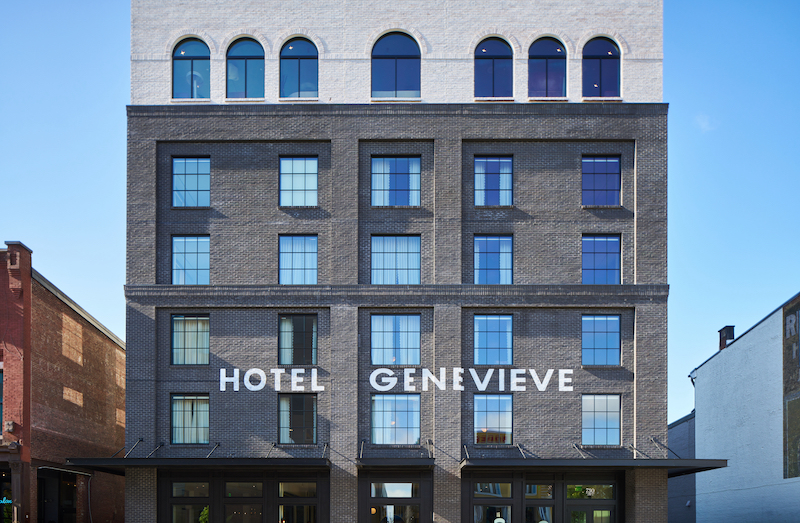 The Bunkhouse group brings its sense-of-place touch to Louisville, where pastel pinks and forest greens welcome you to a hotel that is distinctly Louisvillian. The lobby art gallery has an entire section devoted to Louisville's quilting culture, and the restaurants from James Beard nominee Ashleigh Shanti all pay homage to the city's Black community. You could spend an evening at the sprawling rooftop bar, which serves French-inspired street food, and you can end the night at Lucky Penny, the Genevieve's late-night speakeasy. During the day, take an art walk through the NuLu neighborhood with Rabbit Hole Distillery, and take in the area's rotating collection of murals.
Hampton Inn & Suites Rochester Downtown – Rochester, N.Y.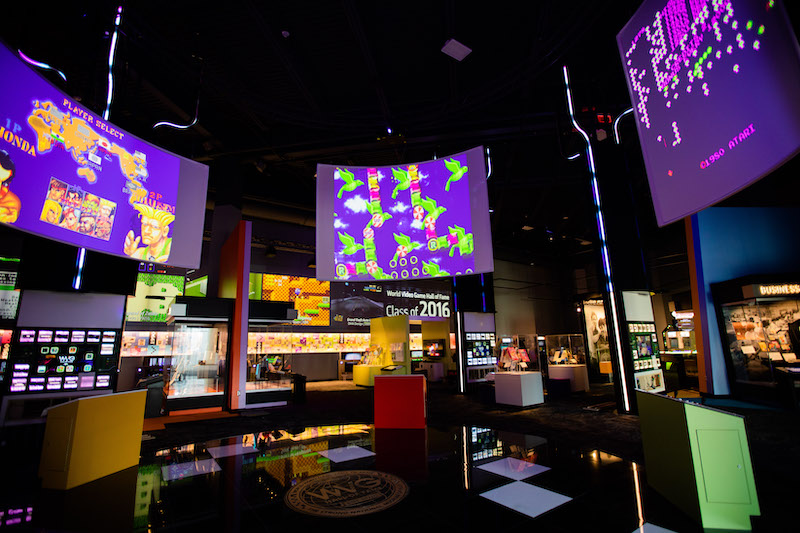 Typically, a Hampton Inn opening in Western New York isn't really cause for attention in the world of new hotels. But this new property anchors Rochester's groundbreaking Neighborhood of Play, centered around the 90,000-square-foot expansion of the Strong National Museum of Play. It features the World Video Game Hall of Fame and 17,000 square feet of outdoor exhibit space where you can learn how board games shaped our culture from a giant Monopoly dog, life-sized Candyland props and fire-breathing dragons. There's also — get this — 24,000 square feet of exhibits on video games, where you can step inside a game and be the main character! Cool. And all of it is just steps from the breakfast buffet at its centerpiece Hampton Inn.
Huttopia Wine Country – Lower Lake, Calif.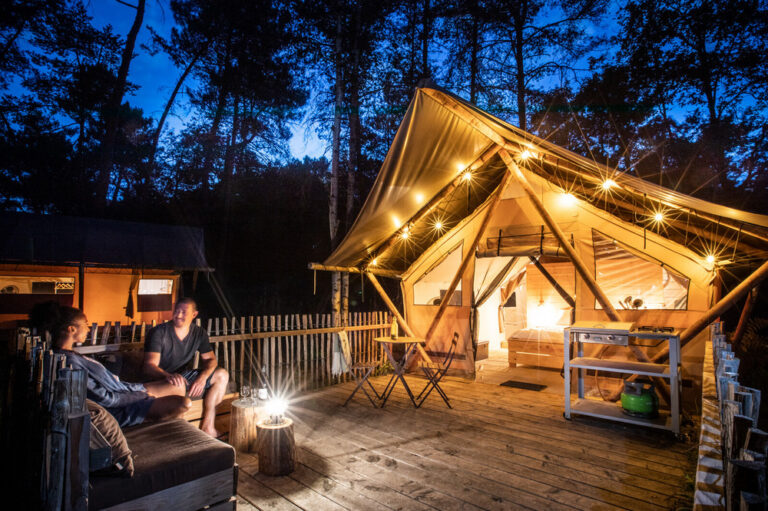 Trips to California Wine Country can be prohibitively expensive, especially if that trip involves staying overnight. That changes a bit with the opening of this new glamping resort set not far from Napa and Sonoma valleys. You and your crew can post up in five-person, two-bedroom tents complete with kitchen kits, sitting room and full bath. You can also hang out at the sunny outdoor pool set in the shadows of the Northern California hills, or grab food from an Airstream food truck with wine from nearby Six Sigma Ranch and Winery.
Kimpton: The Forum Hotel – Charlottesville, Va.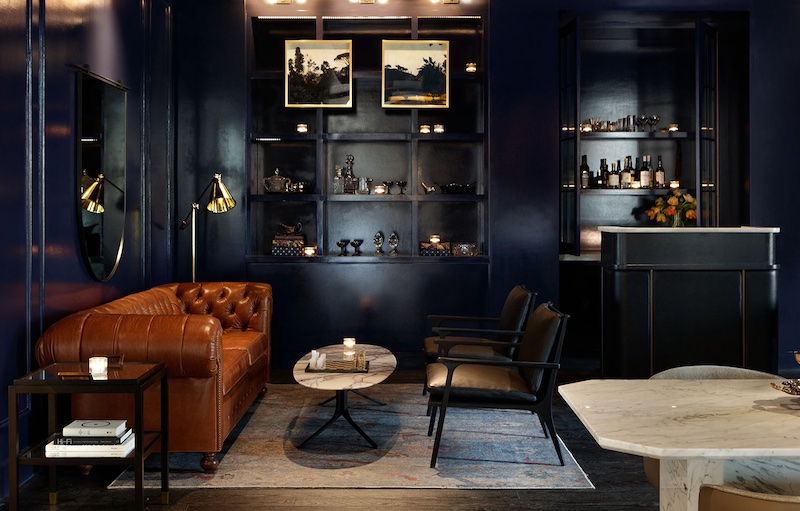 Say what you will about Harvard and Wharton, they don't have an on-campus Kimpton. But you know who does? The University of Virginia's Darden School of Business, which added the new Forum Hotel in April. The space sits inside the fabled red bricks and white columns of the scenic Charlottesville campus, with an upscale modern steakhouse at Birch & Bloom and a craft beer bar at The Good Sport. Hoos (that's the unofficial nickname for UVA fans) will delight in strolls through The Forum's botanical gardens when the weather is nice. And when it's not, they can actually go to class inside the hotel, as it offers state-of-the-art classrooms for America's next generation of business titans.
The Manchester – Lexington, Ky.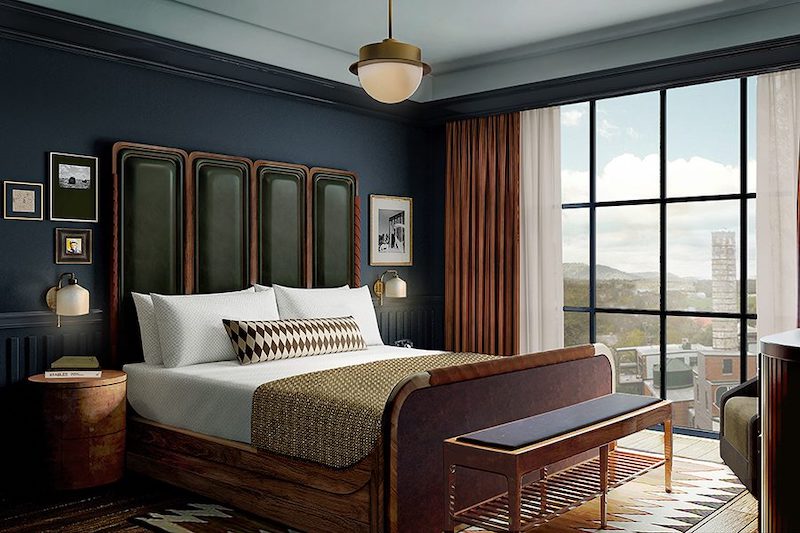 The coolest new interiors of spring are at this equine-inspired spot in the heart of Lexington's Distillery District. The design was inspired by the city's historic rickhouses, but when combined with the earthy colors of the region look like a throwback to deep 1920s and '30s luxury. Though the rooms may tempt you to never leave, guests would be remiss to skip the on-site restaurant Granddam, where traditional Appalachian dishes get a modern refresh with stuff like black-eyed-pea -and-ham empanadas and wild boar with cornbread pangrattato. The rooftop bar, however, is a flamingo-filled tribute to Florida, where tropical cocktails and jerk chicken lollipops await.
Moxy Virginia Beach Oceanfront – Virginia Beach, Va.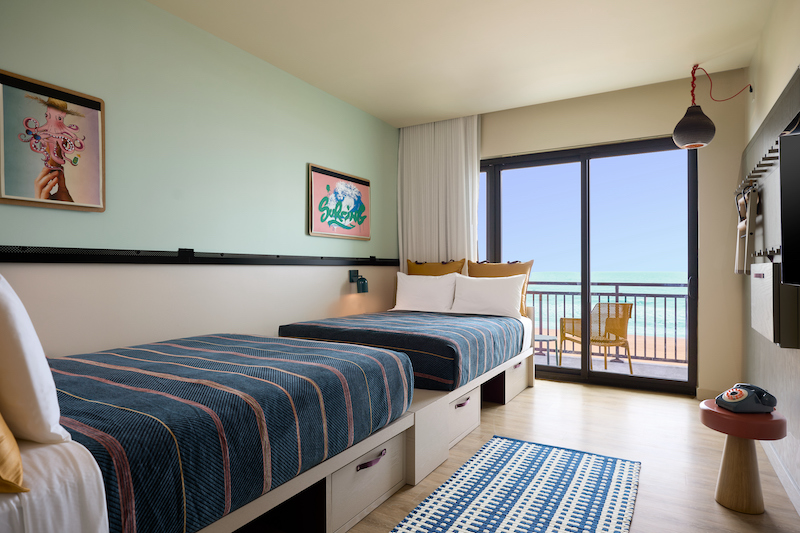 The sleek Moxy brings its playful lifestyle brand to the shores of Virginia Beach with a seven-story, 134-room beachfront gem. Among the cool features you'll find is a two-story slide, where you can literally careen down into the lobby before grabbing the customary check-in cocktail. The quirky ground floor is also filled with a Ferris wheel car, pedi-cab, hammocks and egg chairs. Upstairs, almost every room has an oceanfront balcony, and the gym looks out on the water too, meaning you'll never feel far from the sea.
Palihotel Hollywood – Los Angeles, Calif.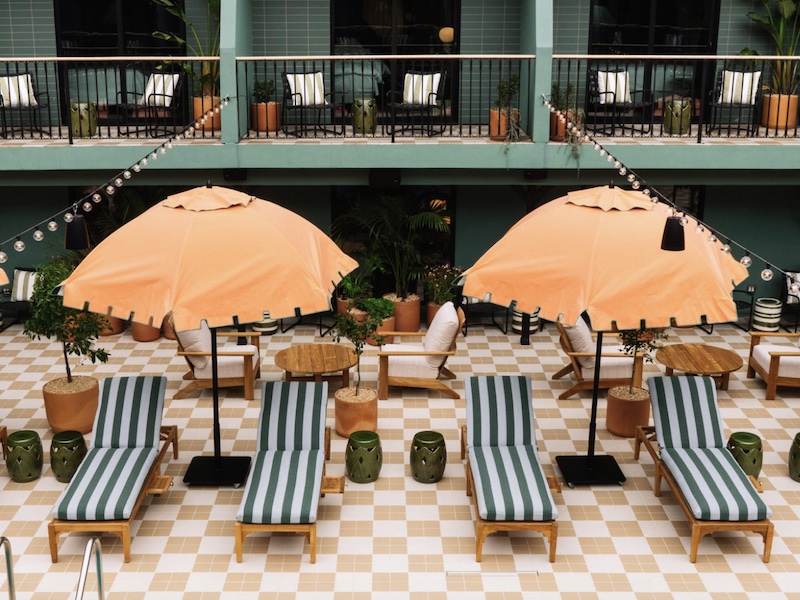 Looking to rage during a big night out on the Sunset Strip? Might we suggest basing yourself out of the new Palihotel just blocks from Hollywood and Highland, in this rapidly changing part of L.A. The restored two-story motor lodge offers a special Night Owl room category, which comes with blackout curtains, late checkout and a gift card to In-N-Out Burger next door. The place is fun even if you're not nursing a hangover, with pastel hues and decorative nods to the Golden Age of Hollywood. There's also a central pool open to guests only, so if your recovery method of choice is chilling by the pool with shades on, the Palihotel has you covered.
Penny Williamsburg – Brooklyn, N.Y.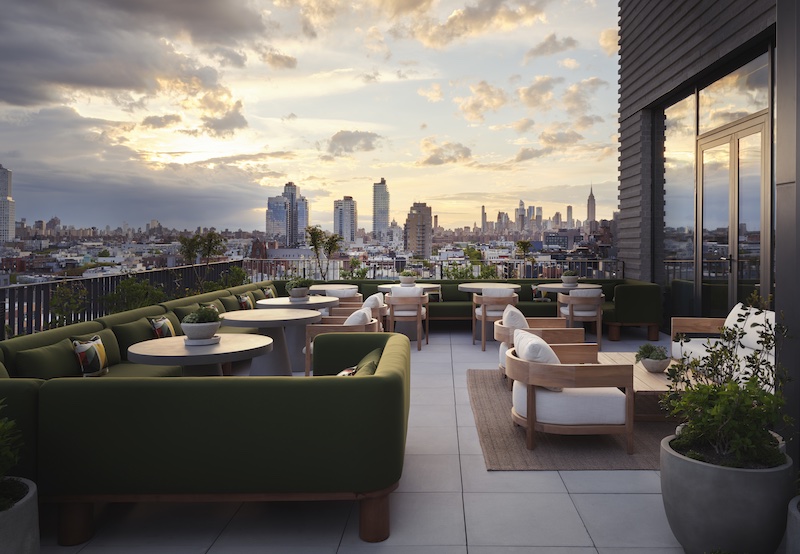 New York's onetime hipster enclave just opened a hotel with rooms bigger than a lot of NYC studio apartments. Granted, that's a low bar, but the Penny uses its space efficiently, fitting full kitchenettes, a king bed, full bathroom and desk with plenty of places to unpack too. The Penny's first rotating art exhibit is a childlike, cartoonish take on classic rock and pop album covers, which extends from the lobby into the upstairs hallways. The real show-stopper, though, is the rooftop restaurant ElNico, where a broad patio boasts panoramic views of the Manhattan skyline and tropical fruit margaritas.
Roost Detroit – Detroit, Mich.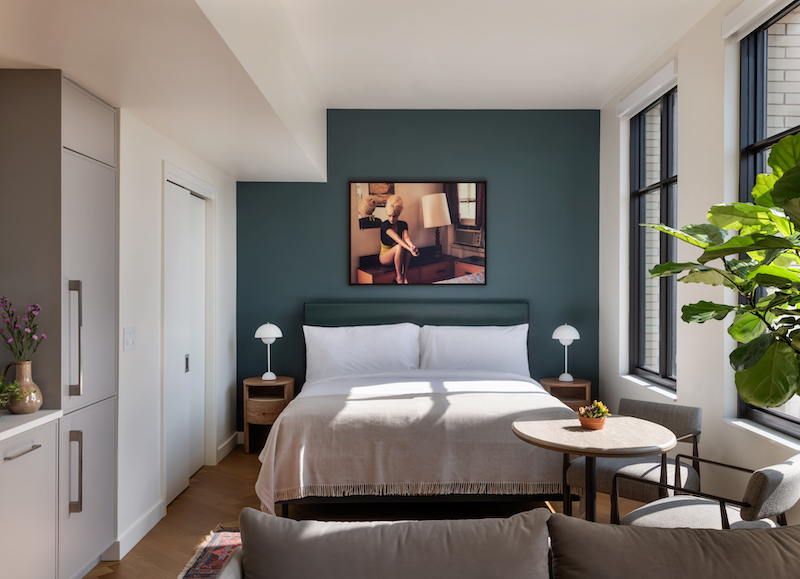 Roost brings its brand of modern, extended-stay apartment hotels to the iconic Book Tower building in downtown Detroit, adding another architectural gem to its portfolio. The common areas are every bit the early-20th-century gothic grandeur and arcade-style ceilings that were synonymous with Rust Belt royalty. Upstairs, 117 apartments are adorned in midcentury-modern décor, with flat-screen TVs, stainless steel appliances, hardwood floors and full kitchens. Though the restaurants aren't open quite yet, by the end of the year look for a French concept, Japanese izakaya and a rooftop bar.