CaveFest is a new festival in a very old location. Nowadays, The Caverns is best known as a unique subterranean music venue, but some anthropologists believe the massive cave system has been sheltering humans for as many as 25,000 years. CaveFest is the second annual celebration of the underground concert hall's coveted acoustics, and what better way to listen to an earth-shaking bass line than being 500 feet below the earth?
The folk and bluegrass music festival's inaugural year set the tone with folk A-listers Yonder Mountain String Band and Rising Appalachia. This year promises to be just as string-heavy thanks to The Infamous Stringdusters, Three Tall Pines, and The Lil Smokies. CaveFest is also unique in that it hosts an annual artist-in-residence (Lindsay Lou, this year) who not only plays their own set but also sits in with other artists to collaborate and jam.
Speaking of jamming, The Caverns puts on daily open jam sessions, cave yoga (it's pretty much what it sounds like) and guided cave tours. For the claustrophobic or the mobility impaired, there's a second stage above ground, as well as the usual food trucks and merch vendors. Unfortunately, there's no subsurface camping option yet, so a site with a view of the beautiful Cumberland Plateau will have to suffice.
The Specs
CaveFest does not publish its attendance numbers, but tickets were sold out last year.

General Admission tickets for the three days start at $149 with camping. VIP camping tickets will run you $549.

The Caverns made our list of coolest places to see live music. Check out the

full list here

. And here's Fifty Grande guide to Tennessee.
FAQs
Which airport is closest to the festival grounds?
Chattanooga Airport (CHA) is 70 miles away.
How far is it from Nashville to Pelham?
Pelham is about 80 miles southeast of Nashville.
What is the exact address?
The Caverns, Home of Bluegrass Underground, 555 Charlie Roberts Rd, Pelham, TN 37366, Pelham, TN, 37366, US
What is the fest bag policy?
Small clutches 4.5" by 6.5" are allowed. Larger bags up to 12" by 12" by 6" must be transparent.
Is the festival ADA accessible?
While accessible parking is available onsite, further accommodations require special approval due to the rugged nature of both the caverns and outdoor venues.
Can you camp at the festival?
Yes, there is on-site camping. The on-site campground is a short walk along a wooden footpath to The Caverns music venues. Visit thecaverns.com for more info.
Who is headlining Cavefest 2023?
Sam Bush, Leftover Salmon, The Infamous Stringdusters, Peter Rowan, The Travelin' McCourys are headlining the fest. Headliners will play in The Caverns Amphitheater which can host 6,000 guests per show.
Which artists are on the Cavefest 2023 lineup?
The 2023 lineup includes Sam Bush, Leftover Salmon, The Infamous Stringdusters, Peter Rowan, The Travelin' McCourys, Jim Lauderdale, Town Mountain, The Lil Smokies, Lindsay Lou, Sam Grisman Project: Plays Garcia/Grisman's Shady Grove Album, Jon Stickley Trio, Rob Ickes & Trey Hensley, Larry Keel Experience, The HillBenders: Play WhoGrass, Sicard Hollow, Big Richard, Fireside Collective, Airshow, Two Runner, Pert Near Sandstone, Pixie & The Partygrass Boys, Volunteer String Band, Off The Wagon, Three Tall Pines, Johnny Campbell Band, Big Daddy Love, Tree of Forgiveness – A Tribute to John Prine, Hudost, and Wyatt Ellis & Friends.
2023 Poster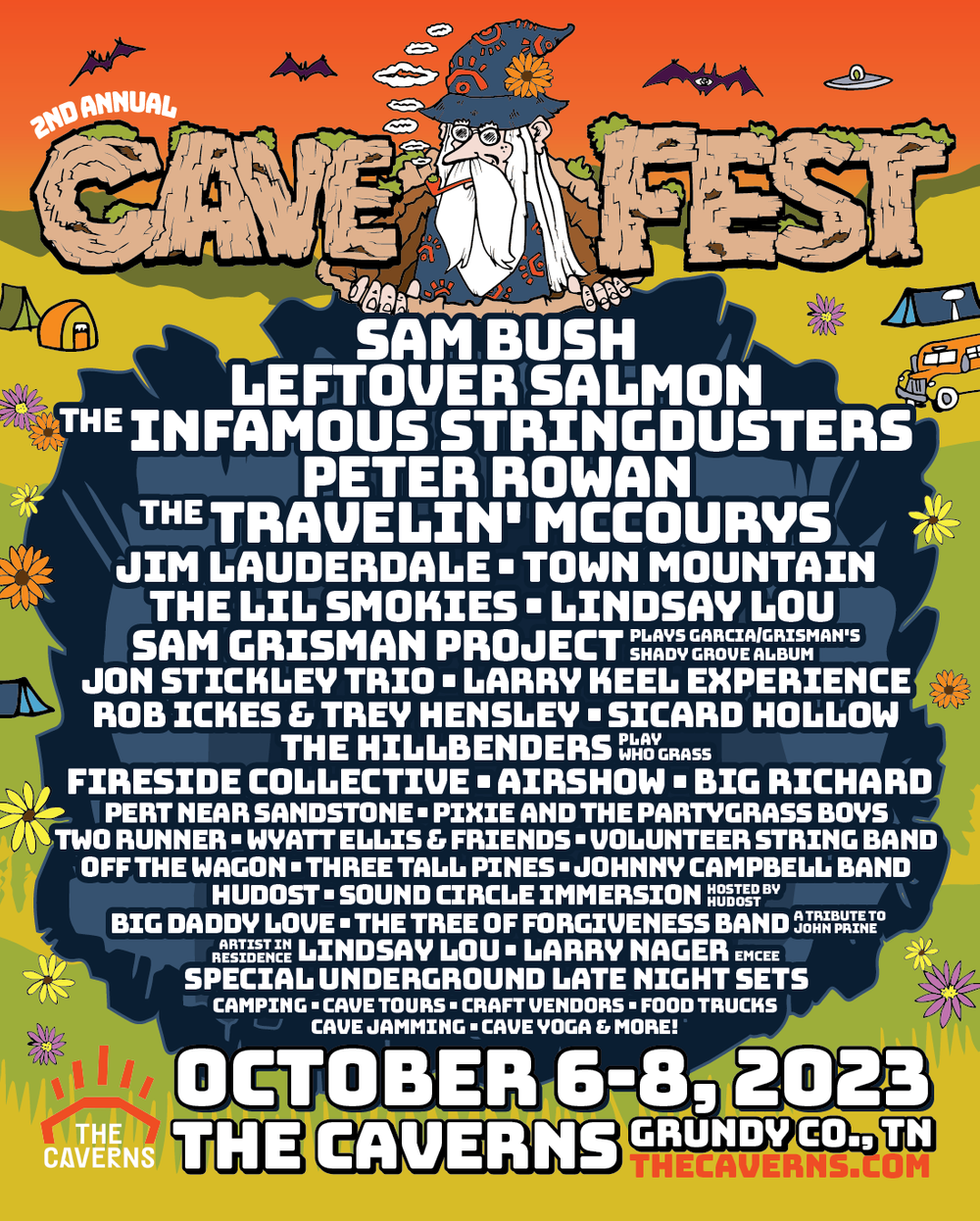 Videos