At some point this summer, you've undoubtedly seen an Instagram story of someone in the upper reaches of a football stadium taking video of a distant speck that may or may not be Taylor Swift. That stadium show experience seems to be more than fine for Swifties, though if you prefer your live shows in a more personal setting, small, independent venues can provide a very different vibe. There are, of course, the legendary clubs in LA, Seattle, New York and Austin. But some American venues have taken old spaces and turned them into truly unique places to watch live music: underground caves and sunny wineries, former salt mines and abandoned baseball parks, and more. Here's a look at some of the most unique live music venues in the country.
Burning Hills Amphitheater – Medora, N.D.
Though you won't see many big acts coming through Medora, North Dakota (population: 117), catching a performance of the Medora Musical at this 2,800-seat amphitheater is a quintessential American experience. Set in the hills just outside Theodore Roosevelt National Park, the amphitheater looks out over the town and the badlands beyond providing a stunning backdrop for the annual summer revue. A giant wood sign reading "Medora" sits on a bluff just behind the stage, and during the show it's not unusual for an elk or two to wander to the top of the letters and pose for pictures for the audience below.
The Caverns – Pelham, Tenn.
The echoing nature of caverns make them natural spaces for live music, but only this 8,000-linear-foot system in Tennessee's Pelham Valley has created a venue on this scale. Deep below the surface, Big Mouth Cave is equipped with state of the art sound and room for up to 1,200 people, where guests can dance among stalactites and stalagmites and revel in the sounds echoing off the walls. The setting is so unique it spawned an entire PBS TV series called "The Cavern Sessions." If you want to check out the venue or the rest of the cavern system, both are open for tours seven days a week.
Chateau Ste. Michelle Winery – Woodinville, Wash.
Long before Chateau Ste. Michelle was a fixture on menus and supermarket shelves nationwide, Seattleites knew it as the beautiful little winery that hosted small summer concerts. Both the winery and the concert venue have expanded considerably since Washington's wine boom, but guests can still pull up lawn chairs and picnic baskets and enjoy a show surrounded by the evergreens of Western Washington. Don't expect Metallica or Bassnectar here, it's still a winery after all. If your idea of a perfect summer evening is a bottle of Washington Chardonnay and the sounds of James Taylor, however, Chateau Ste. Michelle is just about perfect.
Ghost Baby – Cincinnati, Ohio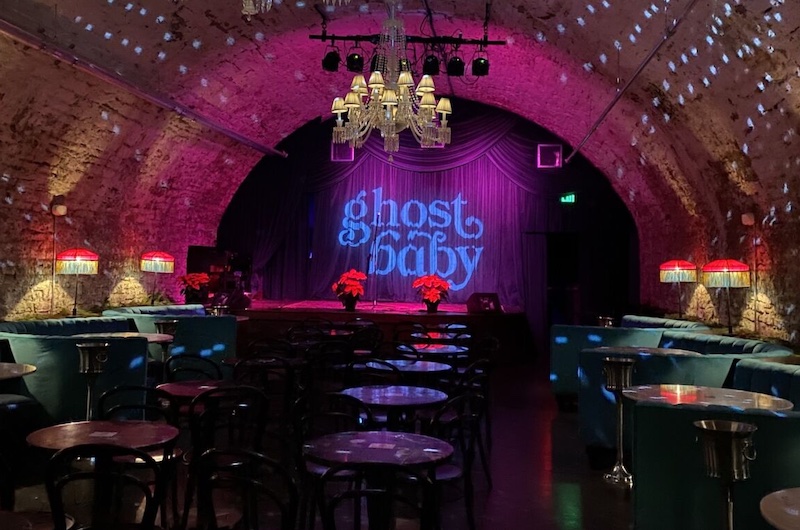 Cincinnati's Over-The-Rhine neighborhood is one of America's great comeback stories. The one-time German immigrant enclave was restored to its Italianate glory. Its former inhabitants once stored beer in brick caves five stories below street level, and while most are now closed off a couple now serve as the Queen City's coolest live music venue. Ghost Baby sits down several flights of stairs from a nondescript light in an alleyway, leading into a long bar under an arching cave. The bar room leads into the main theater, where booths and banquettes sit around a main stage like a 1920s cabaret. The drinks are almost as much a draw as the live bands, so leave some time before the show starts to enjoy a couple of original selections off the craft cocktail menu.
Hartford Healthcare Amphitheater – Bridgeport, Conn.
When the Bridgeport Bluefish minor league baseball team hightailed it for High Point, N.C., the city was left with a big, empty stadium in the middle of the city. Rather than let it sit derelict, developer Howard Saffan instead took the opportunity to give Bridgeport a one-of-a-kind music venue, and transformed the old ballpark into a stunning, state-of-the-art amphitheater. The old baseball seating remains, but through the use of 500 slabs of porcelain it's now an elegant place to catch a concert, with bathrooms that now look like they belong in a European luxury hotel. The outer wall went from drab concrete to natural stone, and today the venue hosts major acts from Rod Steward to Modest Mouse.
Kalamazoo State Theatre – Kalamazoo, Mich.
During the 1920s, many cities opened grand, palatial theaters to host touring vaudeville and other acts. Though the theaters in large cities still remain, few of the smaller ones have endured in their original splendor. However, travel to Kalamazoo, Michigan and you'll find one of the most stunning architectural venues in the country, where you'll feel like you're watching a show in the midst of a classical Spanish garden. The European design has been masterfully preserved thanks to a "Save the State" campaign in the 1980s, which preserved this Kalamazoo landmark for generations to come. Though the city is small, the venue has pulled everyone from The Temptations to Britney Spears.
The Old Church Concert Hall – Portland, Ore.
Nobody repurposes quite like Portland, especially when it comes to churches. Not only is the city home to a full-scale brewery in an old church, it also offers this venue, set in an 1862 structure that's on the National Register of Historic Places. The Carpenter Gothic building was saved through the efforts of community activists in 1968, and now hosts community programs along with dozens of live music events. You'll find everything from jazz to lunchtime classical concerts to story slams inside the church walls, and it remains a cornerstone of Portland's creative West End.
Red Butte Garden – Salt Lake City, Utah
It's not quite Utah's equivalent of Colorado's legendary Red Rocks, but this botanic garden on the University of Utah campus is stunning on a much smaller scale. Guests can stroll through over 21 acres of gardens and five miles of trails, literally stopping to smell the roses and over half a million blooms in springtime. As night falls on the garden, concerts light up the night in front of the rolling foothills. And though it's best experienced during summer, hit a winter concert and you'll see snow-capped mountains in the distance and score half-priced admission.
The Salt Shed – Chicago, Ill.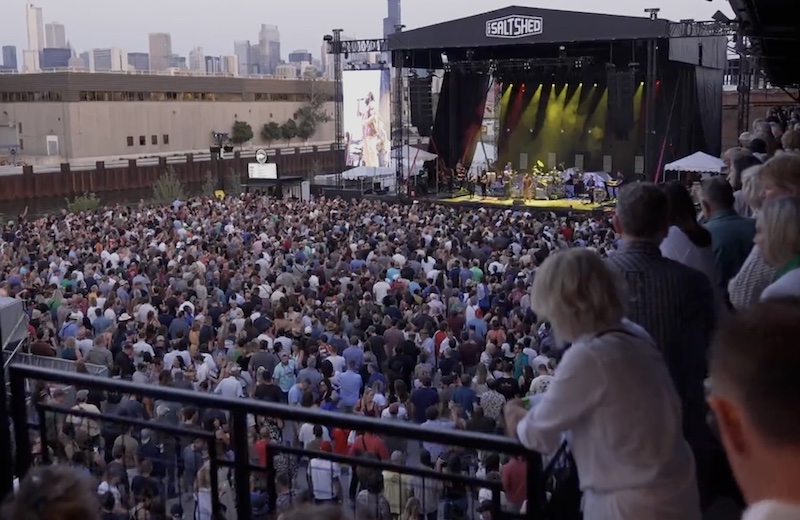 Most of Chicago's historic icons, spots like Wrigley Field and the Tribune Tower, still get regular use. This wasn't the case for the Morton Salt factory, which for years was probably the Windy City's most recognizable abandoned building. Then in 2022, it was reborn as The Slate Shed, a creative hub whose centerpiece is the old factory building repurposed as a multi-story music venue. Now, you can catch a show from the rafters where salt once flowed onto the factory floor, and immerse yourself in history while lasers and strobes flash around you. During summer, the adjacent Fairgrounds outdoor space also hosts live concerts, set in the center of the sprawling industrial campus.
Stone Church – Brattleboro. Vt.
The winding main drag of picturesque Brattleboro, Vermont leads to this stately church that dates back to 1875. The latest incarnation is a destination venue for mid-sized acts touring through the Northeast, where the acoustics of the All Souls Unitarian Church provide an immersive listening affair. The restoration of the place was painstaking, and if you happen to stop in during the day, take the time to walk around and see how the venue used original fixtures to retain the Gothic revival architecture.
White Eagle Theater – Jersey City, N.J.
Perhaps you've heard of legendary high school basketball coach Bob Hurley, who guided many of his players from Jersey City's St. Anthony's High School to the NBA. The floor his team once played on has been repurposed as a bar and balcony flooring at this intimate venue that was built in 1910. The small space fits only about 800 standing, all crammed under towering stained glass windows depicting Frederic Chopin and former Metropolitan Opera star Marcella Sembrich. The theater is so well preserved that in 2017 it won the Excellence in Preservation Award from the Jersey City Landmark Conservancy.