For most, the months from June to December are simply the seasons of summer sun and pumpkin patches, but for Florida residents, they are also hurricane season. These storms can form at any time, but June 1 to November 30 is the busy period for tropical whirlwinds. Along with the defrosting of Mariah Carey, December 1 marks the end of cyclone cynicism, and for the past six years, Coast is Clear has celebrated the end of another stormy season in Key West with a music festival. 
Coast is Clear first began as a local fundraiser, a series of house shows organized by Coast Projects, then an artist collective from Stock Island, to raise money for Floridians affected by Hurricane Irma in 2017. Coast Projects has grown alongside its festival, expanding from a small fringy collective to a lifestyle brand and event organizer that, in addition to Coast is Clear, hosts a series of monthly concerts in the Florida Keys. 
Folk, indie and Americana musicians from all over the United States, including Futurebirds, Thom LaFonde and Handmade Moments, will descend upon the Keys to play Coast is Clear in 2023. In line with its grassroots nature, the four day festival stretches along a variety of venues in Bahama Village, with film screenings breaking up the live music.
The Specs 
Attendance numbers are not available.
Four-day pass cost $275. Single day passes are not available at the time of this writing, but last year cost $125.
FAQs
What is the closest airport to Coast is Clear?
Key West International Airport is just under four miles from Bahama Village. 
Where is the festival held?
The festival is mainly held in Bahama Village in the Florida Keys. 
What kind of bag can I bring into Coast is Clear?
Bags under 20" x 20" x 10" are permitted, and will be searched. 
Which artists are on the Coast is Clear lineup?
Futurebirds, Handmade Moments, Electric Blue Yonder, Thom LaFond, The Skank, East Austin Ramblers, John Craigie, Rainbow Girls, Scott Ballew, Daniel Milewksi, Old Town Coast, Nashville Dollys.
2023 Poster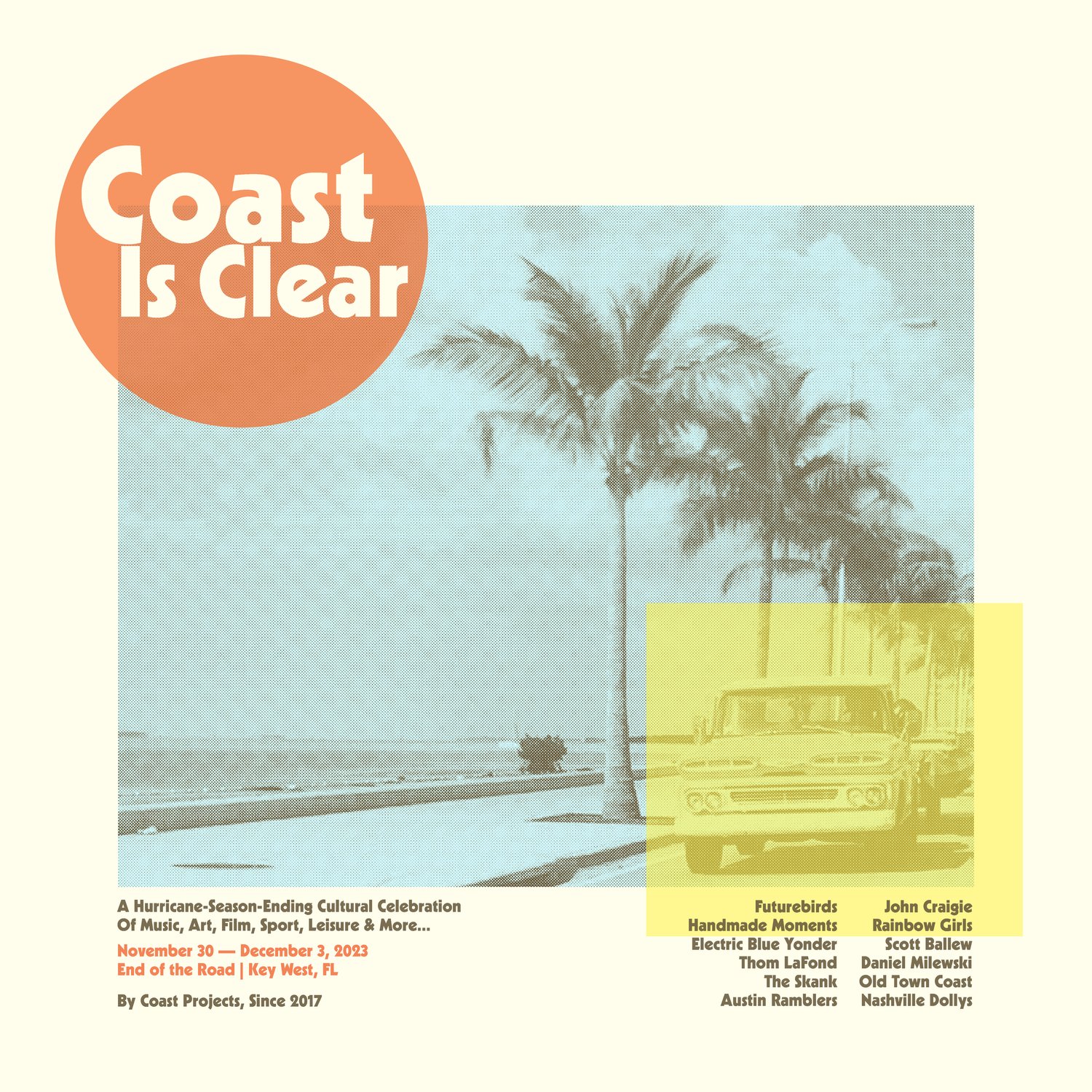 Videos