If the human hive mind had a physical analog, it would look something like the crowds at Dreamstate, a trance music festival that uses the genre's strident peaks and big bass drops to send its listeners into a buzzing frenzy. For those not yet conversant in EDM, the festival's trappings may appear typical — futuristic costumes, strobing lasers and synths for days — but trance music is generally more melodic, more ethereal and slower to crescendo than its house or techno cousins. Compared to the industrial noises of, say, drum and bass or dubstep, its vibe is lighter, higher-energy, what hopes to be a distinctly utopian expression of collective consciousness.
Dreamstate reels in so many acts to fill its two-night, four-stage spectacular that you'll find every niche of trance music accounted for. This year, among the familiar names who have graced the festival before — names like Armin Van Buuren, Infected Mushroom and Vini Vici — there are also newcomers on the roster, including Amy Wiles and Pretty Pink. Dreamstate attracts the best DJs in the genre in part because its fan base has remained consistent since 2015. Insomniac, the brand behind the festival, is also responsible for Electric Daisy Carnival, Beyond Wonderland, Moonrise Festival and many other raves and EDM experiences around the world. If you can't catch this year's festival, the hive mind will still be here next time.
The Specs
Over 26,000 people attended last year

Two-day General Admission tickets cost $190 before taxes, VIP tickets cost $340

Fans of "Euphoria" can make use of our

guide to the show's filming locations

in Los Angeles. And here is our guide to California. 
FAQs
Which airport is closest to the festival grounds?
The Los Angeles International Airport (LAX) is 23 miles away.
What is the bag policy?
Single-compartment bags no larger than 12" by 12" are permitted.
Is the festival ADA accessible?
There is no information about ADA accessibility on the festival website.
Which artists are on the festival lineup?
This year's lineup includes Ace Ventura, Alchimyst + Whiteno1se, Aly & Fila, Amy Wiles, Andrew Bayer, Armin Van Buuren, Astrix, Atdusk, Ben Gold + Ciaran McAuley, Billy Gillies, Blazy & Vegas, Bryan Kearney, C-Systems, Captain Hook, Coexist, Cosmic Gate, Craig Connelly + Factor B, David Forbes + Renegade System, David Rust, Daxson, Dustin Husain, Electric Universe (Laser Harp), Fatima Hajji, Ferry Corsten, Fleming & Lawrence, Gareth Emery, Giuseppe Ottaviani, GVX, Indira Paganotto, Infected Mushroom, Jerome Isma-ae, John O'Callaghan + Giuseppe Ottaviani, Jorza + Taylor Torrence, Key4050, Khromata, Klangkuenstler, Lane 8 + Yotto, Liquid Soul, Maddix, Mark Sherry + Indecent Noise, Marlo (Tech Energy), Matt Fax, Mauro Picotto, Miyuki, Morten Granau, Mr. Brooks, Omiki, NILSIX, Paul Denton, Paul Oakenfold, Solikien, Pettra, Pretty Pink, Reality Test, Richard Durand, Rina Mirai, Robert Nickson, Ebenezer, Sean Tyas, Shlømo, Alt_1, Somna, Hybrid Live, RRAW!, Terra, Trym, Vini Vici, Will Atkinson, Yoji Biomehanika + Scot Project, Genesis.
2023 Poster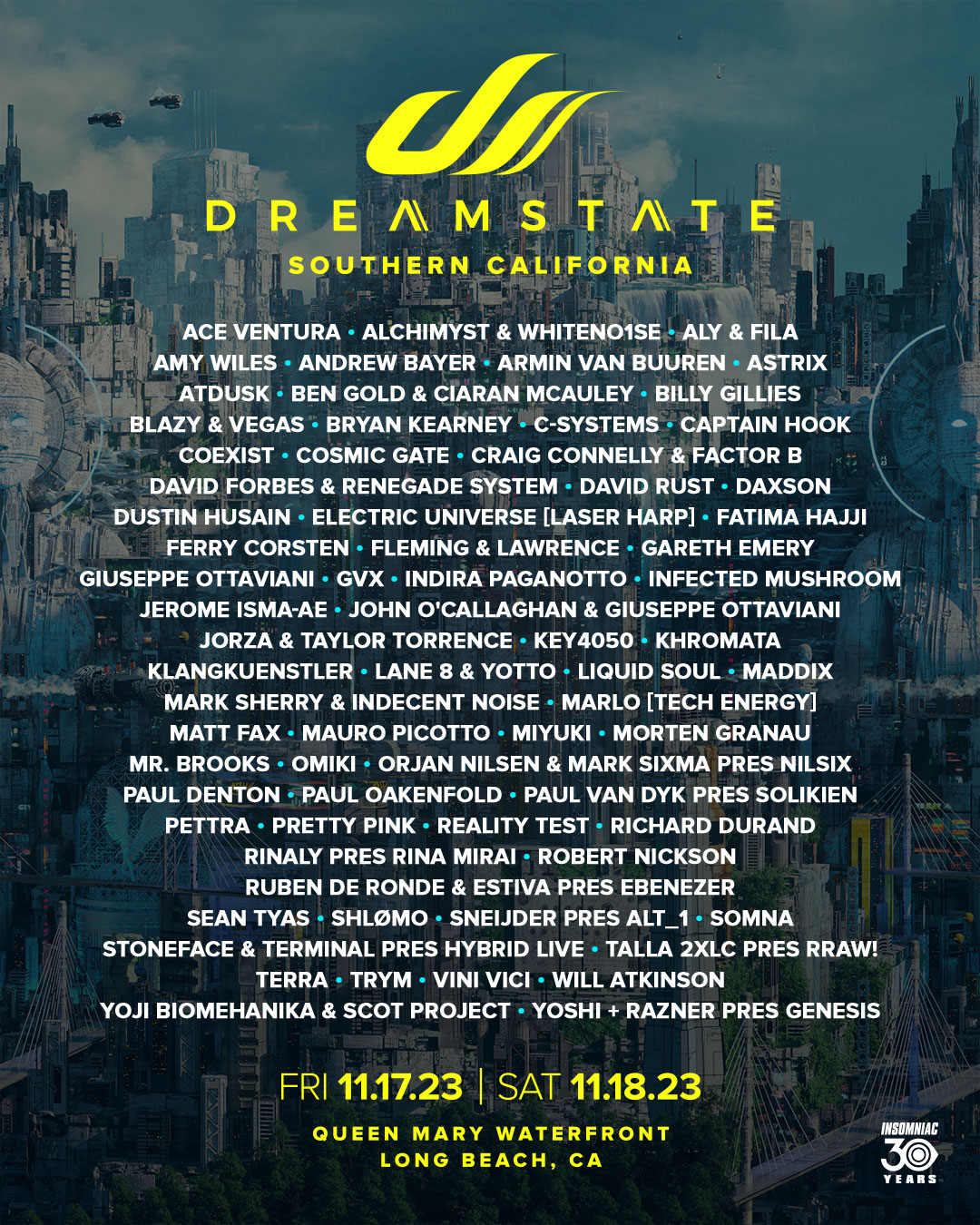 Videos
#dreamstate2023 on TikTok