Head deep into West Texas, past the Pecos River, into the Chihuahuan Desert, and you'll get to Marfa — a former Army base turned Wild West acid trip. It's a town with a legacy of and growing reputation for experimental art. Now in its 17th year, the El Cosmico Trans-Pecos Festival of Music + Love brings together and celebrates the many layers of Marfa, and West Texas: retro rock, ranching culture, avant-garde art, sandlot baseball (?) and bohemian self-expression. This year, Spoon, Neal Francis, and The Heavy Heavy are headlining the weekend of live music, so expect experimental and lyrical rock, plus a little grunge. 
The festival takes place at El Cosmico, a funkadelic glamping resort from the mind of Liz Lambert, Austin's "Queen of Cool" and expert in pampering. If you're looking to reinvent yourself (physically, at least), this festival might be the place to do it. Make an appointment at the pop-up desert spa (El Cosmetico) or barber shop (El Cosmicuts), or get yourself inked up with a new tattoo. Update and up-cycle your wardrobe with vendors like La Ropa Vintage and GLOR coats. 
Plus, you can learn an eclectic range of new skills in the festival's daytime workshops. In the words of Stefon, this festival has everything: how to do the 2-step and Texas line dancing, horseback riding, bandana dying, regional archeology, art activism, joint-rolling, lasso class, cosmic journeying (had to Google that one). Check out all of the workshop offerings here. The fest will also host day parties, a vendor marketplace and food trucks.
Let the West Texas Music + Love transformation begin. 
The Specs
FAQs
What is the closest airport to El Cosmico Trans-Pecos Festival of Music + Love?
El Paso International Airport (ELP, 190 miles from Marfa and approximately a three-hour drive). Other options include flying into Austin or San Antonio (6 hours away). You'll need to rent a car. 
What's the address?
802 South Highland Avenue Marfa, TX 79843
Can I stay at El Cosmico during the festival? What if it's full, or I don't want to camp? 
Yes, You can book one of El Cosmico's regular lodging offerings (including glamping tents, safari tents, retro trailers, and yurts), and purchase music passes separately. 
They also offer two special festival accommodations: the "Get Out" tent ($1000, includes two GA passes. They set up a swanky tent for you, but don't give you bedding, but you get to take the tent home. Impractical unless you are an Instagram car camping influencer, tent collector, and/or enjoy flying with an inflatable mattress). And the "Shelter Co." tent ($1900, includes two GA passes. Includes a queen bed set-up, lanterns, and lounge furniture.)
If you're looking for something more traditional, Marfa offers several other boutique hotels within close driving or biking distance to El Cosmico. 
Also note: If you plan to stay on-site in your own tent, you need to purchase a Music + Camping ticket.
Are there Shelter Co. tents available? 
Yes. There are furnished Shelter Co. canvas tents available with amenities at this year's festival. Each 13′ canvas tent sleeps two and comes with a full-size bed including a mattress and bedding, lounge furniture, an area rug, side tables and lanterns. The bed and two music-only tickets is $1900 (plus taxes, fees).
Dogs and kids? Who can I bring? 
Breaking news: you can bring your well-behaved music fanatic basset hound. And yes, kids 12 and under don't require a ticket. It's a fucking steal. Find other children to bring if you don't have your own. And dogs. And your dog's children. Put them all in one of those huge tents. 
When is the early bird sale?
The early bird sale already closed as of September but you may be able to find someone selling their early bird tickets via Craigslist or another platform if you can not afford the full price. But, buyer beware when purchasing from anyplace that's not the official event seller.
Will there be a sandlot baseball game this year? 
The annual sandlot baseball game is happening.
What is the Breakfast Revival?
It's an annual benefit for Marfa Public Radio that happens at the festival. This year it is scheduled for Sunday, October 1, 2023 and free for all festival ticket holders.
Who are the headliners at El Cosmico this year? 
The headliners are Spoon, Neal Francis, and The Heavy Heavy.
Which artists are on the El Cosmico Trans-Pecos Festival of Music + Love Festival lineup?
Spoon, Neal Francis, The Heavy Heavy, Meshell Ndegeocello, Ben Kweller, The Suffers, Mexican Institute of Sound, Jess Williamson, Kara Jackson, Heartless Bastards, Robert Ellis, Ross Cashiola, Hello Aqui and the El Cosmico Family Band featuring David Garza, Tift Merritt and Tina Schlieske.
Poster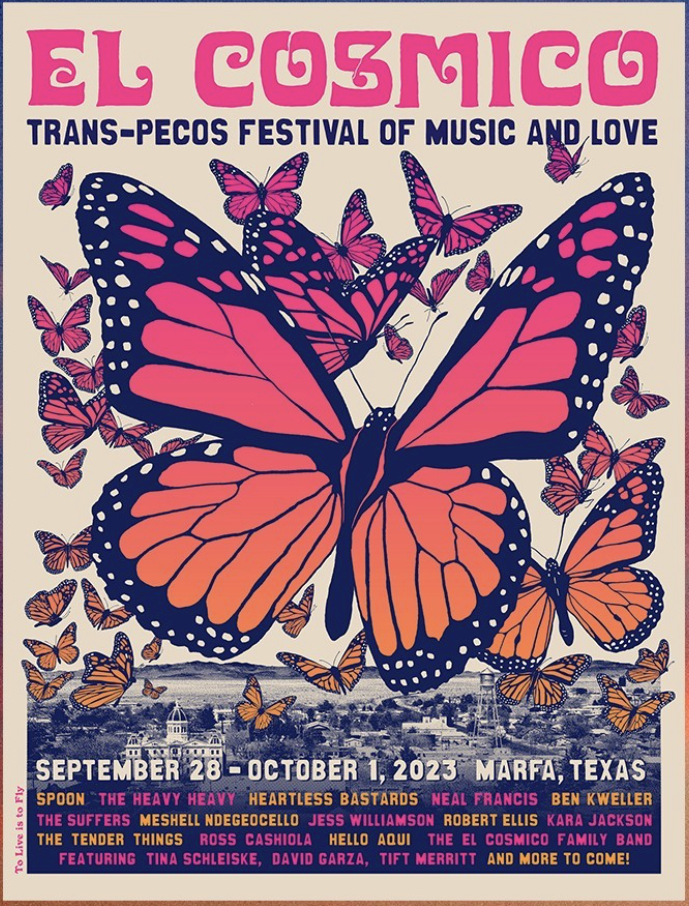 #elcosmico on TikTok