What better way to celebrate Halloween than being terrified for your eardrums? At Freaky Deaky Portland, the bass is so loud it literally vibrates your body. It's a riot to dance to, just remember to wear earplugs. (I've gone to bed with ringing in my ears one too many times.)
Halloween is a fitting time for Freaky Deaky Portland; the music festival lineup is full of artists that specialize in dark, heavy, exceedingly high-energy dubstep. Some acts, like Mersiv and Svdden Death, specialize in the classic mainstream dubs of the early 2000s, while others, like Kumarion, weave in drum and bass and UK grime. In an industry dominated by men, be sure to catch the female DJs rocking the decks, like CloZee and Level Up. 
Ravers are known for dancing with light-up objects and finding elaborate ways to wear the least amount of clothing. Last year, festival-goers wore fishnets and pasties, dead clowns masks with pink knotted hair and armfuls of neon, beaded bracelets. Definitely get creative, but be sure to check Freaky Deaky's list of things that you can and cannot bring. Just to name a few, flow toys like poi and hula hoops are allowed, but the music festival event staff ask that inflated toys like blow-up balls, pacifiers, stuffed animals or light sabers are left home.
The Specs
The Portland Expo Center has space for up to 9,000 people, though Freaky Deaky Portland will not fill to capacity. Both days of the Oregon music festival, the parking lot opens at 4 pm, the box office at 5, and doors are at 6. The show ends at midnight.

Tickets don't go on sale until July 22nd at 10am. 

Looking for a place to stay? Check out one of Portland's most eccentric hotels, The McMenamins Kennedy School.
FAQs
What is the Freaky Deaky Portland 2022 lineup?
Friday
Sudden Death
Bloodsport (Riot Ten B2B Saymyname
Mersiv
Level Up
Kumarion
Saturday
Clozee
LSDream
Kaivon
Ravenscoon
Zingara
Poster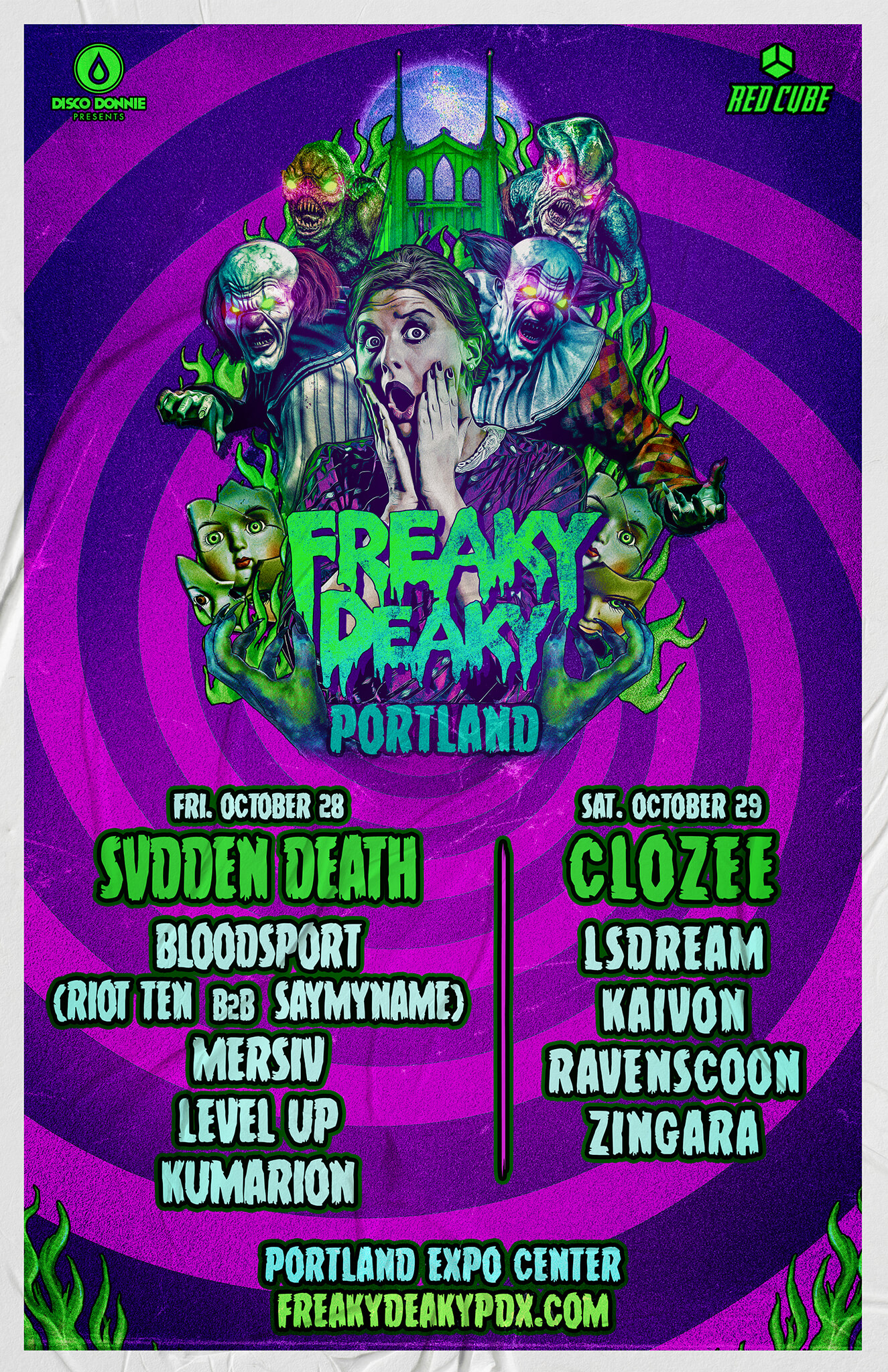 #freakydeaky on TikTok