Fresh Start 2023 is three days of high-quality EDM/House fest action at a 40,000 square-foot music and art venue in the heart of San Francisco. The Midway hosts this "cosmic oasis" themed festival for New Years weekend, where headliners, which for 2023 include Louis The Child, Tchami & Malaa and Kaskade, play outdoors at the massive "block party" on the corner of Michigan and Marin Streets. 
This festival offers the huge production value that you expect from EDM fests. Expect the main stage performances to feature blowout visuals, smoke, glitter and psychedelic animations. You can also browse art installations, eat gourmet bites and admire the ravers' outfits among the four different stages. One stage, Gods & Monsters, hosts the Saturday Warm Up Session where the DJ plays at crowd-level. You'll also run into quirky event fixtures, like a giant, climbable pirate ship deck, for fans of elevated surfaces.
This brilliant venue on the San Francisco Bay is a huge part of the draw for this festival, which is why it's good for folks who want to get wavy or folks who just want to have cool plans over New Years weekend or New Year's eve. You can don your best rave garb and EDM your way into the New Year, dance through a weekend of galactic visuals, art installations and some of the most prominent names in the House and EDM genres 'til you motherfucking drop. Or you can sail into the New Year over a social, indoor-outdoor weekend full of food, drink, and a feast for the senses.
Aside from providing the vibes, The Midway also provides refreshments, through their kitchen, Madam Zola's Fortune. In 2022, Madam Zola's Fortune served a Spanish-dreamt cuisine for the festival, like Cayenne Croquettes, Garlic Shrimp, Grilled Endives with caramelized pear, and a flatbread with grilled vegetables called Coca Mallorquina. If that's not your thing, there are plenty of food trucks and over 10 bar locations at the Block Party.
The Specs
The Midway's max seated capacity is 700, standing is 2500.

GA tickets are priced as follows: Saturday: $69, Sunday: $89, Monday: $69, weekend pass (3 days): $195. VIP tickets are as follows: Saturday: $135, Sunday: $169, Monday: $135, weekend pass (3 days): $350.

Prepare for your San Francisco New Years with Fifty Grande's

What To Do In San Francisco

.
FAQs
What is the nearest airport to Fresh Start festival?
San Francisco International Airport, 11 miles away.
Where does Fresh Start festival take place?
The Midway SF.
When is New Year's eve this year?
NYE is Sunday, December 31.
What's the lineup at Fresh Start?
Tchami & Malaa (NO REDEMPTION), Acraze b2b Noizu, Eli & Fur, VNSSA, Chocolate Sushi, Dem2, Paytandbroady, Juush, Gary Gold + Special Guest, SG Lewis. John Summit, DJ Susan, Louis The Child (Playground set), Elderbrook, Blue DeTiger (DJ set), Wenzday, Todd Edwards, AMPRS&ND, Wufu b3b Nightware b3b Neumonic, Felly Fell, DJ Staley, Kaskade, Chris Lorenzo, Justin Martin, Township Rebellion, SOHMI, Emanate, Aseneka b2b Kwohla, Wyld Renaissance, Rob The House, Readol, Nem, JLittle, Blu DeTiger, LP Giobbi, Zhu, Sofi Tukker and many more to be announced. 
2023 Poster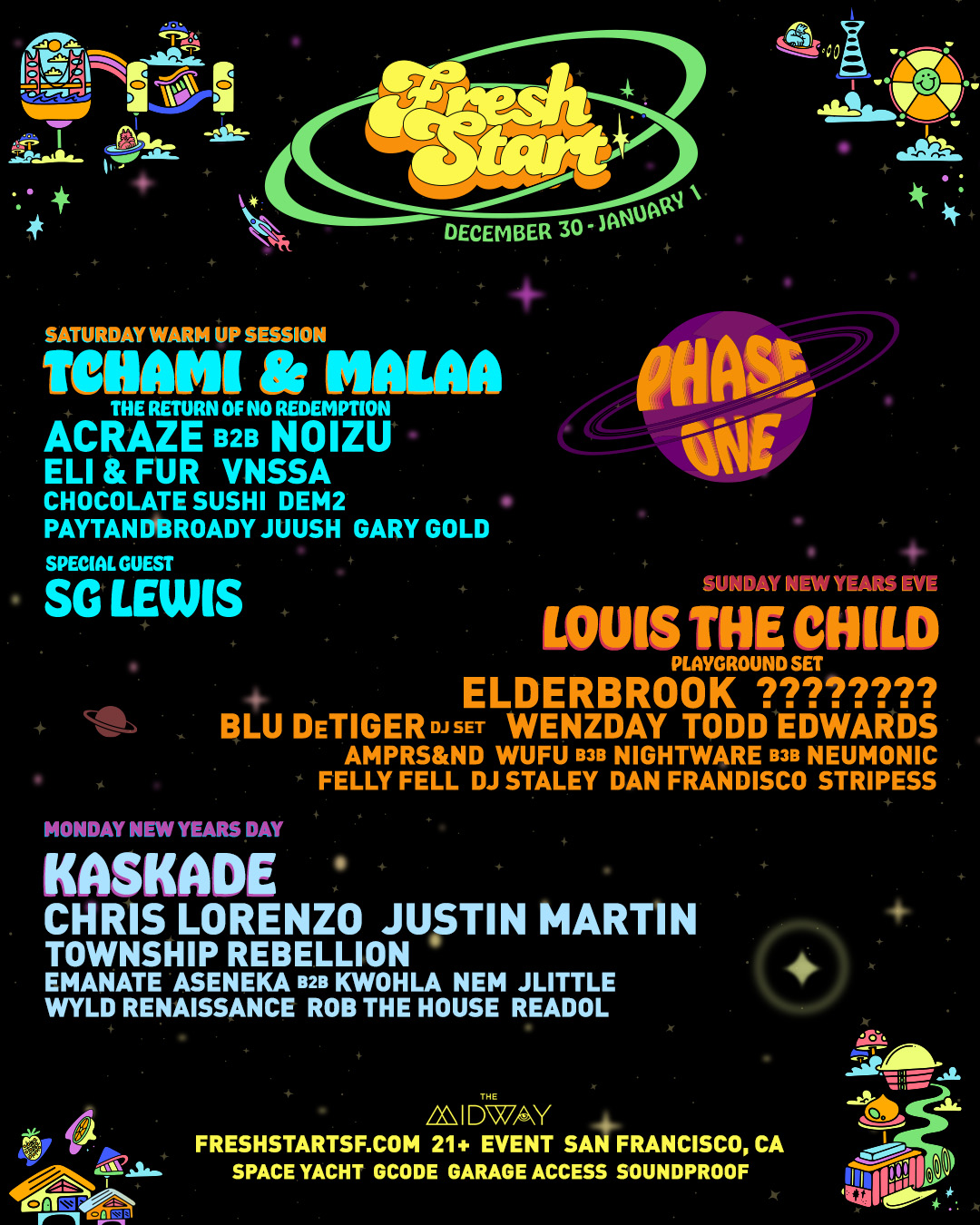 Videos