This year's Gulf Coast Beer and Bacon Festival keeps its namesake components, while ditching the chocolate addition of its last installment. Making up for that: some culinary buttressing in the form of BBQ to add to Buxiloi's beaches, bacon and beer. Last year, inside the Hollywood Warehouses's 86,000-square-feet, 30 breweries and 15 restaurants attended, all competing for two spots at the World Food Championships, voted on by attendees. Restaurants included a diverse selection of food, from Rock n' Rock Sushi, Patio 44's seafood and steaks, to Coast Candymakers and The Cadillac. 
The South may not be the first place you think of for craft beer, but the region's brewing scene is underrated. Louisiana-based Parish Brewing makes some of the most hyped hazy IPAs of recent years, and Urban South's Lime Cucumber Gose is one of the most unique tasting beers you'll come across. Both are regular attendees at Gulf Coast Beer and Bacon. After loading up on some of the South's greatest delights, take a walk along the shoreline so you can take in the night over the waters of the Gulf and  give your body a chance to process all that beer and meat. Find out more from last year's coverage here.
All proceeds from the festival go to Mississippi Heroes, an organization that celebrates everyday family and professional caregivers. A list of items up for online auction is available here. 
The Specs
Over 600 people attended last year. 

Tickets are $75 or $100 for VIP.

Interested in seeing more? Check out Fifty Grande's guide to Mississippi here

. 
FAQs
What is the closest airport to the Gulf Coast Beer And Bacon Festival?
The Gulfport-Biloxi Airport is just down the road from the festival grounds. 
Are children allowed?
No. Must be over 21 to attend. 
Is there lodging nearby? 
The festival offers special rates at two hotels in Gulfport, available to access on their website.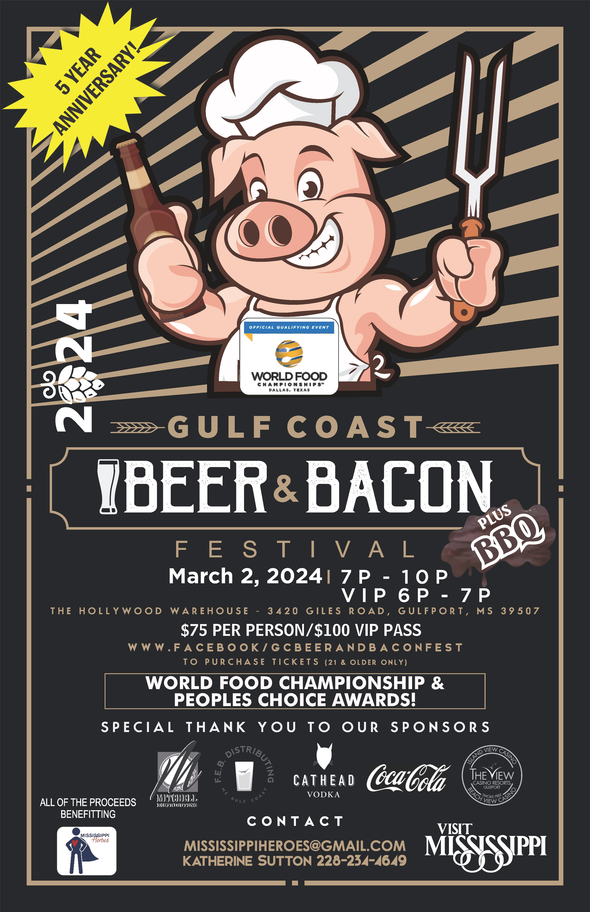 Videos