"Wow, this festival is great but I wish I didn't have to drive back to my hotel." If you've ever thought that, here's the fest for you. For EDM fans who hate to rave and drive, Home Bass keeps the experience in one place. During one weekend in November, the Wyndham Orlando Resort in Orlando, Fla., will become the home base for those attending EDC Orlando, with shuttle buses carrying hyped-up and exhausted EDM fans alike between the resort and festival. Home Bass runs concurrently with EDC, but also has their own lineup of artists performing every night, with DJs and producers who span genres but generally focus on bass-heavy sub-genres of EDM. 2023's lineup has not yet been announced. 
Home Bass amounts to one long rave with breaks built in for daytime pool parties and raving in new, compelling locations — like the pool and the hotel room of someone you've just met. Then, get up and do it all over again at one of Home Bass's after-parties. The festival runs alongside EDC Orlando and has had many cross-festival ravers in years past. Following the mass shooting at Beyond Wonderland in June that left two dead and three injured on day 2 of the dance music festival, Home Bass has yet to announce any changes to safety policies for this year. 
The hotel experience at Home Bass can only be described as a college dorm for twenty-somethings on psychedelics. The floor wobbles and the ceilings dissolve in even the festival's promotional films, which show a play-by-play of too many deliriously happy party people jumping on hotel beds. It's a place you would not want to stay unless attending the festival, which is great news for festival-goers who are expected to sell out the hotel. The poolside and hotel stages have everything one may find out in a typical dusty field setting—tents, DJs, braiding stations, and, of course, two-piece swim (and not) sets with fanny packs—but in the comfort of a resort with the friends you come with and the ones you meet on an XL pink shuttle bus. 
The Specs
Attendance numbers are not available, but t

here are 613 rooms in the Wyndham Orlando resort and the hotel is expected to sell out.

Weekend and shuttle passes begin at $300, with hotel rooms and add-ons available. Hotel rooms start at $1,500 for the weekend with two passes included. 

There is an incidental charge of $120 per room.

All room packages are 50% sold out as of June 29.

Check out Fifty Grande's guide to Orlando

here

.
FAQs
Where is the nearest airport?
The nearest airport is Orlando International Airport (MCO), 13 miles away.
Are other transportation options available?
Parking is available and free at the resort, shuttles are not included in hotel reservations and must be purchased with weekend festival passes. 
I forget my pool floaties at home, are tickets refundable? 
All tickets are nonrefundable at the time of purchase unless the event is canceled or rescheduled by the organizers. 
Is food included with my reservation?
No, food and alcohol are not included in weekend pass tickets. Beats and Brunch (which comes with a free breakfast) is included in VIP upgrade tickets for $200.
2023 Poster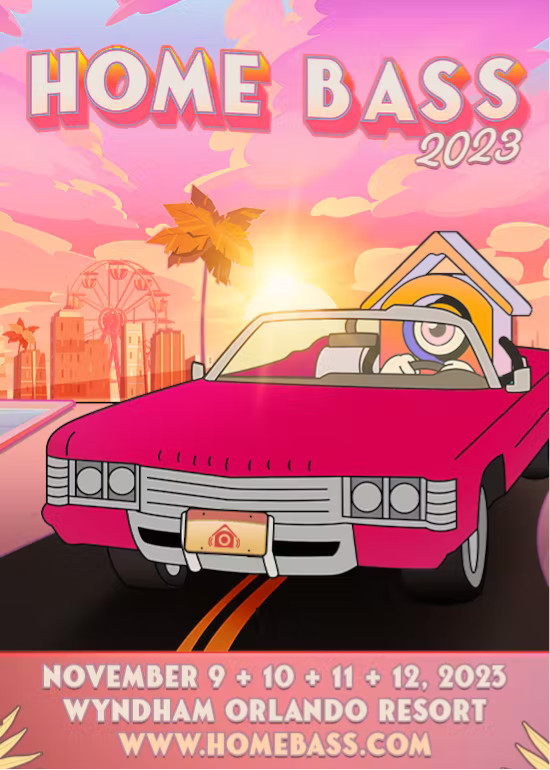 Videos
#homebass on TikTok