Celebrating its 10th anniversary, III Points festival has staked its claim as a place of electric possibility. Years past have had a zooming roller rink, tight and sweaty boiler room sets, light shows, graffiti galleries, and installations by artists like Veronica Gessa, Aileen Quintana, and Miguel Prypchan. Disco, dance, rave, ambient, rap, punk, indie rock all have been welcomed to Miami's Mana Wynwood neighborhood with open arms. This year is no different with six stages and a set list that encapsulates where the fringe of innovative music has been, where it is right now, and where it is going. 
Nothing better illustrates the wide array of what electronic music can be than the headliners. This year, III Points is bringing in the godfather of punk and 90s grunge himself, Iggy Pop, in all of his shirtless glory alongside Fred Again, electronic music's rising soft boy who can bring the energy when it counts. Although they come from completely different backgrounds and sounds, these artists share a freshness and innovation to their music that keeps them relevant and us on our toes. Marry this with Tokschia's sex-crazed and latin-influenced rap songs, The Blaze's drowned out vocals, Unknown Mortal Orchestra's low-fi indie rock vibe or LCD Soundsystem's James Murphy's scheduled rare appearance, and you already get a sense of how this year's lineup represents.
The Specs
About 12,000 people attend a day.

Tickets are priced at the general admission Experience Pass ($189), to the Experience Plus ($299), and the VIP Elevated Experience ($499). All of these get you in for two days and require a $20 deposit. Lockers can be rented for $25 a day.
FAQs
What is the closest airport to III Points 2023?
The Miami International Airport is going to be the closest and best airport to fly into, about 6 miles from the festival. 
Where is III Points 2023 being held?
Mana Wynwood Convention Center 2217 NW 5th Ave. Miami, Florida 33127
Is III Points an accessible festival? 
Yes, in that they provide wheelchair access, have an ADA service center, and provide an accessible entrance lane. However, the festival provides no ADA parking. Learn more here.
What's the music festival's bag policy?
The music festival allows small bags and purses as well as backpacks with one compartment. All bags have to be 12"x12" or smaller.
What is Despacio?
According to Billboard it is "the vinyl-only dance tent by LCD Soundsystem's James Murphy and Soulwax's David Dewaele and Stephen Dewaele."
Which artists are on the III Points lineup?
Adam Ten b2b Mita Gami, Alice Glass, Alkmst, Aluna, AME b2b Dixon, Ashley Venom b2b Pressure Point, Bedouin, Berrakka b2b Saturnsarii, Black Coffee, Black Loops, The Blaze, Bone Thugs-n-Harmony, Bort b2b Souls Departed, Caribou, Caroline Polachek, Cloonee, Coffintexts b2b Sister System, Cole Knight, D. Tiffany b2b Roza Terenzi, Daizy, Danierl Aery b2b Danny Daze, Daphni, The Dare, DJ Fitness, DJ Ray, Dom Dolla, Donzii, Duun b2b Sleepy C, Eliza Rose, Emma b2b FRNY, Explosions in the Sky, Feph b2b Mr. Tron, Fred Again.., Glass Body, Gorgon City, Grimes, House of Pris b2b Carozilla, Iggy Pop, Illangelo b2b Angelfire, INVT, Ivy Lab + Lake Hills, Jacques Greene, Jaialai, Jamie Jones, Jeff Mills, Jockstrap, John Summit b2b Green Velvet, Jonny from Space, Joy Orbison, Jubilee, JYOTY, Keinemusik (&me, Rampa, Adam Port), Krishna Villar b2b Lagrimas de Oro, Lane 8, Las Nubes, LCD Soundsystem's James Murphy, Le Poodle, Lilly Palmer, Lucy from the Internet, Marie Qrie b2b Mauricio, The Invisible; The Martinez Brothers, Mau P, Miluhska, MJ Nebreda, Moscoman + Whitesquare, Ms. Mada b2b Monoky, Mystic Bill b2b Will Buck, Natalia Roth b2b Danyelino, Nia Archives, Nick León, Nii Tei b2B Generous B, Omri., Perel, Phiphi, Pomegrantie, Psychic Mirrors, Radar b2b Shyda, Richie Hawtin, Richie Hell, Rony Seikaly, Sad MC's, Sagittarius Aquarius, SBTRKT, Seafoam Walls, Shinobi, Skrillex, Stephan Jolk b2b Malone, Thunderpony b2b Max Stern, Tiga & Hudson Mohawke Present Love Minus Zero, Tirzah, Tokischa, Totally Enormous Extinct Dinosaurs, TSHA, TVSS, Two Shell, Ultrathem b2b Winter Wrong, Unknown Mortal Orchestra, VTSS, X Club. , and ¿TÉO?.
2023 Poster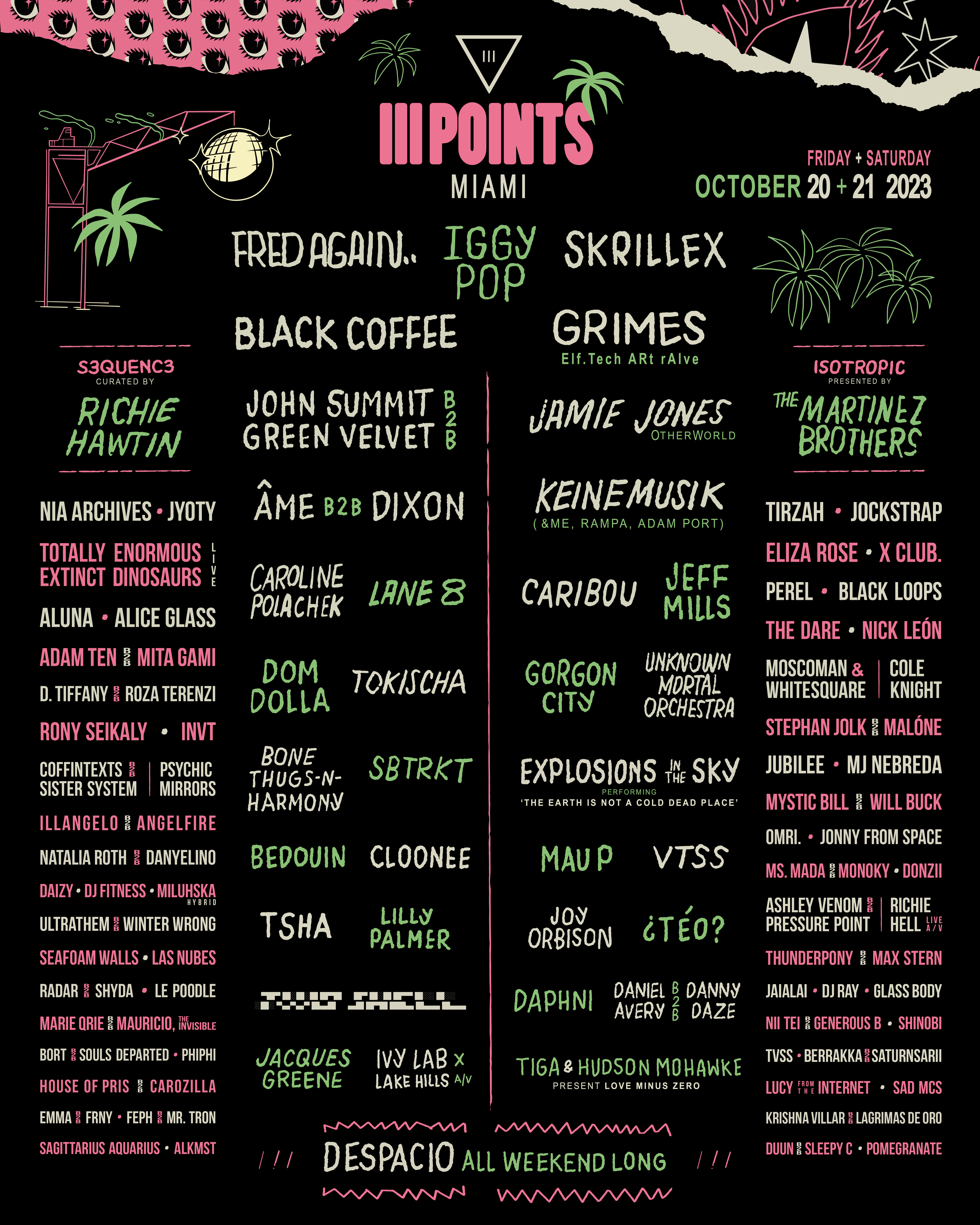 Videos
Kenny Beats, 2022
2022 Wrap Promo
Black Coffee, 2022
Eric Prydz, 2021 Full Set
Wu-Tang Clan, 2021 Full Set
George Clanton, "Dumb" 2021
Spotify playlist
#IIIpoints on TikTok