Once upon a time, in the year 1983, a few millionaire media tycoons decided to launch their hot air balloons from a truck stop on Route 78. They brought friends, family and more balloons along the next year, and so was born one of the strangest festivals in recent memory. The New Jersey Lottery Festival of Ballooning (say that five times fast) celebrates the beauty of colorful passenger balloons, disparate musical acts and corporate branding, giving official sponsors like Re/Max and QuickChek a reason to float massive, propane-fueled billboards. Before 2021, the festival's official name – and this is true – was "The New Jersey Lottery Festival of Ballooning in Association with PNC Bank."
It's not all business at Solberg Airport, though. Between first come, first served balloon rides from the grassy fields over Readington Township, The New Jersey Lottery Festival of Ballooning puts on a number of family-friendly magic shows, carnival games and even a hot air balloon themed ferris wheel. Musical acts are split between two stages, one of which hosts the headliners while the other typically hosts tribute bands. Past artists on the main stage have included The Beach Boys, The Jonas Brothers and Demi Lovato, and this year's biggest names are Bollywood star Parth Oza and Fitz and The Tantrums.
If you'd rather keep your feet on the ground, there's also a "Running with the Balloons 5K" on the last day of the festival. The price of runner entries includes full-day General Admission tickets and proceeds from the race support the Susan G. Komen Breast Cancer Foundation.
The Specs
Attendance regularly exceeds 150,000 people.

Single-day General Admission tickets are $32 for adults and $12 for children aged 4-12. VIP tickets range from $75 to $100 per day.

There are plenty of other

reasons to visit New Jersey

, too. Plenty. 
FAQs
Which airport is closest to the festival grounds?
Newark Liberty International Airport (EWR) is 40 miles away.
What is the bag policy?
There is no explicit bag policy. Coolers, bottles and food containers are prohibited.
Is the festival ADA accessible?
While the main pedestrian thoroughfares are paved, a number of attractions can only be reached by traversing grassy fields.
Which artists are on the festival lineup?
This year's musical acts include Laurie Berkner, Dead Aire, Lit, Everclear, Parth Oza, KC and The Sunshine Band and Fitz and The Tantrums. There will also be tribute bands playing the tunes of Bruno Mars, The Grateful Dead, Guns and Roses, Led Zeppelin, Fleetwood Mac, Stevie Nicks, Zac Brown, Kenny Chesney and Crosby, Stills, Nash and Young.
2023 Promo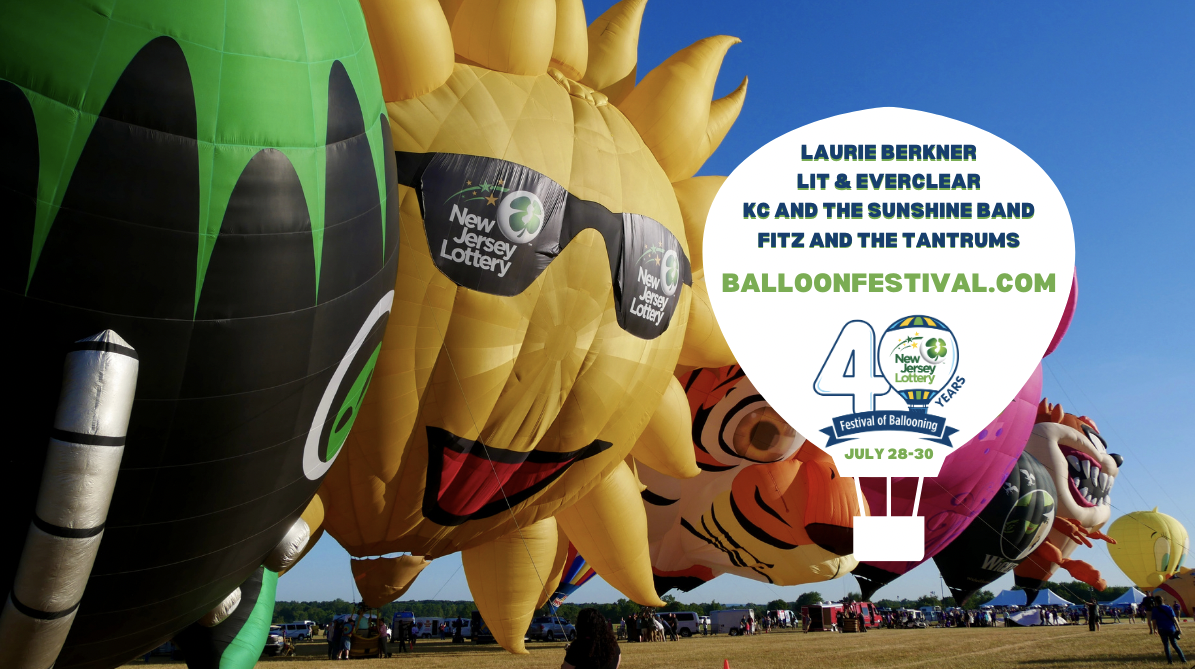 Videos
#newjerseyballoonfestival on TikTok