Lighthouses and New Jersey: not two words you'd typically put together. True, New Jersey doesn't have the most lighthouses (that's Michigan), or even the most iconic (that's debatable, but it's also just Maine). The Garden State's claim to fame may be that it has the weirdest lighthouses, though. There's plenty of these streetlights of the sea guiding ships along the Jersey shoreline, and they're a strange source of local pride. Of course, every lighthouse is unique and beautiful in some way, but here's our guide to the most unusual lighthouses in New Jersey that this writer could find.
Barnegat Lightship, Camden, N.J.
Not all lighthouses were…houses. Sometimes anchoring a bright red seaworthy vessel with a light on its mast was more cost effective than building a tower on land. The once-proud Barnegat Lightship protected mariners off the coast of New Jersey for over 60 years, but now rests in a muddy scrap heap in Camden. Guarded by roaming junkyard dogs in a boat graveyard along the Delaware River waterfront, it's best viewed from the water.
Chapel Hill Lighthouse, Atlantic Highlands, N.J.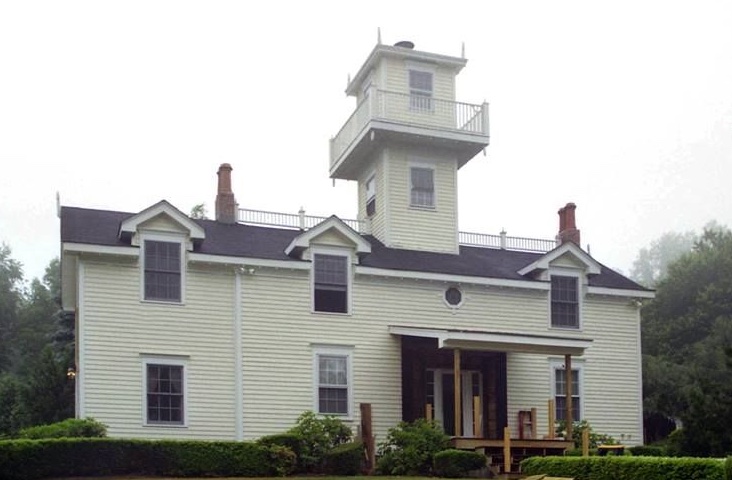 When lighthouses are sold at public auction, they're often purchased at a fraction of the cost of construction. They may not require a lonely keeper to guard the light anymore, but property maintenance can be daunting and expensive. Still, there's something undeniably romantic about living in one of these historic holdovers. The Chapel Hill Lighthouse was the rear range for the Conover Beacon (below) at one point, but it's a family residence today, so please respect their privacy.
Conover Beacon, Leonardo, N.J.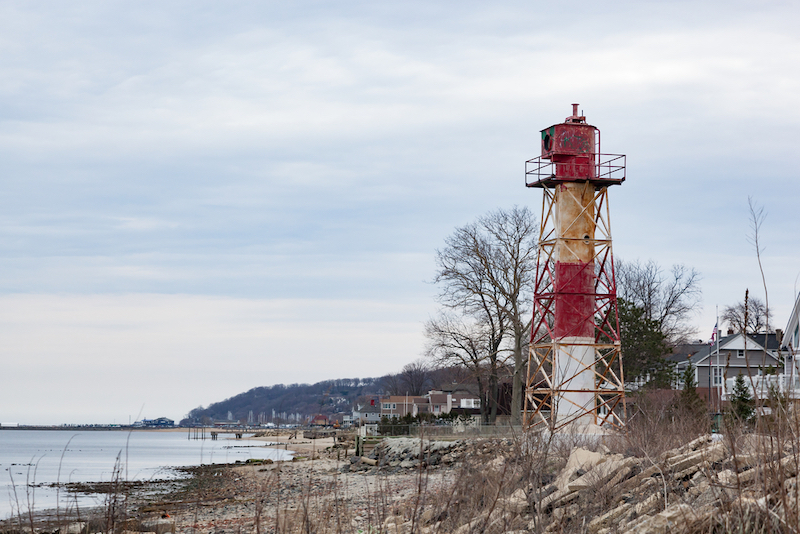 Conover Beacon is a hollow, rusted-out structure located along a strip of desolate beachfront that's been disintegrating since official decommission way back in 1957. Half-hearted attempts to save it have periodically rallied and fizzled. The periscope-shaped thing has largely sat ignored, wrapped in barbed wire fencing and tagged with graffiti for the last half century or so. It's technically inaccessible, but worth a clandestine climb for its superb view of Manhattan.
Cross Ledge Lighthouse, Delaware River, N.J.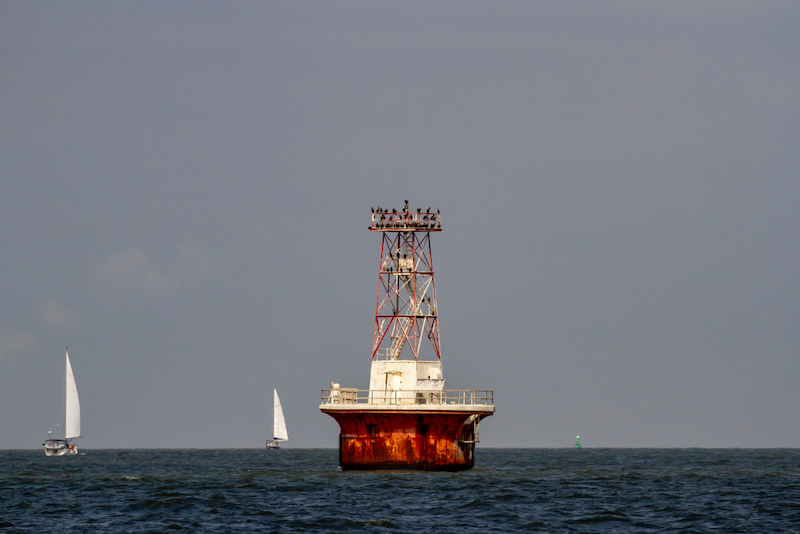 One of several early screwpile-style lighthouses drilled directly into the Delaware's riverbed, the base of this long-gone tower ironically remains only as a hazard for navigation today. Used for target practice by World War II bombers, the site is an abandoned pile of rocks that's covered in guano and accessible only by boat. At best, it's an unusual side quest for adventure seekers checking out the other more worthy lights situated nearby in the river.
Sandy Hook Lighthouse, Sandy Hook, N.J.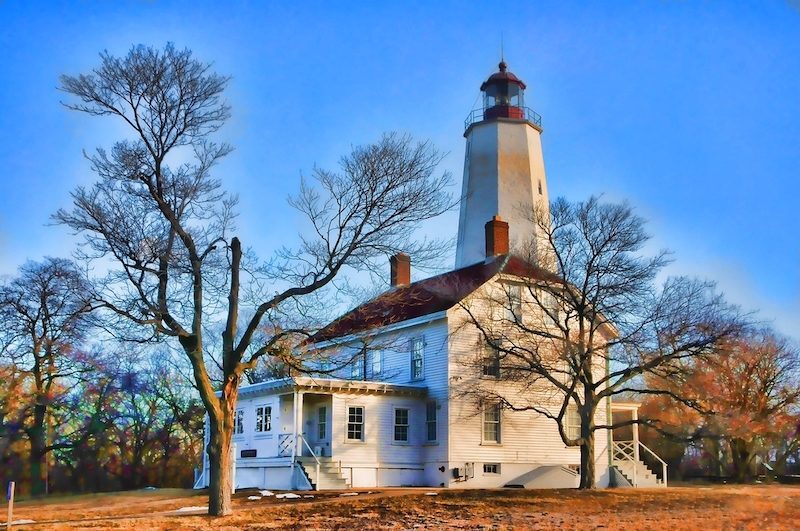 Despite being a mainstream lighthouse, Sandy Hook is still the weirdest in New Jersey by far. It's on federal land near a former Nike nuclear missile military base. It's also pretty close to a nude beach. Built in 1764, Sandy Hook is the oldest operating lighthouse in the country. Skeletal remains have reportedly been discovered around its base, and legend says it's haunted by the ghost of a disgruntled captain seeking revenge for his wrongful execution.
Stonehorse Lightship, Yardville, N.J.
The portable nature of lightships led to the disappearance of more than a few, but unexpected re-discoveries of repurposed decommissions still pop up every now and again. First constructed in 1892, the Stonehorse Lightship was put to pasture in 1951 after 59 years, but at least a part of it is still in use. The mast and lantern house has borne out retirement as a lamppost. It's located in a liquor store parking lot on Route 130 in Yardville, N.J., near Bordentown.
Tinicum Range Lights, Paulsboro, N.J.
A pair of range lights comes together to form a simple navigational system. Situated several miles apart, the rear range stands on a tower, and the front range is on a short scaffold. A captain knows he's safely steering up a narrow channel when the two lights vertically align in the distance. Tinicum Rear Range is a popular tourist attraction, but the corresponding front range is notoriously difficult to access at the end of an off-limits industrial pier.
Want more?
The Lighthouse Challenge of New Jersey is hosted every October with much fanfare. The annual event encourages families to hurtle from one site to the next in a race across the state to climb 10 lighthouses. The competition is fairly tame and, for most participants, it represents the climax of their interest in maritime history. For a passionate minority, though, the contest sparks a fascination that leads to increasingly obscure and inaccessible lights around the Garden State. You can probably guess which camp I fall into. Happy hunting!