In the small town of Pendleton, Oregon, the Pendleton Whisky Music Festival has an Americana vibe at the root of this good ole fashioned rager. Come watch 19,000 people bump and grind and fist pump and slosh their drinks into an open-air earth pit at the main stage on Saturday, July 15. Many folks even camp out for a night or two at one of the nine nearby campgrounds, securing the Let's do this feel of the weekend.
Now in its seventh year, the annual Pendleton Whisky Music Fest has a history of balancing popular stars like Post Malone, 50 Cent, Mackelmore, and Adam Levine, with country artists like Eric Church, Toby Keith, Clay Walker, and Clare Dunn. This year there will be a little bit of both, with rap star Flo Rida and country hit Kane Brown headlining. The other acts, including DJ Cutt, Maddie & Tae, and Niko Moon, share roots in country and singer-songwriter genres.
No matter the music, the Pendleton Whisky Music Fest aims to provide a party. It starts with Friday night's Kick-Off Party, giving fest-goers the chance to drink and dance to small-stage bands and DJs in the packed streets. They'll have plenty of beer, wine, and food-truck foods for sale. This is also a music fest where you'll feel the fans commit. Cowboy boots and hats will complement summer dresses or ripped tees striped in red, white, and blue. (Sure, folks will also dress more casually in jeans and cute tops, too.)
And, yes, of course you can purchase as much Pendleton Whisky as your heart delights.
The Specs
In 2021, over 19,000 tickets were sold.

Concert tickets range from $79 to $175 for tiered experiences. Camping tickets range from $50 to $400.

If camping's not your thing, stay at the

Motolodge

, a new hotel in Pendleton, OR, vetted by Fifty Grande.
FAQs
What is the closest airport to the festival?
The Eastern Oregon Regional Airport, also known as the Pendleton Airport (PDT) is just 3.5 miles from the campgrounds. The nearest international airport, Portland International Airport (PDX) is 204 miles from the festival.
Exit and re-entry?
Once you enter the Round-Up Arena for the concert music at 4 pm on Saturday, there is no exit and re-entry. If you've bought a ticket to the Party Pit for $145, there's a bar and rest area inside the stadium. 
What are the age requirements?
All ages are welcome at the concert and campgrounds. You must be 16 years or older to enter the Party Pit and you must be at least 21 years of age to drink alcohol, which is strictly enforced.
What are the campgrounds like?
Most campgrounds have no water or electricity, but do have portable toilets and sanitation supplies. People 21 years and older may drink on the campsite. 1 a.m. curfew is strictly enforced.
What is the bag policy?
No large backpacks or bags over 14" x 14" x 16" inside the Pendleton Whisky Music Fest.
What is the annual Pendleton Whisky Music Festival's website?
www.pendletonwhiskymusicfest.com
Where does the festival take place?
It takes place annually at the Pendleton Round-Up Grounds.
What is the festival's address?
1205 SW Court Ave
Pendleton, OR 97801
When does the annual Pendleton Whisky Music Fest 2023 happen?
Saturday, July 15th, 2023.
How big is Pendleton, Oregon?
The town's population is just 16,841 people by a 2021 census.
Who has played the festival in the past?
Maroon 5, Blake Shelton, Post Malone, Zac Brown Band, Pitbull, Toby Keith, Eric Church, and Macklemore have previously played the fest.
Which artists are on Pendleton Whisky Music Fest's lineup this year?
The all-star lineup for the 2023 Pendleton Whisky Music Fest includes Kane Brown, Flo Ride, Niko Moon, Maddie & Tae, DJ Cutt, and Dylan Schneider.
2023 Poster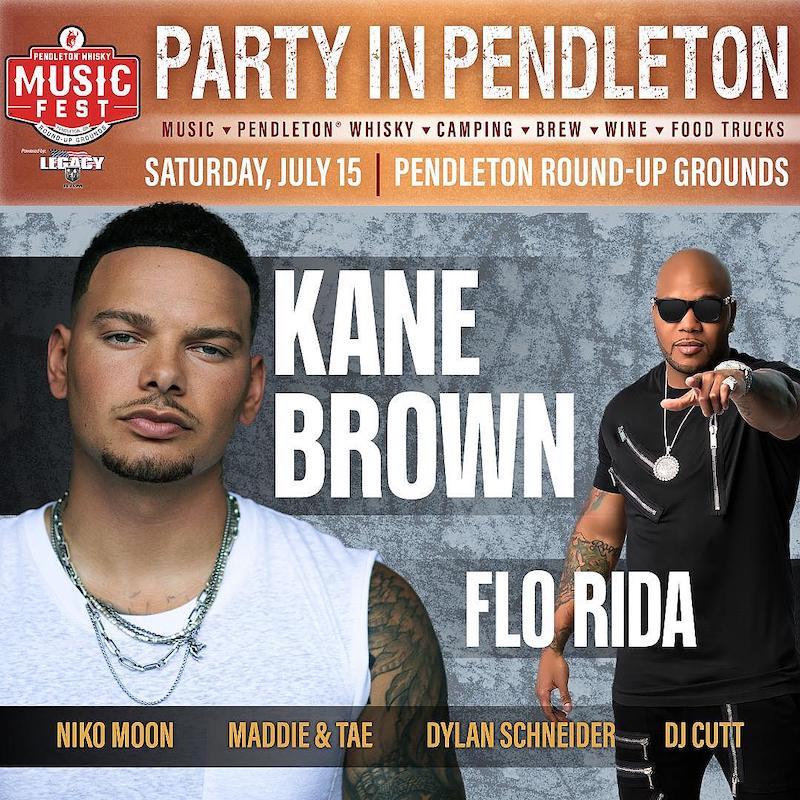 Videos
2023 Promo Reel
2020 Kickoff
#pendletonwhiskeyfestival on TikTok