Riot Fest Chicago is a music festival that prides itself on welcoming the angsty and sarcastic type that has an always-on playlist of punk rock from their youth. You'll find lots of early 2000s mall goth style, "Make America Emo Again" hats, mohawks of incredible variety, and of course, rock music. Lots of it. 
Riot Fest is one of the few remaining independently-owned large U.S. festivals and, aside from being known for its potent punk- and rock-centric lineups, it's carved a unique niche on the live-music landscape as a host to exclusive reunion sets. The headliners for the 2023 Riot Fest are Foo Fighters, The Cure, the Postal Service, Deathcab for Cutie, Turnstile, Queens of the Stone Age, and the Mars Volta. This year's full lineup is below.
At last year's fest Y2k emo faves like My Chemical Romance and Taking Back Sunday, punk rock legends Bad Religion and Nine Inch Nails, and hip hop stars like Ice Cube and Run the Jewels to balance out the rock a bit. The festival does a good job showcasing acts that don't get as much love in the mainstream, too, like Night Spice and Surfbort.
If your love for the festival is only topped by your love for another person, you can marry them at the Riot Fest. The venue has a wedding chapel where 32 couples tied the knot in 2022. If you're not interested in getting married but do have a really bad tattoo, you can enter to win a free cover up by posting a photo on the wall of bad tattoos. 
The venue also has a ferris wheel, lots of vendors, and apparently a supreme lack of shade, so drink lots of water. 
The Specs
Around 40,000 people attend over the course of three days. 

Sign up

to be notified when tickets go on sale. 

Riot Fest offers complimentary entry to residents living near the venue and employees of adjacent hospitals. Additionally, you can join the street team to promote the festival in exchange for free entry. 

Check out this

guide

for other fun things to do in Chicago.
FAQs
Where will Riot Fest be in 2023?
Riot Fest 2023 will be held in September at Douglass Park in North Lawndale, Chicago.
What is the exact address for Douglass Park?
Douglass Park is located at 1401 S Sacramento Dr, Chicago, IL 60623, United States
Is there an age limit for the music festival?
The Chicago event is all-ages. No age limits.
Who are the artist headliners for Riot Fest 2023?
Foo Fighters, the Cure, the Postal Service, Deathcab for Cutie, Turnstile, Queens of the Stone Age and the Mars Volta are headliners on the 2023 Riot Fest bill.
What is the Riot Fest 2023 lineup?
The full lineup is as follow:
Foo Fighters
The Postal Service
Death Cab for Cutie
The Cure
Queens of the Stone Age
Turnstile
Mr. Bungle
The Mars Volta
Danzig
Tegan and Sara
100 Gecs
The Gaslight Anthem
Death Grips
AFI
The Dresden Dolls
Say Anything
The Used
Pennywise
The Breeders
The Interrupters
PUP
070 Shake
Ani DiFranco
Parliament Funkadelic ft. George Clinton
Frank Turner & The Sleeping Souls
Finch
Bayside
Silverstein
Sleep Token
Kim Gordon
Flogging Molly
Viagra Boys
Insane Clown Posse
Gorilla Biscuits
Head Automatica
LS Dunes
Godspeed You! Black Emperor
Ride
Nothing Nowhere
Code Orange
Cults
White Reaper
Balance and Composure
Fake Names
Eshu Tune
Quicksand
Jehnny Beth
The Wrecks
Thursday
Hawthorne Heights
Bowling for Soup
Braid, H2O
Spitalfield
Enter Shikari
Drain
Snapcase
Corey Feldman
Origami Angel
The Bronx
The Exploited
Plosivs
Steve Ignorant Band / Crass
Black Angels
Yard Act
Warpaint
Nothing
Screaming Females
High Vis
Rival Schools
Caroline Rose
Just Mustard
Hotline TNT
Quasi
Microwave
Sludgeworth
Just Friends
Pinkshift
Enola Gay
Earth Crisis
Empire State Bastard
Cassyette
FEA
Free Throw
Bearings
The Bobby Lees
Pool Kids
Fade 'Em All
Total Chaos
Fleshwater
Olivia Jean
Calva Louise
Ck Vassi
Young Culture
2023 Poster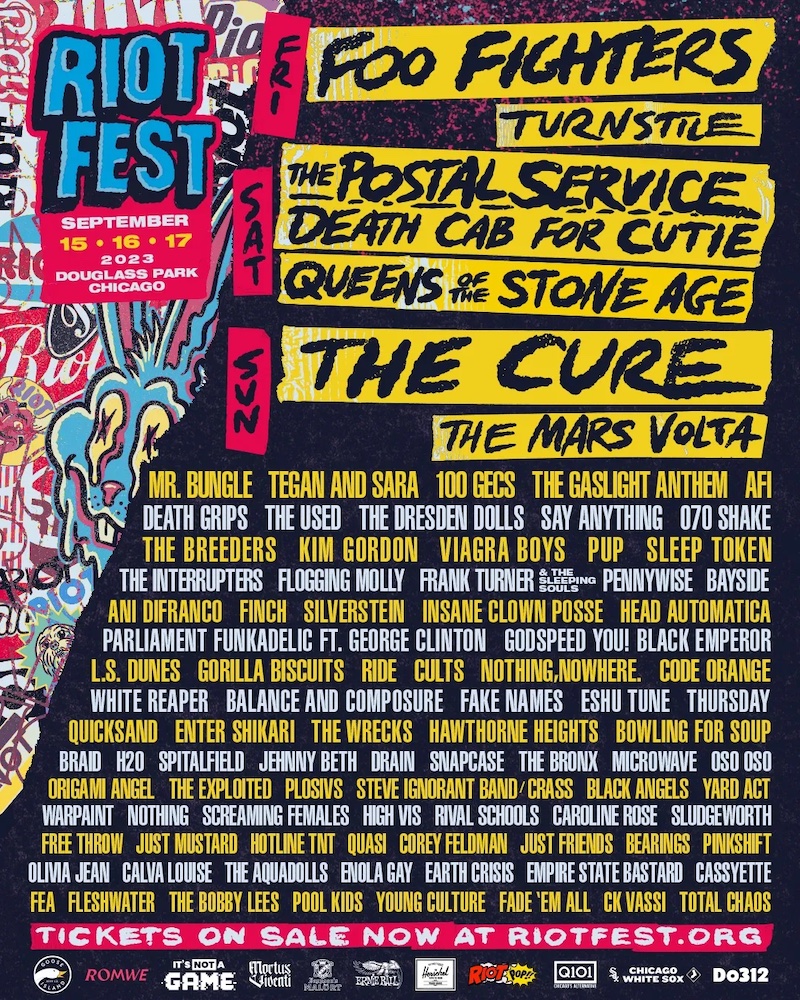 2022 Recap Video
Performances
Nine Inch Nails, full set 2022
Jimmy Eat World, full set 2022
Lunachicks, full set 2022
Descendents, full set 2022
Alkaline Trio, full set 2022
#riotfest on TikTok