If you visit the official The Friendship website, you'll see a countdown not ticking towards New Years, but a few days later: January 6, 2024, the day guests board The Friendship cruise ship in Miami. For five days straight, The Friendship brings together anyone who enjoys jumping in front of a DJ console to alternating House, Bass, Dubstep, DnB, Disco, Afro House, Hip Hop, Techno and more. You'll kick off the new year dancing from sunrise to sunset at sea and breaking your New Year's resolutions in international waters. 
This year's music festival lineup sees Canadian electronic duo Bob Moses and UK-native house artist Chris Lorenzo taking over the DJ set on the cruise, while internationally renowned Skrillex will host a beachside set at Harvest Caye, Norwegian Cruise Line's private island in Belize. The cruise makes its only stop there on the third day for a 24-hour exclusive beach party. 
To spice things up, this year the rave/electronic music fest/island party will host diva Dita Von Teese for a cabaret set, and skateboarders Aaron Homoki, known as Jaws, and David Loy, to help with some moves at the ship's skate park. Yes, there's a skate park. What else is on board? Pools and hot tubs that will help you get a great tan. The Spa and Salon, that, together with the Jogging Track, will give you the necessary energy boost to fight through your third and fourth hangovers. And, finally, the Laser Tag Field on Deck 20 and the Joy Speedway, a go-kart track facing the blue, on Deck 19 — because why not? 
The Specs
The Friendship Cruise hosts up to 3500 passengers. 

Rooms are first come first serve. The price includes a 5-night round trip, meals, taxies, as well as everything happening on the Norwegian Joy, from music to activities, to amenities. The cheapest option starts at $1,300.00 for a four-person Family Balcony Room on Deck 12, 13, 14 and 15. While the most expensive room is a two-person Haven Suite on Deck 17 and Below for $6,550.00

Here's our Fifty Grande round-up of the

best beaches in Miami

to keep tanning after the cruise. And here's our guide to the city.
FAQs
What is the closest airport to The Friendship?
The closest airport to get to the Friendship Cruise is Miami International Airport.
What is the cruise itinerary?
The cruise departs from Miami, Florida on Jan. 6, arrives at Harvest Caye, Belize on Jan. 8. It then departs Belize's Harvest Caye on Jan. 9, and gets back to Port of Miami on Jan. 11.
What is the Sunrise Sermon?
Festival founder and DJ, Gary Richards, performs a signature Sunrise Sermon performance on the cruise under his stage name, Destructo.
What amenities are on board the Norwegian Joy?
There is the main pool (Deck 16), the Joy Casino (Deck 7), the Mandara Spa and Salon (Deck 16), The Aqua Park (Deck 16), Hot Tubs (Deck 16 & 17), Jogging Track (Deck 17), Joy Speedway (Deck 19), Galaxy Pavillion (Deck 16), The Waterfront (Deck 8), The Laser Tag (Deck 20), and the Tradewinds Tax and Duty Free Shops (Deck 8).
Who are the headliners for Friendship 2024?
Skrillex, Boys Noize and Chris Lake are among the headliners.
What is the lineup for this EDM fest?
Bob Moses, Boys Noize, Chris Lake, Chris Lorenzo, Destructo (stage name of festival founder Gary Richards), Dita VOn Teese, Dr. Fresch, Justin martin, Mersiv, Mr. Carmack, Patrick Mason, Raven, Rusko, Skrillex, Todd Edwards, VTSS, A HUNDRED DRUMS, AARON "JAWS" HOMOKI, BONES, Brunch Life, CHARLES MEYER, CRAZE, DA CAPO, DAVID LOY, DEFIED, Devon James, DJ Glen, DJ Soup, Doorly, DOWNLO, Enoo Napa, Flava D, Francis Derelle, G-REX, Honeycomb, Italobros, J Key, Joanna Magik, J Phlip, Lee Reynolds, Lee Wells, Marbs, Meduso, Mary Droppinz, Mr. Koolaid, Nala, Nina Las Vegas, Nitepunk, Option4, Porky, QRTR, Safety Trance, Sin & Brook, Sivz, Skiitour, SUBSET, Sun-El-Musician, Sweet Like Chocolate, T3mpr, Team EZY, Teebee, The Sponges, Vigro Deep and Volac.
Who founded the festival?
DJ and promoter Gary Richards founded the festival.
Poster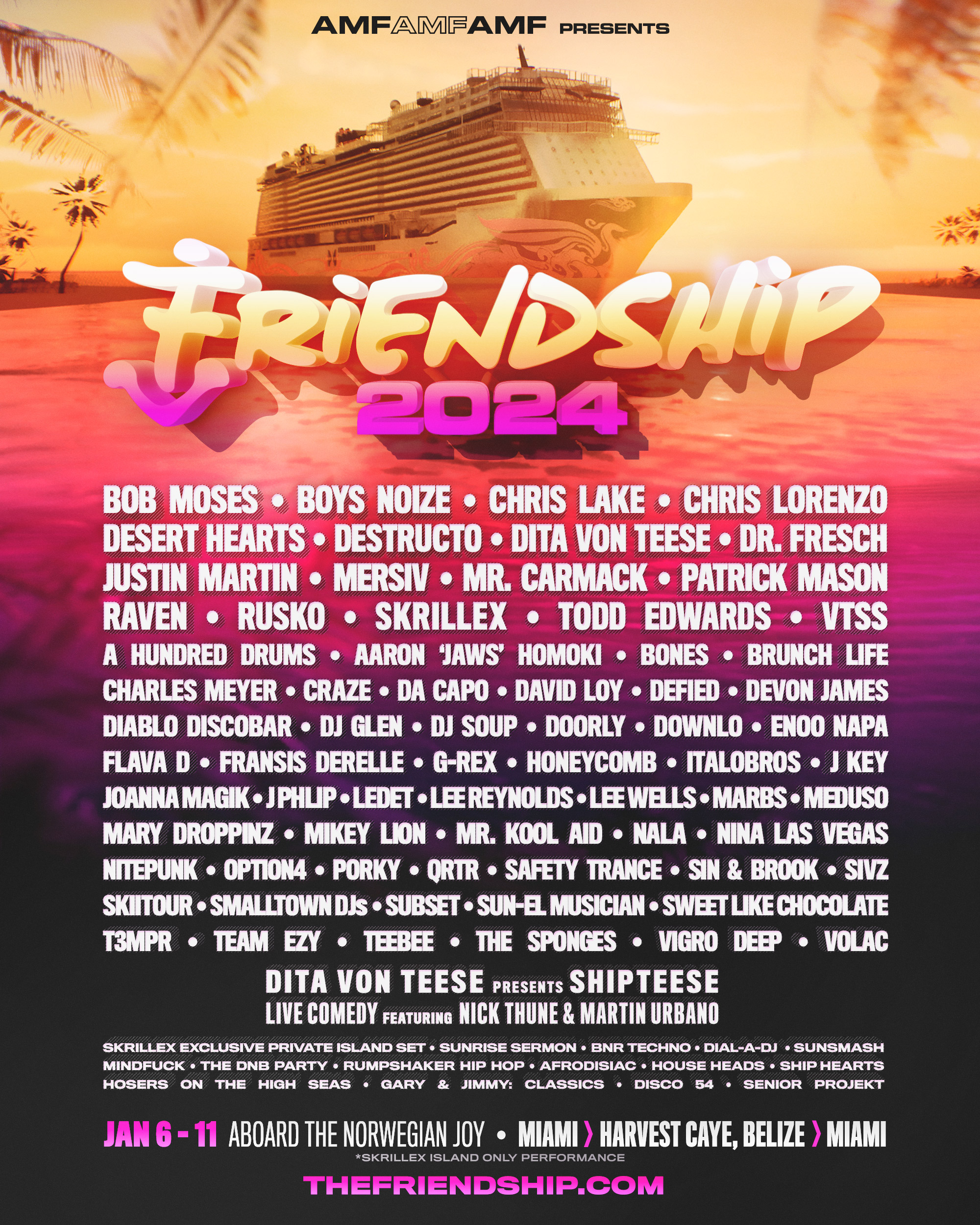 Videos