Though Miami has grown into a world class destination over the past decade or so, teeming with Michelin-starred restaurants and modern art, its main draw will always be the beach. And why shouldn't it be? The turquoise waters that sit off America's southernmost major city are the stuff of tropical vacation fantasies, and no trip to Miami is complete without posting at least one picture of yourself in front of them. But in an entire city of beaches, picking the best one can be tougher than finding a spot to lay your towel. Whether you're looking for a big party or a secluded slice of paradise, here are the best beaches in Miami.
South of Fifth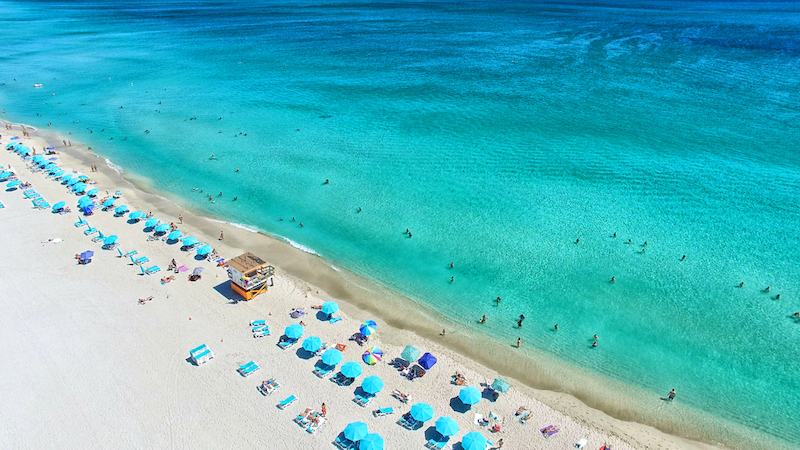 While it might seem that the Atlantic coastline would be the same everywhere along Miami Beach, the truth is quite the contrary. If you're looking to enjoy Miami's famous aquamarine waters with at least a modicum of peace and quiet, head south of the hustle and bustle to SoFi. This more-residential section of South Beach lends itself to a calmer scene, where you'll see Europeans and visiting families enjoying the southernmost part of the beach. Views of Fisher Island sit just beyond the rock jetty, and South Pointe Park has elevated perspectives of the ocean and the Miami skyline. Go at night or early in the morning, and you'll also catch the surreal vision of 20-story cruise ships floating by as they head out from Government Cut.
Bill Baggs Cape Florida State Park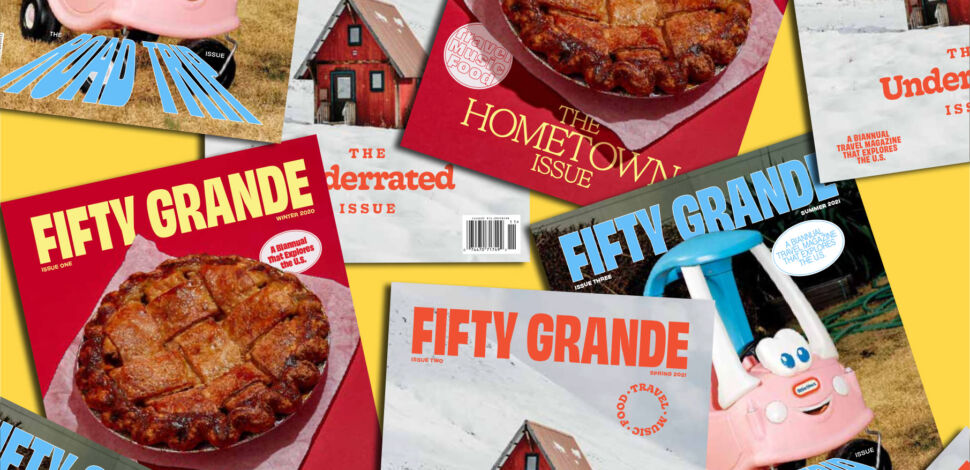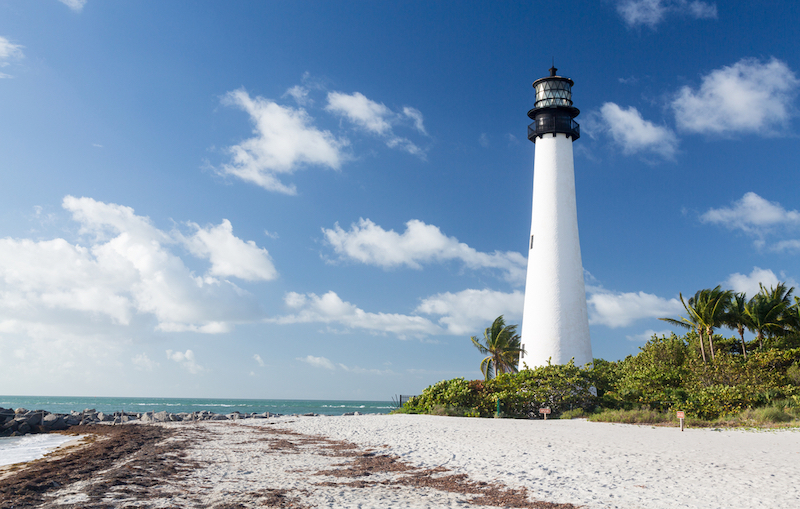 For a little bit of Old Florida wilderness, cross the Rickenbacker Causeway to get to the end of Key Biscayne and Bill Baggs State Park. This preserved piece of tropical nature allows visitors to walk or cycle through palmettos, gumbo limbos, and other native plants before arriving at a beach that feels completely removed from the city. The narrow, soft sand looks directly out to Biscayne Bay, and the only structures in sight are the far-off waterbound houses of Stiltsville. Be sure to take a tour of the landmark Cape Florida lighthouse if it's open, then stop into Boaters Grill or Lighthouse Café for a drink or grilled mahi sandwich after.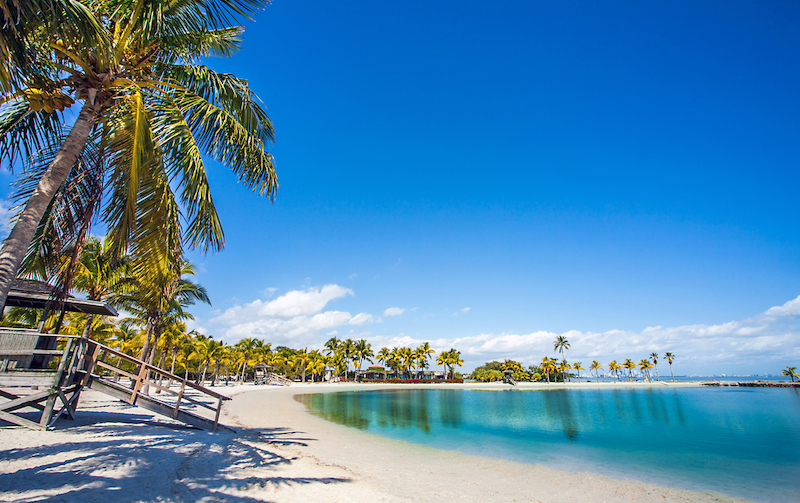 Matheson Hammock is as local as beaches in Miami get. It's a favorite of suburban families living in Southwest Dade and seldom seen by tourists. The city park sits off Old Cutler Road, a canopied two-lane street that's almost as scenic as the beach it leads to. After savoring the ride, post up on this crescent-shaped shore lined with palm trees that feels like a deserted island – if you ignore the skyscrapers standing far to the north. Finish your beach day with a romantic dinner at NOMA Beach at Redfish, a fresh seafood spot set inside an historic coral cottage with a sprawling, waterfront patio.
Eighth Street
If you're looking for something a little more…lively, hit the sands off Wet Willie's around Eighth Street in South Beach. Not to be confused with the famous Calle Ocho in mainland Miami, Miami Beach's Eighth Street is a favorite for cooler-packing locals who turn this section into an all-day dance party. Reggaeton and hip-hop blare from the ocean to the sand dunes of Lummus Park, where you'll see the bodies that made Miami famous working out at Muscle Beach next to Ocean Drive. Tranquil and quiet it's not, but for a high-energy, South Beach experience this is the spot to set up.
Crandon Park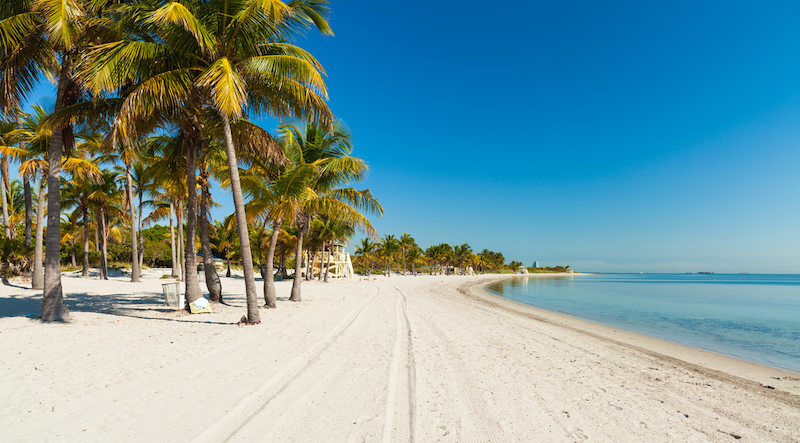 Interestingly, the sand in Miami Beach and Key Biscayne are decidedly different. The stuff in Miami Beach is a far coarser blend trucked in from a mine near Ft. Myers. Key Biscayne's sand, however, is noticeably softer, more like the powder along the Gulf of Mexico. It's best experienced in Crandon Park. The beach's swaying palms line the shore, and shallow waters make for perfect swimming and snorkeling. An afternoon sunning here is both serene and beautiful as its long beach reminds you why Key Biscayne calls itself "An Island Paradise." The waters off Crandon Park are remarkably calm, so your beach day won't be ruined by any pesky "exercise." But, if you are up for exploring, you can also rent paddle boards and kayaks.
Haulover Beach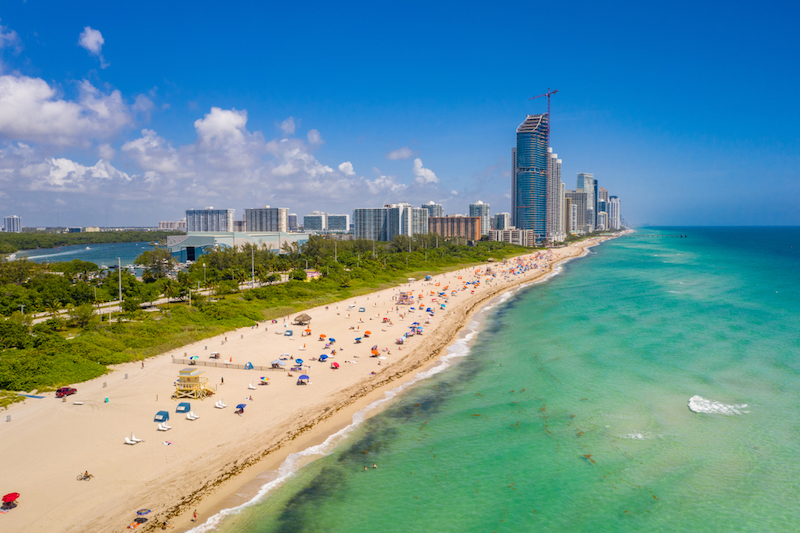 For the unaware, a trip to Haulover Beach is always a bit of a shock. That's because Haulover is Miami's lone clothing-optional beach. Though it posts plenty of signs warning of potential nudity…well, some people just don't read. If you've never been to a nude beach, Haulover makes for an easy way to dip your toes in, as the collection of families and visiting Europeans create an environment where each of our bodily imperfections feels normal. For a bit of entertainment, put your towels down near the beach's entrance. Every so often you'll spot a runner who has no idea what they're about to jog into, and their reactions are never anything less than priceless.
12th Street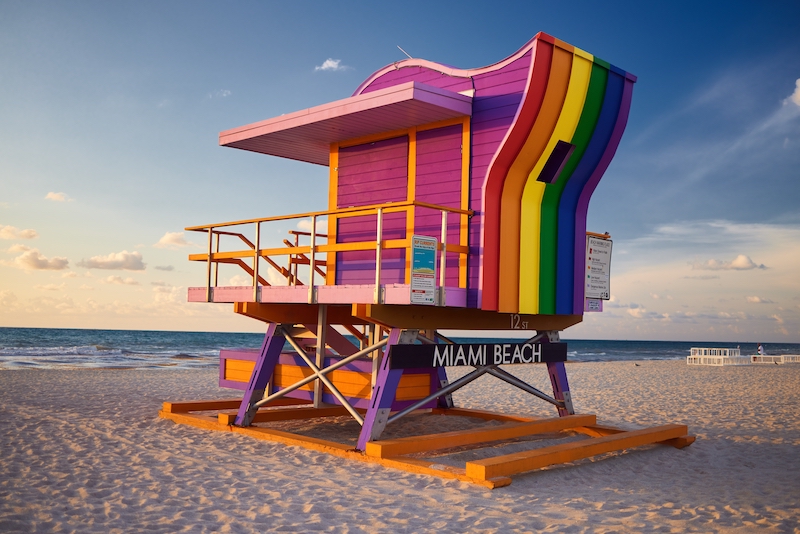 Twelfth Street has long been the LGBTQ enclave along the beach. Thumping electronic music and rainbow speedos are pretty much the daily routine. The scene is like a mini Pride festival every weekend, welcoming to all and always a good time. The party runs from about 12th to 14th Street, and continues inside Palace Bar, South Beach's home for drag shows and outrageous streetside performances.
Hobie Island Beach Park North
One might think a beach right next to a major highway wouldn't exactly be idyllic. But pull off just past the toll plaza to the Rickenbacker Causeway and you'll find an unexpected little slice of paradise. Hobie Island offers a small spit of perfect white powder, perfect for laying back and gazing out at the main house at Vizcaya and Biscayne Bay beyond. It's also Miami's best beach for swimming, as the clam water and long shoreline lend themselves to floating in the bay.