You may not have heard of it, but it's a big clucking deal: each fall, thousands of visitors from all over the United States descend on the small town of London, K.Y., to celebrate fried chicken at one of Kentucky's largest festivals. Born from a love of Colonel Sanders, a desire to revitalize community tourism and a pretty sweet sense of humor, the World Chicken Festival smashed its way out of its shell in 1990 — and has only grown each year. 
If you're a first-timer to the World Chicken Festival, besides the delicious food, you can also expect to see a variety of exhibitors, vendors and food booths lining Main Street to sell chicken-themed food, arts, crafts and other kitschy thingamabobs you didn't know you needed. And you can get your carnival kick on as well: hop on a ferris wheel, kiddie roller coaster and one of those rides that spins you around until you're ready to vomit cotton candy. 
And while not a music festival, exactly, there is also live music at the annual World Chicken Festival. This year you can enjoy headliners Smash Mouth and Deana Carter. Many early 2000's music-lovers have already heard that Smash Mouth's former lead singer, Steve Harwell passed away just a few weeks before the band is set to perform on World Chicken Festival's biggest stage. Though Harwell peacefully retired from the band and was succeeded by Zach Goode back in 2021, many fans were wondering if Smash Mouth would take a hiatus from World Chicken Festival in the wake of Harwell's passing. The band quickly dispelled these concerns with a resounding, "The show will go on." You can read the announcement here.
Other not-to-miss events? Eating fried chicken out of the world's largest stainless steel skillet and watching (or entering) the Colonel Sanders look-a-like competition. If those don't do it for you, there's also a parade, carnival, car show, a 5k run and a quilt show. (Your guess is as good as ours.)
While in the area, visit the OG KFC, Sanders Cafe and Museum. 
The Specs
Over 100,000 people attended the four-day World Chicken Festival last year. 

Admission to the festival is free. Tickets can be purchased there for carnival rides and some other activities. 

While you're in the area,

become a bourbon expert in Lexington

or spend a night in the bizarre and lavish

Kentucky Castle

.
FAQs
What is the closest airport to the World Chicken Festival?
Fly into Lexington (LEX, 76 miles north), or Louisville (SDF, 153 miles northwest). You'll need to rent a car to get to London. 
What contests can I enter?
Chicken trivia (how much do you know about our fine-feathered fowl friends?), a whiskers and beard contest, mullet showdown (how fancy is your rooster tail?), chicken cookoff, Colonel Sanders look-a-like competition, hot wing eating contest, and more. 
With so many people in a small town, will I need to worry about traffic? 
Short answer, yes. Sections of Main and Broad Street in downtown London will be blocked off for pedestrian traffic only. Leave plenty of time for parking. 
Can I bring my two trash-loving rottweilers to the World Chicken Festival 2023? 
Sadly, no. All pets are prohibited. (The smell of fried chicken would drive them too crazy.)
Where was the original Kentucky Fried Chicken restaurant located? 
The original KFC restaurant in Corbin, Kentucky.
Which musical artists will be at the chicken festival? 
Smash Mouth, Deana Carter, Kristofer Lee Bentley and the Protectors, Rags to Riches, The Wilder Blue, Eight Daze Sober, No Deceit, Rye Davis, Burden of Proof, Peggy Inks, Studio London, Tidalwave Road, McKane, Silhouette, Paint Creek, Jordan Allen & The Bellwethers. Full schedule available here.
What sort of contests will be held?
Cornhole Tournament, Chicken "Trickin" Trivia, Kentucky Fried Colonel Ride, Pickleball Open, Whiskers and Beard Contest, Rooster Tail Mullet Contest (for people), Chick-a-lympics, Chicken Cook-Off Challenge, Family Flock Look-A-Like Contest, "Run for the Roost" 5K Race, 84 Lumber Chicken Invasion, Colonel Harland Sanders Look-A-Like Contest, World Chicken Festival Pageant, OTG Karaoke Contest, OTG Hot Wing Eating Contest, Survival Egg Drop Contest, Cluckin' Struttin' and Crowin' Contest. Find more info here.
What vendors will be there?
There are over 180 vendors locked in for 2023, such as food and drink vendors Bimbo Bread and Pour Boyz or goods and services vendors, like Bluegrass Cannabis and Hartsy Fartsy Caricatures. Find the full list and map here.
2023 Poster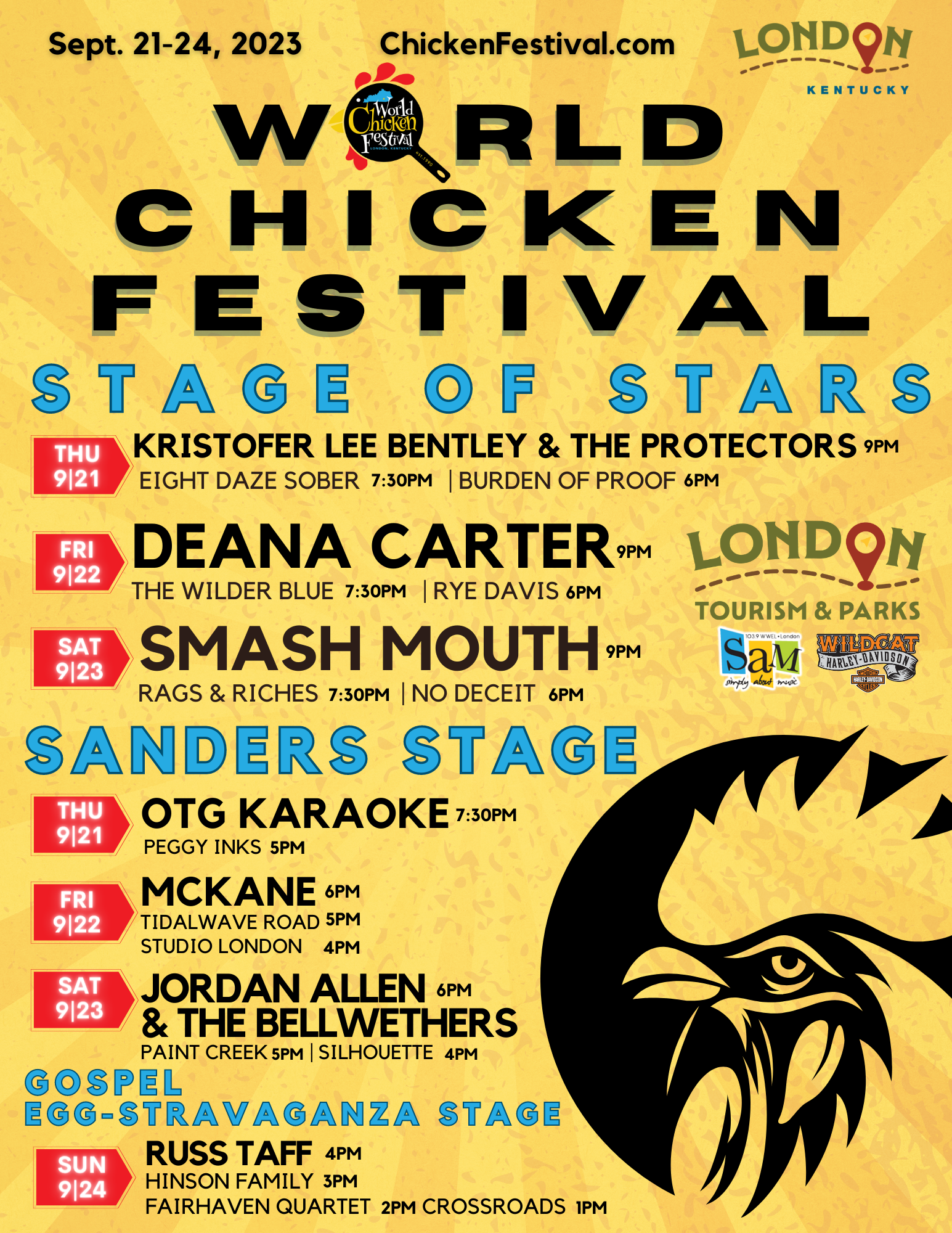 Videos
#winterwonderland on TikTok