In L.A., two signs tower above the rest announcing that you've arrived in Tinseltown. One is the famous white letters sprawled over the Hollywood Hills. The other is the bright, red neon beacon over the Hollywood Roosevelt.
In a city filled with icons, The Roosevelt stands above them all, a city centerpiece that's hosted movie stars for nearly a century. While the Chateau Marmont may have had the wild parties and the Beverly Hills Hotel might be steeped in luxury, no place is showbiz like the Roosevelt. It's where Marilyn lived, Paris partied and Shirley Temple tap danced down the stairs.
Like any Hollywood star, The Roosevelt has seen its ups and downs and reinvented itself multiple times. But like any of those names on the Walk of Fame, its appeal has been timeless, and a trip here is as close to spending time with a celebrity as you'll get without actually knowing one.
Born to royalty during the golden age of film
The Roosevelt's Hollywood pedigree began with the people who founded it. The hotel opened in 1927, under a partnership that included Douglas Fairbanks and his wife Mary Pickford, Sid Grauman and Louis Mayer of Metro-Goldwyn-Mayer fame.
Just two years after opening, The Roosevelt hosted the first ever Academy Awards in 1929. The Blossom Room was packed for a ceremony lasting barely 20 minutes, with zero recorded slaps. The Academy of Motion Picture Arts and Sciences was ultimately headquartered at The Roosevelt, its old offices now the hotel's Academy meeting space.
Screen legend Clark Gable was among the earliest celebrities to make The Roosevelt his stomping ground, where he'd meet with Carol Lombard in a main tower suite, despite his marriage to Rhea Langham. He, along with other celebrities, would use tunnels from Grauman's Chinese Theatre to secret staircases inside the hotel, making easy escapes for mid-film trysts for movie stars and their dates.
Marilyn made her home by the pool
The hotel cemented its place in Hollywood lore when a young swimsuit model named Marilyn Monroe checked into a suite just over the Tropicana pool. She lived there for two years, doing one of her first commercial photo shoots by a poolside diving board, which has since been removed.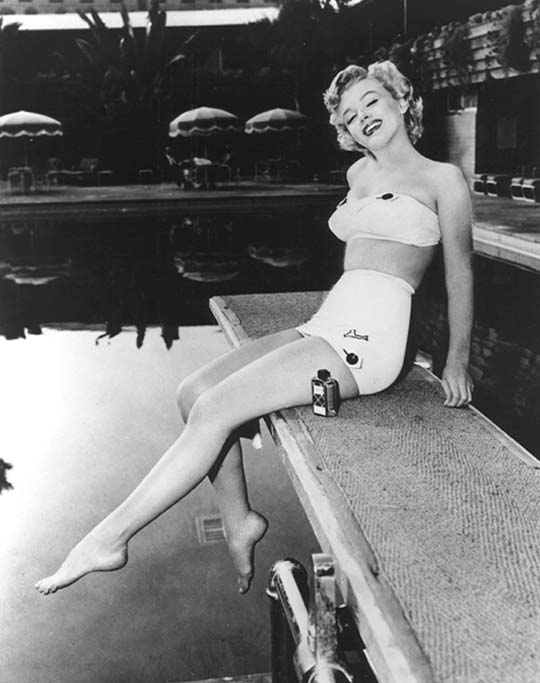 Today the suite is a celebrity favorite, a sea of sleek, white furniture and historic photos, including a smiling, candid shot of a Marilyn poolside, somewhere, with JFK. Snowboard legend Shaun White was a regular guest here, until he decided to dive from the rooftop into the Tropicana pool. He lived. His residency at The Roosevelt did not.
The pool itself is a showbiz icon, adorned in an underwater mural from British street artist David Hockney. It's appeared in countless TV shows and movies, most recently "A Star is Born" and "Catch Me if You Can," and is often transformed into a dance floor/audience pit for concerts and awards shows.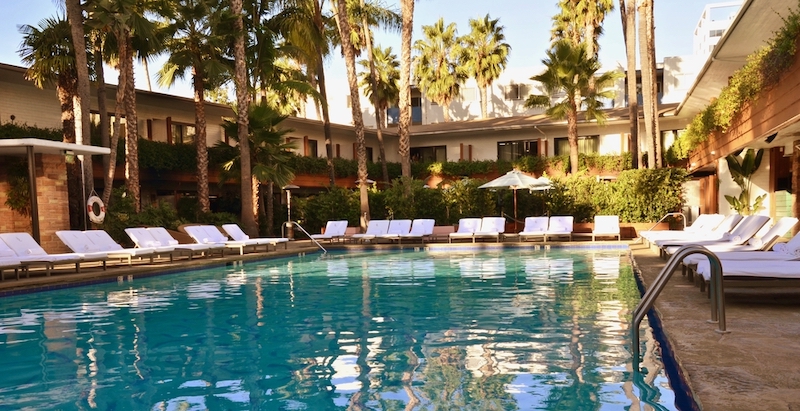 The Tropicana pool gained its most notorious fame in the 2000s, when it became a debaucherous day-drinking den for celebrities and hangers-on. Paris Hilton and Lindsay Lohan were among the names that made it a fixture on the L.A. party scene. It has since cleaned up its act, though. And while you'll still find unicorn floaties in the pool, the most commonly ingested substance here is probably the Rosy Café's kale salad.
A lobby with tap dancing and a magic mirror
The Roosevelt Hotel has two lobbies, the actual front desk and the historic lobby. The former is about as interesting as an airport Radisson. The latter is a grand slice of old Hollywood, adorned in hacienda-style design, intricate ceilings and a grand fountain.
Chipped Spanish tiles cover the floor. They are the original tiles from 1927, and cannot be replaced or repaired due to the hotel's historic designation. Some of those chips may have come from an aggressive tap dancing duet from Shirley Temple and Bill "Bojangles" Robinson, who clicked their way down the stairs and into the lobby prior to one year's Oscars.
Atop that historic staircase you'll find the Marilyn Monroe mirror, a reflective surface that once stood in her poolside suite. It's part of the hotel's haunted legend, where guests have claimed to spot Marilyn's ghost in the mirror. The hotel, for its part, says this is pure myth.
Bars with history as rich as the drinks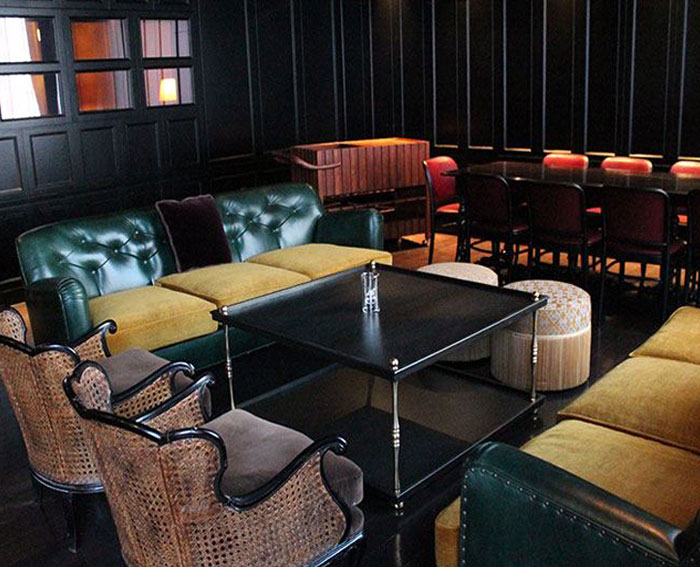 Just off the lobby sits the Writer's Room, a dimly lit speakeasy that was once a writing retreat for Ernest Hemingway and has seen countless L.A. screenwriters camp out. It's only accessible via a nondescript side entrance off Hollywood Boulevard, giving the space an extra air of seclusion.
Teddy's is the hotel's most famous nightspot. The arches, porticos and hunting lodge motif might lead one to believe it's named for president Teddy Roosevelt. But it's actually named for late director Ted Demme. Like the Tropicana, it was similarly a 2000s hub of celebrity bad decisions, where young stars of the era would go to keep the party going after the sun went down at Tropicana.
Upstairs you'll find the Spare Room, a not-so-secret speakeasy with two manual bowling lanes and furniture that looks like it could have come from the Titanic. It's a popular spot for celebrities of today to rent out, as the likes of Jay-Z, Leonardo DiCaprio, and LeBron James have all thrown private events there.
A hidden theater that was a Hollywood hot spot
The hotel's functioning lobby is rather unremarkable when compared to the rest of the property. But follow a narrow hallway just right of the front desk, and you'll come to a large bookcase on your right. Or at least, it appears to be a bookcase.
On many nights, a section of the case opens, and serves as the entrance to the Roosevelt Hotel's small theater. In the mid-2010s, that theater was Beecher's Madhouse, dubbed L.A.'s craziest nightclub and home to a weekly theater of the absurd. Flying little people done up like Oompa Loompas delivered high-priced bottles of booze via tracks on the ceiling. The strange variety shows featured little people celebrity impersonators — including Mini Kiss — as well as burlesque dancers and surreal performance artists.
Miley Cyrus has a standing table and was famously spotted here partying with Justin Bieber. Everyone from Bill Clinton to George Clooney stopped in to take in the show. And though it no longer exists, it's but the latest chapter in The Roosevelt's wild Hollywood legacy.
There is no place in The Hollywood Roosevelt that you won't find some piece of Hollywood history. Whether you're sitting at the pool where Marilyn did her first photo shoot, walking over tiles where Shirley Temple tap danced or attending a banquet in the same room as the first Academy Awards, the aura of showbiz is omnipresent. While spending a night here won't make you showbiz royalty, you'll at least get a taste for how they've lived.