Scene
Miami's history and cool embodied in a Art Deco monument 
From the moment you walk into the storied Fontainebleau Miami Beach, past the million-dollar Ai Weiwei chandeliers and into the gold-columned Bleau Bar, you are immersed in Florida lore. Everything here feels like the Miami of your dreams, from the bow-tied tile floor — a tribute to hotel architect Morris Lapidus — to the waterside watering hole at La Cote. It's not hard to envision 1950s high society descending the famous lobby stairway to nowhere, and the ghost of Frank Sinatra seems to whisper in your ear as you relax by the turquoise pool or take in the ocean view.
Though it's been around since 1954, the Fontainebleau has kept itself cool. Today, it's home to one of the highest-grossing nightclubs in the world, LIV, and boasts restaurants from celebrity chefs Scott Conant and Michael Mina. The poolside scene is just as hot as it was during the Rat Pack's heyday, but now in addition to its daytime allure, it hosts concerts from the likes of Lady Gaga and The Weeknd. The Fontainebleau IS a Miami vacation, wrapped up in one giant, 1,500-room resort. And though it's not the newest, cheapest or most luxurious hotel in Miami, it's always top of mind when planning a trip.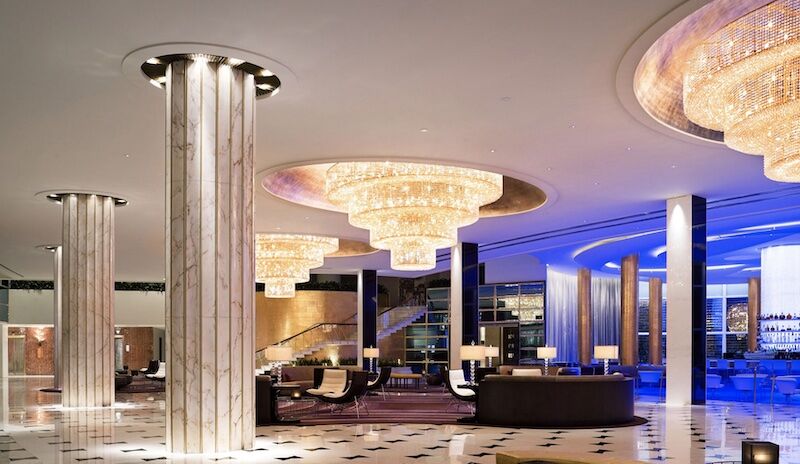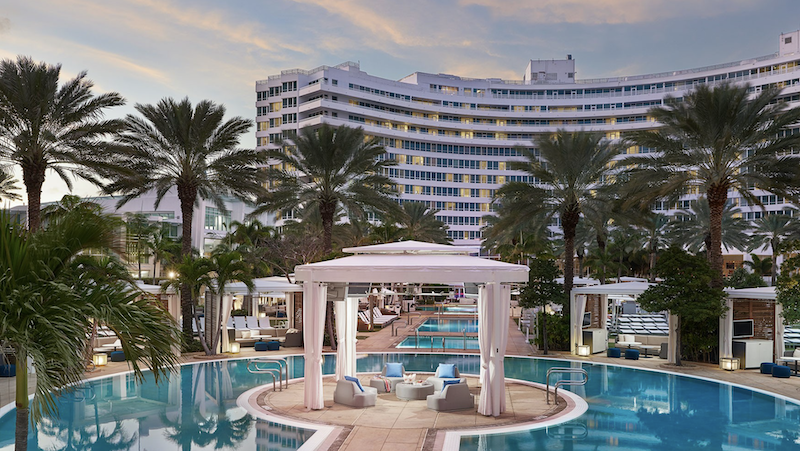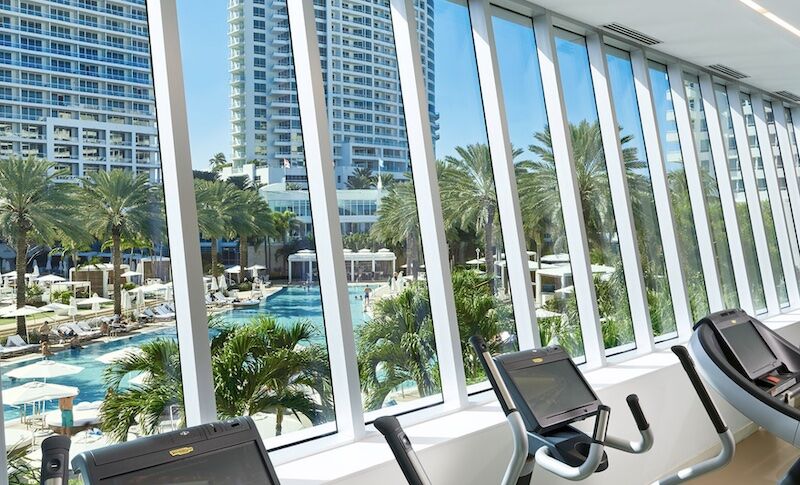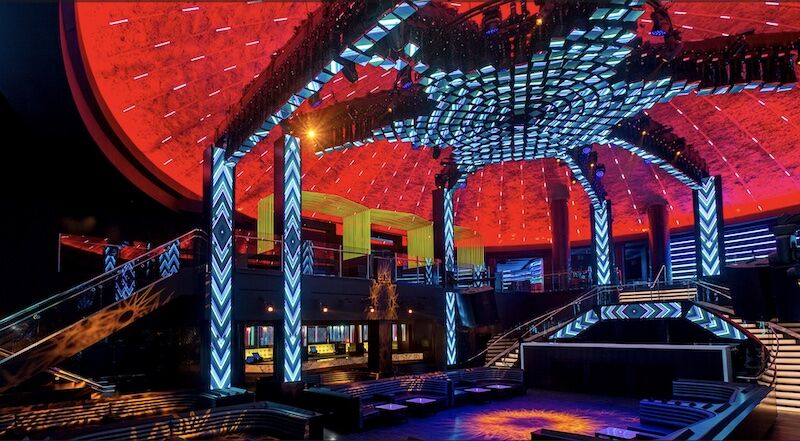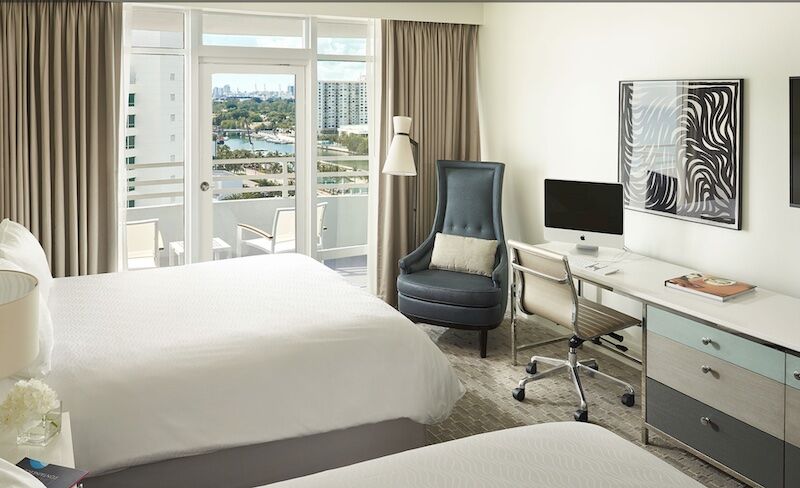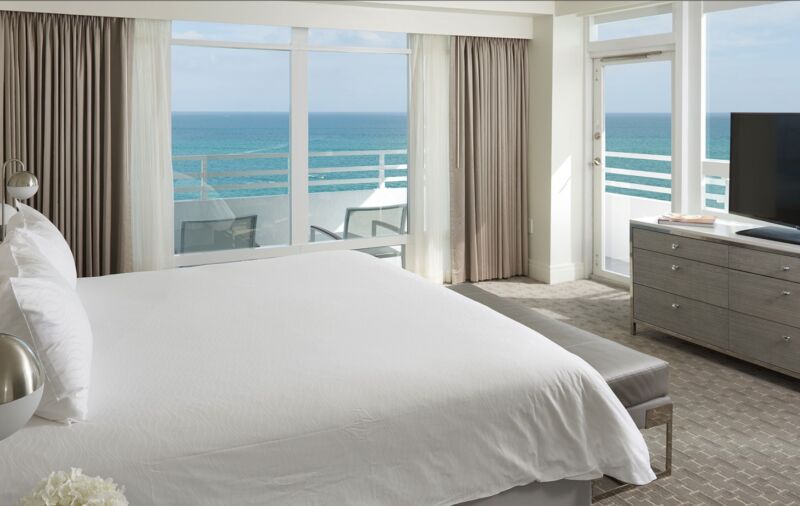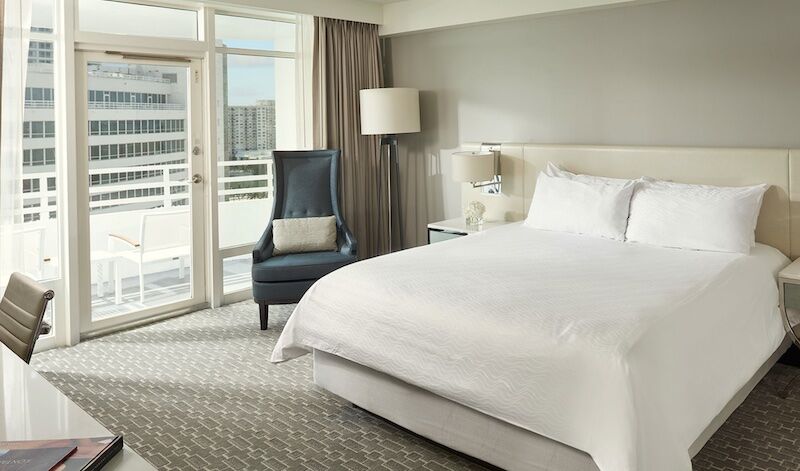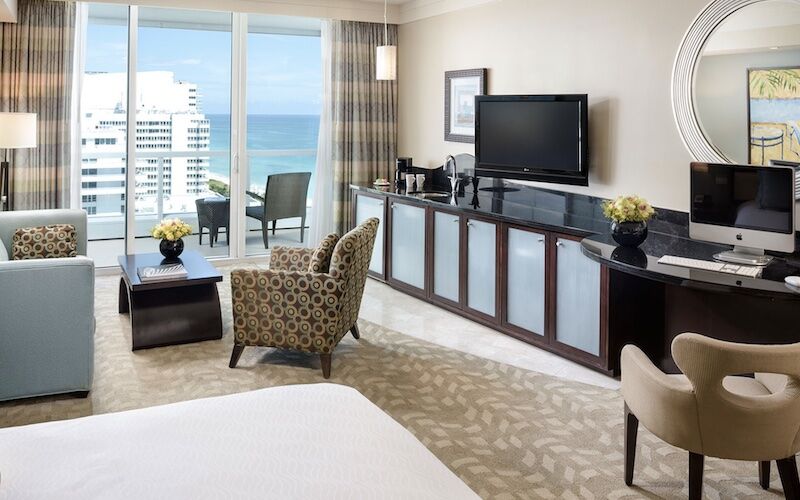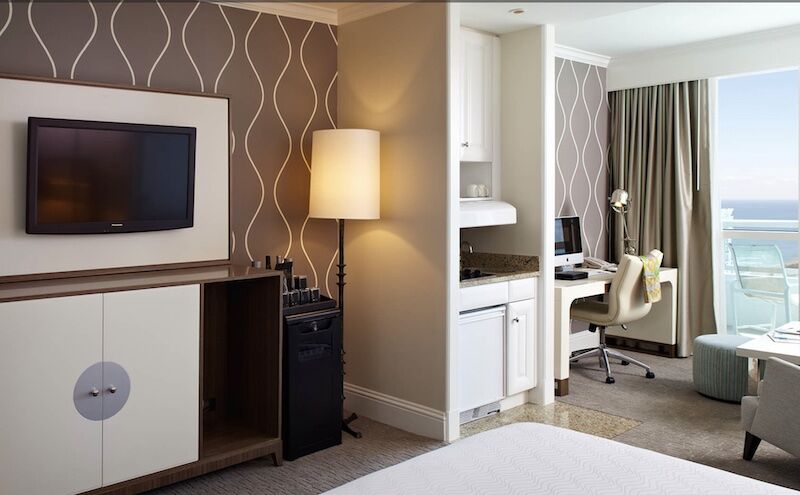 Location
Right on the beach, but not close to much
You can't really say the Fontainebleau's location is bad; it's literally steps from the ocean and offers you views of the Atlantic, Intracoastal Waterway and downtown Miami. So if you came to post up by the beach and never leave the hotel, the Fontainebleau is ideal. That said, the only place you can really walk from the Fontainebleau is the Eden Roc hotel next door. So exploring is going to require a taxi or Uber.
But if you're OK spending some time in the back of a car, here are some things to check out.
See the largest collection of art deco buildings in the world in Miami's Art Deco District. It sits in South Beach, about 15-20 minutes away.

 

Scarf Cuban food and smoke cigars along Calle Ocho in Little Havana. It's across Biscayne Bay, about half an hour by car.

Stroll through endless blocks of street murals and provocative art in Wynwood. It's six miles, or about 20 minutes away.

For modern art a little closer to the hotel, check out the

Faena District

around 32

nd

Street. The centerpiece is the Faena Hotel, where burlesque shows in the ornate ballroom and a wooly mammoth sculpture await.

If you're looking to shop,

Miami's Design District

is lined with  outposts from pretty much every big-name designer. It sits right across the Julia Tuttle Causeway, 10-15 minutes away.
#fontainebleaumiami on Instagram
Rooms
Oceanfront views and livable suites make a home for partiers and families
The titanic Fontainebleau boasts an astounding 1,500 rooms across four buildings and 36 room types. 
The four towers include the original, Lapidus-designed Chateau; the imposing Versailles building next to Eden Roc; the Sorrento, an annexed art deco hotel set right on the ocean; and Tresor, the Fontainebleau's newest addition. Chateau and Versailles are historic, and house most of the traditional hotel rooms. Sorrento and Tresor are condo residences, though most units are available for nightly rent. They house most of the Fontainebleau's suites.
If you want a full drill-down you can take a look at the Fontainebleau's website. But here are the general categories, and what you can expect:
Deluxe Bay View Room

– This is as close to a "basic" room as you're finding at the Fontainebleau, a 300-square foot space with either a king or two queen beds, and a view of the Intracoastal and Miami skyline. It brings a full bathroom with shower, and TV by the mirror. It's also got a desk, chair and plenty of room to put stuff away. Balconies are available as an upgrade.

Oceanfront Room

– Similar to the Bay View rooms, but overlooking the ocean in the Chateau building. The balcony versions of these rooms sit on the top floors of the tower, and offer a sweeping view of the pool, hotel and Atlantic Ocean.

Junior Suites

– The junior suites are effectively larger versions of the Oceanfront and Bay View Rooms, with additional seating areas. The decor will differ by tower, and are worth the slightly higher rate if you're planning to work from your room. If you're planning to spend most of your time outside, though, save some cash and spend it on drinks instead.

Executive Suites – These larger rooms offer a full living and dining area, as well as a separate desk. The bedrooms have king beds, with a full tub and separate shower in the bathroom. A second half bath also sits just off the living room.

One- and Two bedroom suites

– Nearly all of these sit in the Sorrento and Tresor towers, and feel a little more like staying in someone's apartment than a hotel room. They all include full kitchens with dishwashers, as well as a washer/dryer and massive refrigerator. In the Tresor tower, one-bedroom suites connect with some Junior suites to create little two-room apartments for families that want to stay together, but still want privacy.
Amenities
Some of Miami's best restaurants, the world's most famous nightclub and a gym with a view
Calling the bars, restaurants and other offerings at the Fontainebleau "amenities" would be kind of like calling Woodstock a "concert," but no matter your nomenclature, there's enough here that one never needs to leave. 
Pools
The Fontainebleau pool might be the most famous in America, if not the world. But the spot where Sinatra, Elvis and other luminaries have lounged is actually a dozen different pool "experiences." The largest is the Bow Tie pool, where daybeds, cabanas and a full bar create a perpetual party. There's also an Oasis pool, with an island cabana right in the middle. For guests with kids, the Family Pool outside the Sorrento tower offers a little quiet and a big water slide. For ragers, the Arkadia Pool is as close as the hotel comes to throwing a Vegas-style pool party.
Gym
Rows of cardio equipment, dumbbells up to 85 pounds, ropes, heavy bags and a full complement of Cybex machines mean whatever your workout, you can do it here. It's also got floor-to-ceiling windows with views over the pool and ocean, if you need some beach-bod motivation.
Spa
Ironically, one of Fontainebleau's most Instagrammed areas politely asks you not to use phones inside. But when you're getting sprayed from water on all sides in its landmark rain room, it's hard not to post. Still, if you can get past the influencers you'll find 35,000 square feet of spa space, including 32 treatment rooms, saunas and, yes, the rain tunnels and rain rooms.
Club
LIV, if you're not up on 21st-century nightlife, is arguably the most famous club in the world, where athletes, movie stars and top-tier musicians mingle with models and hangers-on. The biggest DJs in the world play the two-story space regularly, and on weekends the scene outside is almost as entertaining as what goes on beyond the velvet rope. 
Bleau Bar
Just past the valet drive and the front desk you'll find Bleau Bar. It was completely renovated during the pandemic, and now boasts a large oval bar encircled by gold columns and short lounge tables. It's the social hub of the hotel, whether filled with mingling guests or beautiful people pregaming a big night LIV. Even if you're not staying at the Fontainebleau, a trip to Miami almost demands you stop in for a drink here.
Restaurants
When we say you don't really ever need to leave to Fontainebleau to find what you're looking for, it's not an exaggeration. No matter your food preference, the hotel has a restaurant that fits it. 
La Cote – This San Tropez-inspired spot is open during daylight hours, and offers the closest tables to the ocean in Miami Beach. Weekends bring one of the beach's wildest rosé-all-day bacchanals.
Vida – Fontainebleau's signature breakfast spot is an American-style brasserie with all the sure-to-please classics like eggs, pancakes, burgers and club sandwiches.
Blade – Feeling like sushi? Blade has you covered, with seafood caught fresh from the Keys on Fontainebleau's private boat.
Chez Bon Bon – This lobby-adjacent patisserie offers elegant confections, as well as coffee drinks and bottles of wine.
Hakkasan – Chic, modern Chinese food that'll have you rethinking every order of takeout you've ever gotten. The neon bar mixes Asian-inspired cocktails that are just as much of a draw as the menu.
Scarpetta by Scott Conant – Celebri-chef Scott Conant's Italian outpost, where house-made pastas and fresh seafood complement a front-row seat to the ocean.
StripSteak – Steak baron Michael Mina runs the Fontainebleau's steakhouse, where a selection of rare bourbons and hard-to-find wines help you wash down prime cuts.
Pizza & Burger – For something a little lower-key, head down the stairs near LIV to Michael Mina's other Fontainebleau spot. Big red booths, dark light and some of the best burgers you'll ever try make this a laid-back escape from the scene. The craft beer selection is equally fantastic.
FAQ
What is the Fontainebleau Miami Beach's address?
4441 Collins Ave, Miami Beach, Florida
Is there a full-service concierge? 
The hotels touts its concierge services as a "team of professionals" who "can make anything happen, whether at our Miami Beach luxury resort or anywhere in the area." Services include restaurant and nightclub reservations, babysitting services, airline, transportation, limousine services, car rental services, language interpreters, area attractions, local advice, special event information, boat rentals, fishing and yacht charters, water sports, scooter and bike rentals, and more. Service available from 7 AM to 11 PM daily.  Concierge Desk located in Chateau Lobby, 305-674-4641 or email Concierge Services.
What time is check-in and check out?   
Standard check-in time is 4 PM, but you may process your check-in upon arrival and store your luggage at the Bell Desk until your room is ready. Check-out is 11 AM. Late checkout requests are based on availability. Additional charges may apply.   
Is the hotel pet friendly?   
Yes. Pets up to 50 pounds are welcome. A $100 non-refundable cleaning fee is required.  
Is smoking allowed in the hotel?   
Fontainebleau is a non-smoking hotel. Smoking is permitted in designated smoking areas outside. 
Do guests staying at the hotel receive access to LIV nightclub?
Admission to LIV nightclub is not guaranteed. There's an admission fee, even for guests of the hotel, and upscale dress code apply. 
Is there room service?  
Room service is open everyday for breakfast and dinner.
Is there free wifi?
Guests are able to use unlimited wireless internet access in the guestrooms and at the pools.
Is there a fitness center?
There is. Hit it!
Do the outdoor pools have cabanas?
Yes. Cabanas — which range from standard stuff to luxe poolside cribs — are available at the main outdoor pool as well as the Arkadia Day Club. See pricing here.
Does the hotel have parking?
Yes. Overnight valet parking is $49 plus tax per day. Oversize vehicle pricing is $75 plus tax per day.
How far is it from the hotel to Miami International Airport?
The Miami International Airport (MIA) is 11 miles away from the hotel. It takes approximately 17 minutes to drive from Miami International Airport to Fontainebleau Miami Beach.
How far is it from the hotel to Ocean Drive?
The distance between Fontainebleau Miami Beach and Ocean Drive (South Beach) is 3 miles.
#fontainebleaumiami on TikTok