Scene
 A National Historic Landmark teeming with photo ops
Imagine, if you will, rolling up a long, meandering driveway through a mysterious mist, the road flanked by redbrick buildings and large open lawns. At the end, you reach a modern Gothic castle, topped with green copper roofs and an expansive circular drive. This may sound like the opening scene to a murder mystery or tense psychological thriller, but it's what you get at Buffalo's Richardson Hotel. The former home of the Buffalo State Asylum for the Insane has been reinvented as a Gothic boutique hotel where rooms aren't always where you think they are and stairways sometimes lead to nowhere.
Not that the Richardson is even the least bit creepy. It sits on the 40-acre Richardson Olmsted Campus, a National Historic Landmark designed by Frederick Law Olmsted. The hotel itself is filled with jaw-dropping, turn-of-the-century architecture that feels like a trip into Gilded Age luxury with high ceilings, hardwood floors and picturesque backdrops. You will almost undoubtedly encounter at least one wedding party during a stay at the Richardson, though there will also be plenty of parents visiting their kids at adjacent SUNY Buffalo and art lovers visiting the nearby AKG Art Museum. If you want the very niche experience of staying in an old-timey mental hospital — minus the straightjackets and involuntary lobotomies — the Richardson is a must.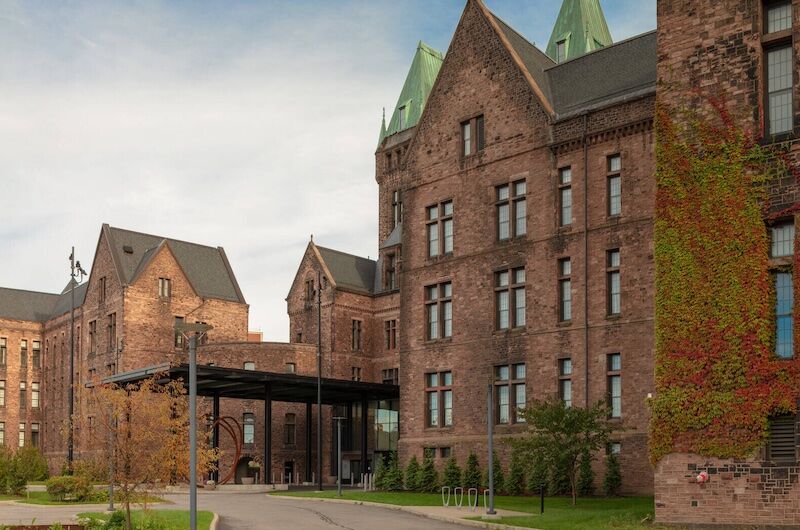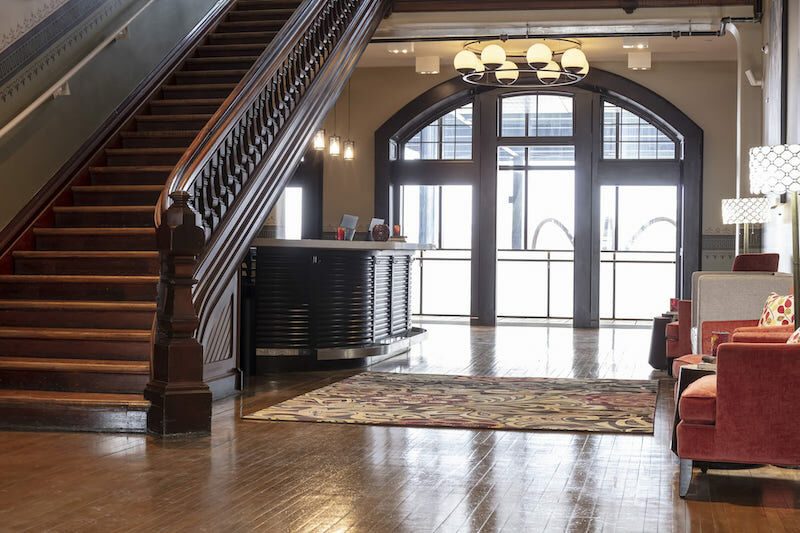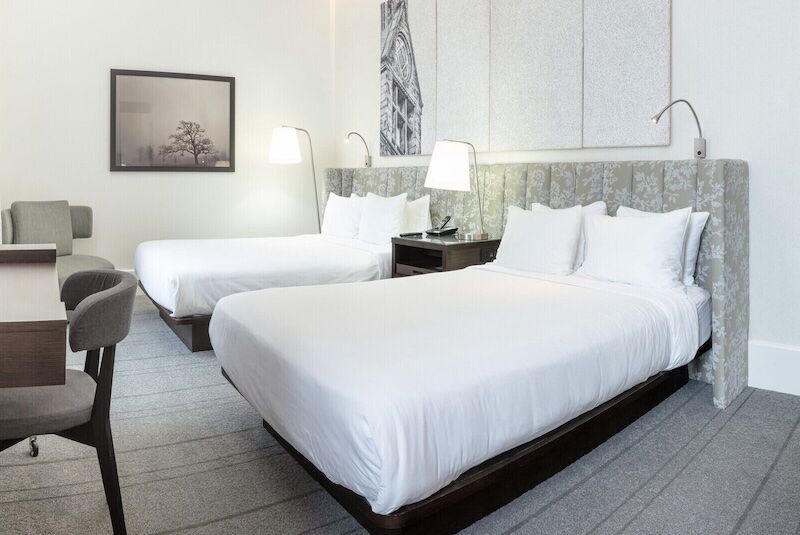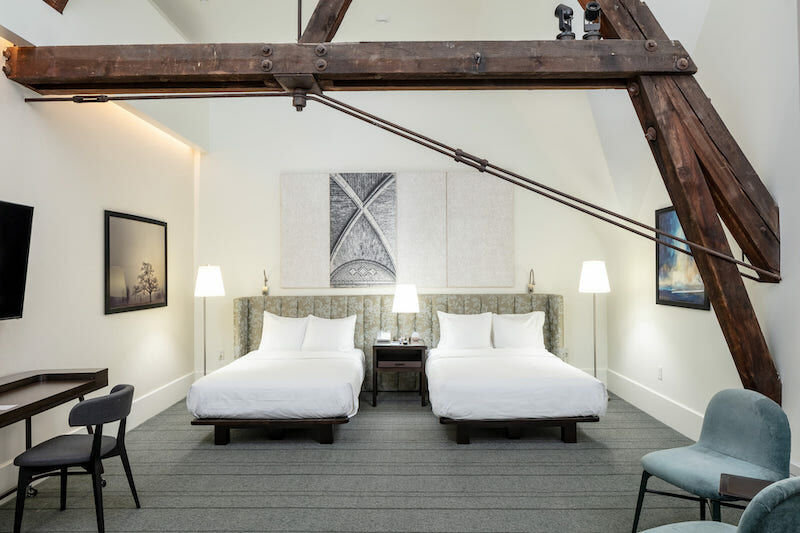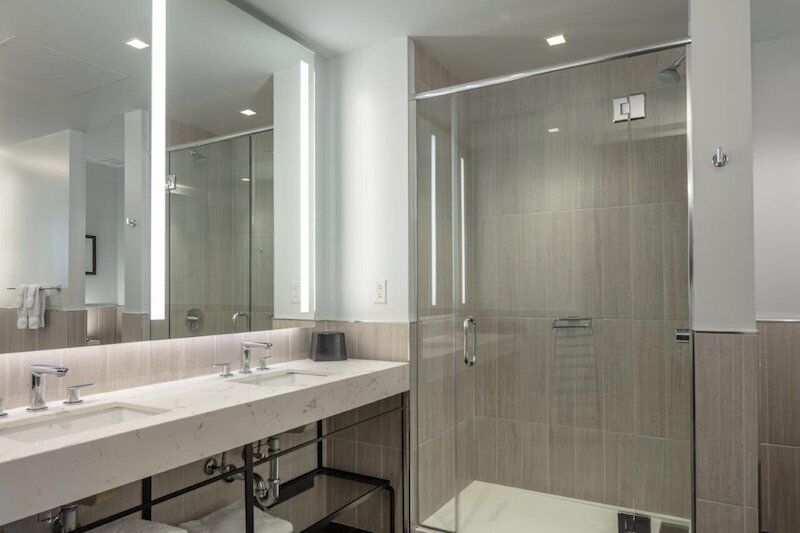 Location
Walking distance to museums and minutes from downtown
The Richardson Hotel sits a few miles from downtown near the campus of SUNY Buffalo, aka Buffalo State. It's a short walk to the newly renovated AKB Art Museum, which houses Gauguin's "Yellow Christ," as well as works by van Gogh, Dali, Jackson Pollock, Frida Kahlo and other legendary artists. It's also a walking distance (Buffalo weather permitting) to the Burchfield Penney Art Center, Buffalo State's on-campus art museum.
Other things to do near the Richardson Hotel:
Rooms
Unusual spaces with floor-to-ceiling views
Because the Richardson Hotel was built inside an old mental hospital, its rooms and hallways have some idiosyncrasies. Floors don't always connect, so if you find yourself on one side of Floor 2, but your room is on the other side, you may have to go back down to the lobby to reach it. This is all part of the Richardson's charm — or whatever you call the attractiveness of its eerie, extra-wide hallways, obviously once roamed by patients and  nonetheless done up with artsy photographs of the city and big, bright windows. Rooms are a little narrower than most, as they're adapted out of old hospital spaces; they also have big windows looking out onto the lawns, and high ceilings to let in maximum light.
The rooms' interiors are modern and sleek, decorated in mostly black and white to keep the subtle asylum motif. They have platform beds, flat-screen TVs and sketches of the building's towers on the wall. Some still have the building's pillars, repainted and standing in the rooms. Since they've all been adapted from old spaces, no two rooms are really the same, but they do break down into the following categories:
Cozy – The Richardson's entry-level rooms come in either double double, queen or king bed categories, with high ceilings, floor-to-ceiling windows, a desk and sitting chair. As the name implies, they're cozy, but perfect if you're planning to spend most of your time outside the room.
Classic – These larger rooms offer you a little more space and come in both double full and king bed categories. The windows are slightly smaller, though, so you give up a little light for the bigger floor plan.
Garden – These rooms come in double double or king size, and all have views over the calming lawns of the Richardson Olmsted Campus.
Corner Garden – Some of the coolest rooms in the hotel, the corner garden rooms have views of two sides of the lawns, high ceilings and massive windows. They are, however, far from the front desk and can be tricky to find when you get home late and haven't yet mastered the hotel's layout.
Suites – The Richardson has two categories of suites, junior and grand. The junior suites are like a larger classic room with an added office area that has a desk, coffee maker and refrigerator. The grand suites are the hotel's largest spaces, equipped with a full living room, king bedroom, mirrors, a credenza and space for entertaining.
Amenities
A mile of jogging through history and free parking
The Richardson Olmsted Campus
The Richardson Olmsted Campus that the Richardson Hotel calls home is a 40-acre tract of greenspace with plenty of areas to wander and enjoy the thoughtfully designed lawns. You can take the mile-long jogging path through the old mental hospital grounds and see modern artwork along the way.
Bar Vaux
The lobby-level cocktail bar is a pleasant place to post up with a craft cocktail. The menu is mostly small plates, so if you're not up for a big meal in the evening it's a good, convenient option. The drinks steal the show, though, and are perfect for either kicking off or ending your night in Nickel City. 
Café Calvert
The coffee shop just off the front desk sells a bevy of fresh-baked pastries alongside a menu of coffee drinks and fresh fruit.
Fitness Center
The Richardson's fitness center feels a little like going down to a dungeon, but, once you're inside, you'll find a delightfully spacious place to work out. It is stocked with treadmills, an elliptical, a stationary bike, cable weights and dumbbells up to 50 pounds. 
Parking
Parking is ample and free at the Richardson Hotel, which, other than its history, may be its greatest amenity.