This Buffalo wings story appears in The Food Issue, which is on sale here and is in stores now.
It is a cold, dreary April afternoon in Buffalo, and the people inside Duff's are doing what Buffalonians often do on such days: They are eating wings. The joyful noise of the daytime crowd seems to din for a moment, though, when I look up at my waitress to order.
"Can I get 10 regulars, hot?" I ask. "And a side of ranch."
The waitress' face drops like she'd just watched Scott Norwood miss the game-winning field goal in Super Bowl XXV. The tables around me set down their Labatt Blues and try to comprehend the blasphemy. My lunch partner, Drew "The Wing King" Cerza, interrupts his wing mid-devour, slams the bone onto his plate and glares at me like I'd just insulted his dog.
"What'd you just say?" he demands through wing-sauce-covered lips.
"I'm not even sure we have that," the waitress says to me, with the same condescension of a sommelier who was just asked for White Zinfandel. "I'll have to check."
As she leaves, Cerza apologizes to the tables around us, explaining that I was in from out of town.
"Let me explain something to you," the National Buffalo Wing Festival founder says, turning from agitator to educator. "When you're elsewhere, you can have your ranch. We really don't care. But when you're in Buffalo, that's like ordering A1 steak sauce with a prime steak. It's insulting."
"Insulting" might seem a strong word to describe a dipping sauce. But dismissing the city's collective offense would be failing to understand what wings mean to Buffalo, a place that's seen some shit and has the battle scars to prove it. In Buffalo, wings aren't just an appetizer, they're part of its cultural identity. And anything that strays from a true Buffalo wing is an affront to their civic pride.
The original Buffalo wing came with bleu cheese and celery
Wings — or as the rest of the world calls them, "Buffalo wings" — began late one night in 1964 at the Anchor Bar in downtown Buffalo. Owner Teressa Bellissimo's son and his friends came in after a long night and asked her to make something special.
Bellissimo looked at some wings she was saving for soup, threw them in the deep fryer and covered them with a special cayenne pepper sauce.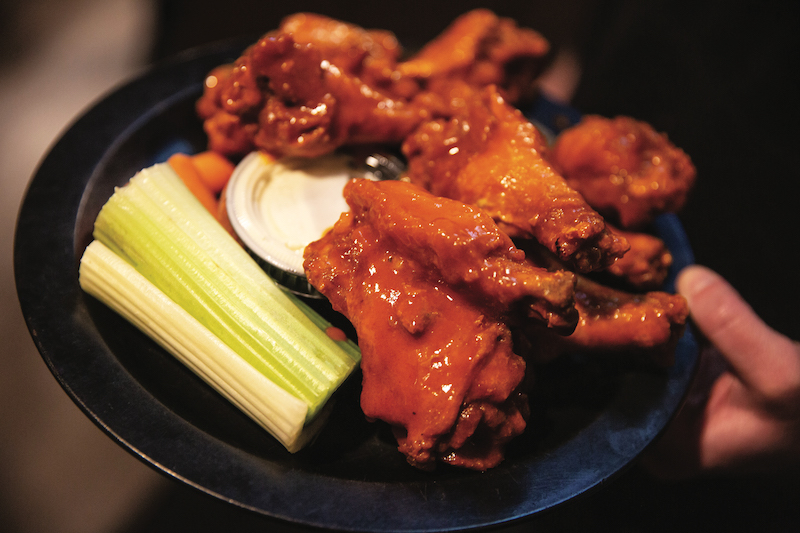 "She knew the wings would be hot, so she wanted something for them to dip the wings in to cut the heat," says Anchor Bar's president of franchise development Mark Dempsey. "She had some bleu cheese in the cooler, which was great to dip with celery, so the first night that's how it was served. And it became a Buffalo tradition; you serve wings with bleu cheese and celery."
As the popularity of the Buffalo wing took off, the city's fortunes went in the opposite direction. Between 1960 and 2010, Buffalo lost half its population, dropping from 532,000 to just over a quarter million, feeling the crush of urban flight harder than almost anywhere in America. The people who stayed didn't have much left to hang on to, but one thing they did have were wings.
"We could lay claim to the invention of a food product," says Dempsey. "You think about the pizza or the hot dog, you can't really say it's from a specific city. It's pretty cool, and we're pretty proud of it."
So the wings Buffalo invented — deep-fried, tossed in a cayenne pepper sauce and served with bleu cheese and celery — became a bright spot for a beleaguered city. And anything else claiming to be a Buffalo wing wasn't just an imitation, it was an insult.
"It's our soul," says Cerza. "The Bills and chicken wings are part of our soul, and you don't mess with those two things."
An existential dipping sauce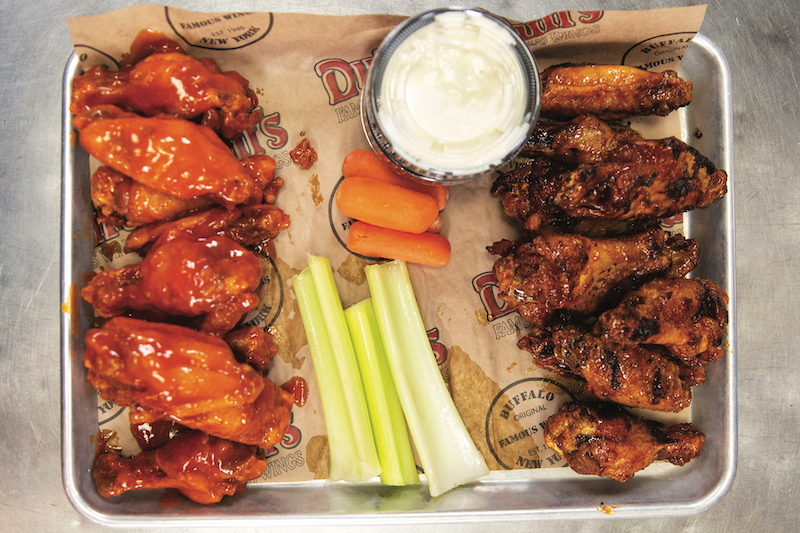 Ordering ranch with wings in Buffalo isn't just a food faux pas, like getting ketchup on a hot dog in Chicago or ordering a well-done steak. It cuts deeper than that. It's visceral.
"You have such an unbelievable chip on your shoulder if you're from Buffalo," says John Crook, co-owner of Bar-Bill Tavern, an East Aurora eatery that many say serves the best wings in the city. "You're desperate for Buffalo to be validated, so anything we can latch onto — the Bills, wings, dealing with snow — to show the city is important becomes extremely emotional because we feel like this forgotten place."
The city is important, home to glorious Gilded ge architecture, a world-class symphony and art museum and irrationally welcoming people. So Buffalonians everywhere overflow with civic pride, straining to explain to the world that their hometown is so much more than the ill-informed misconceptions. When outsiders take the one thing that's undeniably theirs and pervert it, they take objection.
"It seems goofy because it's bar food, but here it's more than that," says Crook. "Here it's our life growing up, and the neighbrohood tavern we used to go to with grandpa since we were 8. So eating wings any other way is offensive to us, because it almost invalidates that experience."
Because so many people have left Buffalo over the past half-century, Crook says those who have remained wear it like a badge of honor. That extends to the wing world, where restaurants like Bar-Bill don't even suggest serving wings with ranch.
"It just sounds gross," Crook says. "Wings are served with bleu cheese, and that's the end."
To wit, the city's official Wing Trail — where visitors can learn the history of wings and the city via a dozen or so restaurants — makes sure visitors know how to order properly. Its official social media hashtag is #NeverRanch.
Anchor Bar — effectively the wings who "left" — has branched out to 14 locations spanning from Maryland to Texas.Though they rep Buffalo hard, they are far more accepting of ranch.
"Ranch outsells bleu cheese about 10-to-one in some of our locations," says Dempsey, a frank admission that the rest of the world doesn't care too much how it's done in Buffalo. "If you ask for it in Buffalo, we're still probably going to razz you a little, though. We might ask if you know the true story of the Buffalo wing. But we're going to accommodate you."
Back at Duff's, in true Buffalo fashion the diners at surrounding tables have joined Cerza in teaching me the error of my ways, but follow each admonition with a hearty raise of their Labatt Blues and a sincere "Welcome to Buffalo!" In the City of Good Neighbors, even ordering your wings wrong makes you some new friends.
"I'm sorry, sir," the waitress unapologetically deadpans when she returns. "We seem to be out of…ranch." She draws out her last word like Count Dracula saying he never drinks wine.
"It's okay," I tell her as I pick up a hot wing.
I dip my wing in bleu cheese, take a massive bite and close my eyes. As the flavors fill my mouth, what I'm tasting isn't just a blissful combination of heat, cool and slightly sour. It's more than that. It's the flavor of grain silos and grand mansions on Delaware Avenue, of skating at Canalside and the waft of Cheerios when the wind from the General Mills plant blows just right. It's the neighborhood taverns where shift workers rolled in at 4 a.m., the pheromone-filled bars in Allentown and the late-night bad decisions at Old Pink. It's hard work and snow and the Bills and the mafia and the broken windows of the Hotel Statler. It's the constant struggle to show the world that Buffalo still matters, and the unwavering hope that someday they'll be back. And that they'll one day show the world a Super Bowl parade like it's never seen.
It is, in essence, all of Buffalo in one bite. And to ruin that with ranch would be entirely ungrateful to a city that's given us so much.