There's still massive oil paintings of ladies forlornly staring at an apple when you step inside, but now that lady may reach out from the frame, grab you by the shirt and pull you into her world. Welcome to the era of the immersive art experience. Today's digital installations cast a new glow on creative invention. Rather than just viewing the masters hung pristinely on a gallery wall, we are finally allowed to touch — and walk through, and alter, and maybe even take a piece of — the art. Immersive art exhibitions let us briefly live inside an artist's mind through cutting-edge technology like projection mapping, virtual reality and artificial intelligence. Below, we step into some of the most intriguing immersive digital art experiences in America today.
Artechouse – Multiple locations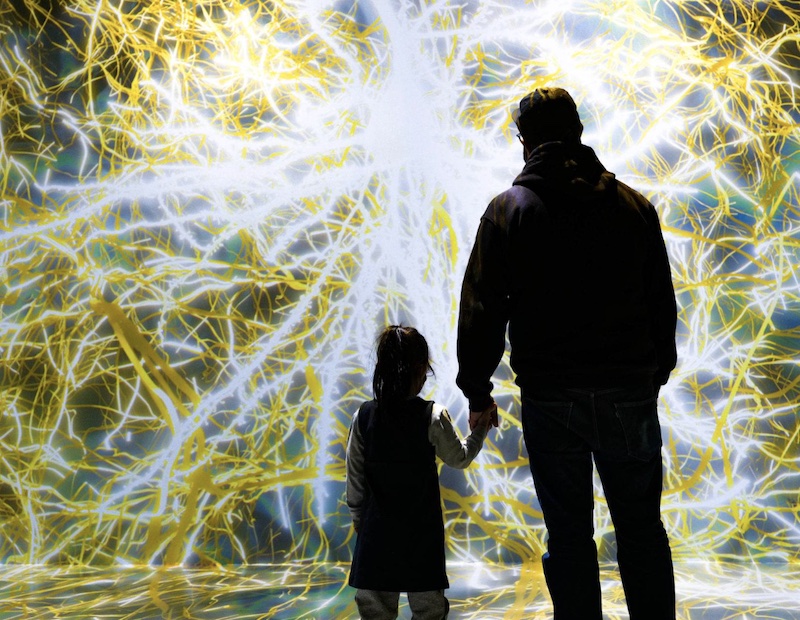 As the name suggests, Artechouse uses extraordinary venues to merge the art and tech worlds (with a bit of science thrown in, too). With locations in Miami, New York City and Washington, D.C., each complex features rotating tech-forward exhibitions. "Aṣẹ: Afro Frequencies" at the Washington, D.C., Artechouse is an uplifting interdisciplinary show honoring the Black experience with visuals by Vince Fraser and the poetry of Ursula Rucker. In Miami, visitors can view the "Renewal 2121: 100 Years Into an Imagined Future," while "Life of a Neuron" in New York City explores the human brain on a cellular journey. Tickets typically range from 17 to 30 dollars based on location.
Factory Obscura – Oklahoma City, Okla.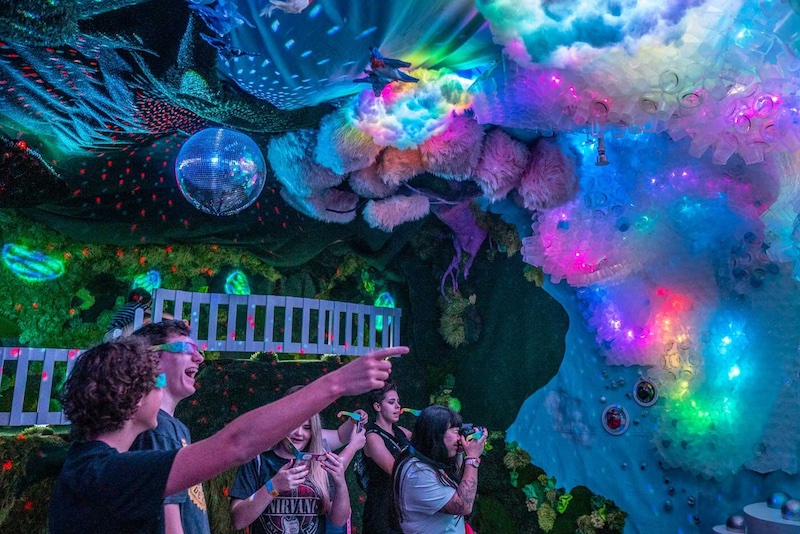 Factory Obscura, an art collaborative company, is currently exhibiting "Mix-Tape," a 20th-century spin on audio autobiographies, in their 6,000-square-foot space in Oklahoma City. Picture neon-hued portals dotted with sparkling lights that lead to textured sculptures. The art collective also hosts parties, music shows, album releases and movie nights-meet-cassette tape swaps. After taking in the kaleidoscopic "Mix-Tape," drive 24 minutes south to Norman, home of the University of Oklahoma and Factory Obscura's temporary exhibition "SYNESTHESIA." Inspired by the work of late artist and University of Oklahoma alum Olinka Hrdy, the show dives into her sensory memories existing through layers of paintings. "SYNESTHESIA" will be on display through June 4, 2023, at the Fred Jones Jr. Museum of Art and has no admission fee. 
Flutter – Los Angeles, Calif.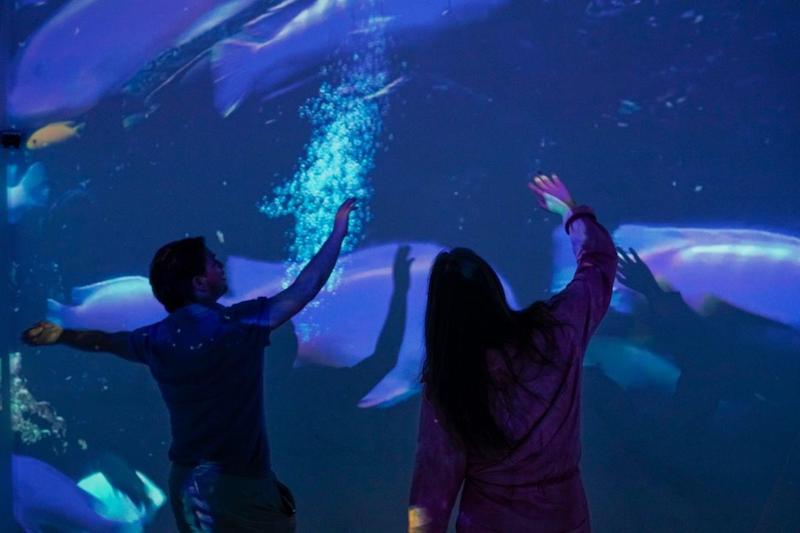 Flutter helps visitors reconnect with their playful sides through multisensory installations that are whimsical, colorful and bright. Minutes from the Los Angeles Contemporary Museum of Art, flutter built 14 immersive rooms individually designed by a different contemporary artist with intricate light installations, sculptures, virtual reality, paintings and sound baths. One such room, "Tranquility 3020," creates a space where visitors can swing through Maggie West's neon pink sanctuary and tune into her bloomy frequencies. Tickets start at 34 dollars for a 90-minute guided experience through flutter, which features a hands-on exhibit created in partnership with Lady Gaga's Born This Way, a youth-driven foundation focusing on engagement and mental health issues.
Meow Wolf – Multiple Locations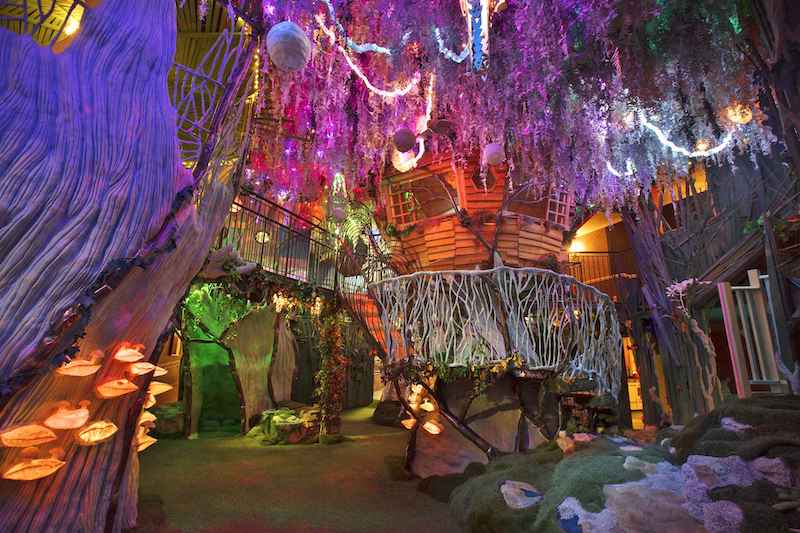 Yayoi Kusama's "Infinity Mirrors" exhibition was a turning point in the digital art sphere, but Meow Wolf may be the ultimate pioneer of the immersive art world. What started in 2008 as an informal collective of Santa Fe artists has since morphed into one of America's most successful art enterprises. Just 14 years and a lot of art supplies later, Meow Wolf now has locations in Santa Fe, Las Vegas and Denver and has two more set to open in Grapevine, Texas, and Houston. Santa Fe's "House of Eternal Return" is the collective's first project, which follows the mysterious disappearance of the Selig family. The New Mexico funhouse has over 70 rooms where you can walk, crawl and slide through exhibits. This year, three new installations were added to the permanent collection in Santa Fe, including a collaboration with Virgil Ortiz, who drew influence from his Pueblo background to create "Sirens: Secret Passkeys & Portals." Other experiences include following a glowing pathway through a refrigerator door and traversing through a forest of neon trees.
However, Las Vegas' Omega Mart may be the most visited Meow Wolf exhibit of them all. Nicknamed "America's Most Exceptional Grocery," it has four thematic areas and more than 60 interactive art portals — some of which feature installations from Amon Tobin, Beach House and Brian Eno. It took 325 artists to create the Omega Mart dream, and as a result, the masterful playground saw over a million visitors in its first year. If you're a true immersive pro and have already visited the Las Vegas and Santa Fe locations, head to Denver's "Convergence Station" and traverse the four-story exhibition with over 70 portals and wormholes like the Neon Metropolis of C Street and the frozen civilization of Eemia.
Otherworld – Columbus, Ohio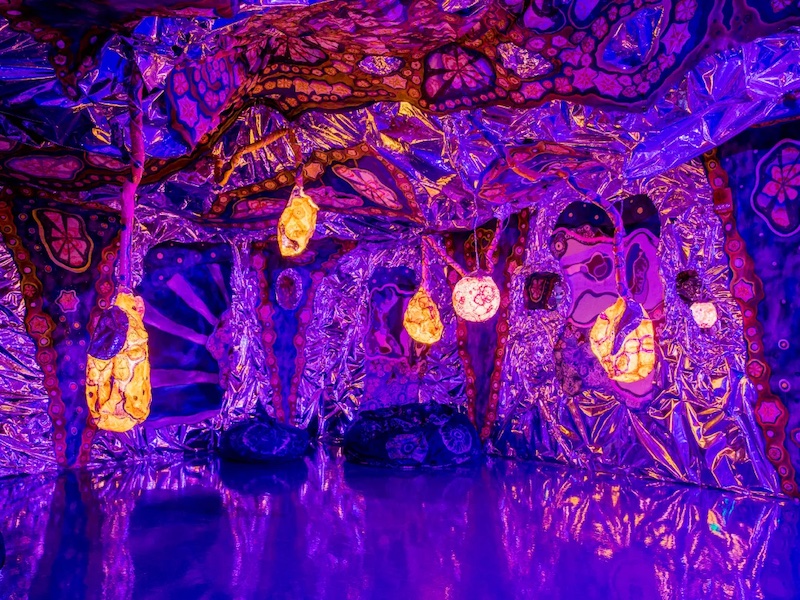 Holograms, mixed-reality playgrounds and secret passageways? Sign us up. Founded by artist Jordan Renda, Otherworld brought over 40 artists together to create Columbus' intergalactic playland. Creatives used their experience working on installations at places like escape rooms, haunted houses, Burning Man and South by Southwest to envision the multisensory world. The experience is tied together with a story: Visitors play the role of beta testers for an alternative realm tourism company who must discover laboratories filled with abstract flora and fauna, so that's kind of trippy. Creators used everything but the kitchen sink when building Otherworld, including digital fabrication, holodecks and science fiction-meets-fantasy creative writing. Admission is 25 to 30 dollars, though Otherworld also hosts DJ-set dance parties.
Seismique – Houston, Texas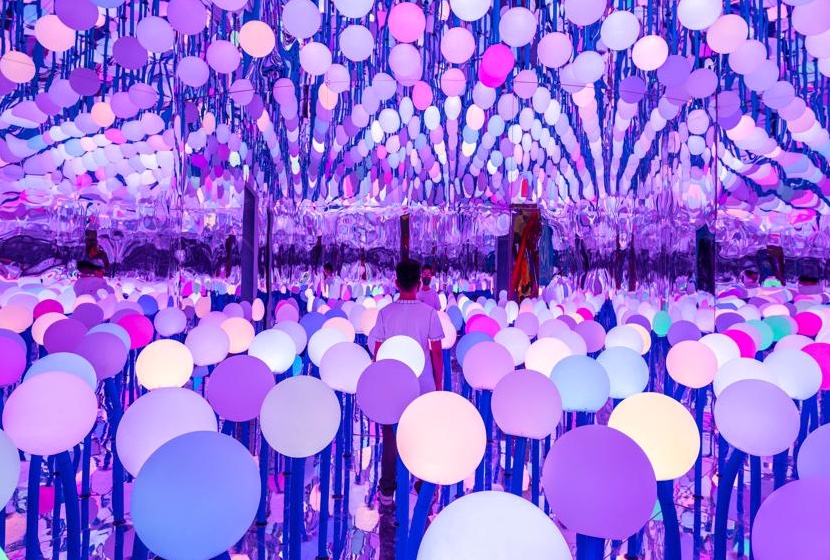 You'd probably miss Seismique if it weren't for the neon teal paint covering the building. The tech-driven art experience is located in a modest Houston shopping center next to an Academy Sports + Outdoors. Take a step inside and you'll be greeted with nine million LEDs, 111 projectors and exhibits crafted by over 65 media artists. Billed as an "art experience of tomorrow," installations here range from a lighthearted, all-ages net jungle gym to a rain room where you'll be surrounded by pouring rain showers. There are over 40 galaxies here — galaxies are what they call their exhibits or rooms — and 12 are reserved for the Houston art community, so local makers can hone their craft and showcase spacey installations. The galaxies utilize sensors, cameras and computers, along with gamification, light and sound scales, artificial intelligence and engineered extraterrestrial beings.
Superblue – Miami, Fla.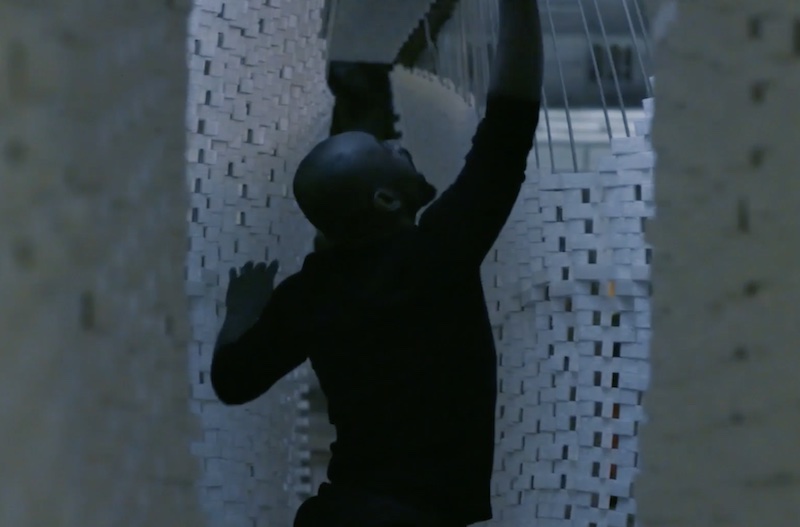 Superblue is super dreamy. The digital art center is a practice in techy meditation. Think "Blade Runner" meets an ethereal dreamscape erected with a labyrinth of mirrors courtesy of Es Devlin and James Turrell's "Ganzfeld." It will all make you feel like you're wrapped in a blanket of neon light: otherworldly and calm ultratechnologist art collective teamLab debuted "Massless Clouds Between Sculpture and Life" at Superblue in 2021, an interactive, rotating sculpture installation where guests can walk through bubbly clouds. Tickets for Superblue range from 32 to 36 dollars, with an extra 12 bucks add-on for teamLab's nebulous exhibit.
Wisdome LA – Los Angeles, Calif.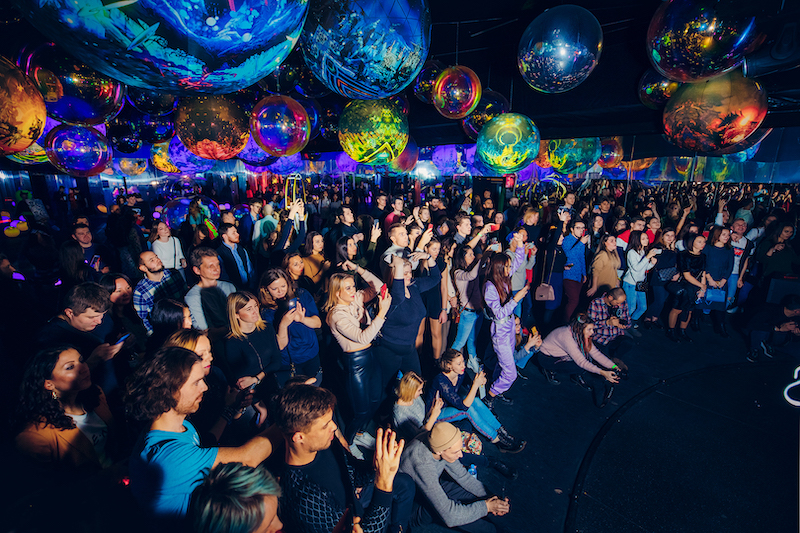 Dubbed the world's first fully immersive entertainment park, Wisdome LA has five massive geodesic dome structures where you can surround yourself with vivid light and music shows like the forthcoming space opera-meets-dance party "CONTACT: A Multi-Sensory Journey Celebrating Daft Punk." The unique indoor-outdoor park covers over 24,000 square feet and hosts events where visitors interact with "conscious entertainment of the future." Three of the towering domes feature 360-degree projection mapping, a procedure of using abstract objects as backdrops for video projections. The domes were previously showcased at Coachella and Burning Man, and today, visitors can enjoy Sacred Sundays with sound healing and yogic practices.