Around 5 p.m. on my first day at Newport Folk Festival, I received a text from a music manager who was also there: Rumor has it James Taylor is showing up. And soon. By 5:30, everyone seemed to know. Newport Folk Festival is well known for surprises. In 1965, Bob Dylan famously went electric. In 2005, The Pixies went acoustic. This year, James Taylor made a surprise appearance just before the festival's end on Friday night, drawing a swarm of the festival's 10,000-person crowd to its second-largest stage.
This is not the first time that James Taylor has spontaneously appeared at Newport Folk, yet the surprise was a stand-out of the weekend. This time around he arrived by boat late in the day to fill in for a missing Noah Kahan, providing the essential service of "emergency folk music" with an 8-song set of old favorites like "Something in the Way She Moves" and "Carolina in My Mind."
Arriving by boat may sound like an activity reserved solely for James Taylor, rich fucks or pirates. But, as I quickly discovered on Friday morning, hitching a ride at sea is an exceedingly practical form of transportation to and from the festival, which is held in Newport Harbour. From the main stage, artists look out not just at the crowd on land, but also the one at sea, where dozens of sailboats anchored themselves for the day.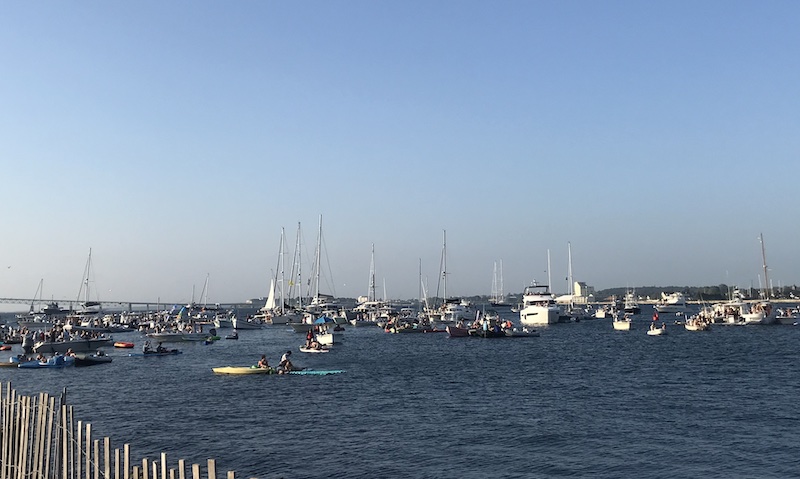 As I'm a bit downmarket of a private sailboat, I took the ferry from Jamestown, R.I., a similarly idyllic seaside town. Sitting on a small white boat on the Rhode Island shore, I — in the summer equivalent of a goth Canadian tuxedo — felt mildly out of place in the mix of middle-aged women headed to the festival in white linen shirts, nautical jewelry, and oversized straw hats – the White Lotus of outfits.
Newport Folk Festival is a hippie yacht club and musical institution in one. Having long been considered the "music fan's music festival," tickets sell out every year before a single artist is announced. Newport is folk in name and spirit but not necessarily in lineup. Playing the largest stage, this year included artists ranging from alt-pop's Lana Del Rey and indie powerhouse Maggie Rogers to rock band My Morning Jacket, 2022 Grammy Award sweeper Jon Batiste, and many more who fall somewhere on a folk-indie-soul continuum. There were so many artists that it was impossible to catch every set I wanted to.
The festival takes place at Fort Adams State Park (an actual fort complete with cannons) with stages positioned both inside and outside of the stone perimeter. It was built originally to hold 2,400 troops, but this day held 10,000 civilians struggling to get in and out of lawn chairs. After scoping out the fort, I started in a mid-sized white tent with New Zealand's The Beths, whose upbeat indie rock was backed by a towering blue and white cardboard fish onstage. The fish was pulled from the cover of their upcoming record Expert In A Dying Field, however, it fits the festival's vibe.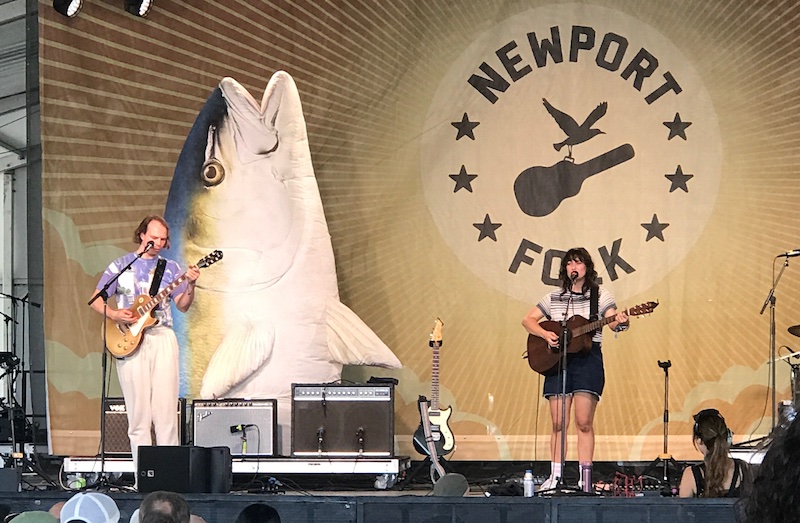 The Beths' set was my first introduction to the festival's enforced politeness. The first several rows at the two smaller stages are seats, with space designated beside and behind them for us standers, corralled within taped-out boxes on the grass. Two older volunteers roamed the aisles with spray bottles, hydrating and then gently swatting back anyone whose toes entered the several-foot-wide fire lanes. It's a very civilized music festival. The crowd — made up of every age from toddlers young enough to need comically large headphones to their grandparents — was exceptionally supportive when the band took a quick intermission to prevent their singer from dropping in the 100-degree heat.
Between respectful head-bobbing and water-chugging sessions, there is plenty of roaming to do despite the festival's size. Unlike many outdoor music festivals, all of the stages are fairly close together — only a three-minute walk away from each other around the perimeter of the fort. Between the stages are market stalls, a beer and wine garden, and of course, you can always make time for staring out at the sea.
But alas, I was in a rush to see another band.
The Harbor Stage, the smallest of the three main stages, sits just outside the arched entrance to the fort. Slaughter Beach, Dog, took to it in the mid-afternoon, drawing a large crowd that swelled past the tent into the sun. Making their Newport Folk Festival debut, the band played an entire set of new and unreleased songs from their upcoming album Crying, Laughing, Waving, Smiling, which ventures further into the folk half of folk-rock than any of their previous four albums. Among the new releases, the almost nine-minute-long "Engine" was a standout, with vivid lyrical imagery bleeding into a multi-minute-long guitar solo. 
"I love the song itself. But that was the last thing we tracked on the first session we did. And it crystallized like, oh, this is a special thing," guitarist Adam Meisterhans told me later that afternoon while we listened to Taylor's set. Meisterhans was also the connecting link between the band and singer-songwriter Erin Rae, who performs vocals on their upcoming album and joined the band onstage at Newport. The Hold Steady's Craig Finn was a second special guest, who joined the band for a cover of Neil Young's "Barstool Blues," before The Hold Steady played their own full set the next day. The cover is in line with the band's evolving sound. Their set evoked classic rock singer-songwriters like Young, Bob Dylan, and Tom Waits — everyone but Taylor the band joked as he played behind us.
It was a big day for Neil Young covers I discovered at my next destination. The second smallest at Newport, the Bike Stage, as I learned from its creators Jeff Gorman and Jake Cochran of indie rock duo Illiterate Light, was an idea long in the making. An early form of it came about in 2010, when they biked from city to city on tour in Virginia, and eventually began utilizing bike power in their shows. The six bicycles next to the stage give it both its name and its power, as peddling audience members provide the electricity, along with solar panels, during each set. The duo is heavily influenced by songwriters with a political voice like Young — they covered "Vampire Blues" during their set — and Newport Folk Festival co-founder Pete Seeger.
"The first time that we played here in 2019, we were driving out of the port and we saw about 1000 or 2000 bicycles lined up right next to the festival gates," Gorman said after their set. "And we had the idea, if we ever do something bike-related, Newport would be the place to do it." The duo played a mix of lyrical, psychedelic folk, and guitar-heavy rock — with songs sometimes flowing between the two. Armed with only a drum kit and a guitar, their high-energy performance encouraged the rotating bikers to pedal faster. I suggest Peloton instructors take notes.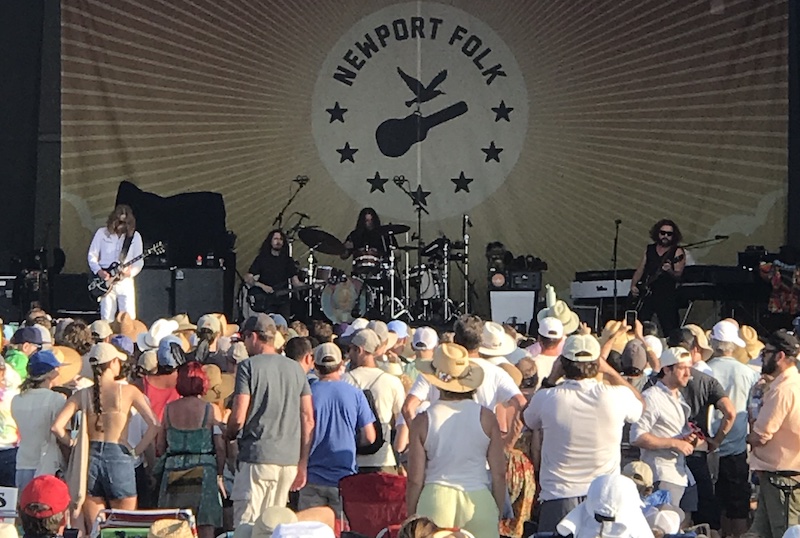 There is a special kind of exhaustion reserved for the end of a day at a music festival. I began to feel it as I hauled myself to the Fort Stage to watch My Morning Jacket close out Friday. I saw it in the swaying crowd, heads tilting back not quite in time with the alt-rock band, bodies turned away from the stage to watch the sun sink into the harbor beyond the Fort Stage. Or maybe it was just me who was beginning to sway.
In all my years of attending music festivals in inhumane temperatures, I've never gotten to the point of hallucinating before. So, when Animal (of the Muppets fame) appeared on stage with his own drum kit, his little orange body flailing to the beat, I knew it was probably time to leave.