Perched on the high bluffs of the Mississippi River, overlooking Tennessee and Arkansas, Memphis is known for its stellar barbecue and rich musical history. Beale Street is synonymous with legends like B.B. King, Elvis Presley and the many blues, soul and rock 'n' roll musicians who've hailed from the area. In the past few years the city has also become known for the rise of its public art, especially street art. As one lifelong Memphisian puts it: "It's like a big museum, what's happening in Memphis with these murals. You should definitely come and see it." Indeed. Let's take a tour of Memphis' can't-miss spots to pair some paint with your next trip to Bluffs City.
"Memphis Upstanders," which honors the city's history with figures who've stood up for social justice, sits appropriately across the street from the Lorraine Motel, where Dr. Martin Luther King Jr. was assassinated in 1968. The must-see mural by Nelson Guttierez and Cedar Lorca Nordbye was organized in 2016 by Memphis-based nonprofit UrbanArt Commission, which has facilitated local public art throughout the city since 1997. Check out UAC's interactive map to explore all 140 public art projects they've facilitated thus far.
Local professor and self-taught street art photographer Karen Golightly cites this "hidden gem" as her latest must-see spot for Memphis street art. In 2015, Golightly founded the Paint Memphis street art festival, which has grown into national recognition (though not without ruffling a few feathers). Paint Memphis animates a new neighborhood each year with artists, paint and a poppin' block party. October 2021 marked the fest's seventh edition, in South Memphis. Off the beaten path, at the warehouse of festival sponsor Farrell-Calhoun, massive industrial facades offer incredible canvases for artists like Tony Diaz and Skela. Orlando-based Christian Stanley knocked it out of the park with this mesmerizing mythical figure.
Paint Memphis held their 2020 edition in the Carriage District — the uptown enclave that's home to the city's carriage horses — and invited artists to work on staggered schedules due to Covid precautions. While this stymied the usual atmosphere of collaboration, it also produced an unintended consequence — it encouraged artists to embrace painting. Case in point: this effort led by LA-based artists Jaime Guerrero and Roshi. Locals lovingly refer to their work here as the "four witches wall."
Memphis might be best known among the locals for its reputation of "grit and grind." The city's kept true to this title, maintaining authentic industrial elements that frame its street art beautifully. During your trip to the Carriage District, make sure to check out Grind City Brewing Co. for a beer break, exploring Paint Memphis's 2020 curation around the industrial complex. The whole setting creates a unique in-person art experience that's emphasized by the heavy machinery just over the fence. Mind your timing as well — there's an unmissable Elvis mural on the other side of this pillar that lights up at night!
Downtown Memphis is the home of Beale Street and Autozone Park, where the Triple-A Redbirds baseball team and the pro soccer Memphis 901 FC play. Trolleys run the streets at relaxed intervals, authentic down to their wooden seats. World-renowned street art abounds across downtown, like this soulful mural from Belgian-born and Hong Kong-based artist Caratoes, which she dedicated to the origins of blues music. Curated by Art Whino Gallery in 2020, this photo only shows half the mural, which occupies one side of The Peabody hotel — which runs the length of this alley.
Experience South Memphis with a drive under this steel sculptural installation created by Jill Turman. Each of the buildings crafted on this now-defunct railway represent an iconic structure from the area. Facilitated by UrbanArt Commission in 2000, the artwork received a Year in Review award from the Americans for the Arts Public Art Network in 2001. David Lusk has overseen his eponymous Memphis-based gallery for 26 years, and cites this artwork as one of his favorite public installations in the city. "Sounds really simple, but how many people use those train trestles for real sculpture? They get painted on," he reasons, "but to go 3D up on top of that is a really exciting idea."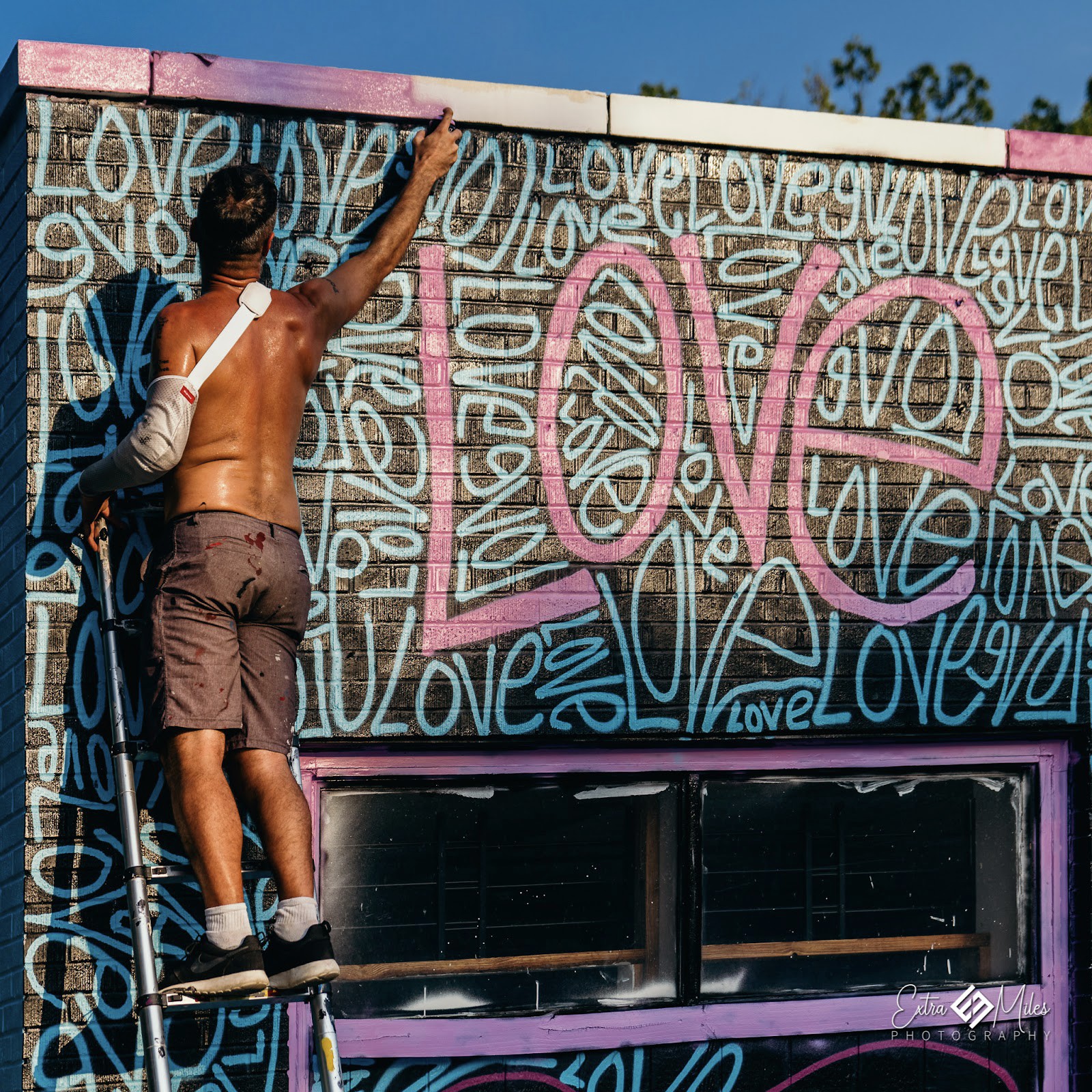 Memphis's Lamar Theatre opened in 1926 and operated as a traditional cinema until the 1960s, when it became an adult movie theater. Sealed and vacant for decades, Lamar Theatre still stands, dilapidated but with those iconic old-school lights. In 2019, Paint Memphis brought artists like New Orleans-based Preacher to the theater and surrounding neighborhood. Their work remains on view today — alongside this mural by nomadic artist Renda Writer, you can also find artwork from Columbian street artist Natalia Olaya and an early public mural from Memphis local Carlos Valverde, who made his jump from canvas to wall painting with inspiration from Paint Memphis.
About two miles uptown, art enthusiasts can't miss Crosstown Concourse, a shuttered Sears headquarters re-imagined as a mixed-use development with seven floors of restaurants, cultural attractions and, of course, street art. Crosstown Arts is a creative nonprofit based out of the Concourse that hosted artist residences and other ventures like their Moonpie Project (curated by Birdcap!) until the pandemic hit. Where the Moonpie Project murals have always been temporary, Crosstown Arts also invited muralists to paint large canvases on mobile stands in the concourse plaza, many of which are on view in the building's public areas. Take a look and stay longer to sip a craft cocktail at Art Bar or spin records at the Memphis Listening Lab.
Catch some of the city's most current murals at the epicenter of Paint Memphis's latest edition. Over two dozen artists painted this massive building in South Memphis, now completely quilted with color. Their work will greet guests at an upcoming community center geared toward women, run by building owner and native Memphisian Lisa Akbari. She plans to offer services that give a "hand up" rather than a "handout" across demographics, everything from clothes and food to academic tutoring and job training.
If your Memphis art adventure ends at the airport's newly redesigned Concourse B in the near future, then make sure to check out three installations currently underway, courtesy of UrbanArt Commission. Local artists have joined forces for the installation above along with paintings printed on glass walls and two mixed-media murals from Jamond Bullock and Eric Okdeh.
ArtsMemphis Executive Director Elizabeth Rouse notes that the omnipresent legacy of "grit and grind" is innate to the Memphian spirit, adding, "There's so much pride here, but I would really describe Memphis as a place where one can make a difference." All this musical city's art expansion has allowed its local creatives to enter a thriving renaissance. "We're really seeing art in our community become more accessible, and I would say more relevant and engaging," Rouse says. "That's really exciting, because that's what it's all about."