America today does not look like America yesterday, America tomorrow or even America next week. Though one of the constants that we can count on year after year, are the handful of remarkable landscapes awaiting us across the country. Here we've wrangled together America's most vibrantly hued places, including celebrated spots you may know and love and mystical locales you'd swear were in another country, or better yet, on another planet.
Albuquerque International Balloon Fiesta – Albuquerque, N.M.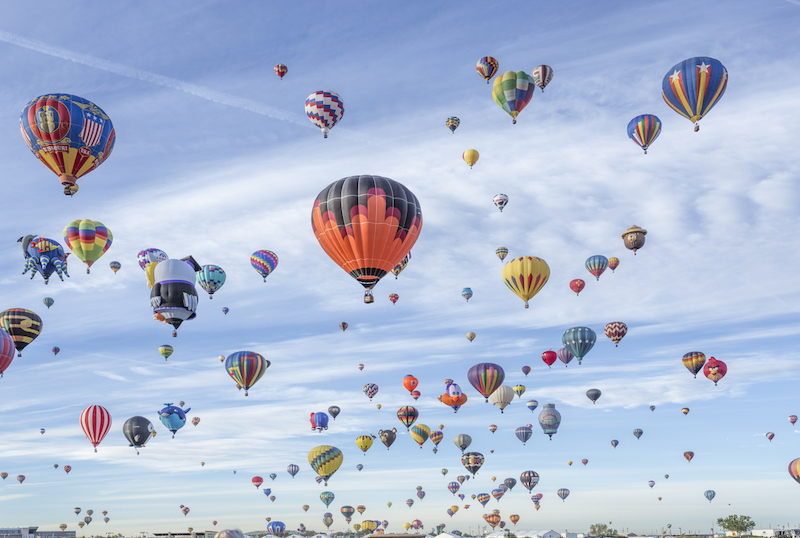 The Albuquerque International Balloon Fiesta is the world's largest hot-air balloon festival and remains a bucket-list destination for travelers from all over the globe. Every year, New Mexico's sky is illuminated by over 500 colorful and awe-inspiring hot air balloons during the first week of October. The festival will celebrate its 50th year in 2022 and showcases balloons with multicolored checkerboards, stripes, herringbone patterns and more. Some of the most noteworthy exhibitions include Dawn Patrol, where pilots take off in the dark and fly balloons until the sky is light enough to see landing sites, and Night Magic Glow, where hot air balloons float through the night sky like ornaments.
Albuquerque International Balloon Fiesta, 5000 Balloon Fiesta Parkway, Albuquerque, N.M.
(505) 821-1000
Also see: Best Things to Do in Albuquerque
Antelope Canyon – Page, Ariz.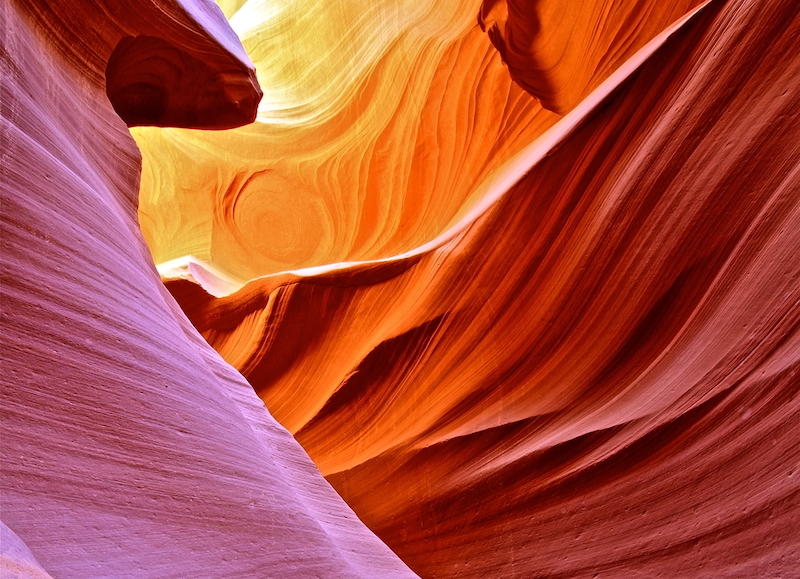 When you visit Lake Powell Navajo Tribal Park in the spring or summer and hike the short trail to Antelope Canyon between 11:00 a.m. and 2:00 p.m., you will be surrounded by one of America's most radiant, ocherous wonders. Antelope Canyon is situated on Navajo land and consists of five slot canyons showcasing vibrant and bonny orange rock arches. The most traversed slot canyon is Upper Antelope Canyon — known as "The Crack" — where afternoon light beams shine down and illuminate the amber, yellow and orange hues of the precious channels like a candle.
Lake Powell Navajo Tribal Park, 337 N. Navajo Dr., Park, Ariz.
(928) 645-0904
Bluebonnets – Marble Falls, Texas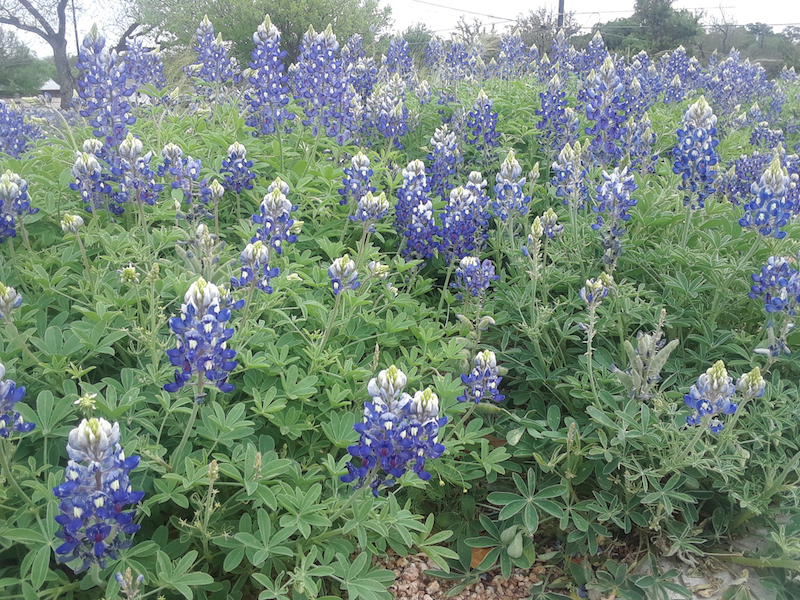 Springtime in Texas means it's time to frolic through a field of majestic bluebonnets like you're "Half-Pint" from "Little House on the Prairie." As the official state flower, bluebonnets can be found all over the Lone Star State but are at their most bountiful and stunning atop the rolling valleys of Hill Country destinations like the Turkey Bend Recreation Area in Marble Falls. With over 1,000 acres to explore on the shores of Lake Travis, visitors can find time to enjoy a picnic among the vibrantly blue fields before taking in the ether via kayak.
Turkey Bend Recreation Area, 4000 Shaw Drive, Marble Falls, Texas
(512) 473-3366
Cadillac Ranch – Amarillo, Texas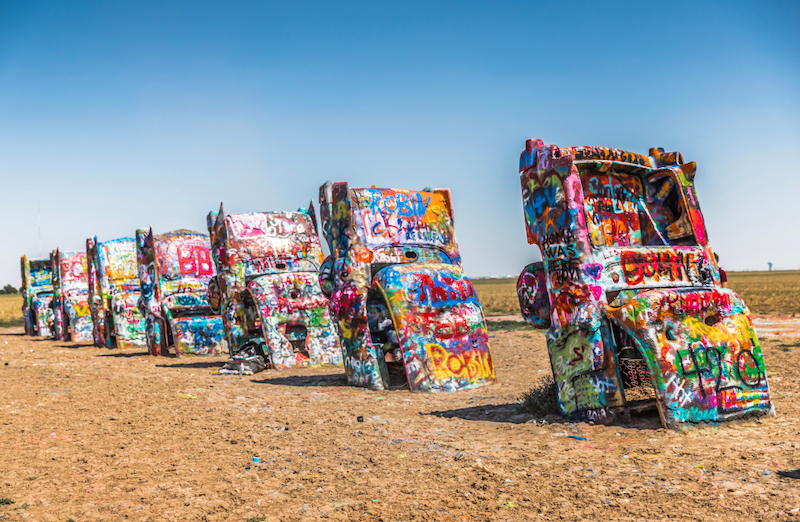 We like to think that when George Strait sang "Amarillo by Morning," he was envisioning himself gazing upon this sculpture in the Texas panhandle's Cadillac Ranch. Situated just west of Amarillo, Cadillac Ranch is the 1970s brainchild of a San Francisco-based art group known as Ant Farm. The art installation consists of 10 vintage Cadillacs sprouting upright from the ground in the middle of an empty field. Celebrities like Rihanna have visited the colorful masterpiece, and Bruce Springsteen even wrote a song named "Cadillac Ranch." Make sure to come equipped with a can or two of spray paint if you care to contribute to the ever-evolving masterpiece.
Cadillac Ranch, 13651 I-40 Frontage Road, Amarillo, Texas
(833) 330-2650
Cranberry Bogs – Cape Cod, Mass.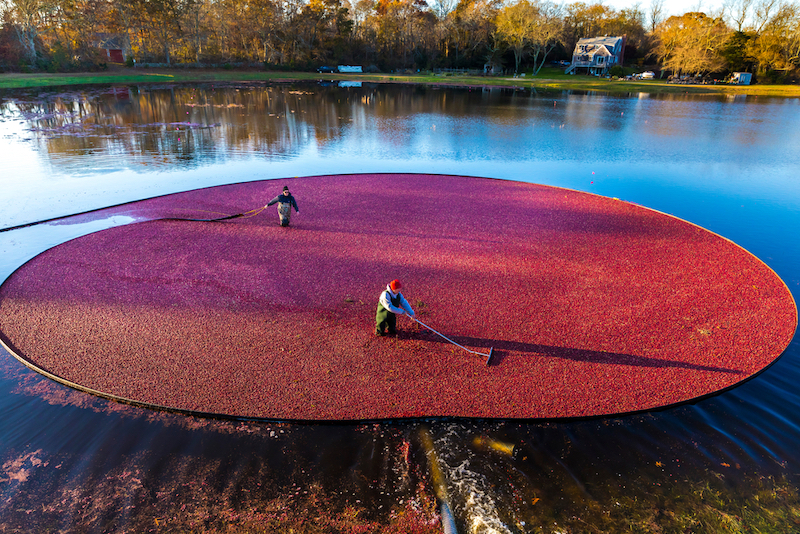 Cranberries are grown and harvested in bogs before Ocean Spray lovingly shapes them into gelatinous, cylindrical molds for Thanksgiving. While there are several sloughs throughout New England, the eye-catching bogs of Cape Cod, Mass., are the best places to view the brilliant variations of pink, blush and deep red berries in the country. The best time to enjoy the berries is in the fall when a cool, blue waterscape complements their vivid colors. Take a walking tour of a farm via the Cape Cod Cranberry Bog Tours before visiting the Annie's Crannies gift shop to grab some cranberry marmalade.
Cape Cod Cranberry Bog Tours, The Governor Prence Inn, 66 Route 6A, Orleans, Mass.
(508) 237-5478
Fremont Street Experience – Las Vegas, Nev.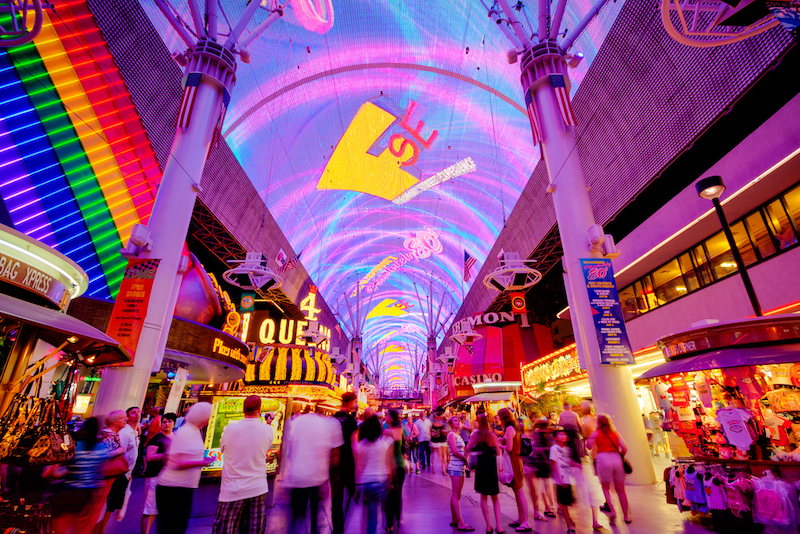 The Fremont Street Experience may not have the towering fountains of the Bellagio, but what it lacks in water shows, it makes up for in a kaleidoscope of fluorescent colors. Less than seven miles from the Strip in downtown Las Vegas, the Fremont Street Experience is appropriately called the "Glitter Gulch" due to its large number of vibrant neon signs. Check out brightly lit vintage casinos like the Golden Nugget, Fremont Hotel and Circa Resort before walking under the swooping LED canopy to watch the Viva Vision Light Show. The five-block stretch also throws nightly concerts and has the infamous SlotZilla zipline for daredevils searching for an extra dose of color.
Fremont Street Experience, Fremont St., Las Vegas, Nev.
(702) 678-5600
Also see: Best Things to Do in Las Vegas
French Quarter – New Orleans, La.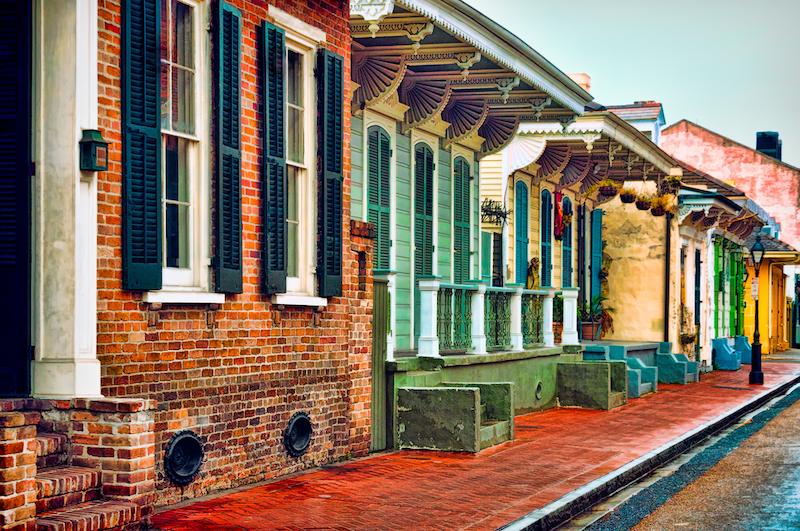 It's not the first reason we flock to New Orleans, but there IS vibrant and colorful architecture that adorns the French Quarter's streets. Shades of teal, coral and yellow hug the walls of cottages, businesses and rowhouses, showcasing the cultural vibrancy of the neighborhood. The neon lights of jazz clubs, restaurants and markets illuminate the colorful buildings at night. With over 300 years of history, horns and gumbo under its belt, the French Quarter continues to celebrate the music and Creole-Cajun roots of the Crescent City through color.
Also see: Best Things to Do in New Orleans
Grand Prismatic Spring – Yellowstone National Park, Wyo.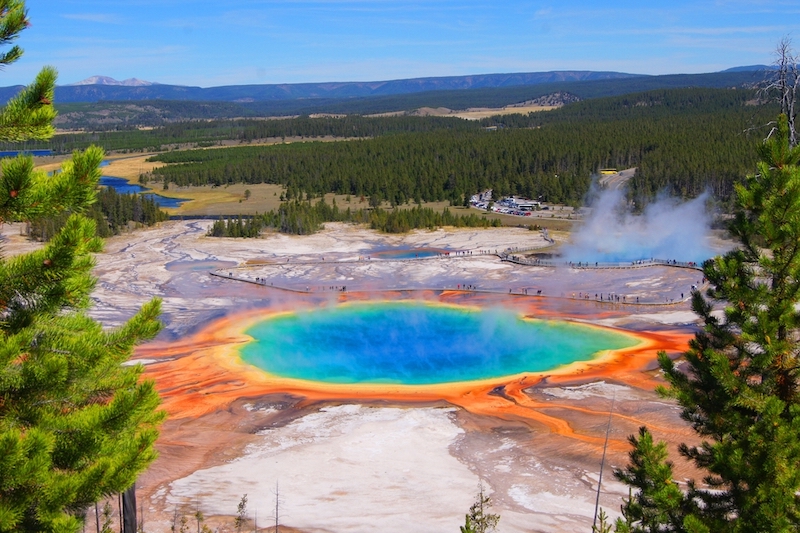 Grand Prismatic Spring is the largest and arguably most radiant hot spring in America. Situated in Yellowstone National Park's Midway Geyser Basin, the colors of the Grand Prismatic Spring are bright shades of red, orange, yellow, green and blue and are identical to hues often seen in a rainbow concentration of white light by an optical prism. The stunning pool is best viewed when the mineral-rich water is most vivid during the warm Wyoming summers. Pack up your camping gear and settle in for a night under the stars at the nearby Fairy Meadows campground.
Yellowstone National Park, 2 Officers Row, Yellowstone National Park, Wyo.
(307) 344-2263
Mendenhall Glacier Caves – Juneau, Alaska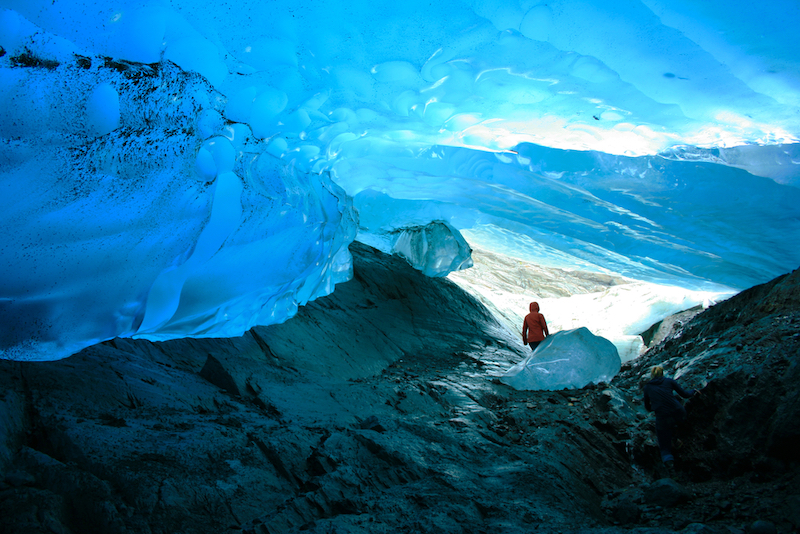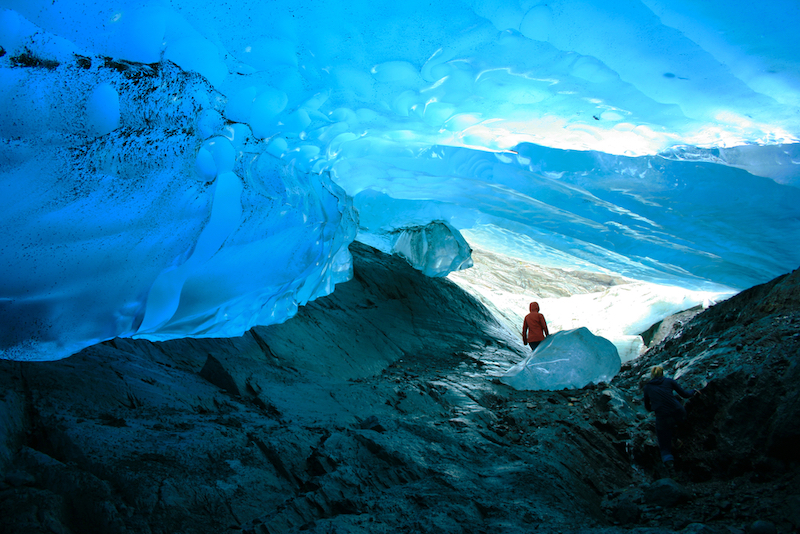 Outdoor adventurers hoping to explore the Mendenhall Glacier Caves need only travel 20 minutes north of Juneau to Alaska's Tongass National Forest. Stretching nearly 14 miles long, the Mendenhall Glacier is one of several floes in the greater Juneau Icefield, but what makes it unique are its otherworldly blue caves. The grottos range in size from compact potholes to towering caverns and form when water passes between rocks and ice, creating cerulean ceilings where ice absorbs the colors of the visible light. If you hope to take in the crystal blue colors, your best bet is to visit between May and October and take one of the region's guided ice adventure tours.
Mendenhall Glacier Visitor's Center, 6000 Glacier Spur Road, Juneau, Alaska
(907) 789-0097
Also see: Best Things to Do in Juneau
National Cherry Blossom Festival – Washington, D.C.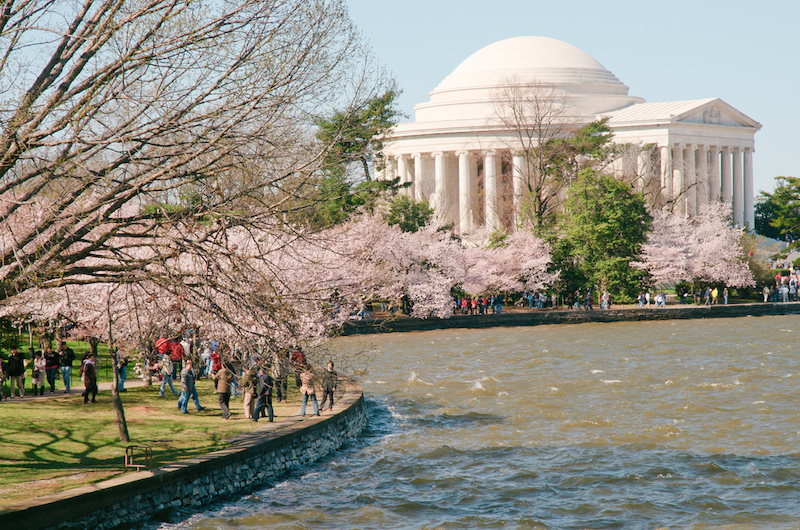 Each year, flower enthusiasts visit Washington D.C. for the National Cherry Blossom Festival in the spring from March 20 through April 17. The celebration commemorates March 27, 1912, when Tokyo's then-mayor Yukio Ozaki gifted Japanese cherry trees to the city as a sign of friendship. Today there are more than 3,000 trees in Washington D.C. with varying shades of white, pale pink and dark rose, and the most well-known location to view these stunning blossoms is Tidal Basin. Floret aficionados can commemorate spring by attending various events including the festival parade, Blossom Kite Festival and Petalpalooza.
National Cherry Blossom Festival, 1275 K St. NW, Ste. 100, Washington, D.C.
(877) 442-5666
Ocean Drive – Miami, Fla.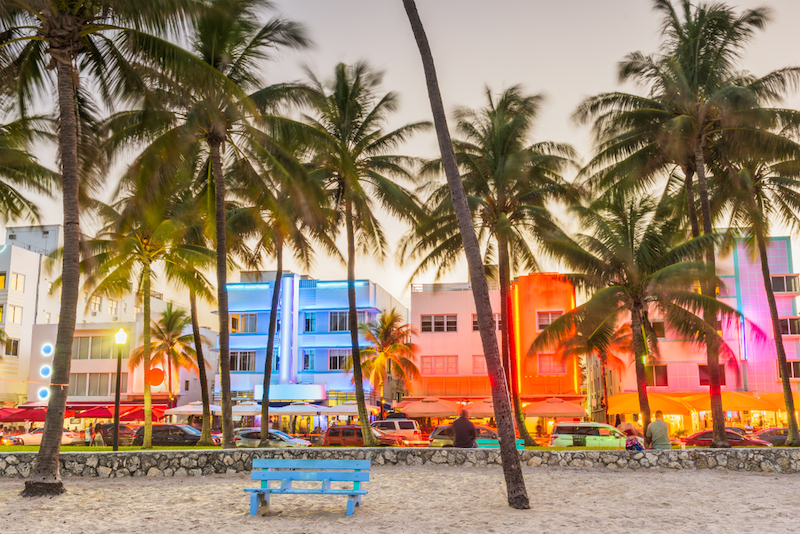 South Beach's Ocean Drive runs parallel to the sandy shores of the Atlantic and is the center of the Art Deco district's flamboyant architectural masterpieces. Its brightly colored buildings have also been featured in classic films like "Scarface," "The Birdcage," and Jon Favreau's "Chef." Make sure to cruise down the road at night when its tropical restaurants and clubs become illuminated by glowing lights.
Miami Beach Welcome Center, 100 16th St., Ste. 6, Miami, Fla.
(305) 672-1270
Also see: Best Things to Do in Miami
Painted Ladies – San Francisco, Calif.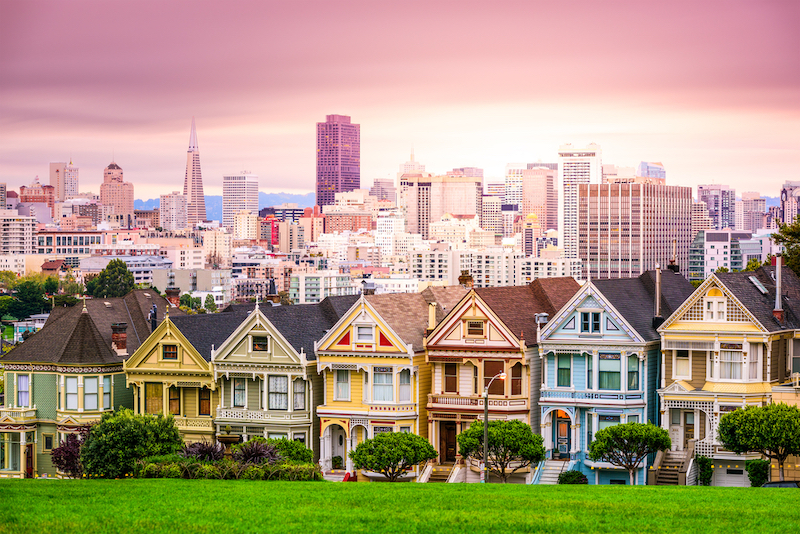 You may recognize the Painted Ladies of San Francisco from the introduction of the popular '90s sitcom "Full House" and as the place where the Tanner family spent their formative years. While Bob Saget is sadly no longer with us, the famed Victorian and Edwardian homes remain a visual San Francisco treat for locals and tourists alike. The seven houses are each decorated in varying ice cream pastel shades and are set against the breathtaking backdrop of downtown San Francisco. Check out Bi-Rite Market on Divisadero and grab your favorite provisions before taking in the views of the Painted Ladies al fresco from Alamo Square Park.
Painted Ladies, Steiner St. & Hayes St., San Francisco, Calif.
(415) 673-6864
Pando – Fishlake National Forest, Utah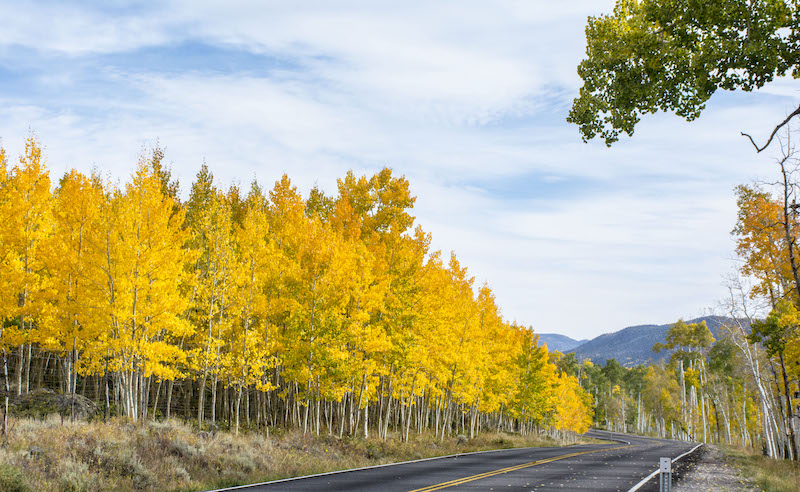 Ardently known as the "Trembling Giant," Pando is a colony of a single quaking aspen tree spanning roughly 106 acres. Latin for "I Spread," Pando is located in the Fishlake National Forest of south-central Utah and has just one massive root system. How cool is that? Pando, one of the heaviest and oldest living organisms in the world, comes alive when the grove's leaves turn a bright and spectacular shade of yellow in early October. Since each of Pando's 47,000 trees share the same root system, walking under the stunning flaxen canopy is a magical splendor that every traveler should experience at least once.
Fishlake National Forest, 115 E. 900 N., Richfield, Utah 
(435) 896-9233
Rainbow Eucalyptus Trees – Maui, Hawaii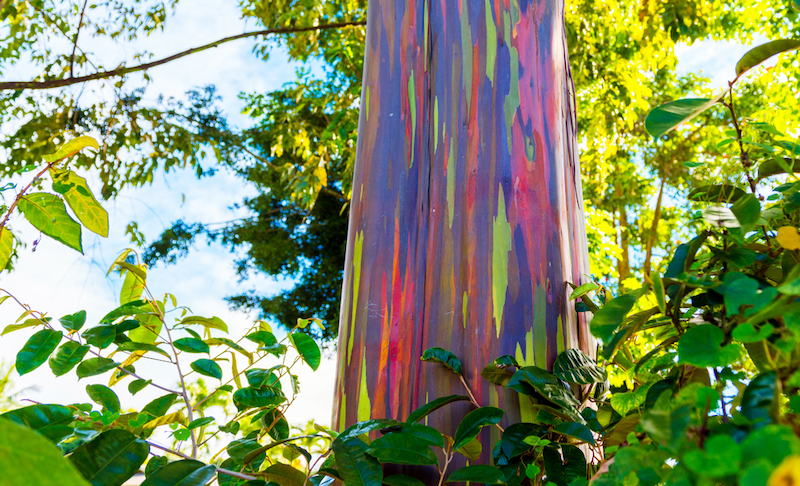 One of the many stops on Maui's famed Road to Hana is an astonishing and shrouded grove of trees fondly referred to as the "Painted Forest." The aromatic and towering rainbow eucalyptus trees are covered in neon-colored striations that resemble the delicate strokes of a paintbrush. Maui's native trees are best viewed after a rain shower when the colors are at their most vivid; however, because the Road to Hana is located on the windward side of the island, the colorful behemoths can be enjoyed all year round. Make sure to stop by Aunty Sandy's and grab a heaping slice of their famed banana bread afterward.
Maui Visitors Bureau, 427 Ala Makani St., Kahului, Hawaii
(808) 244-3530
Rainbow Row – Charleston, S.C.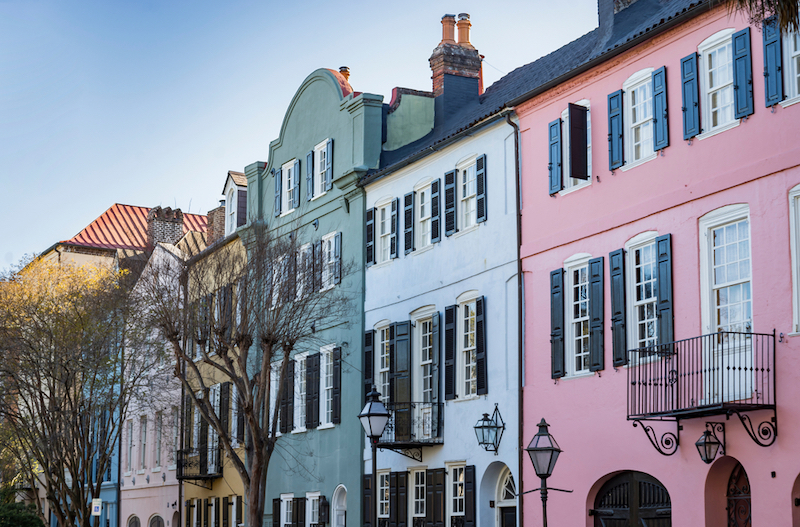 In recent years, Charleston's Rainbow Row has become a notoriously Instagrammable destination, but the Georgian homes of 79 to 107 E. Bay St. have a history that dates back to the late 18th century. Rainbow Row consists of 13 pastel-hued homes that run along The Battery waterfront and have survived the Civil War and WWII. These two-story residences are adorned with delicate shades of sky blue, canary yellow, lavender and pink and have become a popular spot for engagement photoshoots in the Holy City.
Rainbow Row, 83-107 E. Bay St., Charleston, S.C.
(803) 528-8317
Salvation Mountain – Slab City, Calif.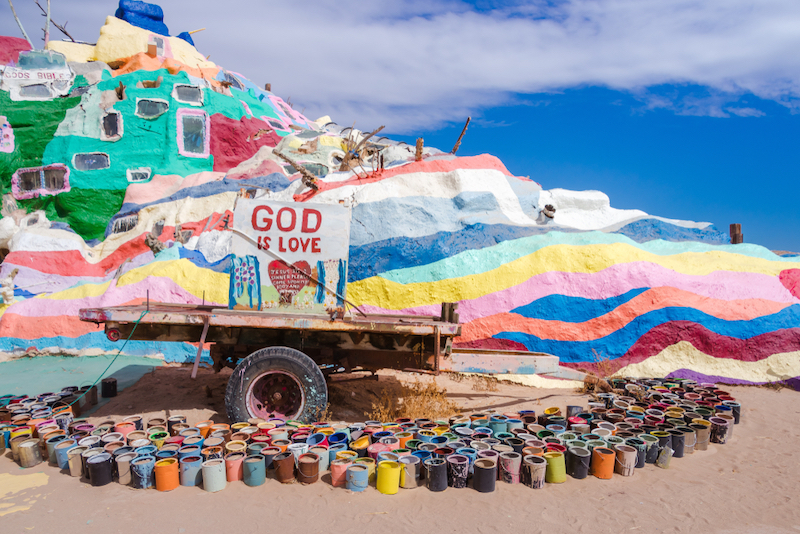 Crafted by the late Leonard Knight between 1984 and 1988, Salvation Mountain is a bizarre and magnetic art installation in the middle of the blazing Sonoran Desert. Slab City, a colorful alt-life community without modern laws or amenities, borders the hill while a shallow lake known as the Salton Sea sits nearby. Knight erected the trippy and mystifying sculptures with scraps of adobe bricks, used car parts and an endless amount of colorful paint. Sightseers are encouraged to donate a can of paint and visit during October through May when temperatures cool down.
Salvation Mountain, 603 Beal Road, Niland, Calif.
(760) 624-8754
Skagit Valley Tulip Festival – Skagit Valley, Wash.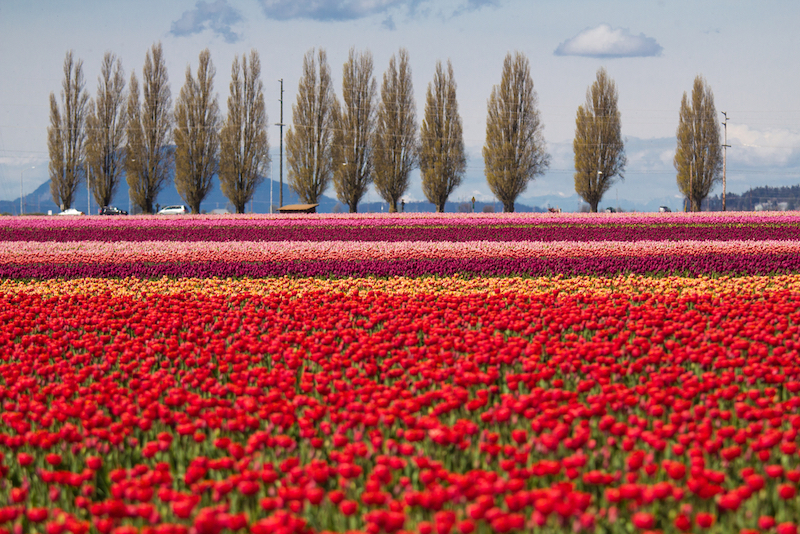 Mount Vernon hosts the month-long Skagit Valley Tulip Festival each April, a celebration that's Washington State's largest. It features a gorgeous sea of striking tulips on some of the region's most historic farms. When there, you can tiptoe through the tulips and have a picnic overlooking rows of pink, orange, yellow and red bulbs.
Skagit Valley Tulip Festival, 311 W. Kincaid St., Mount Vernon, Wash.
(360) 428-5959
Waimea Canyon – Waimea, Hawaii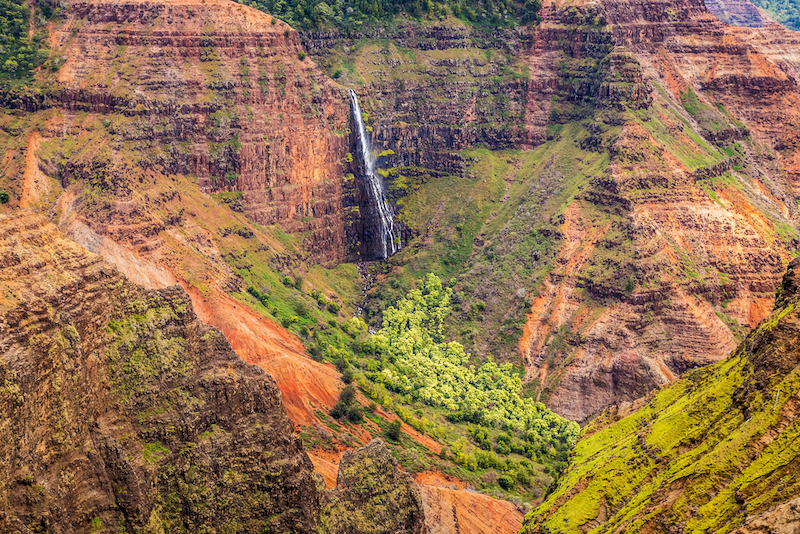 Dubbed the "Grand Canyon of the Pacific," Waimea Canyon is a spectacular and craggy gorge located in the heart of Hawaii's lush Garden Isle, Kauai. Visit early in the morning to see the canyon's rich hues of blue, green and orange, as the skies can become clouded by noon, making it hard to view the varying shades in all their magnificence. The swooping gully is roughly 14 miles long and consists of vibrant red soil formed by steady erosion. Both beginner and advanced hikers can enjoy the canyon's jagged formations, vast panoramic views and colorful soil via an assortment of hiking trails.
Waimea Canyon State Park, Waimea Canyon Drive, Waimea, Hawaii
(808) 274-3444