For as long as the Great American Road Trip has been with us, the Great American Roadside Attraction has been there too, lurking by the next exit, looming over the highway turnout, capturing our collective imagination, curiosity and confusion. Some offer cheap thrills, sight gags, a chance to scratch your head and snap a picture while you take a leak. Others seem like brazen money-making schemes for small towns on the edge of nowhere. At their best, though, roadside attractions are an invitation to slow down, to let ourselves be waylaid from our destination, to rediscover wonder. From sculpture gardens to mini-museums, we've compiled a list of those roadside rarities you won't want to miss on your next driving trip. So put that phone back in its cup holder, watch the road signs and take the opportunity to stretch your legs. There's miles of yellow lines ahead; why not pull over for once?
House on the Rock, Spring Green, Wis.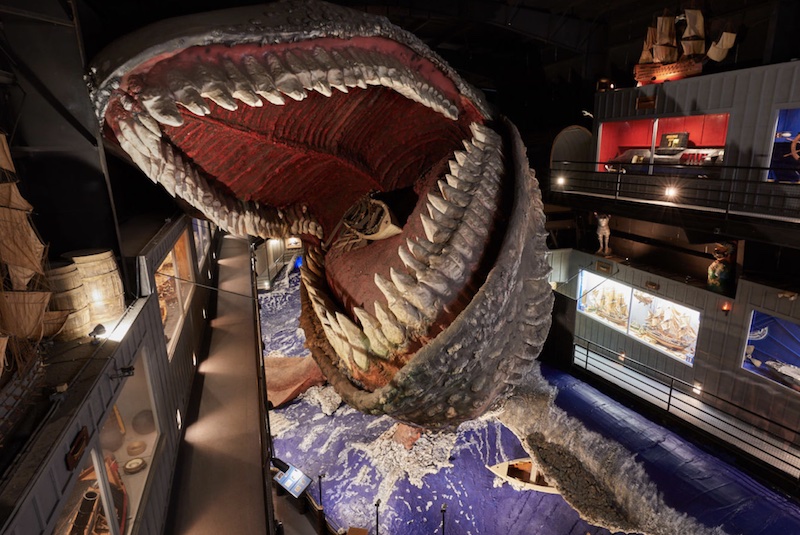 Easily one of the strangest buildings in America, the House on the Rock looks, at first glance, like a neat example of Modern architecture, filled with natural light, clean lines and good feng shui. Its creator, Alex Jordan Jr., took inspiration from Frank Lloyd Wright's Taliesin, a beloved studio built just down the road. The resemblance ends there, though, as Jordan's obsession with collecting dolls, animatronics and other oddities consumed his later years, leading him to expand his property into a labyrinth of underground warehouses to store his loot. Walking through the halls of House on the Rock is like touring insanity itself. Highlights include the Infinity Room, a 200-foot whale and the world's largest indoor carousel. Tickets run $33 for adults.
Salvation Mountain, Niland, Calif.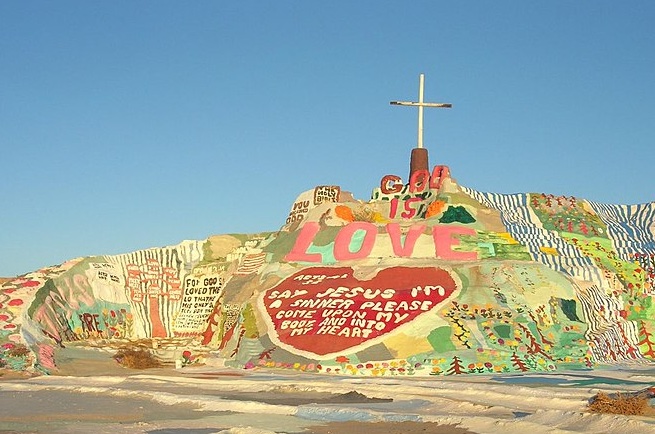 Like House on the Rock, Salvation Mountain is the work of one man's fanaticism. In 1984, Leonard Knight started piling adobe bricks into a monument to the nearby anarchist community Slab City. Over the decades his monument grew over 50 feet high and 150 feet around, all of which Knight painted by hand using donated materials. The central message, "God Is Love," appears again and again alongside painted flowers, upcycled tires and quotes from the Bible. Basically, imagine if Dr. Bronner took up folk art. Knight passed away in 2014, but in keeping with his spirit of anarchy, walking up, around and under Salvation Mountain is free for everyone.
Cadillac Ranch, Amarillo, Texas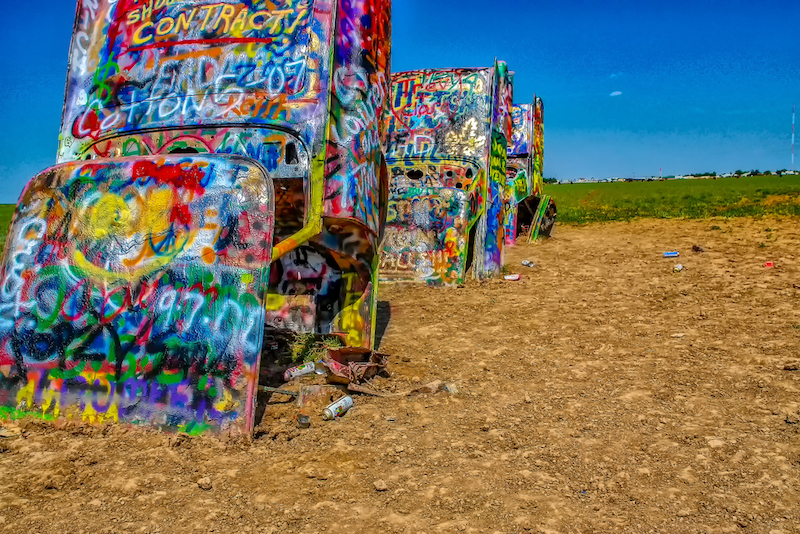 Would there even be a Great American Road Trip without Route 66? The world's most famous highway is home to more than its fair share of roadside attractions, including the world's largest concrete totem pole and a 21-foot-tall space cowboy, but perhaps none are more iconic than Cadillac Ranch. The row of 10 half-buried, spray-painted Cadillacs even has a Bruce Springsteen song named after it. Though situated on private land, Cadillac Ranch remains free and open to the public, and adding your initials to the many layers of graffiti is encouraged.
Cross Island Chapel, Oneida, N.Y.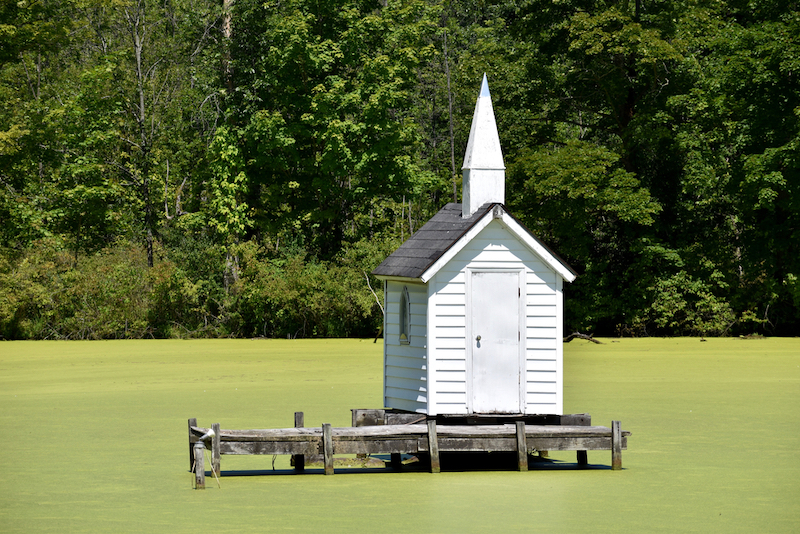 Okay, so technically this one's more of a lakeside attraction, but it's not too far of a detour if you're driving through upstate New York. Cross Island Chapel has the distinction of being the world's smallest church, and getting to it requires a boat or a willingness to swim through some very scummy pond water. It's not just for show, though — the chapel, a small, steepled building not much bigger than an outhouse, has a stained-glass window and a Bible inside, and the sign claims it has a two-person occupancy. This place gives a new meaning to "leave room for Jesus."
Enchanted Forest, Turner, Ore.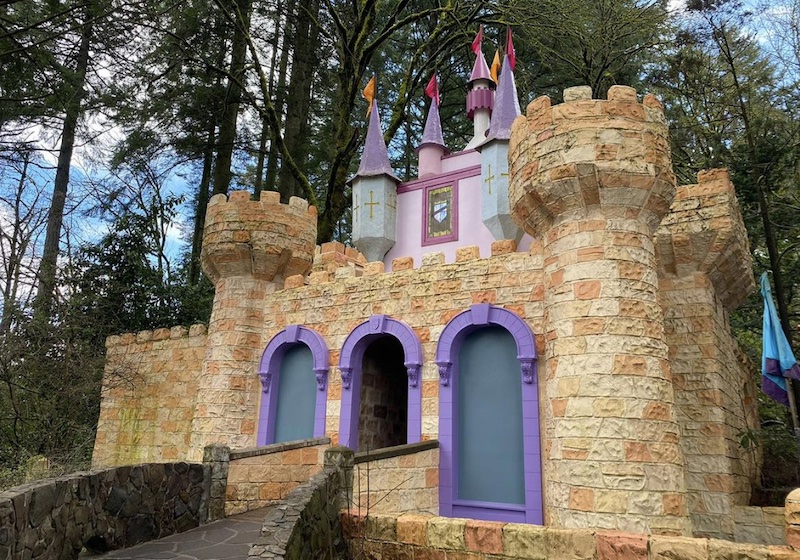 The Enchanted Forest is not your grandma's theme park. Commuters on I-5 toward Portland could drive past the cozy, cottagecore facade every day without guessing how trippy the vibe gets behind the gates. For $25, though, you can explore a Lewis Carroll-inspired world of giant mushrooms, evil witches and neon caverns that, according to its employees, may be haunted for real. The Enchanted Forest was built with kids in mind, and there's plenty of wholesome water slides and whimsical displays to keep the young ones occupied, but the park's true magic lies in its embrace of the spooky and strange.
Bishop Castle, Rye, Colo. (not to be confused with Cano's Castle)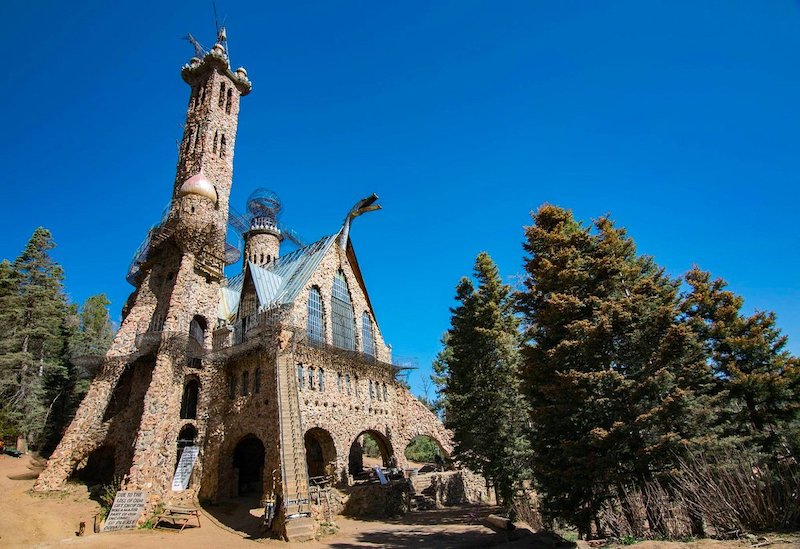 You don't have to go to Spain to find a castle. Bishop Castle might look like something that famed architect Antoni Gaudí would have designed, but it's entirely the work of one Coloradan, Jim Bishop, who's spent his lifetime handling every stone in every wall (legend has it that at 80 years old he's still building it out). The result is nothing short of masterful: a palace of soaring turrets, skinny spires and hand-painted glass. The castle is a popular wedding destination and a very impressive background to your Tinder profile pic. Best of all, it's completely free and open to the public. Because apparently Jim Bishop was more interested in building the castle than, you know, living in it.
Seven Magic Mountains, Las Vegas, Nev.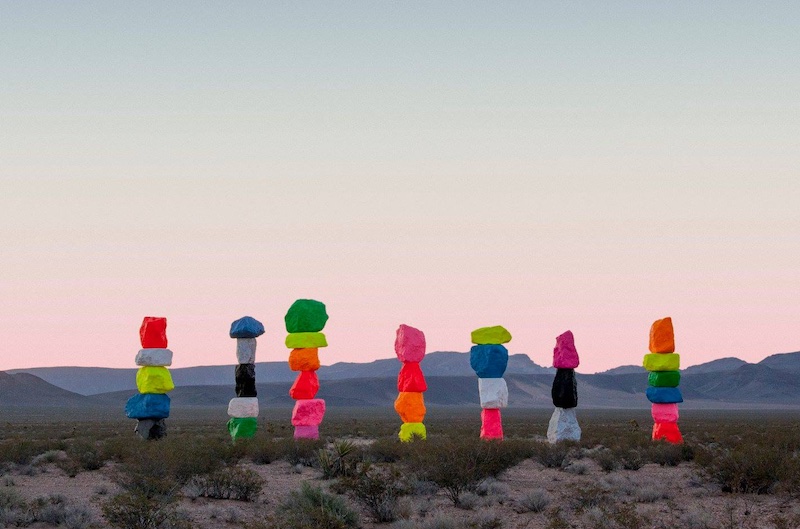 There's something about the desert that makes people want to pile up random objects and paint them neon — or at least that seems to be the theme here. Seven Magic Mountains are really just stones, in the end, but their bright pink and yellow DayGlo colors make them pop against the drab Nevada landscape. This roadside attraction is an Instagram favorite, so you'll have to catch it in a quiet moment, before the crowds arrive, if you want to feel that special Stonehengey feeling only giant stacks of rocks can give you.
Garden of One Thousand Buddhas, Arlee, Mont.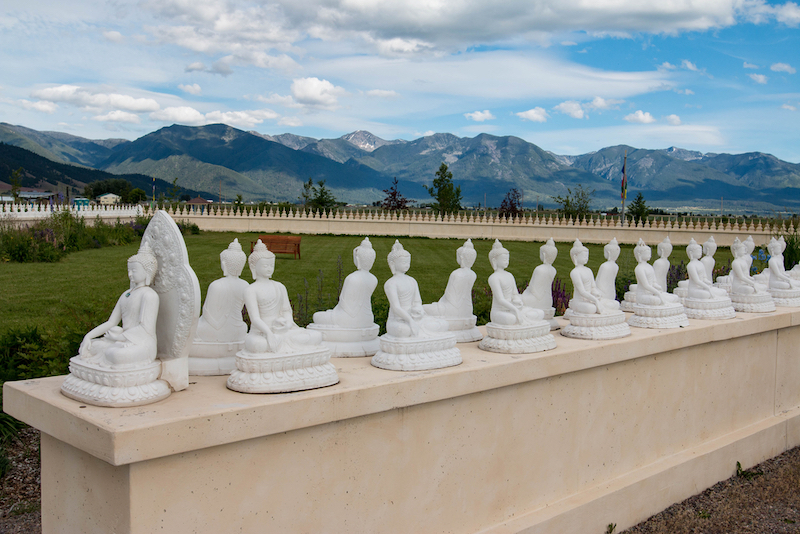 There's no exaggeration in this title; the Garden of One Thousand Buddhas literally has 1,000 statues of the Buddha, many of them two feet tall, as well as larger avatars of several traditional Buddhist and Hindu deities. You don't have to know the religious history to appreciate the artistry, though. Walking through the garden is free to all, and on a typical weekday it's incredibly peaceful and quiet. My favorite part of the property is a stupa made of prayer flags on a hill behind the statuettes. The view from up there is a proven cure for road rage.