What's "the best" when you're talking about art? What we know is American street art has constantly evolved over the past 50 years, and these cities — besides being stand-outs for culture, music or food — are where you'll find some of the most interesting graffiti and street art at the moment.
Asbury Park, N.J.
Asbury Park's boardwalk plays host to a shifting landscape of street artists from NYC, Philadelphia and beyond. Visit during summertime for the freshest work, or beat the crowds during the colder months and see what last summer did bring. Jersey City-based Dylan Egon has put up wheatpastes there, and favors local Parlor Gallery. NYC-based 0H10M1ke has also caught tags there en route to the Punk Rock Flea Market,. "Adding to layers of tradition on the Boardwalk and up Main Street on my way to see bands pushes my DIY buttons," he says. "Makes me feel like my drips'll ride forever!"
Artists to know: Holly Suzanne Rader, Porkchop. Anonymous artist DeeDee is from NYC, but often leaves work around here.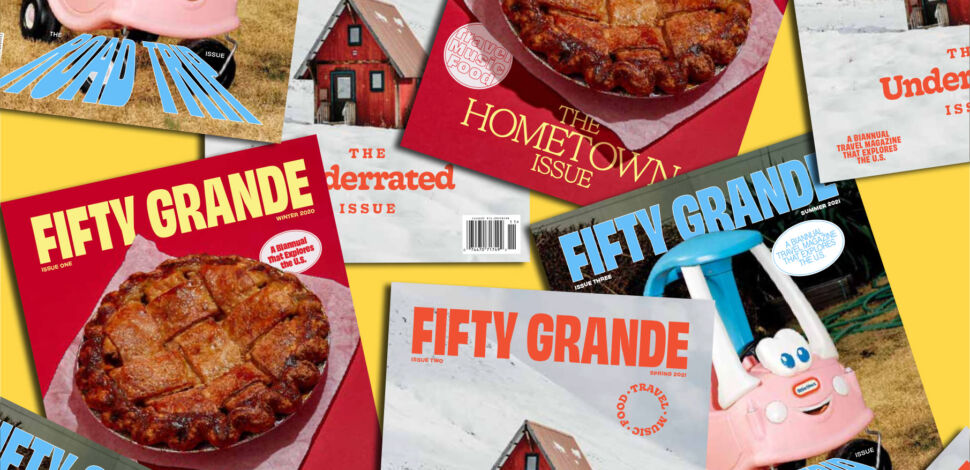 Must-see murals: Wooden Walls Project curates a shifting collection of murals surrounding the carousel on the boardwalk, which sometimes extends all the way into downtown.
Asheville, N.C.
You might not expect it, but Asheville, N.C., is the birthplace of several critical chapters in American art history. Groundbreaking art school Black Mountain College, which employed and produced talents like Josef Albers, Cy Twombly and Ruth Asawa, was headquartered here until it shut down in 1957. Today, a myriad of creatives carry that mantle forward — including street artists and graffiti writers, who coexist colorfully, if not always peacefully — on bridges, buildings and siloes alike. River Arts District and Foundation are at the heart of it all, these days. The latter's got tons of artist studios inside — and ever-changing artwork outside.
Artists to know: Topr, Gas Cutty, Ian the Painter
Must-see murals: Gas Cutty and Topr's ode to "The Big Lebowski" on Sky Lanes Bowling. Ian the Painter's "Stay True" collaboration with Ishmael just off the I-240W bridge. Famed artist Jerkface's "Futurama" and "The Simpsons" mashup on the Asheville Waste Paper Co.
Boston
Boston's thriving street art scene is an open secret, ever since Underground at Ink Block opened and PangeaSeed's world-renowned Sea Walls mural fest hit Eastie thanks to local curator Matthew Pollock of HarborArts. "Boston is easily a hidden gem of thoughts, creativity and culture," says local artist Rixy, ruminating on the secret sauce that makes this scene so special. "As a female street artist of color from Roxbury, Boston really has a bit of everything to grow from, from its controversial history to all the ways we're forming its inclusive future for our own neighborhoods."
Artists to know: ProBlak, Silvia López Chavez, Sobek
Must-see murals: A fresh, five-story portrait by Vhils at 142 Brookline Ave. Lauren YS's lavender altar at 56-58 Chelsea St. All of Underground at Ink Block, especially works by Marka27 and Hoxxoh.
Las Vegas
Vegas isn't just about gambling. The advent of music events like Life Is Beautiful Festival have also brought a barrage of street art to the city. They've included big names like D*Face, Mr. Andre and Alexis Diaz, but plenty of talents have gotten their start here too. The founders of anonymous art activism collective INDECLINE are in the latter group. One of their late members, Aware, who died in 2021, was behind Vegas's most enigmatic street art attraction, the Wheel of Misfortune. Located just a bit outside the city, it serves as an ever-shifting canvas for the area's own transient graffiti writers.
Artists to know: Eyelien, Eric Vozzola, Mili Turnbull
Must-see murals: Sebas Velasco's shadowy, circular portrait at 236 N. Eighth St. "FEAR NO FATE" by Tristan Eaton, a towering showgirl at 642 E. Fremont St., featured on the front of a hardcover book called "Las Vegas Street Art." A perfunctory set of selfie-worthy angel wings at 30 W. Imperial Ave.
New York City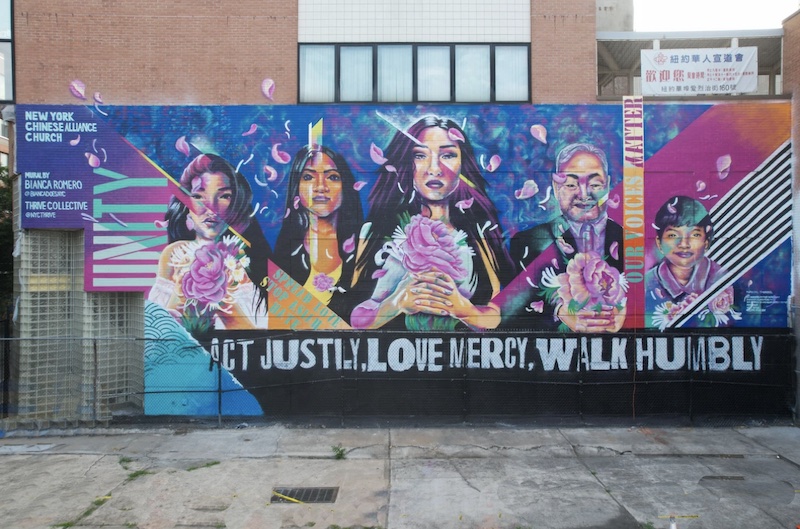 We're very aware of how obvious it is to include the behemoth NYC in this round-up, but we'd be remiss not to shout out this dominating force in street art and graffiti history. "The city is such a melting pot of cultures," says Bianca Romero, a muralist and studio artist born and raised in the city. "Everyone from around the world comes to NYC to paint. Graffiti originated in NYC too; it's so unique to the culture and history of the city but also to the craft. You can see 20 different mural styles, tag styles (graffiti), you can see legends and newbies, all on one block."
Artists to know: FAUST, John "CRASH" Matos, BKFoxx
Must-see murals: Okuda San Miguel's wraparound mural at 206 W 35th St., one of the only in that part of Midtown Manhattan. First Street Green park, a rotating series of small walls on the Lower East Side. One World Trade Center, a multi-artist memorial to a brighter future.
Oklahoma City
Almost every September since 2015, annual mural fest Plaza Wall has filled OKC's Plaza District with international and local street art talent. Not only does the event facilitate world-class art in large quantities — 36 murals this year alone — they've also helped foster a striving scene within the city year-round. "The thing that makes the Plaza Walls so special is the unique proximity of each mural," says Kanaly. "The alleyway alone plays host to murals for an entire city block on both sides and is home to a courtyard with a gallery and gift shop."
Artists to know: Carlos Barboza, Maeve Wise, Marium Rana
Must-see murals: The city's Plaza District is the undeniable center of the city's street art scene. Jas la Diosa, AG PNT and Shiro all came through town for this September's edition.
Philadelphia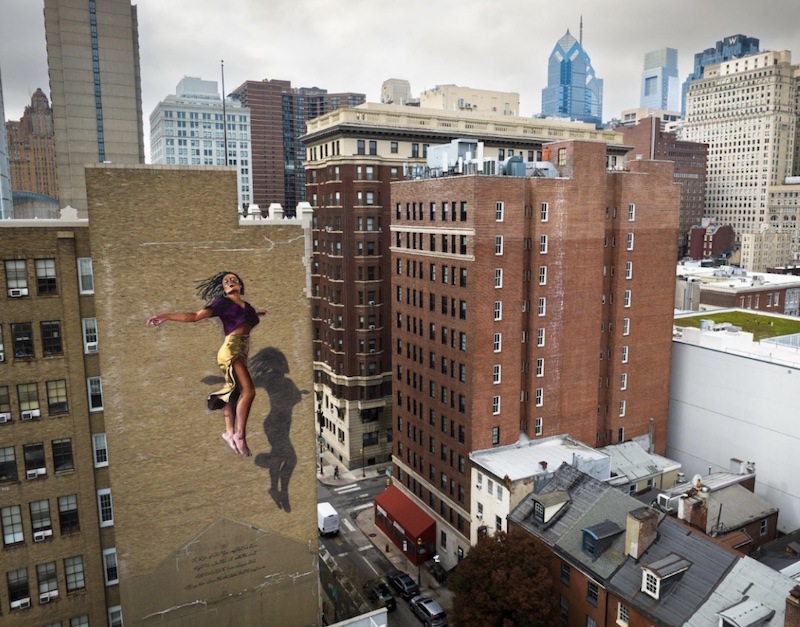 Oldheads will argue up and down whether graffiti as an art form took shape with kids in the Big Apple or with O.G. writer Cornbread in the City of Brotherly Love. No matter where you stand, Philadelphia's undeniably home to Mural Arts, a historic graffiti abatement program that re-channeled illegal artists' energies into legal murals. "Philadelphia is where artists are warmly welcomed with more public art than any other American city," founder and director Jane Golden says. "In partnership with Mural Arts Philadelphia, our city has generated a collection of over 4,300 public artworks that look like, resonate with and connect to residents around the city, giving Philadelphians a sense of cultural identity, community and belonging."
Artists to know: David Guinn, Serena Saunders, Texas & Gane
Must-see murals: "Electric Philadelphia" by David Guinn and Drew Billiau, illuminating the I-676 underpass on Sixth Street between Race and Wood. Distort's collaboration with Gabe Tiberino titled "Reaching Out," at 3221 Kensington Ave. You can also explore every artwork facilitated by Mural Arts on their site.
San Francisco
Los Angeles is home to international street art superstars like Kenny Scharf, RETNA and Shepard Fairey. Sacramento has the globally acclaimed Wide Open Walls. But San Francisco has a thriving Chicano art scene, and much later became the birthplace of Juxtapoz Magazine, which every outdoor artist longs to be in at some point or another. "Mural arts and graffiti in San Francisco began many many decades ago," says local artist Amandalynn. "The unique blend of cultures and talents that make up the melting pot of such a unique place definitely shines through in San Francisco's vast array of street and public art."
Artists to know: Eclair Bandersnatch, Apexer, Victor Reyes
Must-see murals: The towering MaestraPeace Mural on the Women's Building at 3543 18th St. Anywhere in the Mission District, especially the Clarion Alley Mural Project and Balmy Alley.
Washington, D.C.
America's capital has more going on than just politics. "I think D.C. is a great city for history, but there was always a pocket for murals and creatives," says Kelly Towles, director of POW! WOW! offshoot D.C. Walls Festival. The annual event, which was in collaboration with NPR, just went down September 9-16, so there's tons of fresh paint to see around the city. Towles cited this new large-scale portrait by Hawaii-based graffiti writer and muralist Grace the Streets among her favorites.
Artists to know: MISS CHELOVE, Aniekan Udofia, Juan Pineda
Must-see murals: Hense's psychedelic takeover of Friendship Baptist Church in southwest Washington, D.C. The DC Alley Museum at Blagden Alley. And of course, stroll NoMa to check out the latest and greatest from this year's edition of D.C.'s biggest street art event.