This story appears in The Food Issue, which is on sale here and is in stores now.
Have you ever dreamed of spending the night at a cozy hotel after Bon Iver's Justin Vernon and S. Carey played a private show for you and a handful of others? Could you imagine walking into the lobby to find Dinosaur Jr.'s J Mascis skronking away on his electric guitar on a random weeknight? When you stay at musician-owned hotels like the Oxbow in Eau Claire, Wis., or Tourists in North Adams, Mass., these are the kinds of experiences you can enjoy, transforming an ordinary trip into something quite unforgettable.
For Wilco founding member John Stirratt, it was a no-brainer to heavily incorporate music into Tourists, a once-disheveled motor lodge he purchased in 2015 with five partners and then renovated. Taking advantage of Wilco's annual Solid Sound festival just down the road at MASS MoCA, Stirratt invited a bunch of the participating musicians over for a big cookout and jam session at the conclusion of the event that first summer, which proved to him that the property was worth restoring.
"There were seven rooms in the original building and the typical owner-occupied house attached to it, with the Norman Bates office — always a key element of any motor lodge," Stirratt says with a laugh. "We spent time in the space over that first weekend with the idea of finding out, how does this feel? What should it be? It was a beautiful weekend and the weather was incredible. We were all convinced the property had some magic to it, and I think that's what allowed us to take the next step."
That process involved opening a picturesque farm-to-table restaurant on the grounds, The Airport Rooms, and hosting more and more elaborate shows after successive Solid Sound fests. "We had some really amazing performances that revolved around this piece of playable architecture that was commissioned by Airlift out of New Orleans," Stirratt says. "They came out and built two on our property. We got Nels and Glenn from Wilco and whoever else was there for these magical improvisational shows with generators, out on 40 acres in the back. We have so much space back there that we've been able to locate some other sweet spots to do outdoor shows."
When it's too chilly to have music among nature, Tourists offers the free Sing for Your Slumber series in its lobby and restaurant. It featured the recent aforementioned Mascis performance and has also drawn indie favorites such as William Tyler, Sunburned Hand of the Man and Hiss Golden Messenger. Stirratt also curates Tourists' IRL and streaming music playlists, ensuring that a pleasurable listening experience is never far away.
Over at The Oxbow Hotel, which opened in 2016, and its in-house venue, The Lakely, music is as omnipresent as Vernon's impact on the property. "It's so woven into the fabric of our culture that it is at once both evident and subdued — his passion for music, culture and distinctive experiences resonates throughout our hotel, our restaurant and our events," Events and Marketing Director Cassandra Lueck says of Vernon's contributions.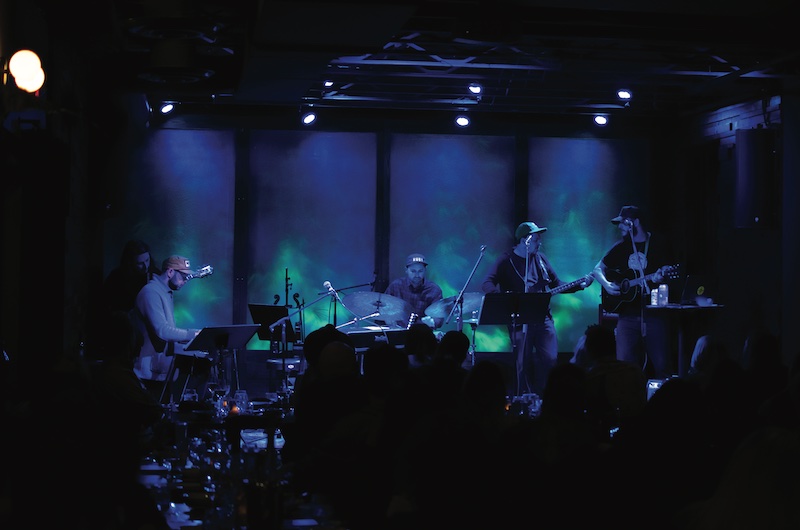 Vernon helped curate a vinyl library that guests are encouraged to borrow from and play in their hotel rooms, and the original artwork for 2011's "Bon Iver, Bon Iver" album is on display inside The Lakely. The Lakely is also the home of the hotel's Lock Inn series, at which Vernon and Carey play for just a couple dozen guests amid an overnight experience that also includes a multi-course dinner. The musicians were able to sneak in a Lock Inn in November 2021 before the rise of the Omnicron variant, during which Vernon debuted several brand-new songs and then jammed on John Prine and Bob Dylan covers into the wee hours.
For now, Oxbow is hosting late-night jazz and DJ sessions on weekends, and hopes to resume its annual Oxbeaux Street Concert outside the property this summer. Lueck says, "To see and hear live music return to our stage, well, I get goosebumps just thinking about it."