This story was originally published in the Underrated issue (Fifty Grande #2), in stores January 4, 2021 and available for purchase here.
It was the most peaceful weekend of camping I've ever experienced, except for the brawling swans and beaver tails slapping water at 2 a.m. Even though the commotion woke me, I sort of loved the whole spectacle: I laid in my tent in the dark and listened as the woods carried on as if we four humans didn't exist. It felt like I got away with something, witnessed an intimate moment that I never should have been privy to.
That's the beauty of Voyageurs National Park.
Tucked way up in northern Minnesota right on the Canadian border, Voyageurs is unlike any other national park I've ever visited. And I've been to 32 of them (and counting). Yet it's also one of the National Park Service's best kept secrets. "There are lots of Minnesotans who don't even know there's a national park here, though that's quickly changing," said Emily Schwanke, co-owner and guide at Voyageurs Guide Service.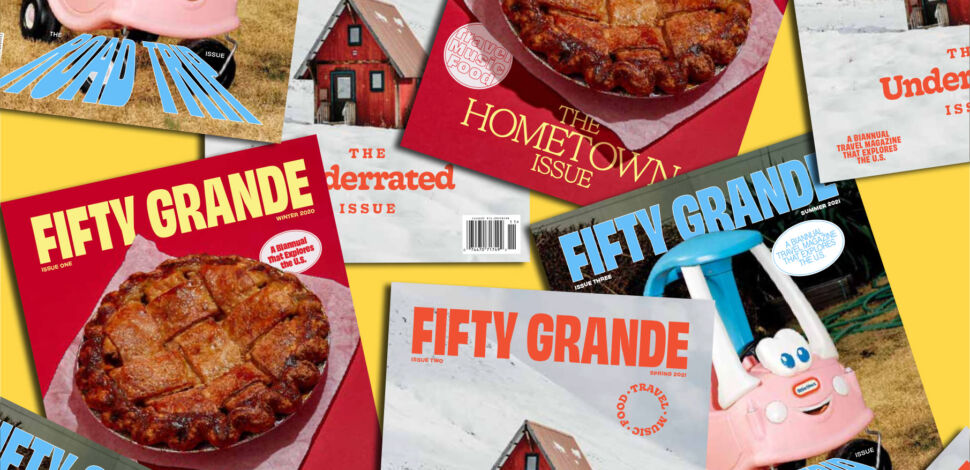 Encompassing 218,000 acres, Voyageurs only sees around 240,000 visitors annually, according to the Voyageurs National Park Association, an official nonprofit to the Park Service. In comparison, Great Smoky Mountains National Park, the most-visited national park in the U.S., spans 522,427 acres and draws over 12.5 million visitors each year. That's only about 2.5 times the space, but 52 times the number of people.
That's precisely why the people who know about Voyageurs love it so much. "It is so remote," Schwanke says. "A lot of national parks are becoming like Disney World, with so many people." While Voyageurs has the capacity for many more visitors, it doesn't bring in the huge crowds. "Which is part of the draw," she adds. "It makes it feel like you're actually going into the wilderness."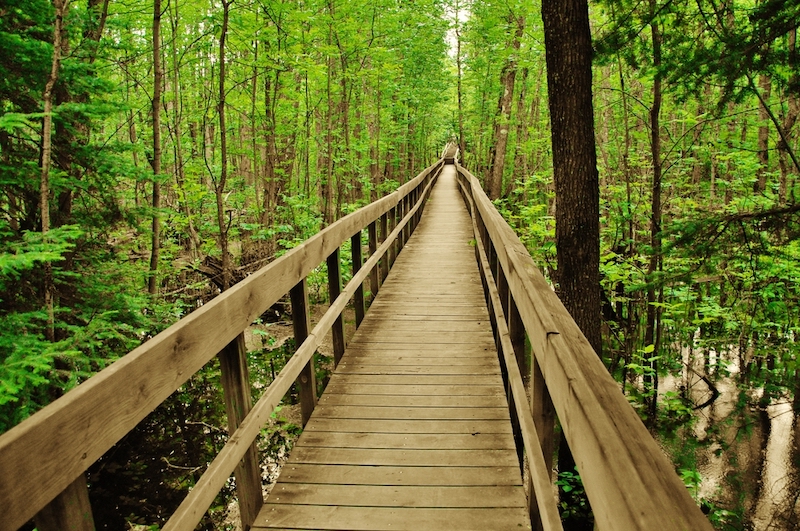 Voyageurs contains 84,000 acres of water, including four large lakes and 26 smaller, interior lakes, which make up the backcountry. When you book a backcountry campsite, like we did, you basically get an entire small lake all to yourself. That type of privacy is impossible to even fathom in more popular parks like Great Smoky Mountains, Yosemite or Zion.
And it's not due to a limited number of things to do. Voyageurs offers everything you'd want: paddling, fishing, hiking, swimming, camping and, while we didn't go, cliff diving or rock climbing are options too. The latter most people don't even know about, Schwanke says. "I've only ever seen other people rock climbing one time. It's a hidden activity."
We started our trip at the boat launch near Ash River Visitor Center. The plan was to canoe from the visitor center across the lake to a dock, and we'd then hike a half-mile to our site. I picked a campground only a half-mile from the dock so we could bring all the food and gear we wanted for four nights without worrying about weight.
Personally, I had no idea what to expect and worried a little as we started to canoe. (A tell-tale sign in today's age that we bit off more than we could chew: The internet failed to return any search results when I Googled how far the canoe trip would be. That means even Google is underrating this place?) As we made our way over the five-ish miles to our dock and trailhead, we passed a few fisherman on motor boats but no other paddlers. When we got to the dock, just one other group of campers arrived at the same time via water shuttle. That was it.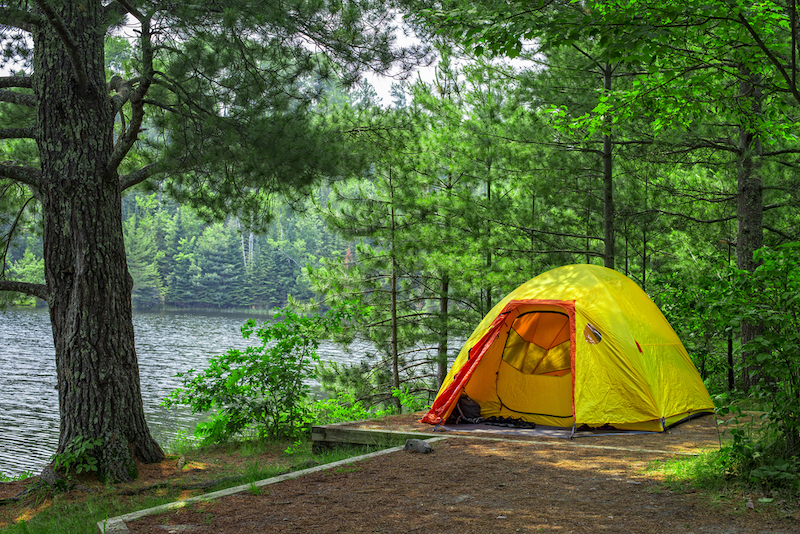 Tawnya Schoewe, team lead for interpretation, education and reservations at Voyageurs National Park, says that the uniqueness of the park may intimidate some people. "Truly experiencing the park requires one to venture beyond where roads can take them, which sometimes pushes people out of their comfort zone," she says. "Almost everything, aside from the visitor centers and some shorter land-based hiking trails, is remote and requires a boat ride to access."
Once we got to our campground on Agnes Lake, we were amazed at how secluded it was. There was no one there. It was just us and our lake. From our campground, we hopped on Cruiser Lake Trail and hiked a few miles. We came upon two other campgrounds, both of which were empty.
At night, we quickly learned we weren't truly alone out there. Each night, we watched a beaver swim across the lake, get out on the shore and then hop back in again. I still have no idea what his agenda was. We saw fish and turtles in the lake. And after we went to bed, we were awakened almost every night by what we could only imagine were territory wars. Trumpeter swans honking endlessly; a beaver (maybe our same guy?) slapping its tail, hard, on the water's surface. At first, we thought it was a boat horn. Then we realized we were just getting an inside look at what goes on out there in the wilderness when humans don't get involved.
Speaking of which, Voyageurs is working on getting certified by the International Dark Sky Association. Because of the park's remoteness, there's very little light pollution from cities or towns — which means you can see the Milky Way and, if the conditions are right, the Northern Lights, says Schoewe.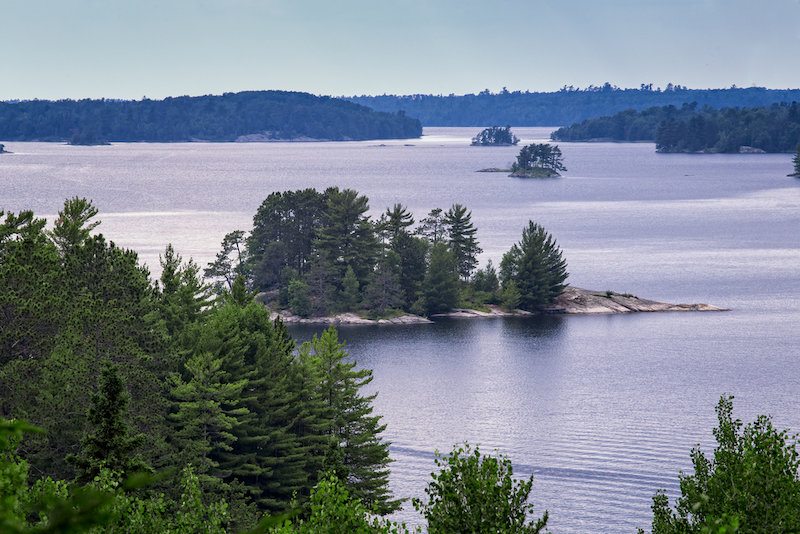 "If you're floating on a boat or canoe in the water, the sky is so huge, so the sunsets are just incredible," Schwanke says. In the fall, she often sees the Northern Lights without even trying. She offers night-sky paddling tours, and for many of her clients, it's the first time they've seen the Milky Way. Schwanke sees a Dark Sky certification bringing a lot of good publicity to the park.
Another thing that makes Voyageurs unique is that it's open and accessible year-round. "It's a really beautiful and enjoyable park in the winter. It's even less busy then," Schwanke says. From some of the boat landings, you can drive across the frozen lake to access cross-country ski trails and sledding and skating areas, says Schoewe. You can access campsites by snowmobile, cross-country ski or snowshoe. Ice fishing is really popular, too.
Since we visited Voyageurs, I've talked it up a lot. My friends and family are probably annoyed, to be honest. I just can't get over how beautiful and wild and unique it is. If you're looking to get close to nature and far from other humans, book a trip. As for me, I'll be back soon to see the Northern Lights — a big bucket-list item I never knew I could cross off in Minnesota.