This story is part of our first-ever music special, which includes the results of our music survey, the resulting top music cities ranking and an in-depth look at the most travel-worthy music cities across the country. See all the coverage here.
---
Rap and SoundCloud bedroom pop fans have surely been happy with New York City's local music culture over the past decade or so; rock fans, not so much. It's sometimes tough to see when a scene starts, ends or is just a continuation of something else. More so when it's in the middle of happening. Add to that, music movements (or revivals or renaissances or whatevers) are often loosely or unevenly labeled. We're not here to add our own brand of fuzzy math to the equation. What we can say, though, is that NYC rock is right now having a moment.
It's not difficult to see the aesthetic and artistic themes that are bubbling up, with artists ranging from the moodily shoe-gazey three-piece Hello Mary to the avowedly maximalist seven-piece partygirl. Chalk it up to long-simmering isolation in the digital age or lingering pandemic-lockdown vibes catalyzed in a need for more real and IRL experiences, but this group of artists is unabashedly emotional and intend to make names for themselves live on stage as opposed to on your For You page.
Among these artists you'll find a handful of rock subgenres, from danceable pop rock to those favoring heavily distorted shredding. There are gay bands, girl bands, guy bands and bands with personas that are difficult to categorize. Whatever they are as a collective, there's a definite feeling of energy and possibility in the air — and an irrepressible desire to scream and sweat it out on stage, and in the crowd. Meet the artists:
Still Please
A native of the DIY house-show scene, the four-piece band Still Please made their debut at an official venue on February 16 at jam-packed East Village basement venue Berlin Under A. Their set was notable for its smooth transitions between melancholic yet simple refrains (the single word "lemonade," for instance) to upbeat mischief via songs about hating Jimmy Fallon, and a sweaty cover of Metric's "Black Sheep" of "Scott Pilgrim vs. the World" fame. Watching purple-haired frontman Alex Durham rile the crowd with ease — Durham tells me that their stage persona draws inspiration from Paramore's Hayley Williams — you wouldn't guess that it was the band's first time performing outside of house shows. That set got them a March 10 gig at Heaven Can Wait for New Colossus, a usually application-only five-day festival in which a network of East Village venues host both local and international up-and-coming acts. The band's influences range from Phoebe Bridgers to Led Zeppelin, and has resulted in a rock-meets-emo pop sound. Still Please is recording new music to add to the current single on Spotify (below), and has a July 8 gig at Berlin Under A.
Savoia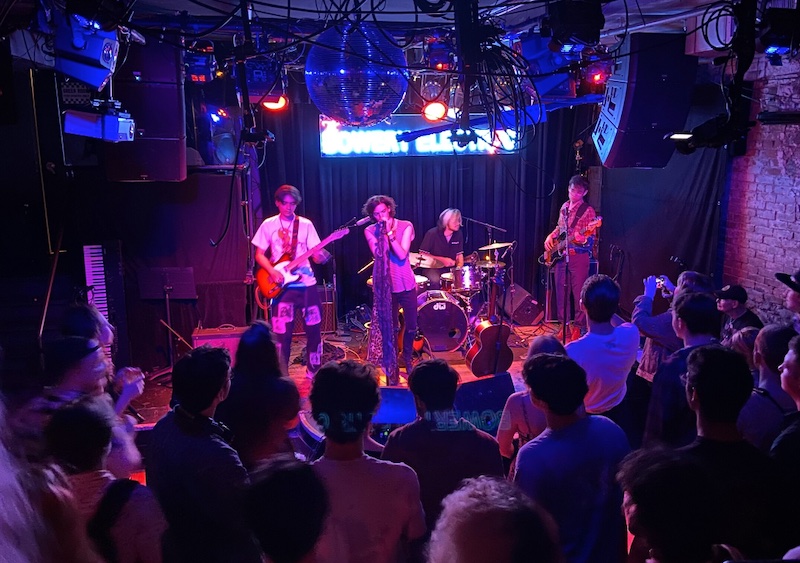 Savoia playing live. Photo courtesy of the band's site.
Savoia was originally a four-piece called Early Retirement. "People would ask us why we were called Early Retirement. We would say, 'That's the goal,'" says lead singer Lucas Allan, jokingly. While still in high school, the band played DIY shows and sought out whatever venues would have them, at one point even getting scammed by a Bowery Electric booking impersonator. Their gloss is more savvy and self-assured these days, after the addition of rhythm guitarist Dylan Cook ("That kid's fucking cool…one day he's going to be in the band," Allan says of the first time he saw Cook play), gigs at downtown spots like The Bitter End, Mercury Lounge and Bowery Electric, and hiring a manager in 2022 after being self-managed for five years. The band's confident stage antics, simple melodies, lively riffs and Allan's airy yet exacting vocals add up to a sound best described as classic rock adjacent, yet distinct. Savoia has just wrapped up an East Coast tour with Nashville-based band The Criticals, and played with them at Bushwick venue Brooklyn Made on March 31. They are currently "grounded" in their Williamsburg studio recording music. Their current single, "Bringing Me Down," is wistful yet has a rugged feel ("Down the river/by the water/through the windowpane/making love to some guy's daughter/in the evening rain," Allan sings through the bridge). A show in late spring at Baby's All Right in Williamsburg is in the works.
Bad Head
There's a blend of sardonic ("Eating my very favorite brand of doughnuts is as good as it gets, and it still sucks"), and vulnerable ("Does anyone get this right? Does anyone feel inside the way they know they should for any extended period of time? Or does everyone lie?"), often bars apart in Bad Head's songs. Frontman Kevin Hassett, 28, leans into a loud-quiet-loud formula reminiscent of the Pixies and Nirvana, and can carry an audience from minimally melodic deadpan to cracking with rage to softly pained and back again. The three-piece band — Hassett, drummer Matt Boyd and bassist Kyle Hodgkin — is currently recording, most recently having mixed the rock ballad, "Ketamine." The song is Bad Head's first release since "Keep Up the Good Work," their snarky yet lively 2019 EP on which Hassett declared the things he hates (Ed Sheeran, cashew milk ice cream, etc.), that he might be in love with you and that he might be lying about loving you. After a series of DIY and house shows, they're set to open for Habe at Heaven Can Wait on April 26.
My Son The Doctor
On the somewhat grittier, punkier end of the musical spectrum there's My Son the Doctor, a self-styled "swaggering new wave punk" four-piece band on the budding Bushwick circuit — venues like Our Wicked Lady, Rubulad, The Broadway, others — since 2019. They're easygoing and quick to praise other bands like big names IDLES and Turnstile, and local acts Mary Shelley and Moon Kissed. Vocalist Brian Hemmert, 28, has a vocal style that can be called upbeat yelling, which certainly differentiates the band from "underwhelming" indie rock performances he's seen. My Son the Doctor plays good-naturedly rowdy music. The band's having-a-good-time vibe is coupled with a disdain for all that gets in the way of that. Self-promoting on social media? "It's like parading around in a monkey suit," says Hemmert. Fine-tuning their gear? "Once you start worrying about the tone of a snare, you're not writing the song anymore," says bandmate Joel Kalow. Most of their recorded music (an EP and a handful of singles) follow a formula of shouting short, sharp phrases, creating songs from lyrical vignettes strung together over energetic riffs that make you feel like you're listening in on a weirdly good jam session. Kalow says the band doesn't feel like their songwriting process is complete until they've played new material live a few times, and they're currently recording music and playing as many shows as possible. Hemmert admits that they "roll their eyes" at playing in Manhattan, where venues have a more polished feel than in Bushwick, but they raved about their experience playing Arlene's Grocery on March 10 for New Colossus. They are supporting the Scoville Unit release show on April 15 at Berlin Under A.
TALON
TALON, a Bushwick-based four-piece band, cites Alanis Morissette, No Doubt and Sheryl Crow among their influences. "I feel strongly that we are a band in traditional band form," says frontwoman MK Charron, 25, who asserts that their songs are "made for the stage" and goes on to describe their performance style as "goofy, expansive, joyful… We're dabbling in gimmicks and choreography." Cultivating a sense of community as a band also seems particularly important to TALON. When I mention that I saw them on the same bill as Still Please at the February 16 Berlin Under A show, Charron says they like to be billed with other bands featuring queer artists since TALON is grounded in a "queer ethos." "We are a gay band," she says. "Blondie" is the band's first released single; it has a similarity to the pop-rock-ska feel of No Doubt. TALON's upcoming shows include April 22 in the Battle of the Bands at Dave's Lesbian Bar in Queens, a May 11 show at My Wicked Lady opening for Mary Shelley and a May 13 doubleheader in Boston at the Lily Pad and DIY spot Pasta Planet. They will also shoot a music video for "Blondie" with director Lu Fine and are in the midst of mixing their first EP, to be released on Spotify in June.
Birthday Girl
With roots in Bushwick, Birthday Girl is best described as an enthusiastic proponent of costumes, makeup and screaming that goes along with their avowed "femme ethos." The four-piece band is known to play illegal rooftop shows in Bushwick, replete with crowd-surfing and noise complaints. Again and again, it's the no-holds-barred theatricality of these performances that draws hundreds in and keeps the fans there with emotionally raw lyricism. "I would like the Birthday Girl shows to be as performative-based as possible. I'm really into theater and I definitely want that to be a part of it, costumes and props. I think there's a lot of storytelling and character-building in it for me, and I'm definitely new in developing my stage presence, but I want it to be dark and weird and clowny and creepy and fun and sexy," says frontwoman Eva Smittie, 27. Birthday Girl is nearly done recording their next full album, which will be their first since "Roxy" in 2020, and has built up impressive live momentum lately with an April 5 show alongside Shallowhalo and Thoom at Elsewhere and upcoming shows at Mercury Lounge, Heaven Can Wait (with Richie Quake and Telescreens) and The Broadway.
Nautics
Kenzo Repola, 25, frontman of Nautics, grew up doing musical theater and wants to infuse his performances with some of that spirit. "The storytelling through the vocal performance is important," he says. "I think that's something that's a little bit missing in some aspects of the indie rock scene, where everyone just sounds like they're asleep and fucking depressed and they can't show an emotion to save their life." Nautics is an energetic five-piece band that's been around since 2015, veterans of the New York City Gen Z music scene. Though their recorded music leans toward a jumpy, new wave-inspired indie pop sound, their live presence tends more "rock 'n' roll," in the words of bassist Van Cameron, 25. "It's a fun dichotomy to play with." This is particularly evident with their single "Fruit Punch." On record, it sounds like something a trendy café would blast in the heyday of bands like Foster the People and Circa Waves; when I saw it in concert on January 25 at downtown neon-accented basement bar Sour Mouse, Repola thrust the gory imagery of the lyrics ("Fruit punch and lemonade/looks like blood when it's flowing down the drain") to the forefront of the rendition with punkish shout-singing. The band is releasing a new single, "Empathy" — to add to their list of Spotify singles, including "Shotgun Shack," "Post Madonna" — on May 11 and they have their sights on releasing EPs in the near future. A show at Arlene's Grocery on April 28 with rlyblonde and Ella Galvin is next.
---
---
Clovis
Bands in this NYC scene cite a fatigue with the self-consciously reserved style of previous indie rock artists and its driving their impassioned, deliberately exaggerated performances. "If there's these bands playing this boring, monotonous song at a quarter volume, and the guy's whispering, he's doing this thing, nobody really wants to see that. At least we don't," says bassist Adam Sosnicki, 23. "The biggest thing for me with a show is if it's as loud as possible, then it's awesome." Clovis is best described as a heavy, shoegaze-y New York City native four-piece band. Formed in 2017, the band is known for its heavy sound and a bent toward metal; the band lists Hum, Helmet and Swervedriver among its influences. After gigging for years, they're now recording with commitment. "One of the funnier elements of Clovis is that we've been a band for six years now and have one EP and two songs out… We are definitely the opposite of a studio band," Sosnicki says. As the creative process goes, frontman Ben Arauz, 22, said a recent recording session pretty much entailed the band locking themselves in the studio and screaming at each other. The band released the single "Dale" on January 27.
partygirl
"We're making maximalist art rock," says frontwoman Pagona Kytzidis, 24. "Just trying to make the biggest sound possible." Kytzidis says the band draws on inspiration from various genres, including punk, jazz, classical and prog, putting them in a category of their own when it comes to genre. Yet the principles driving partygirl's approach to making music share similarities with those of bands like Clovis, Nautics and My Son the Doctor, despite them all sounding totally different from each other; delivering the most expressive sound and performances possible is what partygirl is committed to. "I really want to counteract music which is more minimalistic." Partygirl's seven-piece lineup includes two keyboardists, a violinist and a saxophonist.
The band is Kytzidis' vessel to convey deeply emotional experiences. "We try to make it a feminist band, to talk a lot about survivorship, surviving sexual assault. I'm a survivor, and I want to tell this story in a real, real way. In a way that's dark but also goes beyond just, like, traditional gender essentialist boundaries to talk about the world we live in." Kytzidis is adamant that music is a performance art to be enjoyed live, opposed even to using backing tracks. Recent gigs have included the burgeoning rooftop venue in Bushwick, Our Wicked Lady; low-key Brooklyn basement spot The Tubs; and Baby's All Right. They have an upcoming show on May 12 at Arlene's Grocery.
Hello Mary
A three-piece band with melancholic melodies, enigmatic lyrics and an off-kilter persona, Hello Mary's formula consists of layering sparse, anxiety-laden lyrics over dissonant melodies. It's a simple one, though Hello Mary has delivered it with a flair unique enough to catch the eye of Rolling Stone. Perhaps it's how they don't commit to any one genre or aesthetic? They're not a revival of '90s grunge or a shoegaze rehash, but they use different styles to create something greater. Or maybe it's the momentum they've built on the ground in New York? Drummer and vocalist Stella Wave, 22, says that they're "a live band first. We're putting effort into keeping that [energy of live performance] in the recordings." Laconic when questioned about their music, Wave doesn't really help to pin down Hello Mary's essence, and she's probably wise not to in favor of maintaining their je ne sais quoi. But the band just released their first full-length record (self-titled) and a whimsically unnerving music video for "Special Treat," in which they sit down at a banquet of surreal oddities. Their visual aesthetic incorporates aspects of clown imagery and punk and goth fashion. "We feel very individual," guitarist and vocalist Helena Straight, 19, says pithily, which is how they all seem to say most things. The band just had a three-day stint at South by Southwest alongside Sunflower Bean and is heading to Tokyo for an April 23 visual art and music showcase hosted by Dig A Hole Zines.