This story is part of our first-ever music special, which includes the results of our music survey, the resulting top music cities ranking and an in-depth look at the most travel-worthy music cities across the country. See all the coverage here.
---
There's nothing glamorous or trendy about Memphis or the blues. That's part of the allure. They're the antithesis of the bleached-blonde country music and bachelorette parties up I-40 in Nashville. There are no tech transplants in Memphis blues clubs talking about their Web3 startups or their apps. There are no families looking for bigger houses and better schools. If you're in Memphis, you grind, you hustle and you live. Your life's soundtrack is the city's dirty beats and wailing guitars.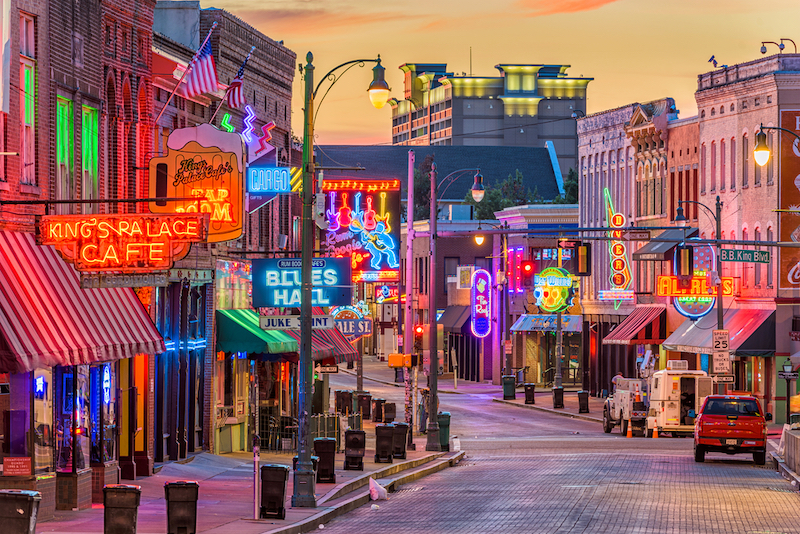 The clubs along Beale Street aren't a scene. If anything, it's a center of gravity for some tourists — nothing like what you'd find on Broadway in Nashville, but still — as well as locals. Or, at least, it's where you'll find locals who love the blues. Not bluesy pop music or blues-influenced rock, but real dirty Delta blues. If authenticity is what you look for in your music, then this is the best live music experience in America. This is what I was told, and more or less found, as I spent a couple of nights bopping around the bars on Beale Street. The neon lights that line the street might imply there's something flashy here, but what I found was something else.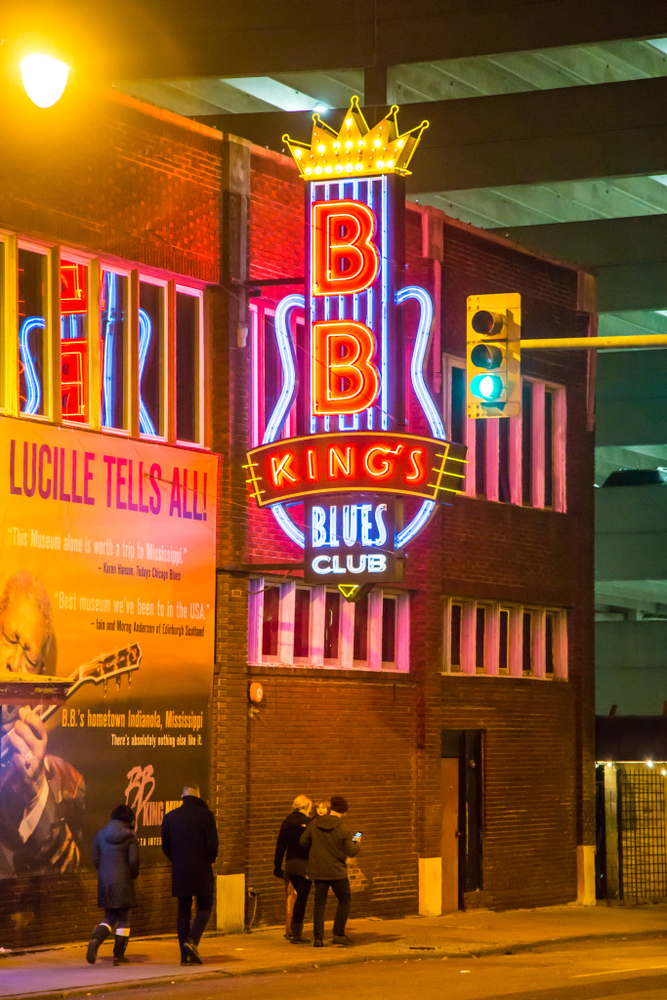 B.B. King's is a two-story venue at the top of Beale named after — you know who it's named after. When I stepped inside on my first night there, not a single table had an empty seat. A four-piece blues band, The Trey Wanvig Band, dominated on stage. Their songs were equal parts church choir and hillbilly bluegrass. The sound filled every corner of the room, and every eye inside B.B. King's was on the stage.
Once at the upstairs bar, I could look almost straight down onto the stage. It's a bit like watching a play from the mezzanine at a Broadway theater. I struck up a conversation with a couple of guys who'd just come from the University of Memphis basketball game, the city's second-largest passion after blues.
"This is what we do here," one of them told me. "Basketball and the blues."
They bought me a round and gave me the cheat sheet of clubs worth hitting on the main drag. At Alfred's, I saddled up to a Long Island couple, a firefighter and his wife, as an Australian band called The Honey Badgers played.
"We heard about these guys from some people we met at Blues City Café," the firefighter told me.
"They're great," I yelled over The Honey Badgers' freight-train bassline.
"You think they're good, you gotta go see the guy playing guitar at Rum Boogie right now. He's even better."
"No," his wife disagreed. "You know who's even better than THAT? The girl we saw singing at Juke Joint last night. I think she's there again tonight."
This is how it went, as the blues fans I ran into tried to one-up each other over unknown artists. You can pretty much hit any club — everyone was ridiculously friendly — strike up a conversation, and let your fellow blues fans guide you.
---
Caption Hotel sits at the end of Beale Street, right on the water. It's of those new millennial-inspired places where rooms are stripped down so people spend more time in the common areas. My first morning in Memphis, I followed the hotel's lead and worked from the lobby. Across the communal table, a man in sunglasses was intently editing something on his laptop, and was later joined by a large man who began collaborating with him. I couldn't tell if Shades and Big Man gave off a venture capitalist vibe or possibly something closer to insurance company auditors.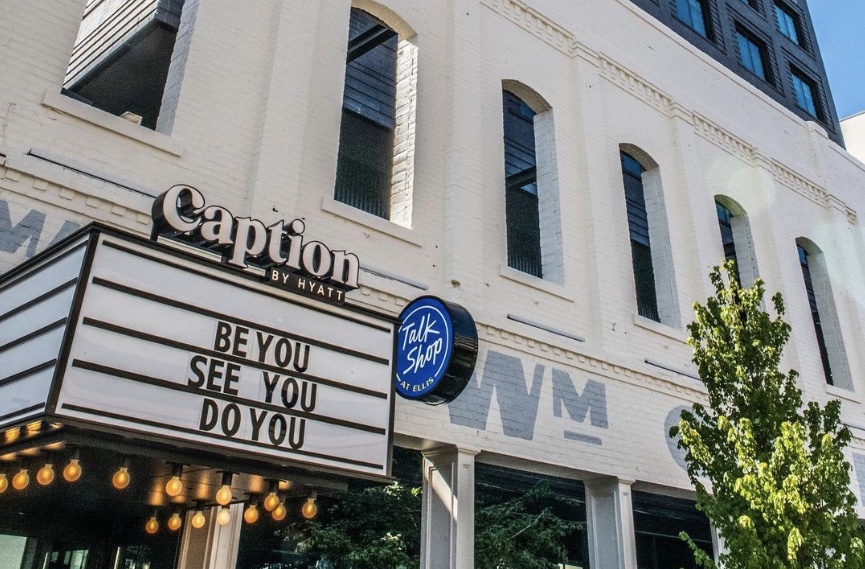 I didn't give them much more thought until my third stop of that night at Rum Boogie Cafe. As I stepped in, under the sea of dollar bills and brassieres tacked to the ceiling, I noticed familiar faces on stage. Shades, who had been working so intently in the lobby, was now wailing on a guitar and doing his best Chuck Berry imitation. Big Man was now the one wearing shades and ripping up the electric bass. Venture capitalist-insurance auditor blues guys? I saw them in a new light, entirely.
"Put a guitar in anyone's hand, and they immediately get twice as attractive," a woman standing next to me remarked when I told her I'd seen them earlier in the hotel.
When I finally left Rum Boogie, there on the sidewalk outside of the club was the B.B. King's band from the night. The smoke from their cigarettes mixed with the cold air as they chatted and I thought about how context was key to everything.
---
The blues is therapeutic in a way, but you don't see old blues men talking about wellness retreats in Bali. Blues singers aren't vegans. If John Lee Hooker ever had a personal trainer, he hid it well. The blues is about hard living.
But as a night of bourbon and blues guitars carries on, eventually you're going to get hungry. Blues City Café is probably Beale Street's signature restaurant. Part diner, part music venue, it's sort of the de facto late-night spot to grab something to soak up the alcohol. Live music and bacon grease fill the air, as the dining room opens into a narrow, small blues club. On this night it was headlined by a sort of Southern rock band…from New Hampshire.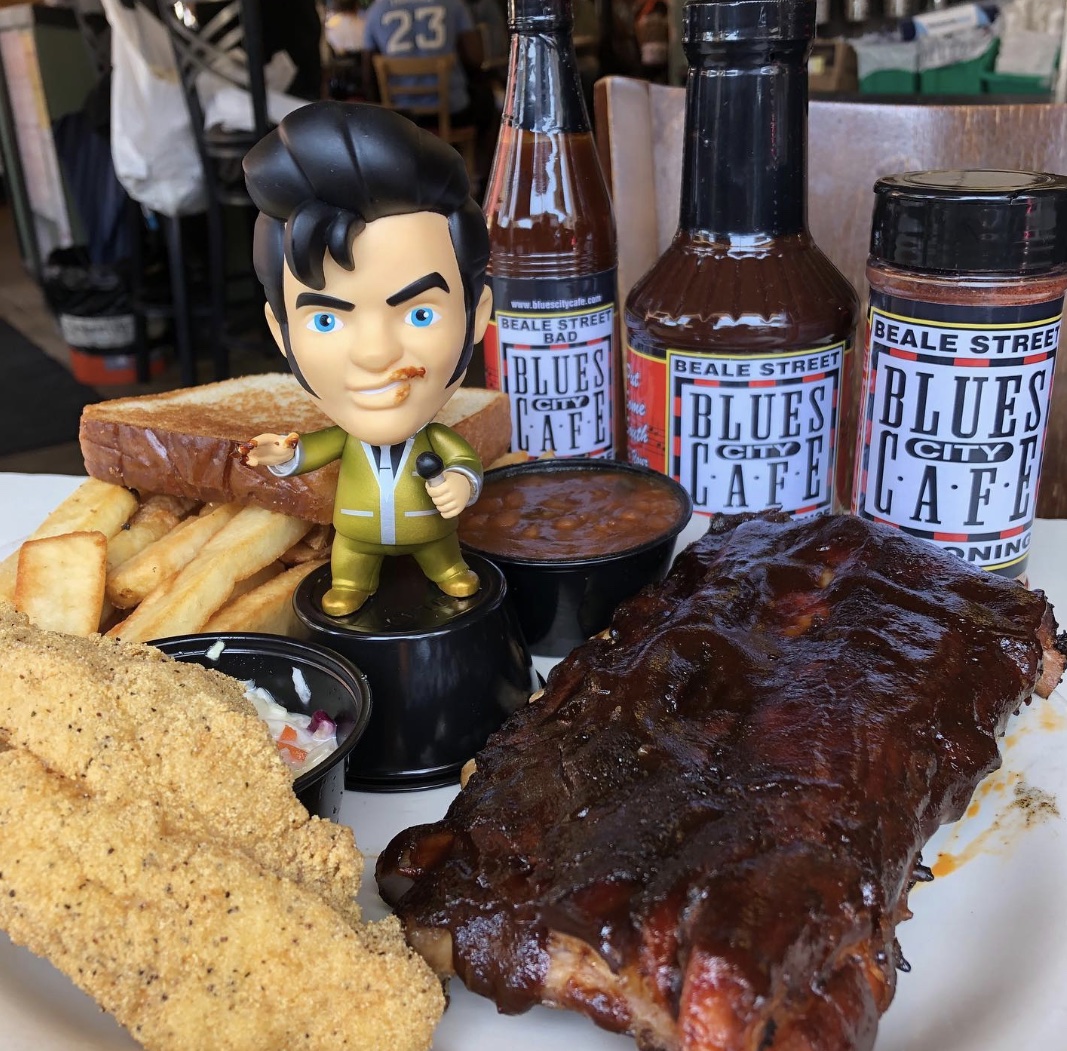 I mulled getting an order of chicken strips, then spotted The Pig On Beale across the street, which while not typically listed among the best barbecue joints in the city is definitely the best on Beale Street, as my pulled pork sandwich and french fries proved. In the front of the restaurant, a one-woman band was setting up for a late-night set. On Beale Street, even fourth-meal drunk food comes with a side of slide guitar.
---
If you haven't been to Beale Street before, just know that it feels a little overdone at times. Case in point: Wet Willie's. The frozen, hangover-in-a-plastic-cup purveyors that are fixtures on tourist drags 'round the country have a spot on Beale. If you're unfamiliar, Wet Willie's trades in the currency of harsh, fluorescent lighting and aggressively colorful drinks. This doesn't holistically mesh with the blues vibe. You don't listen to Muddy Waters while bathing in a bright, luminous glow. Again, context is key.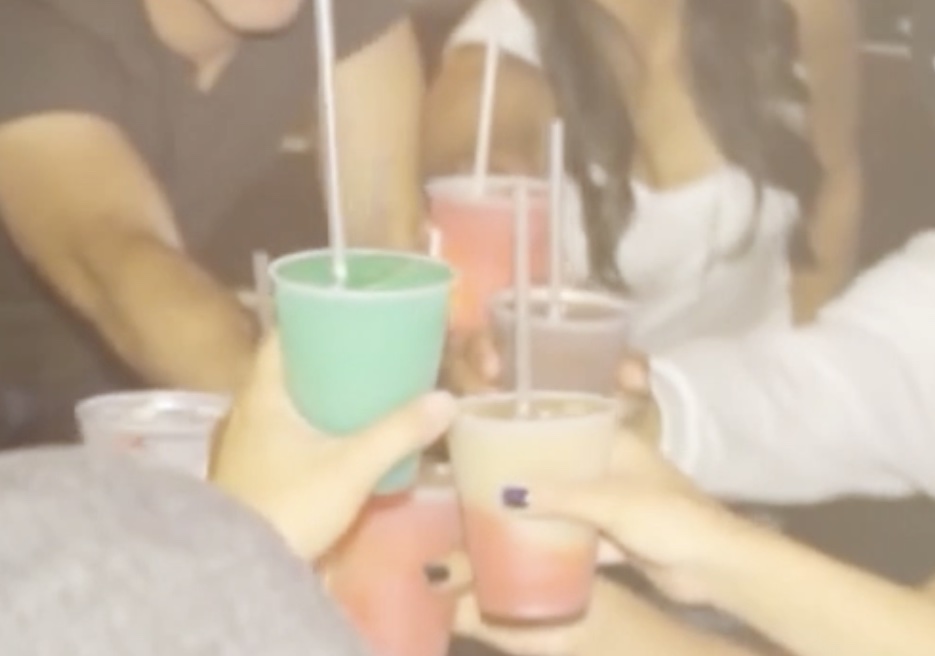 Blues is whiskey music. Or maybe it's beer music. What it is certainly not is strawberry daiquiri with a floater music. And after about two songs inside Wet Willie's tourists haven, I decided the street had better clubs.
I ventured a block up to King Jerry Lawler's Hall of Fame Bar & Grille, a tribute restaurant to the pro wrestling great. It, too, had alarmingly bright lighting, and the walls were plastered in old wrestling memorabilia. A lone blues guitarist was playing the small stage near the front door, but it felt more like Bo Diddley set up in a Vegas theme restaurant.
While I'm sure the blues bands have their own debaucherous after-parties, Beale Street closes up pretty early. By midnight, the clubs were winding down and the crowds had thinned. The club and bar goers on these nights leaned older and if you're past the rave-til-sunrise phase of life, you'll enjoy a big night on Beale Street that won't cost you a good night's sleep. Some cities known for nightlife kill it with monstrous crowds and overpriced drinks. Others have turned great music venues into shameless tourist traps. Not Beale.
While it could be mistaken for touristy, it hasn't lost a drop of its grit or authenticity. A night in Memphis is everything you'll hope it to be — the music is better than your hometown's and everyone here is approachable and cool. There's nothing glamorous about a night on Beale Street, but it satisfies and, as American landmarks go, it's as real as it gets.