This story was originally published in the Underrated issue (Fifty Grande #2), available for purchase here.
Pittsburgh pizza remains ungoverned by tradition or trademarked construction. Up close, its most storied slices elude definition — at least by some universal set of standards.
It isn't deep-dish like Chicago's; it certainly isn't shaped like Detroit's; and it's far from the stereotypical, foldable, fire-born slice you'll find in New York. Instead, Pittsburgh pizza is its own amalgamation: different depending on who you ask or where you buy yours. And staunch, almost sports-like loyalties split the consensus. Locals say Aiello's or Fiori's — maybe even Mineo's — make the best pies. All of them pile cheese on by the pound (and encourage patrons to wait at least 10 minutes until taking a bite). Just outside city limits, you'll hear residents vouch for Beto's, where the cheese is placed on "raw," or Shelly Pie, where the crust makes up half a slice.
However, Driftwood Oven quickly rose the ranks when it was added to Bon Appetit's "Top 50 Best New Restaurants List" in 2018, which included fine-dining standouts like Cervo's in New York and Bavel in Los Angeles. Trying just one Driftwood Oven's pies is enough evidence to support its mention alongside some of the most elite restaurants in the U.S. and that the bakers there make the best pizza in Pittsburgh.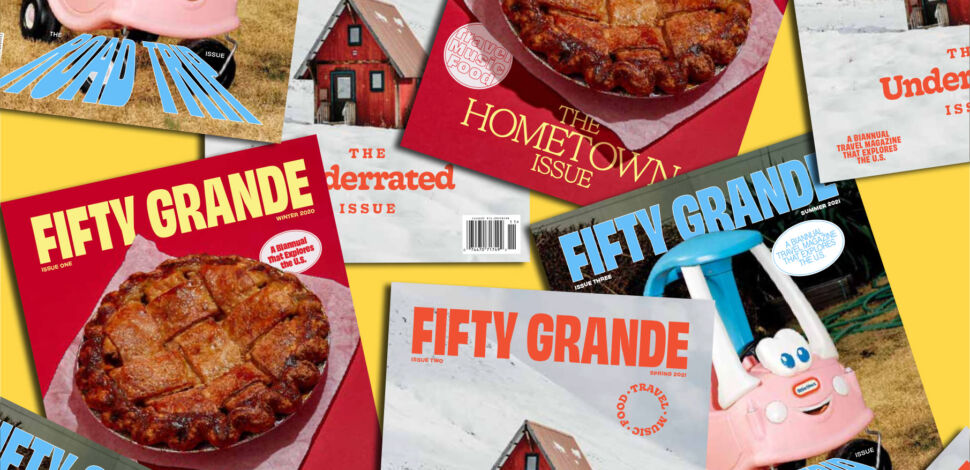 Founders Neil Blazin and Justin Vetter showed promise as chefs and restaurateurs while they operated Driftwood as a mobile oven. It was in the backyards of breweries and metered parking spots in front of events that they amassed a following for their naturally leavened sourdough pies and a rotating selection of sweet, savory and unexpected toppings. Through Kickstarter, they funded the opening of their brick-and-mortar. Once open, they offered a menu that includes favorites like the Bianca Funghi (a pie covered with shiitake mushrooms, morita chile oil, herbed ricotta, mozzarella, provola, fresh garlic and white wine shallot cream sauce) and A Mason's Best Friend (mortadella, spicy pickled peppers, herbed ricotta, mozzarella, fresh garlic and house marinara).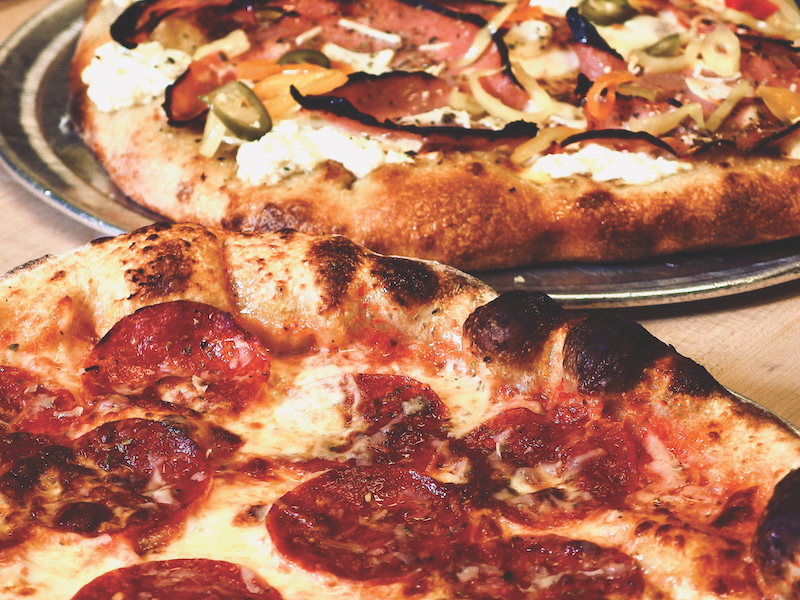 "People are looking at pizza slightly differently now," Blazin explains. "I think people are excited by it, and I think there is an understanding that there is a craft that goes into making a nice pizza. Making a nice dough is a real thing, and so is concentrating on the ingredients that we buy. People are definitely into that. We're perceived kind of like, 'Alright, these guys are doing it a little bit better. It's nicer. They care more.'"
The intent at Driftwood is to support other businesses that have similar food ethos, explains Blazin. "The cheese we get is from only two farms. It's an amazing thing. We get all grass-fed cheese for our pizza. And I think the concentration on food is becoming present in those things deemed less worthy for fine dining."
Similar richness, textural satisfaction and origin story can be found at Iron Born, a shop located just down the road from Driftwood Oven, in Pittsburgh's Strip District neighborhood. Conceptualized inside Galley Group's Smallman Galley (a restaurant incubator that once resided down the block but has since switched neighborhoods), the Detroit-style pizzas made here outdo many found in the Motor City (and that's no jab at the fellow Rust Belt beauty). Iron Born's pizzas excel primarily because leadership there possesses a willingness to venture beyond the parameters set for traditional steel-pan pies. After all, they are adamantly "Detroit inspired" and not the echo of another city's cuisine.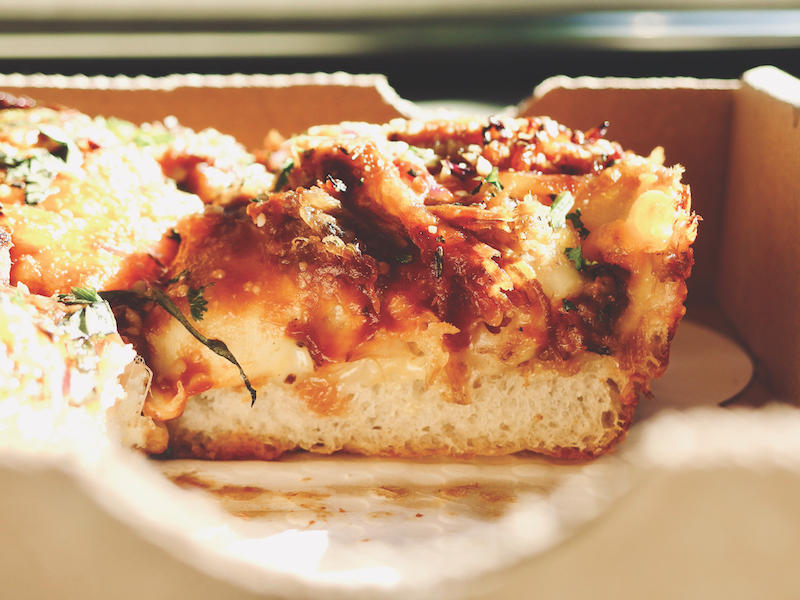 Here, they drizzle local honey on top of a loaf-like base with crisp, cheesy, charred crust layered with garlic cream, roasted mushrooms and ricotta. They offer rectangular pies with sharp corners forged from caramelization, a stark deviation from Driftwood Oven's hand-drawn circle-shaped iterations. Iron Born's Commonplace Coffee Pie — the same crisp crust topped with smoked pork, bourbon-soaked jalapeno, red onions and Commonplace Coffee-infused BBQ sauce — does, however, further signal an omnipresent affection for atypical, or rather elevated, ingredients.
At Pizzeria Davide, the ingredients employed in their pies are similarly excellent — because they're the same ones used throughout the menu of DiAnoia's Eatery, the beloved Italian restaurant next door (which also owns Pizzeria Davide and upstart bakery Pane è Pronto). Their pizzas range from Cacio e Pepe and Pancetti (alfredo sauce, broccoli, pancetta, black pepper, parmesan and olive oil) and Lebanon Bologna and Pepper Relish to Old World Style, a marinari pie sprinkled with parmesan (instead of melded with mozzarella). Local ingredients meet imported Italian ones, and a sprinkling of chef Dave Anoia's hometown in central Pennsylvania.
"We focus on fresh toppings and ingredients, like you find at DiAnoia's, more than most pizza shops, I would say," Anoia says. "They have canned mushrooms and peppers and things that are raw on the pizza. But we do prosciutto and arugula; we get a Lebanon sweet bologna. When we opened, we had a mortadella and pistachio.
We do a three-cheese pizza. Right now, we do spinach artichoke. It absolutely is about the toppings. I also believe it's about the ratio of the toppings per pizza."
Across the Allegheny River, the handwritten menu at Badamo's — which turns 10 this year — details a list of nostalgic pies and hoagies. On the wall, a Cola-Cola Classic menu board with replaced letters offers a simpler version. If there were a baseline for Pittsburgh pizza, this place could be it: familiar, unfettered, friendly, named after a grandfather and fairly balanced. You won't find local honey or some extravagant whipped ricotta here, but the square-cut Sicilian with pepperoni on both sides will sop the sadness (or at the least any hunger) from your soul. That's what pizza is supposed to do, right?
In Anoia's opinion, Pittsburgh pizza isn't desperate for a definition or ripe for a universal recipe — perhaps, on both accounts, because there isn't one. He thinks, whether you favor the cheese-heavy or the ones carried by their crust, you should only be concerned with quality — both of the pies and the people behind them. "If you're doing it right and you're doing it well," he says, "it'll find a name. But I don't care what people are calling it as long as they keep coming."