This story appears in the Unplugged issue, in stores February 28 and available here.
From above, they're barely more noticeable than manhole covers, dotting the rolling Kansas plains. Driving by, you likely wouldn't glance twice at this expanse of open land just off I-70 flanked by slowly swirling wind turbines and past rock-lined gravel roads. At first glance, this place is little more than a couple of cement pads and an errant rusted hatch or two, seemingly vacant but also well-maintained. Look a little closer and something else might catch your eye.
Jutting from the prairie is a tall cement structure the size of an elevator shaft with a recessed metal door (think the entrance to the secret desert lab in "Stranger Things"). Step inside and you'll discover a steep, damp stairway that descends into darkness. Beyond is one of dozens of abandoned Cold War-era missile silos you can find scattered all over the Midwest. These facilities were largely built in the 1950s in reaction to the Soviet Union's Sputnik expansion, but were decommissioned and abandoned just a few years later, by the mid '60s. Now, missile silos have been finding new life as luxury survival condos, fanciful castles and the ultimate renovation hospitality projects.
For Kansas native Matthew Fulkerson, these missile bases have become his life's work. As a curious 10-year-old, he stumbled upon an old Atlas E missile base near his home in Topeka, Kansas. Though it was surrounded by a barbed wire fence, Fulkerson wandered through the open gate to the silo's entrance. "I ended up trying the handle and it opened to a tunnel going into darkness," he says. Ultimately, he met the base's new owner, a retired school teacher who was turning the space into his home.
That discovery led Fulkerson to a lifetime of silo exploration. Though his professional background is in hospitality, over the years, he's worked as a woodworker and renovator helping others turn these forgotten spaces into something extraordinary. With his business, 20th Century Castles, Fulkerson teamed up with the silo owner he met as a kid to locate, buy and sell these unique properties. Now, as the one-man crew behind Atlas Ad Astra Adventure Resort, he's renovating an abandoned missile base of his own near Wilson, Kansas, which he purchased in 2013.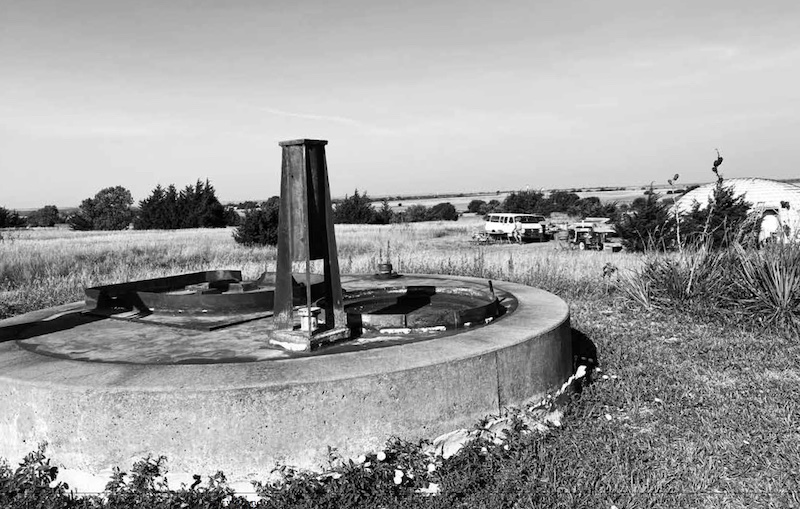 The name Ad Astra (Latin for "to the stars") is fitting since the vision for the renovated base is a space-colony-inspired accommodation located hundreds of feet below ground, making the perfect spot to shut out the rest of the world. Literally. He has plans to transform the silo into the perfect off-the-grid retreat where visitors of all ages can connect with nature and learn about futuristic, sustainable living.
You can currently camp on the missile site's grounds and take a historical tour of the base, but thanks to a recent $100,000 infusion from Airbnb (more on that below) to manifest the vision, the Atlas Ad Astra Adventure Resort plans to start welcoming guests for overnight stays in the silo itself by August 2023.
How did these silos get here, and why are they sitting empty?
Our missile defense system was all a response to Sputnik in the '50s. We recognized that the Soviet Union had the capability to put up a spy satellite and even fly over nuclear weapons. That got us active really quickly in developing our own missile defense systems [in the U.S.]. The Atlas was our first intercontinental ballistic missile. It was capable of flying over 5,000 nautical miles, and could hit pretty much any target in the Northern Hemisphere. So, very rapidly, they built 72 Atlas F missile silos all across the nation, which is what I have. The Atlas F is a vertical silo and goes down close to 200 feet so the missile was already upright. There are doors that would open up an elevator and lift the missile to the surface so it could launch. But these were only in operation from 1961 until 1965, and then they were already obsolete.
How did you come across the base you now own?
It was about 2013. I'd been working with the sale of these [missile silos] since 2010. I came across the property I now own and just fell in love with it. With its proximity to Wilson Lake and the cute little town of Wilson with its Czech heritage nearby, I really thought that this was a hidden gem for tourism.
Even though it was just a raw underground facility, I opened the property with 24 acres for people to camp. After cleaning up the interior so it was safe for people to tour, I started giving historical tours and letting people stay on the property.
What's the long-term vision for the silo? How are you hoping to update the interior?
Recently, Airbnb put together the OMG! Fund, where they're dividing $10 million between 100 hosts to turn their places into an OMG destination. I'm one of the 100 people chosen to receive $100,000, so I'm funneling that money into fixing up the former Launch Control Center.
I want to turn it into an educational center for space habitat studies, showcasing the sustainable technologies we would need to be able to set up a permanent lunar base on the moon or a colonization project on another planet. In order to live on the moon, you have to have integrated systems that can produce fresh food, clean air, pure water and consistent energy to keep everything running. People can come here and learn about those sorts of technologies and how they could start integrating that into our lives today. I'm finding companies that are solving some of humanity's challenges and trying to use their products in the space.
Then, the lower section is going to be turned into my private residence and guest suites where people can come and stay.
Is Atlas Ad Astra an ideal place to disconnect?
The idea of being underground is to have that kind of silence around you without all the regular noises of the highway or planes flying overhead. It can get really quiet down there. And at night, if you go outside, there's no light pollution. You can look in the Milky Way and see the stars. A lot of people who live in the city don't get that. Most people are so connected to their phones, TV or computer. This is a way to be able to unplug from it all and have an experience with nature. I will have fiber optic run to the property, so if you need to do office work, you can.
What can future guests expect when they stay underground?
Basically, I'm converting this 2,500-square-foot bunker into a three-bedroom, 2.5-bathroom home. What I'm wanting to do is set it all up with all the amenities you might need. There will be a kitchen where you can have gourmet meals if you want. I'm looking at growing food indoors so it's all fresh food. You'll have your own room to be able to relax in, but then there is the living room where you can sit down and watch a movie. My goal is also to have a sauna and soaking tub where you can relax and have a good soak. I've been looking into the benefits of ice baths as well.
I think the space could be for anyone from a family who wants to get away to a couple who is looking to connect. I'm looking at having two guest suites, so if a family does come, parents can still have some privacy. Or you can have a couple of couples come out or just individuals who want to have a unique experience.
I've found this is something that can really inspire just about anyone. I do find that a lot of my current guests are the baby boomer generation who resonate more with the Cold War era. They remember the days of duck-and-cover drills, so this appeals to them.