This story is part of our first-ever music special, which includes the results of our music survey, the resulting top music cities ranking and an in-depth look at the most travel-worthy music cities across the country. See all the coverage here.
---
In August 2022, the Berlin-based psychedelic rock band Elder took the stage at The Pour House Music Hall & Record Shop, and the scene was like many you could find in clubs across the country on that night. Inside, a mob of sweaty young dudes in black T-shirts and jeans packed into the Raleigh venue and, as a chaotic dance of pushing and shoving unfolded, a few heavily made-up women rockers watched and made sure not to get dragged into the melee. This show, and many like it last summer, were a return to form for a city that was a hub of local creativity for decades, until COVID hit.
It's no surprise that COVID shut down Raleigh, North Carolina's capital city, and Durham and Chapel Hill, known together as the Triangle, home to more than 2 million people. Anchored by the college town of Chapel Hill, the Triangle was renowned as a breeding ground for local talent and a common stop for national artists on tour. It had been that way since the mid-1990s, and indie artists like Superchunk, Polvo and Archers of Loaf all got their start in the area.
The Triangle is obviously open again, yet, like each of us who lived through the pandemic, it isn't exactly the same as it was before. In Raleigh, stalwart venues like The Pour House, Slim's, the Lincoln Theatre, The Ritz, King's, Neptune's and Red Hat Amphitheater have reopened, but the crowds who walk in their doors and the bands who take their stages have shifted. Some club owners report fewer national touring acts. Others report attendance numbers that fluctuate with COVID caseloads. And no one — not the patrons, not the bands, not the club staff — can escape the consequences of the virus, even now.
Calculated risk
The Pour House is located near a bustling downtown corner. The unassuming brick building at 224 S. Blount St. has large glass windows covered with colorful flyers and posters promoting artists of varying genres — Nashvillian and Americana singer Jaime Wyatt; Celtic folk rock band The Young Dubliners, from Los Angeles; a local artist hip-hop showcase; Raleigh alt-rock trio Boy Named Sue; and singer/songwriter Pony Bradshaw, from the Appalachian Mountain region of northern Georgia.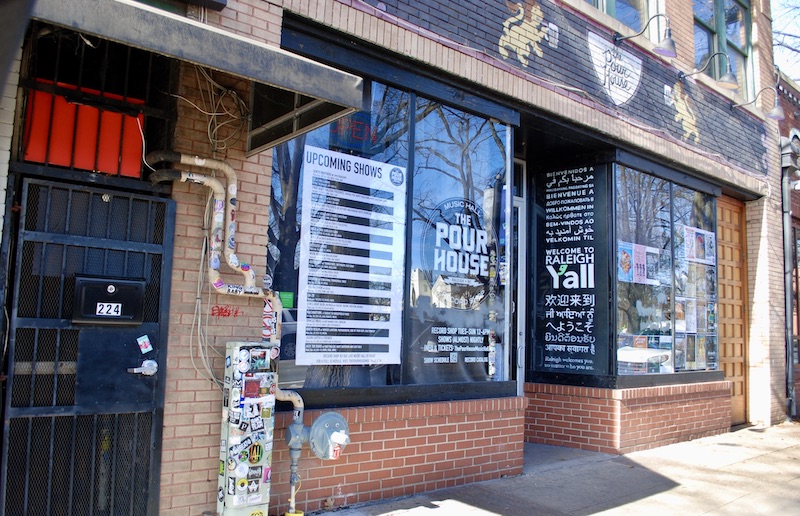 After you squeeze through an iron gate and walk down a narrow alley, a fully stocked bar and intimate space with a small stage awaits. On a busy night, the space can hold almost 300 people on the main floor and the area upstairs, which serves as a record shop during the day.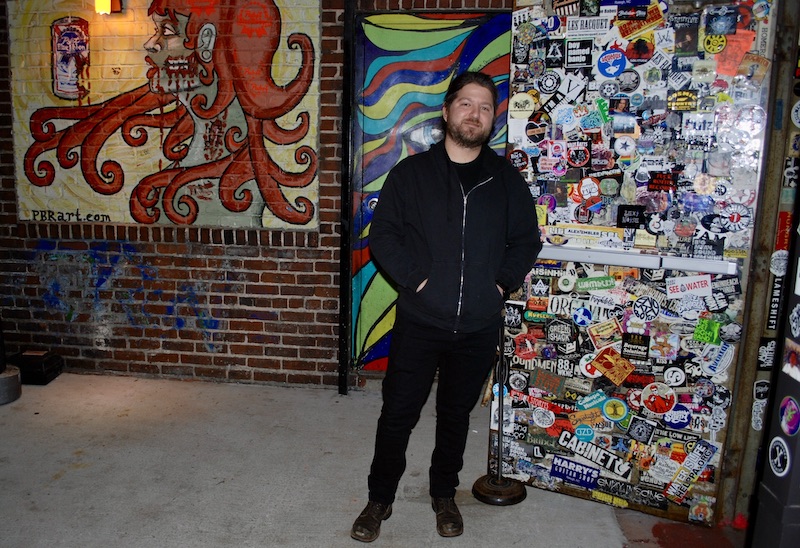 (Pictured: Adam Lindstaedt outside The Pour House)
Adam Lindstaedt has worked as owner and talent buyer at The Pour House since 2012. The venue opened in 1997 as a beer bar and lounge. "It was the only place downtown at the time that had 30 drafts," Lindstaedt says. "One day, the original owner booked a band, and it worked well. Over the next few years, the focus of the business evolved to shining the light on live performance."
The club was closed for 10 days short of a year during the COVID lockdown. Lindstaedt says the business lost approximately $1 million in that time. The Pour House reopened its doors to Raleigh's music fanatics on March 5, 2021, and, according to Lindstaedt, has now surpassed pre-COVID numbers in terms of attendance.
"People attending shows — in Raleigh, at least — has very much mimicked the infection curve of COVID," Lindstaedt says. "When cases were high (and we were able to be open), attendance was low. When cases were low (in June and July 2021), business was bonkers! It feels [like] folks have pretty much become comfortable with going out again, and the importance of the live music experience has become a priority in people's lives again."
Local artists are back, too. Up-and-comer Lie Heavy has played small and mid-sized venues, like The Cave and Local 506 in Chapel Hill, and Slim's and The Pour House in Raleigh, since quarantine restrictions were lifted. The Lie Heavy's first show, a lineup of doom metal bands, was at The Pour House in August 2021, even though one band on that bill had to pull out due to COVID.
"Gotta keep on rockin', right?"
The Lincoln Theatre is located just a few blocks away from The Pour House at 126 E. Cabarrus St. The brick facade is painted in dull gold; the side of the building features a painted mural of "Honest Abe" Lincoln driving an antique Lincoln car. It originally was a movie theater for the Black community and is now one of downtown Raleigh's most popular music clubs, with a capacity for 800 people. It closed between March 2020 and April 2021, due to COVID, Lincoln Theatre General Manager Chris Malarkey says.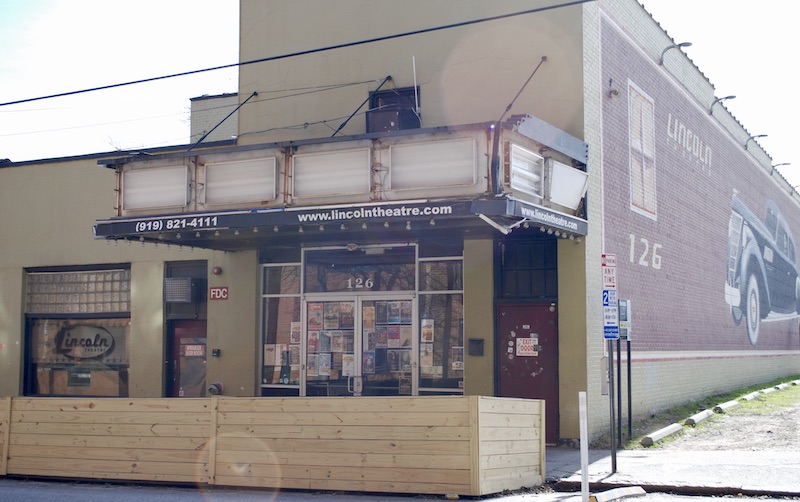 Local and national touring artists from all genres — Americana and country, heavy metal and hip-hop, among others — usually make a pit stop at the iconic venue, both pre- and post- COVID, but Malarkey has seen a change in the bands the club books.
"Bands are not touring on the same scale as before," Malarkey says. "They might tour two or three nights a week, rather than playing every night. Bands are getting back to normal with touring schedules, pretty much, but we don't see West Coast bands on the East Coast as much as we used to [before COVID]."
Recent shows at the Lincoln included classic hip-hop group Arrested Development, from Atlanta; Kentucky country/folk singer/songwriter Ian Noe; pop/punker Butch Walker, who moved from Los Angeles to Nashville; and Chatham County, N.C.'s outlaw country/punk band Sarah Shook & the Disarmers.
Malarkey says that Lincoln Theatre is not 100% back to normal in terms of attendance, but close. "[Music venues] might not ever be back to normal," Malarkey says. "But, it's coming back. I've talked to other clubs in town, and they had a good year over last year. They are in a good place, though some local clubs did have to close."
Karl Agell, Lie Heavy's lead singer/songwriter sees a future for music in Raleigh and the Triangle. He's lived in Raleigh since 1989 when he moved to the city to sing with COC (Corrosion of Conformity). The band's unique brand of heavy metal mixed with Southern rock and swampy blues earned it international touring gigs and made its members hometown heroes in Raleigh. Agell thinks the music community here is "dynamic" and the city is "a great place to be a musician."
"There's a lot of talent here and a great deal of support," Agell says. "COVID obviously made things really tough on everyone, but most of the venues and bands prevailed. What can you do? Gotta keep on rockin', right?"