"Why I Love" is a series of essays that pays tribute to American cities and states and the things we love about them.
When I say "Missouri" to you, it might conjure images of corn, or perhaps a large metal arch — the architectural marvel of which we Missourians are very proud. "If you're up top and the wind is strong, you can actually feel the structure sway," I've dutifully told many. After a stop at the stainless steel monument, I christen my sweet, sweet doe-eyed travelers with another sacred ritual of my people: Pappy's Smokehouse, washed down with the gooey butter cake. I keep Pepto Bismol reserves in my purse, because later we'll ride the mechanical bull at Ballpark Village while drinking $3 Bud Lights. This is the Missouri way. We are a community built on carbs and candor.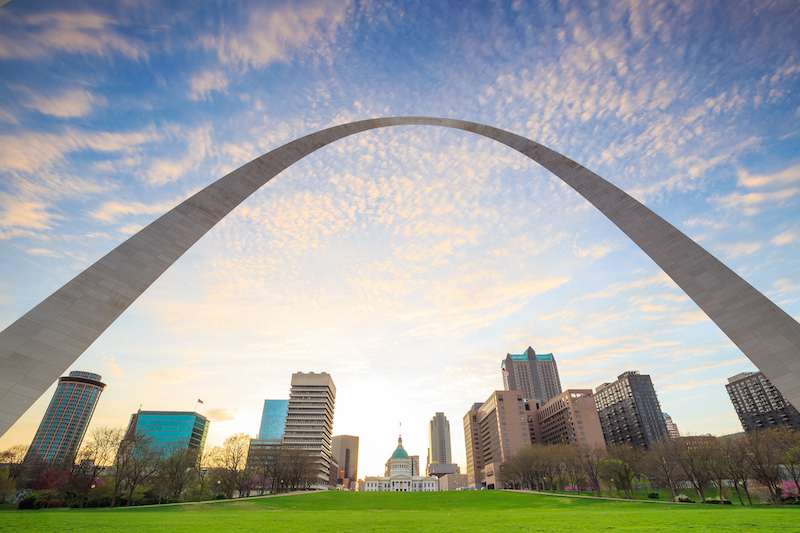 I love giving tours of my home state, a place so often stereotyped and confined to one mold à la "Ozark." I've heard it described as "backwards"; provincial, mayonnaise-obsessed, religious to a fault. There is truth to this in some parts; where I grew up, neighbors know all your business, and mayo-laden party potatoes are a staple at every potluck. Church billboards read unclear yet ominous warnings like "EAT THE DEVIL'S CORN & YOU'LL CHOKE ON HIS COB." It's a place where people are born and then they stay.
There is a deep pride in preserving heritage here; but in recent years, I've also noticed a vibe of possibility, this feeling of being on the cusp of something. I remember a college English teacher explaining to our class the concept of liminal space — "the time between the 'what was' and the 'next.' It is a place of transition, waiting, and not knowing." It was like airports, she said, or cocoons in metamorphosis. It's like home, I thought.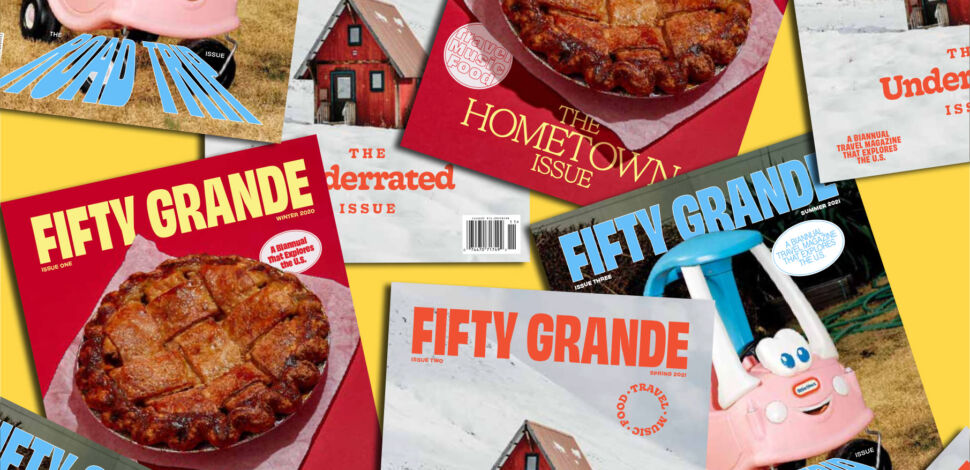 Missouri is an in-between place, navigating a complicated history and still figuring out where it wants to go from here. While a stronghold on tradition remains, the sense of potential has created fertile ground for burgeoning artists' refuges, celebrations of multiculturalism and new ways of thinking about community. Missouri is a place containing nuanced stories, not simply the monolith often prescribed to it.
One of the state's narratives can be told through its food culture, which is as rich and quirky as gooey butter cake itself. Barbecue is a staple of Missouri living, but thanks to a vibrant and growing immigrant community, one can also find almost any type of cuisine, and fusions of them, too (read: Seoul Taco). South Grand Boulevard in St. Louis hosts fare from Ethiopian at Meskerem to Persian at Cafe Natasha's. Lona's Lil Eats, home of the giant rice paper wrap, is deserving of a Michelin star in my book.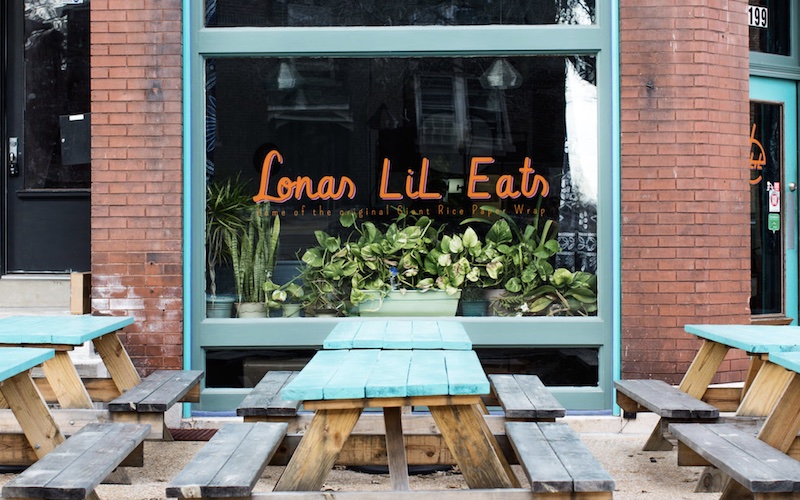 While welcoming the influx of new restaurants, Missourians are also fiercely loyal to old spots like the historic Carl's Drive-In, the family-owned Crown Candy Kitchen and the beloved biker bar Defiance Roadhouse. Supporting local is a deeply ingrained value. Even Panera here is still called St. Louis Bread Co., an homage to the chain's native roots; you may already know this from a high-profile bagel scandal that took place in 2019. Let me use this space to quickly set the record straight. "Bread-sliced" is the optimal way to share bagels because everyone can try different combinations of bagel and schmear. STL Bread Co. even has a special machine for this community-centered (and clearly superior) slicing method.
To that end, Missouri has customs that are stranger than efficient bagel sharing — for instance, the annual showcase of the state's sexiest tractors. There is also a sport entitled The Greased-Pig Chase, which is exactly as it sounds. I cannot condone this pastime, knowing what I know (I am scarred from watching the 9-11 age group grab pig limbs with their little lard-soaked hands; fellow Midwestern state Minnesota outlawed the sport because it "might be inhumane"; pigs are very smart, etc.), but fans hold on as tightly to this state fair tradition as the competitors do their oiled hogs.
Tradition isn't always synonymous with problematic, though; sometimes it can be rather lovely. The wholesome Apple Butter Festival takes place annually in historic Kimmswick, which happens to be the most adorable town this side of the Mississippi. There's also the rite of passage that is the Huzzah River Float Trip, a clever solution for beating the humidity in a landlocked state. Missouri's network of rivers and lakes is taken advantage of all year around by locals, and nothing beats cliff-jumping from the bluffs at Rolla's Fugitive Beach and moonlight swims at Johnson's Shut-Ins State Park.
Missouri is the land of the park hang, a place where summer is denoted by picnic charcuterie boards dotting Art Hill and hammocks tied in clusters throughout every public green space. On nights of the full moon, a group meets at Turtle Playground in Forest Park to embark on another ritual: the Ghost Ride. This is a pub crawl via bikes that reliably ends in late-night tacos on a Cherokee Street dance floor. Another thing about Missouri? She will keep you out dancing. Live music is the lifeblood of the state and its people. My mom will even tell you that Branson, Missouri, is "the Las Vegas of the Midwest." (I'm not sold on this.)
Like live music, free fun is integral to life here, and one of the most underrated aspects of the state is the accessibility and diversity of entertainment. The St. Louis Art Museum, Science Center, and Zoo, Missouri History Museum and the renowned Nelson-Atkins Museum in Kansas City are all free, as is the concert series at the botanical gardens. The International Institute also hosts the free-admittance Festival of Nations every year at Tower Grove Park, showcasing all the different cultures represented across the state.
In recent years, Missouri's also become home to a robust and inclusive art scene, with an emphasis on social justice projects that engage current issues. There are poetry readings and independent galleries on Cherokee Antique Row, and street art murals are painted throughout The Grove. In 2018, Barack Obama portraitist Kehinde Wiley created a St. Louis-specific exhibition at SLAM, casting strangers from nearby neighborhoods as his subjects. This summer, the "Stories of Resistance" exhibition at the Contemporary Art Museum (CAM) looked at movements like Black Lives Matter through a local lens, then connected them to issues worldwide.
Opportunity, affordability and resources for public projects have also attracted indie art collectives, comprising both Missouri artists and transplants. PSA STL is a public art project hosting works by local artists, writers and poets. Recently, the project exhibited a piece called "Made to See" by artist Aida Hasanović. Hasanović's work centers her family's experience as Bosnian refugees navigating identity in middle America. Her words were installed in large letters on the outside of CAM for all passers-by to see, an em dash connecting the text between English and Bosnian: "We are made to see beyond this ocean around us."
This is Missouri. Spanning all of it is a "supporting local" mindset, a commitment to investing directly into the community. The product is a state full of accessible resources, something for everyone if you just know where to look and an air of excitement for what could be created. The state will definitely continue to evolve — but you can also be sure that however Missouri metamorphosizes next, Bud Light and barbecue are always and forever.