"Why I Love" is a series of essays that pays tribute to American cities and states and the things we love about them.
No state in America will surprise you quite like South Dakota. Not because expectations are low, really. It's more that Americans tend to lump this state into one, big midwestern mass that might as well be Saskatchewan. Visions of vast, windswept oil fields with Mt. Rushmore and a couple of buffalo is generally the perception. But, South Dakota is a stunning state of black hills, jagged desert, and winding canyons. It's a place of red rocks and moonscapes, and granite cliffs dropping into tranquil lakes. It boasts one of the most diverse landscapes of any landlocked state, and its cities are fun, funky outposts you'd never expect so far from major metros.
Like most Americans who discover South Dakota, I kind of stumbled on the place. Driving across the country, one never really knows what to expect when crossing into the abyss that is the Dakotas. But then the signs start.
"Sculpture Park, 30 miles."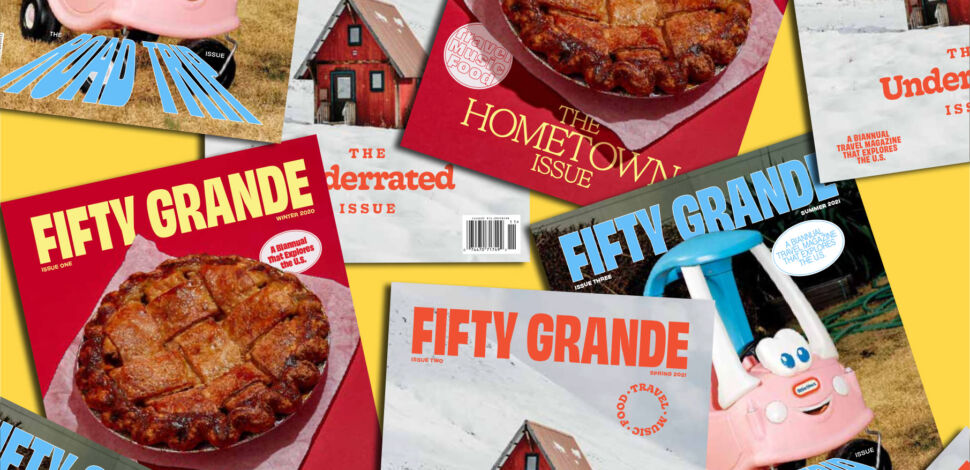 "Dinosaurs! 150 miles"
"300 miles to free ice water!"
South Dakota beckons you off the road with a state-wide barrage of attractions you can't help but investigate. It embraces its role as the driveway to great national parks of the West, and has dotted its stretch of Interstate 90 with billboards luring motorists off the road.
The most famous is Wall Drug, a mega-emporium on the outskirts of the Badlands where you can buy anything from cough medicine to a bison burger. Originally founded in 1908, the store gained its fame by offering free ice water to drivers in the pre-air conditioning era. Wall Drug then began advertising with billboards announcing how far travelers were from this oasis of refreshment. Now their signs pop up everywhere from Europe to Africa, making it the state's second-best known attraction after that mountain with the faces on it. It's home to an animatronic T-rex, a robot band, a rideable Jackalope, and a splash park. Even without the ice water, it's a must-stop.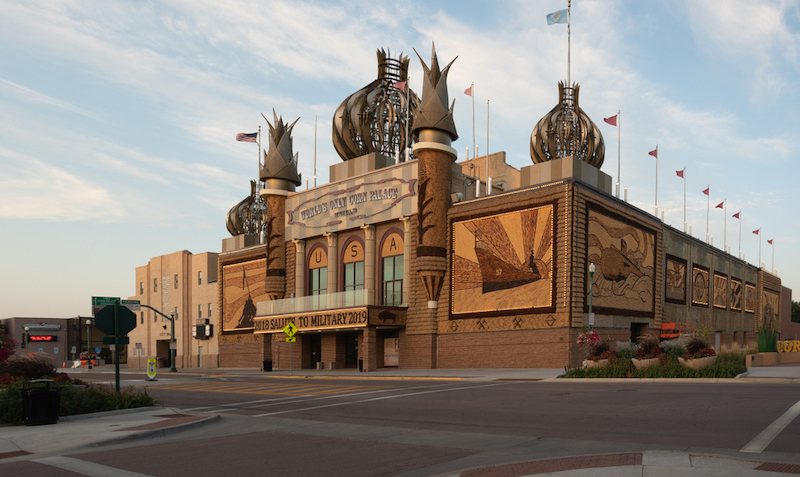 Continuing east, you'll begin to notice signs for the world's only Corn Palace in Mitchell, located in the Southeast part of the state. The structure is a feat of both art and agriculture, where 375,000 ears of corn cover the town's downtown arena. They're crafted into corn murals, pillars, and signs, making the Corn Palace unlike any venue in the world.
Just outside Sioux Falls — South Dakota's most populated city with just under 200,000 residents — you'll see a 60-foot bull's head standing off the side of the Interstate. This is the Porter Sculpture Park, where artist Wayne Potter has created over 50 life-sized metal sculptures. They range from the bull's head to a trojan horse to insects and dragons. A stroll here isn't just a good way to stretch your legs, in the right mindset it can also stretch your mind. The abstract art isn't just side-of-the-road kitsch; some sculptures are also paired with thought-provoking poems that'll have you discussing the experience for miles after you leave.
There's an entire town set to look like 1880. There's a classic car museum in Murdo, complete with a General Lee that plays "Dixie." And, of course, there's Badlands National Park, an other-worldly moonscape whose 39-mile loop drive is a journey into bluffs, cliffs, and desert where colors can change by the minute.
But South Dakota isn't just a road trip. The state is also a legitimate destination, and not just because it's home to Mt. Rushmore. Yes, as long as you're in the neighborhood you should pay a visit, like the Eiffel Tower in Paris or the Statue of Liberty in New York. But I'd hesitate to call it the fifth coolest thing to see in the Black Hills.
This region in the western part of the state boasts some of the most stunning scenery in America, though few people outside the Midwest know it's here. Spearfish Canyon is a maze of stone cliffs and green trees, where you're invited to get lost on a UTV in the summer, and on snowmobiles in the winter.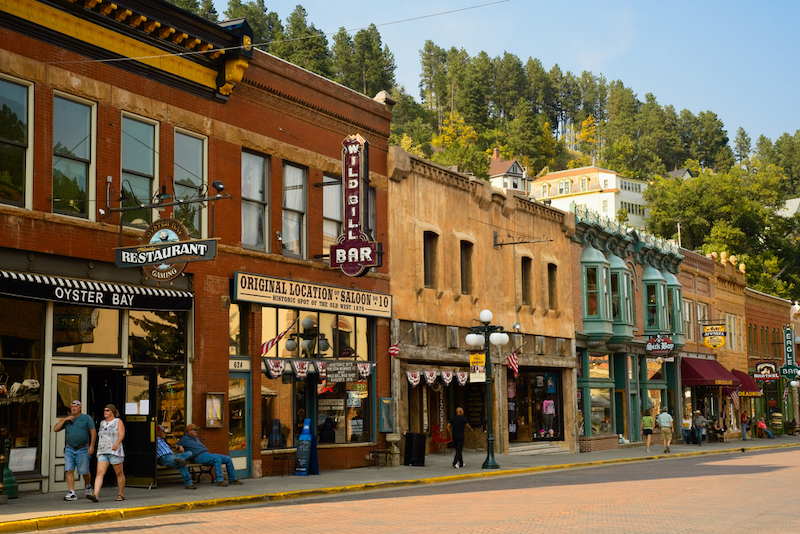 Beyond that you'll find Deadwood, a town you may recognize from the TV show of the same name. Its legacy as a lawless gold rush city isn't a tall tale, and as you stroll its fully-restored Main Street you'll learn the legends of Wild Bill Hickock, Calamity Jane, and the other characters who made Deadwood famous. Deadwood leans into its heritage hard, as daily gunfight reenactments, haunted hotels, and stagecoach tours make the town an immersion in the gold rush era. Of course, there's also the strip of casinos and old-west saloons that've made it a party destination too.
Further into the Black Hills sits Custer State Park, where buffalo roam free and often clog up the roads. It's where you'll find the Needles Highway, one of the most photographed spots in the state where the road meanders through rocks with openings resembling a needle's eye. Stopping at Sylvan Lake, you'll paddle and hike through granite rock formations like nowhere in America. Though none are as impressive as the ones you'll see hiking through Cathedral Spires.
Not far from Custer State Park is the Crazy Horse Memorial, an ambitious rock carving that dwarfs Mt. Rushmore. Because the project – started in 1948 by sculptor Korczak Ziolkowski and Lakota Chief Henry Standing Bear – accepts no public money, it's decades from completion. Still, the mountain-sized sculpture of Crazy Horse is the state's iconic work-in-progress. The site also hosts an interpretive center where you can learn the extensive history of the Sioux, Lakota, and others who originally occupied this land.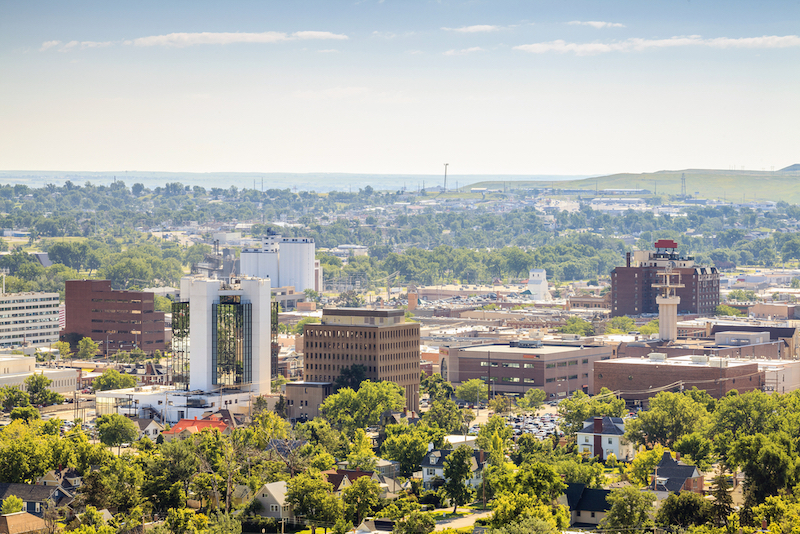 Though the nature of the Badlands and Black Hills might be the state's greatest draw, its cities may surprise you more than anything else. Rapid City, on South Dakota's western end, is the gateway to the Black Hills, and the creative center of the state. An alley of street murals bisects downtown, where you'll also find multiple breweries, lively bars, and the best Nepalese food you'll ever have. You can also spend a night at the Hotel Alex Johnson, the state's most historic and impressive hotel, then enjoy a cocktail at its panoramic rooftop bar.
Across the state you'll discover Sioux Falls, which feels a little like arriving in New York City after traversing the tiny towns along I-90. It's a city that feels ten times bigger than its just-under 200,000 population, with large minor-league sports stadiums, office towers downtown, and a bustling main drag along Phillips Ave. Spend a night at the Hotel on Phillips, set in an old bank building where the safe is now a cocktail bar. Then take a night to bar hop through downtown and discover what the largest city between Minneapolis and Boise has to offer.
But perhaps what's most inviting about South Dakota is that it's a place that lets you be you. South Dakotans like a lot of space, and not a lot of restrictions. So whatever your vibe, whether it's creativite, outdoors, urban, or adventurous, South Dakota has a way to express it. It's a state where you'll truly feel free, through open spaces and grand natural surroundings. South Dakota is far more than fly-over country, or even a state good for driving through. It's a place to stop and explore, where you too will gain a great appreciation for the most underrated state in America.