This story is part of the Underrated issue (Fifty Grande #2), which is available for purchase here.
From the outside, Sacramento is the California dream scaled down to a Midwest size. It's far from the glitz of Los Angeles, San Francisco's tech cache or San Diego's laid-back cool. It's too far inland to benefit from the ocean's glow, like the many shimmering beach spots that dot the coast from Avila to La Jolla. What is here in the self-declared "Farm-to-Fork Capital," besides a storied agricultural industry and the state house, is a simmering street art scene that's ready to boil over.
"There are so many different personalities that this city has that it's hard for one to speak on behalf of us all," says local artist Brandon Alexander. While Sacramento is rich in diversity — whether it's racial, cultural, professional or stylistic — its many populations have historically remained isolated from each other, confined to their own neighborhoods. Alexander believes that former boundaries are blurring, with the arts community pioneering this trend. Growing arts initiatives like the Wide Open Walls mural festival (more on that in a minute) and Alexander's own event Elysium Live introduce the city's artists to each other, helping the greater whole grow more unified. "I think Sacramento is finally starting to meet itself right now because it realizes it has to," he continues. "In order to have any kind of impact on the future, we have to have a collective voice."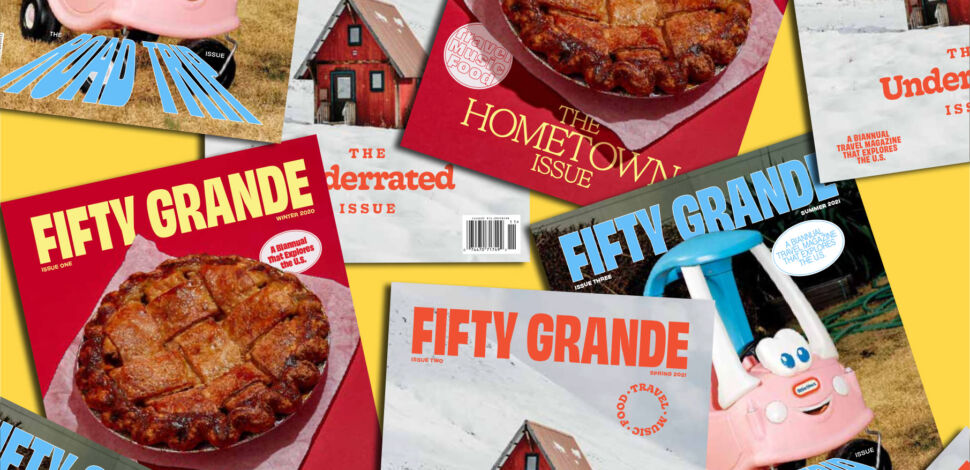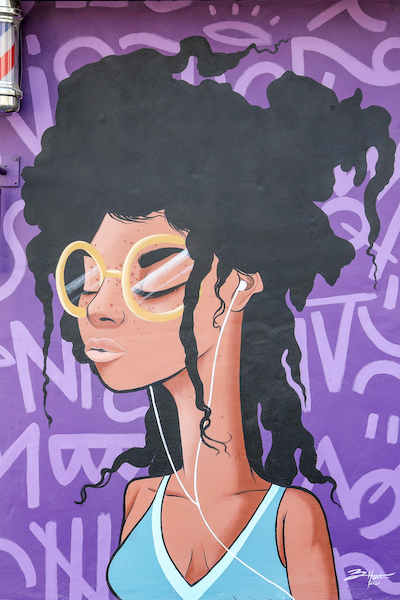 Of all the murals in this rapidly blossoming city, Alexander's favorites are his two most recent works, "Gemini" and "Untitled." He painted them for the Wide Open Walls mural festival in 2020. [They're on Seventh St., between I St. and J St.]. "The intent is everything," he elaborated. "[The murals] were created to give people a reason to celebrate themselves. That's how you make magic happen." Alexander admits his answer might seem self-indulgent. He asserts that his choice stems from genuine passion and belief in his mission among the city's many moving pieces. He notes Raphael Delgado's mural by the stadium as a second favorite.
Art was an ever-present force throughout curator David Sobon's early life. He's been a Sacramento resident for 43 years. "I moved to the area with my family when my father decided to change careers from being a research scientist with Lockheed to winemaker in Amador County. My parents took us to museums and my mother had a gallery for 10 years."
In 2017, Sobon founded the Wide Open Walls mural festival. It hosts an annual event that imports international street artists to work alongside local talent, endowing Sacramento with fresh large-scale installations. The idea came to him while walking his dog along the languorous city streets. Admiring the pockets of local art, he realized "we needed to paint big walls with big names in order for anybody outside of the area to notice." The acclaimed talent showcased with Wide Open Walls includes Dutch artist Caratoes, Spanish artist Borondo and an incredible three-part collaboration titled "Where's Wally?" from Axel Void, Ivan Floró and Alberto Montes.
"We've always tried to balance our festivals with half local artists and half from outside of California," Sobon states. "It is very rewarding when a local artist gets job offers and the opportunity to travel the world and spread the word about Sactown." He says his favorite mural changes every month, but "right now, without a doubt, it's Raphael Delgado's piece on Sixth St." [at 555 Capitol Mall parking garage].
Raphael Delgado moved to Sacramento in 2008 and found a haven teeming with homegrown talent, enthusiastic audiences and attractive rents. The city steadily worked its way into Delgado's creative headspace, particularly the R St. Corridor. "R St. is a long warehouse-lined corridor that creates a beautiful vanishing point of shiny railroad tracks as the sun sets. This area has become the epicenter of the street parties, musical events and open studios due to the dense concentration of galleries, shops and art studios in the area."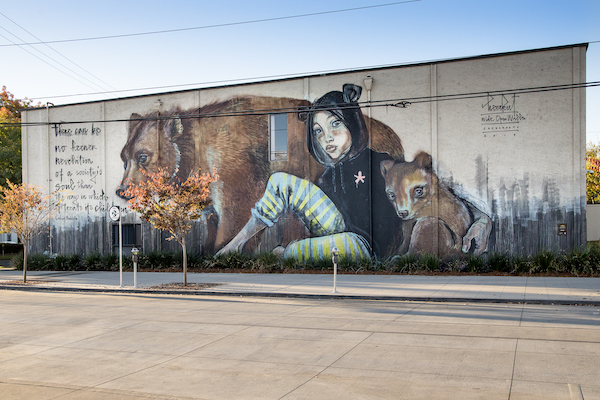 Delgado's favorite mural is the Herakut piece done during 2018's Wide Open Walls. "It's a block away from my studio. So, I walk past it almost every day, constantly finding things I like about it. It's huge but seems very intimate. The paint looks loose and improvisational in some areas, but controlled and delicate in others. There are quickly splashed and dripped areas that mix with razor-sharp brushwork and fine lines. It's beautiful, but I particularly love the quote she added to it. It says: 'There can be no keener revelation of a society's soul than the way in which it treats its children.' Nelson Mandela. I have it memorized, because I love the way her handwriting demands that I read it every time I pass."
"Our city is so spread out that there isn't a concentration of artists working side by side to even subconsciously dabble in another's style for more than a short experimental period," says local artist Lily Mott. "In other words, artists here don't shit where they eat, but will happily share practical knowledge because it's part of the process of becoming."
Mott's favorite place to find street art is Improv Alley. "The Sac County Jail literally towers over the alley, giving those who are incarcerated something to stare at besides the inside of a cell."
What's your favorite mural in the city? "Anything that comes out of Dwellpoint is insane. Molly Devlin is incredibly surreal, drawing from the dreamscape and natural world. Anything Stephen V. Williams does blows my mind from originality. Or Lin Fei Fei for her painterly depth of soul displayed in black and white. Brandon Alexander for his warrior spirit and animalistic instincts in symbolism."
Alongside these grittier, downtown-type scenes, Sacramento is home to The Crocker Art Museum. It's the oldest continuously operating art museum west of the Mississippi. It houses an innovative yet esteemed permanent collection among a stream of rotating exhibits from in and out of town.
"The arts have long been important in Sacramento and are becoming more so as the city itself is coming into its own as a major cultural destination," says Associate Director and Chief Curator Scott Shields. "Not only do we have Second Saturday community gallery openings and Wide Open Walls that each year adds more murals to the urban environment, we have a rich nonprofit art scene that includes music, theater and museums like the Crocker."
As another passion-driven curator, Shields seems half-reticent to declare his favorite mural. "That's a tough question," he says. His favorites change as new works are created. "Very recently, Spencer Keeton Cunningham just completed a powerful one on Del Paso Blvd. that acknowledges the devastating impact of climate change and fires on nature and animal life."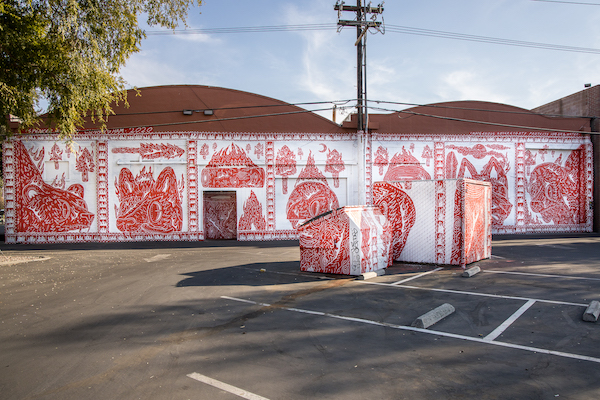 Animals and nature will forever stand at the cornerstone of Sacramento's identity. This truth manages to manifest among its varied artistic offerings. Local artist Ana Valentine has also painted with Wide Open Walls. A Sacramento native, Valentine tells me, "I developed arthritis by age 15 due to heavy labor as a farmer. But, I found my muse in life: flowers!"
This notable piece of her past still drives her paintings of flora and fauna today. "All of my paintings are inspired by the plants I once grew." Even with this intimate knowledge of the land, Valentine tells me, "We might be the Farm-to-Fork capital of the country, but there's so much more going on here. The contemporary murals cover hundreds of unique ideas." Her favorite is the KiriLeigh Jones mural at 1808 14th St. "It looks like a floral explosion, and I admire how she first started as a nail artist in San Francisco. Now look at her!"