All heat is not created equal, and Texas makes this point better than most places. It took moving to the Pacific Northwest to discover that many Americans look forward to summer as a time to revel in the outdoors and bask in the sunshine. In contrast, many Texans like me face summertime knowing that, without air conditioning, we're stuck recreating a less sexy version of Britney Spears' "I'm A Slave 4 U" music video, which is to say, getting very, very sweaty. Unlike the dry, arid heat of states like Arizona, a day spent in the South Texas heat is like being roasted and smothered all at once, thanks to high humidity levels coupled with temperatures that can creep into the 110s.
Thankfully, we've lassoed up some of the best swimming holes across the Lone Star state, where you can cool off when the temperatures start to resemble the sixth circle of Dante's "Inferno." Many of these can be found deep in the Hill Country region of Central Texas, while others are distinct oases found in the West Texas desert and the grassy prairies of North Texas. Whether you jettison into the water via rope swing or snorkel in a massive spring-fed pool, make sure to lather up with your favorite mineral-based SPF lest ye be scorched by the relentless Texas sun.
Barton Springs Pool – Austin, Texas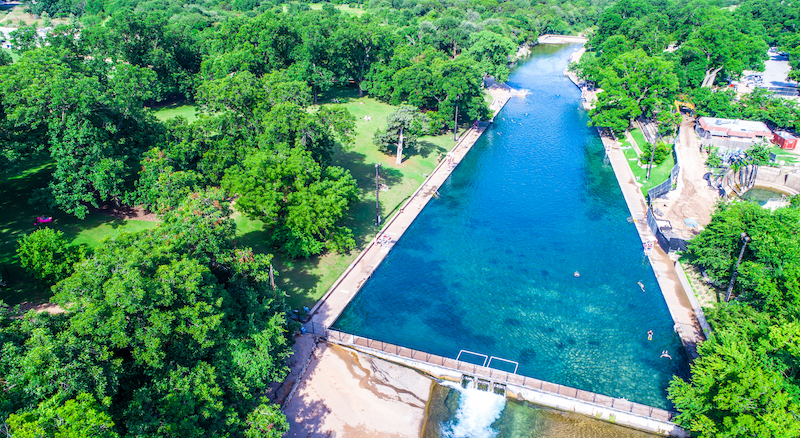 Although many swimming holes in Texas are seasonal, Barton Springs Pool understands that the brutal Texas heat persists well after Labor Day. The iconic year-round swimming hole covers three acres in the heart of downtown Austin's Zilker Park, where the annual Austin City Limits Music Festival is held each October. At 1,000 feet long, the pool is full of spring-fed water that stays a chilly 68 degrees all year and is surrounded by the park's grassy slopes on either side. Here, you can cool off in the spring and then fall asleep under a shady tree — how peaceful does that sound? The well-maintained pool is open daily, and admission is free from November through mid-March, after which a small fee is charged, ranging from $2 to $5 for Austin residents and $4 to $9 for non-residents. When you're ready for a change of scenery, head less than a mile away to Lou's and dig into a rotisserie Cobb salad with an agua fresca mimosa on the side.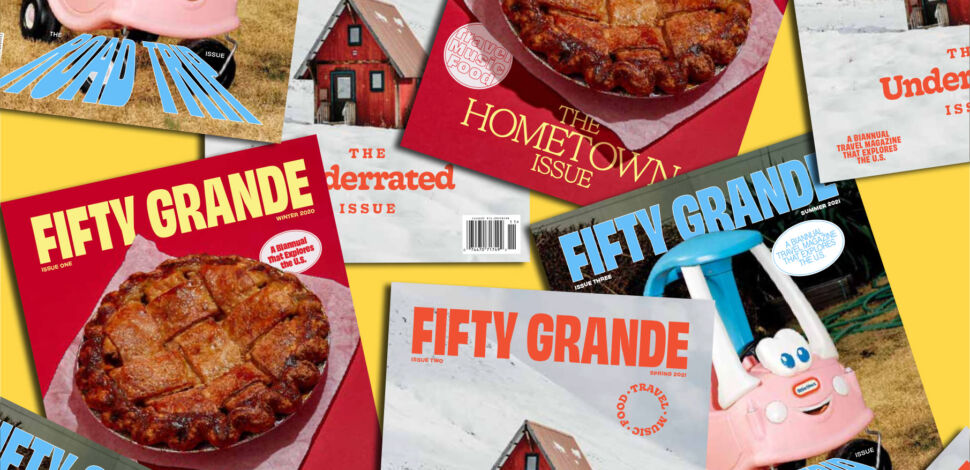 Blanco State Park – Blanco, Texas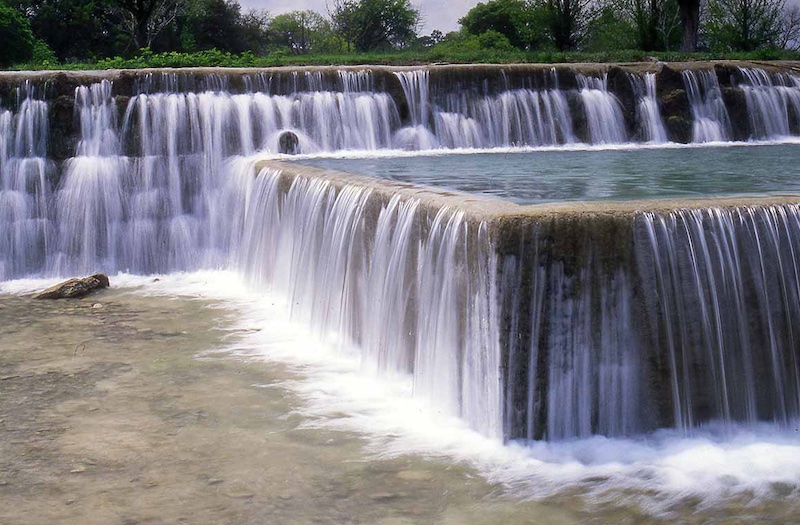 Located an hour between Austin and San Antonio, Blanco State Park is a refuge for city-dwelling families. The park sits on a pristine one-mile stretch of the Blanco River and has a little bit of something for everyone, from swimming to fishing for rainbow trout and catfish. The primary swimming spot is near the dam, where the spring-fed water cascades over a plateau into a shallow part of the river ideal for families with inexperienced swimmers in tow. If swimming isn't your thing, the park store offers canoe, kayak and tube rentals, or you can follow one of many nature trails covered by cedar and pecan trees. Fees to get into the park are a steal: just $5 for people 12 and over. Camping enthusiasts can rent one of the screened shelters for $30 a night.
Blue Hole Park – Georgetown, Texas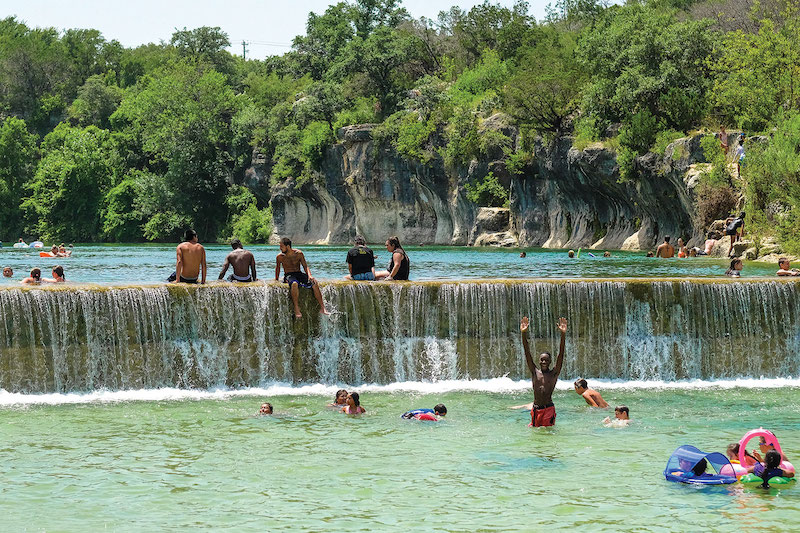 Not to be confused with Blue Hole Regional Park in Wimberley — which would've made our list if not temporarily closed due to unsafe swimming conditions — Blue Hole Park is located roughly 30 miles north of Austin in Georgetown. The city is a college town home to Southwestern University, the oldest university in the state, along with one of Texas' most underrated swimming holes. Situated on the south fork of the San Gabriel River, Blue Hole Park features crystalline waters that gently cascade from a mini waterfall into a wading pool, making it a perfect place for families with little swimmers in tow. It may be tempting to leap from the towering limestone cliffs above, but cliff jumping is prohibited at this spot as the water here leans toward shallow. While the swimming hole is a favorite of those in the know, it lacks the popularity of swimming spots like Deep Eddy Pool and Jacob's Well (another fabulous swimming spot currently closed), making it the ideal destination for those looking to cool off in privacy. Blue Hole Park is also free of charge and dog-friendly, so feel free to bring Fido along.
Blue Lagoon – Huntsville, Texas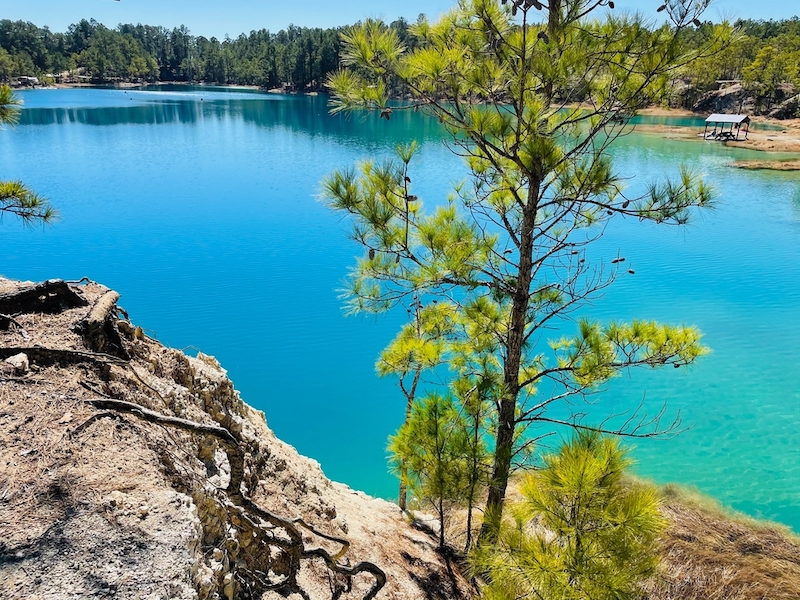 Blue Lagoon is a great place to get your sea legs if you dream of becoming a scuba diver. Located roughly an hour-and-a-half from Houston in East Texas, the waters of the Blue Lagoon are spring-fed and have a maximum depth of approximately 30 feet. The secluded swimming hole is an instructor development center for scuba divers and has an onsite retail store with top-of-the-line gear. A wide breadth of programs is available for scuba divers looking to hone their skills and learn about safeguarding the aquatic environment. That being said, the Blue Lagoon welcomes a small number of non-divers daily who want to float in the waters. Swimmers must pay an entry fee of $10 for kids nine and under and $27 for adults, a nominal price for the opportunity to splish-splash in the lagoon's cerulean waters. Make sure to arrive early to snag a picnic table and bring a grill to enjoy a post-swim glizzy.
Burger's Lake – Fort Worth, Texas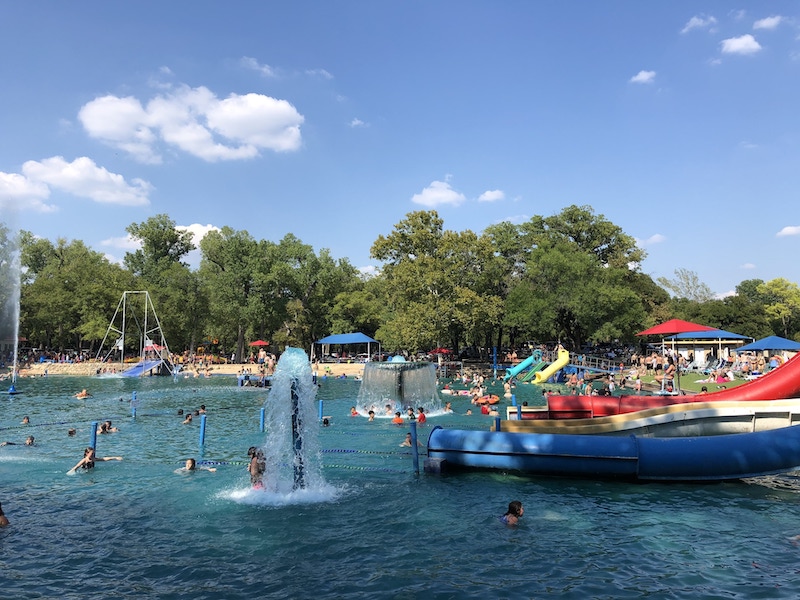 Burger's Lake falls somewhere between a water park and a beloved swimming hole, but like our favorite gal from the Old El Paso taco shell commercial once opined: "Porque no los dos?" The family-friendly, manufactured swim spot features a one-acre spring-fed pool, two white-sand beaches, six diving boards and a 20-foot water slide. Lifeguards are on duty while the lake is open, so you can rest easy(ish) while your kids tackle the 25-foot trapeze spring, which is essentially a rope swing on steroids. Burger's Lake also has volleyball courts, picnic tables and 185 charcoal grills, making it a perfect place to post up for the day. If you're too tired to cook, head to the Burger's Lake Snack Bar onsite to purchase summer favorites like onion rings, pizza, ice cream and, of course, burgers. No reservations are needed, but admission to the water park — erm, lake — is $15 a person, and guests can visit daily from late May through early August and on weekends from mid-August through Labor Day.
Devil's Waterhole – Burnet, Texas
Despite its ominous name, Devil's Waterhole is a swimming hole with calm, practically heavenly waters. Located in Inks Lake State Park in the Hill Country, the swimming hole extends into Inks Lake and is surrounded by vibrant salmon-colored granite slabs popular among cliff divers. The serene swimming spot was formed by millions of years of water erosion over the granite floor and today is open year-round for water sports like swimming, fishing, kayaking and scuba diving. Elsewhere, a small hike upstream of the lake promises plunging waterfalls at Valley Spring Creek. Camping is available if you're planning to stay the night and enjoy a famous Texas sunset from one of the craggy outcroppings. Whether you plan to make a weekend out of it or are just visiting for the day, make sure to stop by the historic Blue Bonnet Cafe in Marble Falls to grab a slice of their German chocolate cream pie.
Hamilton Pool Preserve – Dripping Springs, Texas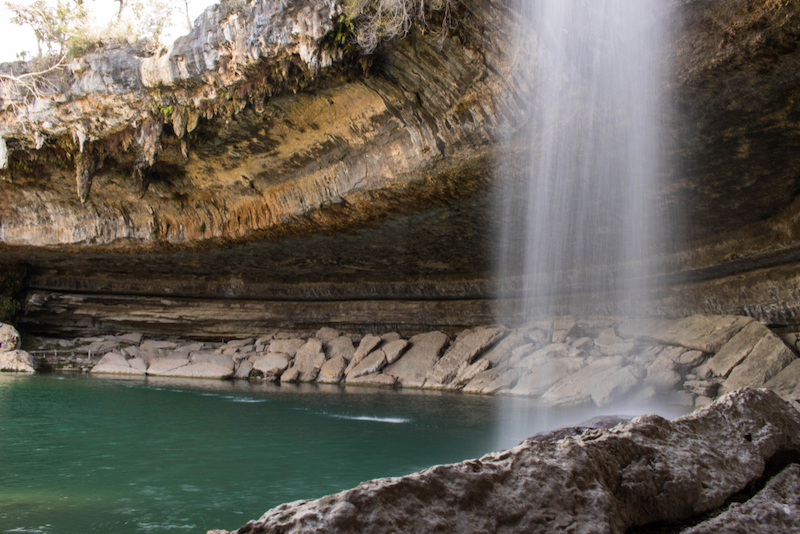 Hamilton Pool Preserve sits at the top of the itinerary of nearly every Texan looking for a summer swim. The uber-popular spot is tucked away in a rugged box canyon upstream from where the Hamilton Creek and the Pedernales River merge. Widespread erosion caused the limestone dome covering the grotto to collapse thousands of years ago. Atop the carved dome, a 50-foot waterfall keeps water constantly flowing into the pools. The effect it all creates can make guests feel like they've stumbled upon a private lagoon. Visitors must make reservations and pay $12 per vehicle and $8 per person before making the steep quarter-mile trek from their cars to the preserve. Since you can't cook out at Hamilton Pool, drive 22 minutes to Jester King Brewery and tuck into some of their incredible fare — their Niman Ranch St. Louis ribs pairs best with a Satsumas 4 Sale IPA that is well-earned after a day of swimming.
Hippie Hollow – Austin, Texas
As the only legally recognized clothing-optional public park in Texas, Hippie Hollow is the closest thing the Lone Star State has to a nude beach, though there is no sand. Situated in the basin area of Lake Travis, the shores of Hippie Hollow are notoriously steep and craggy, perfect for sunbathing on a giant boulder like a mermaid. No reservations are required at the popular spot, but visitors must pay an $8 entrance fee (cash only) if they want to swim in the buff. Both children and pets are strictly prohibited here, as is unsolicited photography, so that nudists can relax in a judgment-free zone. Even if you're planning to bare it all, we recommend protecting your feet with a sturdy pair of swim shoes or sandals and wearing plenty of sunscreen unless you plan to morph into a Rock Lobster a la The B-52s.
Krause Springs – Spicewood, Texas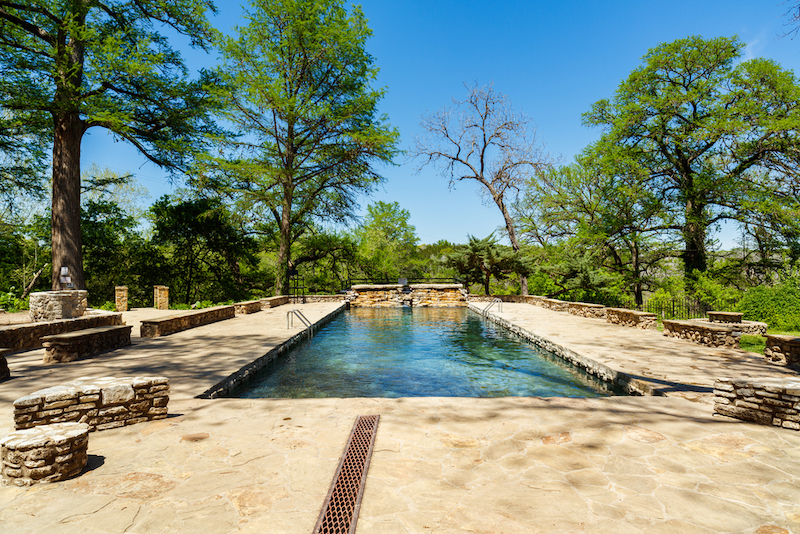 Krause Springs has 32 glistening springs spread out over 100 privately owned acres in Spicewood, a town that many refer to as the "Gateway to the Hill Country." Several of the natural springs on the property feed into an artificial pool that then flows into nearby Lake Travis. The water temperature at all of the swimming holes hovers at a refreshing 68 degrees thanks to the consistent stream of artesian water. Guests can visit daily between February 16 and October 31 with a day pass. If you're too tired to make the hour commute back to Austin, you can pitch a tent or hook up an RV on one of the property's four campgrounds for a fee of $10 to $15 per person.
San Solomon Springs Pool – Toyahvale, Texas
The San Solomon Springs Pool at Balmorhea State Park is an aquatic haven on the otherwise parched West Texas terrain. The freshwater swimming hole spans 1.3 acres atop San Solomon Springs and is the largest spring-fed swimming pool in the world. Water lovers can scuba dive, snorkel and dive down to a depth of 30 feet to swim with fish and the spiny softshell turtle. Entrance to Balmorhea State Park is $7 and includes swimming at the pool, though visitors are encouraged to purchase day passes in advance as they often sell out. After your fingertips have sufficiently pruned in the 75-degree water, head an hour south to Marfa, an artsy town set in the Trans-Pecos desert, and stay the night in an eclectic trailer at the very cool El Cosmico.