"Almost heaven, West Virginia," opens the classic, often-misquoted John Denver song "Take Me Home, Country Roads." West Virginia may be heaven to Denver, but, if you ask the average American about the state, they may draw a blank. A handful might know a few mean-spirited, classist jokes about cousin marrying; maybe a few recognize it from college football games. And that, friends, is a shame. While West Virginia might not be like the cosmopolitan culture centers we find in much of the American East, west of the Rockies, no other state can touch the beauty of its mountain terrain nor its adrenaline-pumping adventure.
West Virginia is not the Atlantic Ocean. You aren't going to want to dive in because you want the sea salt on your skin. But you will be compelled by the sheer stature of Appalachian nature to throw on a helmet, run into the forested mountains and hit the trails — or the rivers, or the roads — and relish a bit of that sweat salt drying on your smiling face. From whitewater rafting to hiking, ATV riding and long-distance cycling, West Virginia gets you outdoors like no place in the East. Since it's not as heavily traveled as some other destinations, the key is knowing where to go, and how to do it.
Riding through wilderness on the Hatfield-McCoy Trails
You don't need to be especially fit to enjoy the wilds of West Virginia. One of its signature attractions is the Hatfield-McCoy ATV trails, which require nothing more than the ability to maneuver an off-road vehicle through rocky, mountainous terrain. Named after the famous feuding families who lived along the Kentucky-West Virginia border, the trails span over 1,000 miles in southern West Virginia, winding through steep gorges, stunning ridgelines and small mountain towns. Nearly two-thirds of the trails were carved out of old coal roads, a stark reminder of what this region used to be.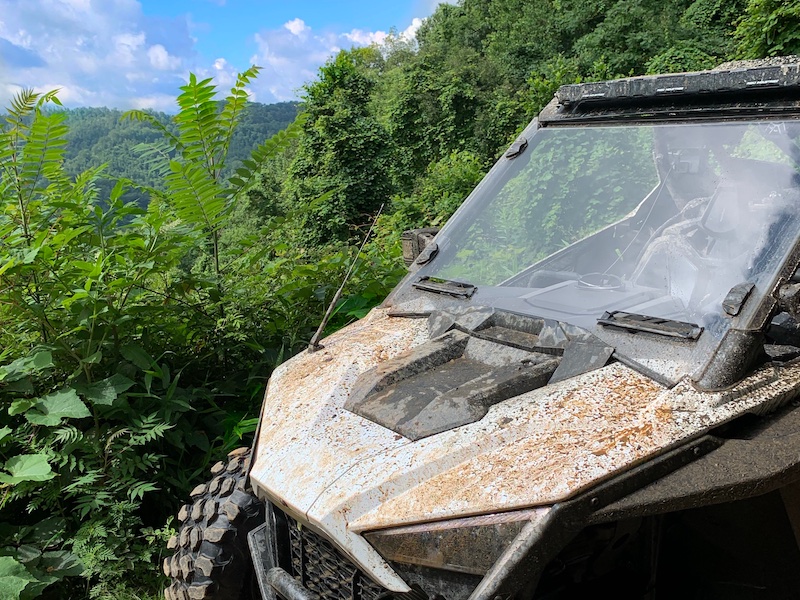 Coal mining was once the state's lifeblood. But as it's no longer the economic diver it once was, in the early 2000s the state decided to take many of the coal roads in this region and turn them into off-road trails in the hopes of luring tourism. It's worked: the trails have seen increases in permit sales every year since they opened in 2000, nearing 100,000 permits in 2021.
Towns around the trail like Bluefield and Delbarton are now dotted with ATV "camps," which are, essentially, luxury cabins with easy access to the trails. One such camp is the Buffalo Trail Cabins, where you can stay in anything from a wood cabin to a multi-level yurt with a full kitchen and two bedrooms. There's even an on-site restaurant if you're not up for cooking, and the Pocahontas trailhead is less than 15 minutes away.
You'll find no shortage of places to rent "machines," as the locals call ATVs, and many trailheads have rental shops right there. At the Pocahontas trailhead, you can rent a machine and then jump on trails that run along a ridgeline overlooking a forest-green valley below. The trails range from green to black — like ski runs — so you don't need to be an expert to figure out the terrain. Just be ready to get muddy.
You'll motor into ATV-friendly towns, where the lawnmower-like burble of the engines fills the air like car horns in New York (but not as loudly). The time-capsule towns take you to an era when coal barons ruled the country, and in Bramwell you can stroll past grand mansions that have been preserved for over 100 years. The Corner Shop makes for a good lunch spot, with a menu full of funny terms like "rabbit food" (salad) and "breath" (onions). It's set in an old soda fountain and feels a little like having lunch in 1952.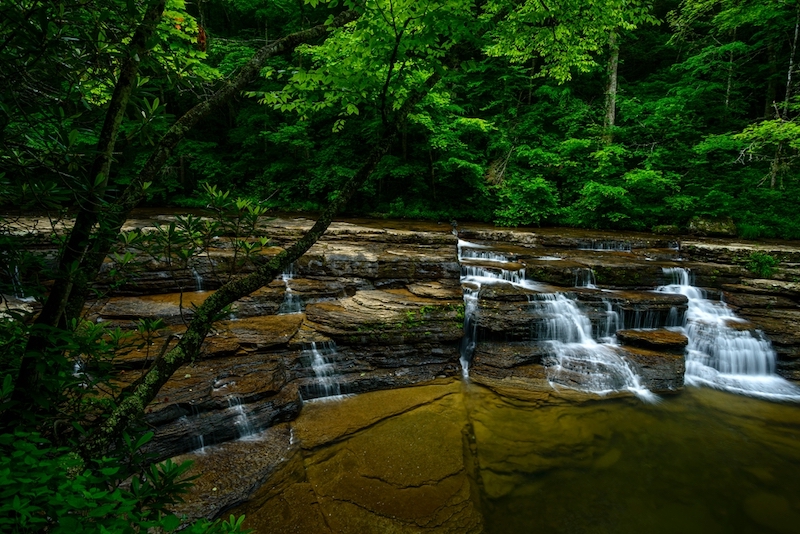 After ATV-ing the day away, and if daylight permits, you can check out the area's handful of small yet serene waterfalls. Head to Camp Creek State Park and take a short walk to Brush Creek Falls, a 30-foot cascade down a quarter-mile path that's probably the least-trafficked in the park. If you're planning a picnic lunch near a waterfall, drive to Mash Fork Falls where a parking lot sits right next to the eight-foot drop. Should the weather be warm and you're up for a swim, Campbell Falls has a small wading pool at the base perfect for taking a dip.
Biking along the Greenbrier River Trail
Some might prefer their time in West Virginia to be more active, but still aren't up for white-knuckle adrenaline. For those folks, the Greenbrier River Trail is the best way to delve deep into West Virginia's beauty without risking a cardiac event. The mostly flat, gravel trail runs through the southeastern part of the state along the Greenbrier River. If the name sounds familiar, that's probably because you've heard of the iconic Greenbrier, a grand white-columned resort that hosted the PGA Tour's Greenbrier Classic for decades.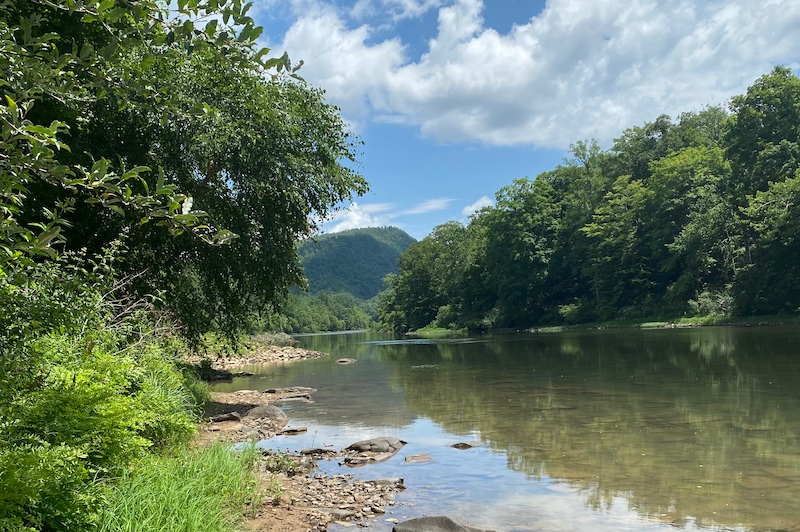 From White Sulphur Springs, you can drive right past the Greenbrier on your way to one of the river trail's many entrance points. Once you've reached one, you've got 78 miles of waterside views to enjoy as you glide through little mountain enclaves along the river's calming course. While you'll find a number of bike shops along the way, Hammer Cycles in White Sulphur Springs has the added bonus of Bid Draft Brewing next door, so you can reward yourself after a long ride.
After you've racked your bike, spend some time wandering the streets of Lewisburg, where the downtown is a national historic district. The old brick facades house art galleries, clothing boutiques and other upscale retail spots. It has great food like the organic breakfasts and smoothies at Wild Bean and Thunderbird Taco. To splurge, opt for dinner at The French Goat, the region's top restaurant. It's in an old house and plates up cool European classics like pasta Sorrentina with house-made tomato sauce, and some American favorites like filet mignon with french fries.
Rafting the New River
To most people, when you talk about West Virginia wilderness adventures you're talking about whitewater rafting. And if you're talking whitewater rafting, you're talking about the Gauley and New rivers. They've long been the state's top outdoor attractions. The Gauley is a hair-raising ride that runs 24 miles, split into upper and lower sections. It's only a rafting destination for six weeks a year, though, on weekends in September and October when gates from the Summersville Dam open.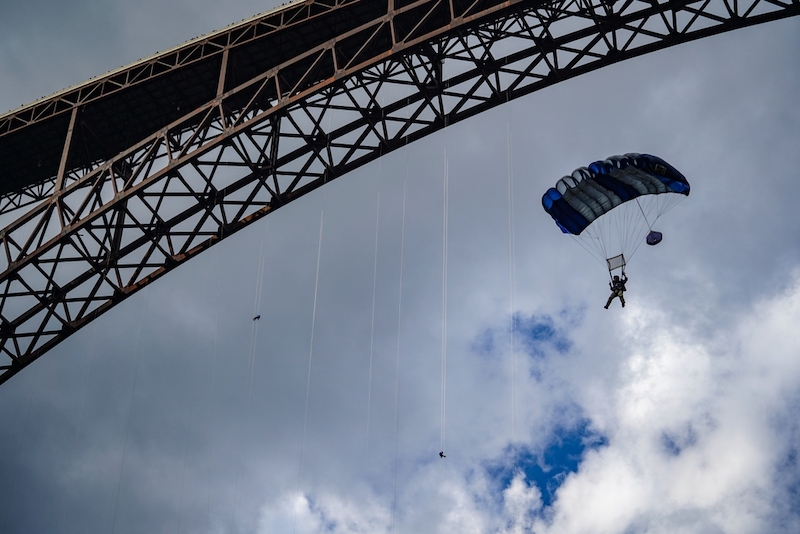 The Gauley's final weekend generally coincides with Bridge Day, West Virginia's biggest annual event, where the bravest (or most ill-advised) people base jump off the New River Bridge. It's worth going to witness the death-defying antics, but if you'd like to experience the New River Gorge in a slightly less maniacal fashion, take a rafting trip down the New River. When water levels are high it's as exciting as the Gauley, taking you through the country's newest national park and ending right under the iconic bridge.
You'll float past towering green mountains that look ripped from the Caribbean as they drop into the fast-moving waters of the New River. Coal trains clack by along hidden tracks above as cliffs pop out around riverbends. Full-day trips typically stop at beaches for lunch, where you can sit back with a sandwich and breathe in all the park's beauty.
Plenty of outfitters will take you down the New River, though a couple offer more than just rafting. ACE Adventure Resort has both full- and half-day trips, and its home base also has a ropes course and water park. Adventures on the Gorge offers similar trips, as well as rappelling, rock climbing, ziplining and evening a nighttime ropes course called Moontrek.
Fayetteville is the place to stay when visiting the New River Gorge. This little town of just under 3,000 becomes like Colorado East during the summer and early fall, filling with seasonal wilderness guides and intrepid outdoorsy types. The Secret Sandwich Society is the city's most popular place to fuel up for a day on the river, though ending your day at Pies and Pints with a Cuban pork pizza and craft beer is infinitely rewarding.
West Virginia might not be the biggest name in American outdoors, but a week here won't leave any wilderness lover wanting. It's affordable, relatively uncrowded and has just enough amenities to feel comfortable. You'll always feel "away" while you're here, surrounded by terrain that's tough to compare to. So, no matter who changes the state at the end of John Denver's country road, West Virginia will always seem like almost heaven.