"Music City" is a place that takes its bar scene as seriously as it does country music, which is good since I'm here to get wasted. Not "what did I do last night, I regret everything "-style wasted, but I'm here to find the line between drunken revelry and an appearance in the police blotter. But then again, in a city like Nashville, one overrun by tractors towing hoards of rowdy revelers (it's a thing), isn't that line skewed? Is a sensible night by another-city standards even possible? Are we all mostly destined to star in our own versions of "The Hangover" when we visit? The big questions in life are the only ones worth tackling. 
**
I'm walking down Broadway, arguably the center of Nashville's nightlife and kind of a mecca for Southern-twang drunkenness. It's a bustling stretch with decidedly Las Vegas vibes, accented by low-down country fun. Weekday nights can be quiet here depending on the time of year, but the weekend crowds are a sight to behold. Meaning, brace for throngs of tourists. The disparate array of people can be paradise for avid people-watchers. On my walk, I see jolly families, older couples, rowdy frat brothers. But above all, there's one group that is most prevalent and distinctly unmissable: bachelorette parties. Throngs of them; girls with mostly blond hair, traversing Nashville and on a hunt for shenanigans. Before my trip, it's one quality that was always brought up, the same matter-of-fact thought akin to saying that you'd probably see a lot of penguins in Antarctica. While in town, I've heard stories that these particular visitors make their presence felt. One local essentially quakes in fear at the thought of one, as if he was a World War veteran reminiscing about Guadalcanal.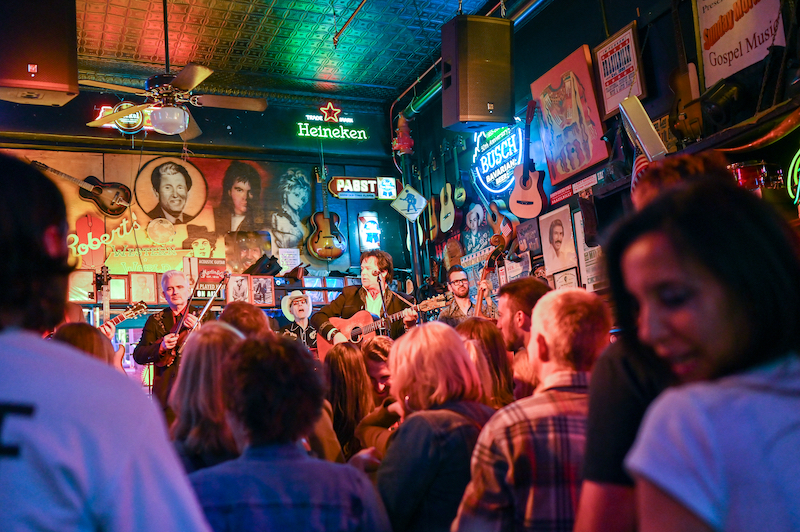 After avoiding bachelorette parties and zig-zagging in and out of crowds on Broadway, I head into Robert's Western World. This is the epitome of a classic dive. A picture of the honky-tonk could make for a perfect Merriam-Webster entry for the phrase. Neither the beer or food here will break the bank, with Robert's famously boasting the 6-bucks combo of a Pabst Blue Ribbon, chips and a fried bologna sandwich whipped up by a Michelin Star chef. Actually, I'm kidding. It's made by the grizzled bartender right in front of you. But after one bite and a couple drinks, you wouldn't have it any other way. While you're in this dive, also expect an onslaught (in the best possible way) of live music. If you're not one for country music, be aware that venturing Nashville is like going to Hawaii with a dislike for palm trees. The sound of guitars and drums inescapably echo throughout the city, especially here on Broadway, and you'll rarely find a subpar band.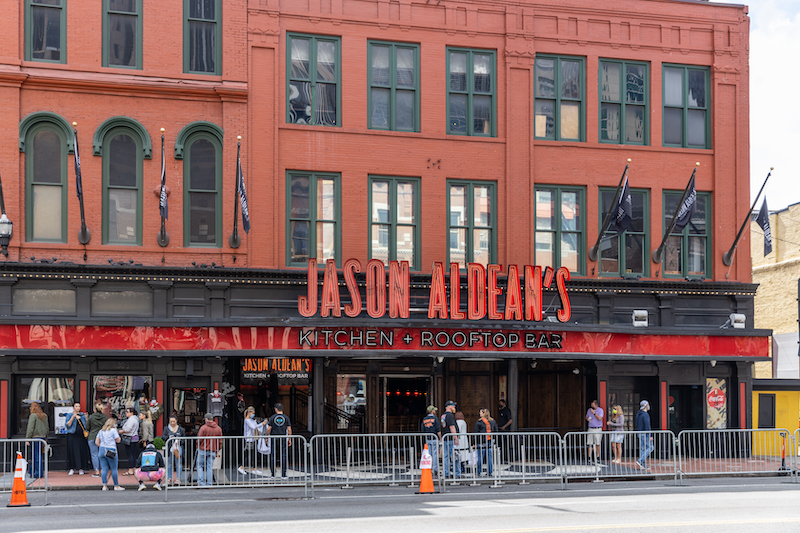 There are a handful of places to check out that live at the intersection of booze and beats, including the very spots where musicians are the owners themselves. Jason Aldean's Kitchen + Rooftop Bar, owned by the country star, is one place where the beer flows as smoothly as inventive lyrics. (It also seems to be a favorite of the roving bachelorettes.) Meanwhile, if whiskey is more your style, head on over to Dierks Bentley's Whiskey Row, owned by the man himself. And for more elevated fare, there's Memphis, Tenn., native Justin Timberlake's new Twelve Thirty Club, which bills itself to be a world-class cocktail oasis. But this afternoon, Robert's will do. I sip my Pabst and take in the guitar.
**
Beyond the rollicking fun on Broadway, it's no surprise that Nashville offers a variety of areas where booze is a central attraction. Case in point: Printer's Alley, an actual alley within walking distance that has become a hub for beer and cocktail aficionados alike. The streetscape is extremely Instagrammable. This condensed strip of disparate bars takes its name from turn-of-the-century days when the local publishing industry was centered here. These days, the only things getting printed up are bar checks at a globe-trotting selection of watering holes, whether the English-inspired Fleet Street Pub (yes, they have an array of beers from the jolly old UK) or Bourbon Street Blues and Boogie Bar, a Big Easy-themed bar that captures the magic of New Orleans here in Nashville.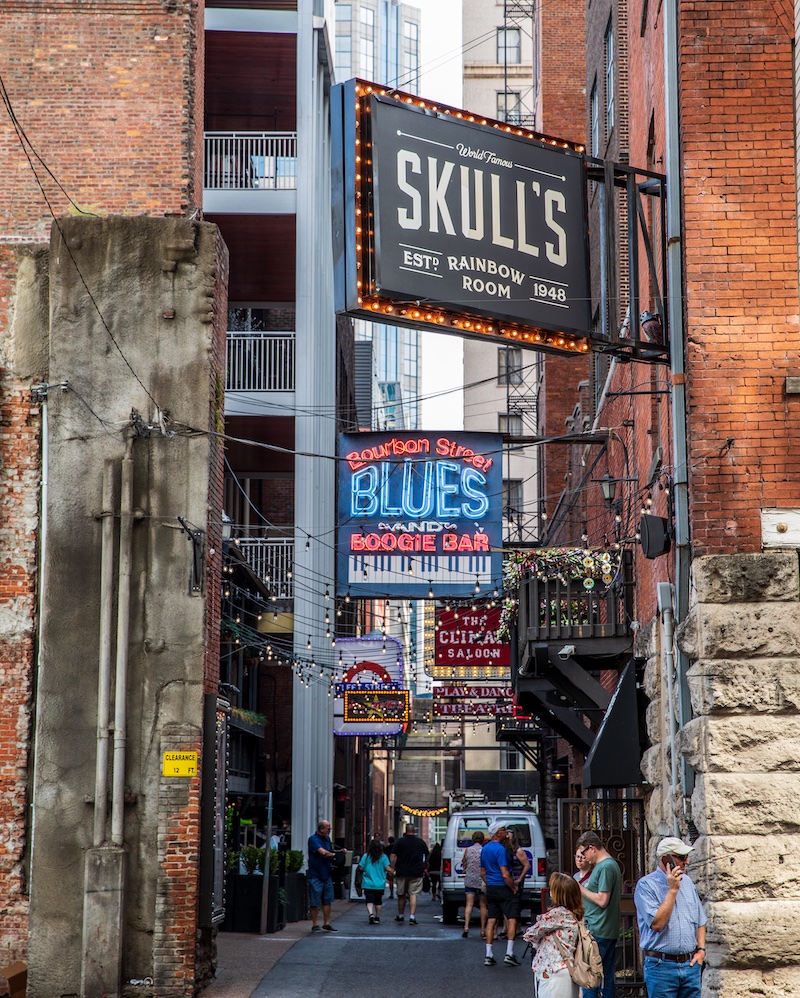 I decided to kick one back at Skull's Rainbow Room, an iconic part of the Nashville boozy landscape since its 1948 opening. I'm told that everyone from Elvis to Bob Dylan and Paul McCartney have performed in its subterranean confines one time or another. Adding to its legendary reputation, the menu tells me that its namesake owner was murdered here in 1998. With that delightful nugget of information in mind, I ask the bartender to pour me something local. He then proceeds to fill up a pint glass of Hap & Harry's, a local beer with labeling that resembles Jack Daniel's. The bartender tells me he's a part-time actor and has served actors here, though I don't recognize any of the names he relays. The crowd around me is fun, and my glass of Hap goes down with a delightful chill.
**
My weekend goal was to walk away from Music City with the confidence that I experienced all sides of its Southern glory. So, for the final drink of my day, I needed something polar opposite from my previous spot's vibe. As a result, I walked into The Graduate Nashville. It's a groovy hotel that prominently features a retro, oversized motel sign on display in its glistening lobby. I hop in the elevator and jet upward to the rooftop getaway known as White Limozeen. Offering views of the Nashville skyline, it's what's inside that's equally impressive: an airy, pink-walled oasis decked out with vintage furniture that bills itself as a Dolly Parton-themed bar, named after the iconic singer-songwriter's 1989 album. That includes plenty of Instagrammable art of the queen of country, most notably a giant sculpture of the beloved star that has graced countless social media grids.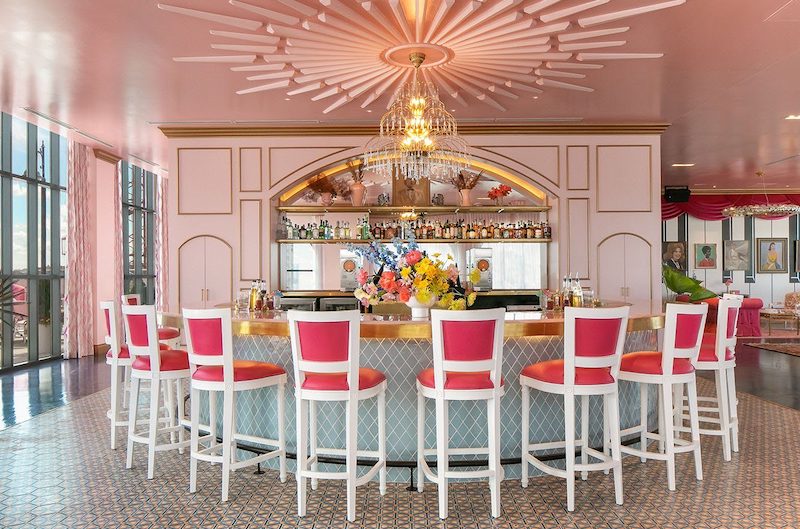 Surrounded by either cute dates or girls in the midst of their aforementioned bachelorette party rumspringa, I sit down with my focus split between the decor inside and the view out the window. In addition to its French party food menu (including frites and ratatouille), I slurp down a delectable Queen of the Rodeo cocktail, which the cocktail list tells me is a "gussied-up cosmo." And between the chic decor and fancy libations, it feels like I'm a world away from Robert's, despite it being a short Uber away. I walk around and see that Parton sculpture outside on the building's roof. It's as lovely as the star herself, albeit a bit odd. And that's the beauty of a trip to Nashville. One country moment you're guzzling a PBR and a fried bologna sandwich, and the next you have a pinky out while sipping a fruity drink. Cheers to that.