This story is part of our first-ever music special, which includes the results of our music survey, the resulting top music cities ranking and an in-depth look at the most travel-worthy music cities across the country. See all the coverage here.
---
Pictured above: The Lycan Bite. Left to right, Geoff Spall, Scott Baker, and Tony Kaliszewski. 
Ohio occupies a strange place in the musical imagination. The emo band Hawthorne Heights screams, "My heart is in Ohio," in "Ohio is For Lovers." Meanwhile, folk rock band The National laments, "I was carried to Ohio in a swarm of bees / I never married, but Ohio don't remember me," in "Bloodbuzz Ohio." In "Carry Me Ohio," another folk rock outfit, Sun Kil Moon, begs, "Heal her soul / Carry her, my angel, Ohio."
It's enough to make listeners believe the state is a dreary place, full of longing and lost love — themes prevalent in horror media. Perhaps it's why, long after Spirit Halloween has packed up and heralded the end of spooky season, you'll hear horror-themed bands playing year-round in Ohio's capital city, Columbus.
For these bands, horror isn't relegated to a season or genre of music. Horror is a lifestyle that began with a love of classic movies and bled into music, incorporating horror aesthetics into musical styles the artists also love. That's true for "totally tomb-ular" surf-rock band Mummula, whose name is a portmanteau of "mummy" and "Dracula." The group came up with the name when they were just friends making monster jokes en route to a horror convention, says bassist Eric Blair, stage name Eric von Goosebumps. Quickly, Mummula became a band.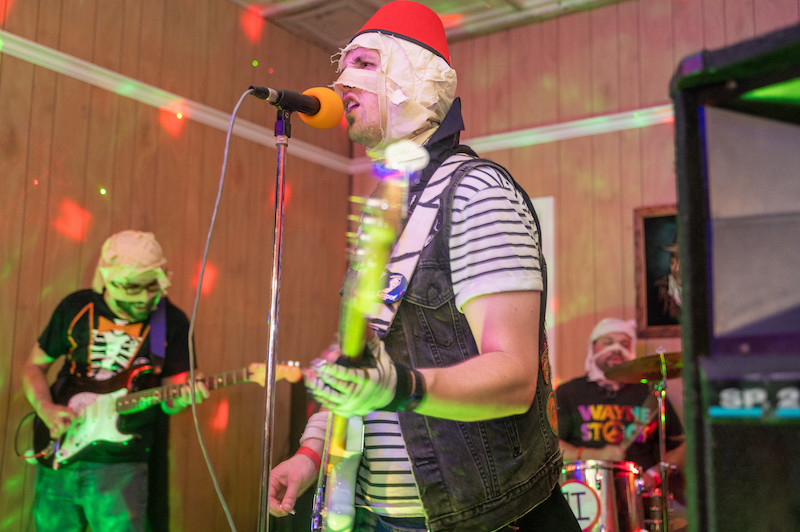 Ohio Horror bands: Mummola playing live. Photo by Joseph L. Harris.
"I thought, 'This sounds fun and needs to happen,'" he says. "It's an art project. It's about mummulas, so we have to create a mummula, dress like mummulas and tell the world what a mummula is."
Onstage, Blair (as von Goosebump), Mark Huber and Jeremiah Santos (as Mark Hovthevampyre and El Santos, respectively) all share singing duties with their faces wrapped in gauze. They play their songs "Phantom Spaceman" and "Hex Marks the Spot," which bring hula-dancing ghouls in astronaut suits to mind. Mummula's sound is a blend of upbeat rock like The Ramones and The B-52s with themes of old horror movies, '60s culture, garage rock and surf rock. Blair describes the band's music as "if The Ramones went surfing and washed up at Castle Frankenstein" or like "Count Chocula took a trip to Mars for an ice cream social."
"Spooky and horror stuff has a tendency to be aggressive and macho. Like the Misfits were macho and wanted to fight," Blair says. "We're in our thirties and we're not looking to fight, so I wanted to make sure nobody thought we were taking it too seriously. When we go onstage dressed in bedsheets, you can't take it too seriously."
That's also true for Kevin Murray (stage name Johnny Zombie), the magic-maker behind the band Doomsdale High. Inspired by the pop sounds of the '60s, Doomsdale's style is a blend of "boo-wop" and "shockabilly," and it's enough to make you want to don a black felt skirt with a poodle skeleton to the spooky sock hop.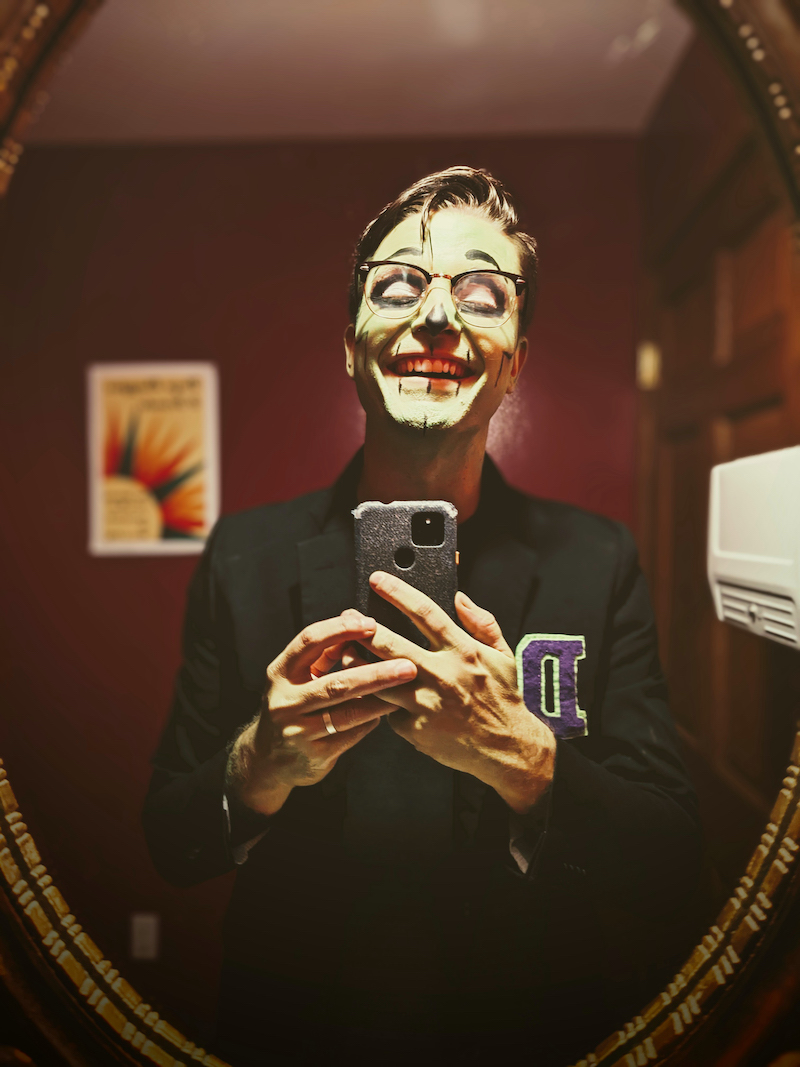 Ohio Horror bands: Johnny Zombie
"I wanted to make a doo-wop band, but I noticed when I was listening to horror punk music nobody is really doing '60s pop-focused vocal-group-type stuff," Murray says. "I wanted to not be Misfits punk––that's what I was trying to stay away from. If I was going to get fast and aggressive, I wanted it to be '60s garage rock with occasional distorted guitar."
Murray is playful in his songwriting with punny lyrics like "the cat's out of the body bag" in "You're the Maniac for Me" and "…to see if some light could be shed / on why you had to hoof it / and cleave me broken-hearted / sleepy and hollow inside" in "Gallop Back to Me," a song about falling in love with a Headless Horseman-esque character. Naturally, the song includes "I'm losing my head over you."
Because so many horror bands' members were first inspired by their love of scary movies, the songs have a cinematic element that's more direct than conceptual. For Murray, there's a Doomsdale High extended universe.
"I started thinking of different vignettes all centered around Doomsdale High," Murray says. "There's a big universe and all the stories fold in on themselves… I wanted you to see the song."
Emmy Beach, frontwoman of Emmy Lazarus and the Recently Deceased, found that including cinematic elements in the band's songs helps them connect with audiences who aren't necessarily horror fans because they're using stories everyone is familiar with. Like a blend of The Cramps and Twin Temple, she describes their sound as: "If The Munsters had a house band, it'd be us."
"I've always loved classic horror tales from the Victorian era, like 'Frankenstein,' 'Dracula' and anything Edgar Allan Poe," Beach says. "I pull a lot from those writings, as well as movies inspired by them. I try to create something that if you listen to it from beginning to end you get a full story."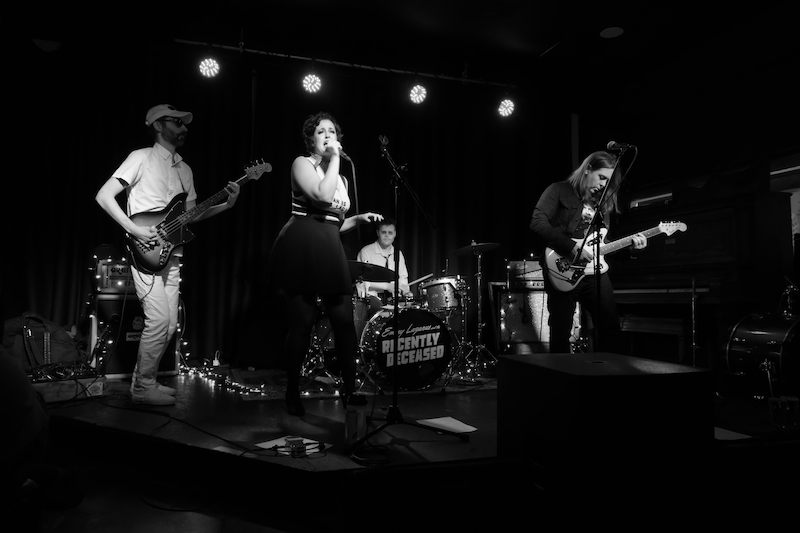 Ohio Horror bands: Emmy Lazarus and the Recently Deceased performing live.
Likewise, the Recently Deceased has songs about familiar horror tropes that listeners need not be experts in the genre to enjoy. Like their song "I'm In Love With a Ghost," written by the bass player, Michael DeBonis, aka Mikey Bones: a despondent girl has lost her boyfriend in a terrible accident and decides to love his ghost. While their song "Crystal Lake" derives from Camp Crystal Lake, home of serial killer Jason Voorhees in the "Friday the 13th" movie franchise, audiences don't need to have watched the movies — it's just a bonus if listeners happen to get the reference.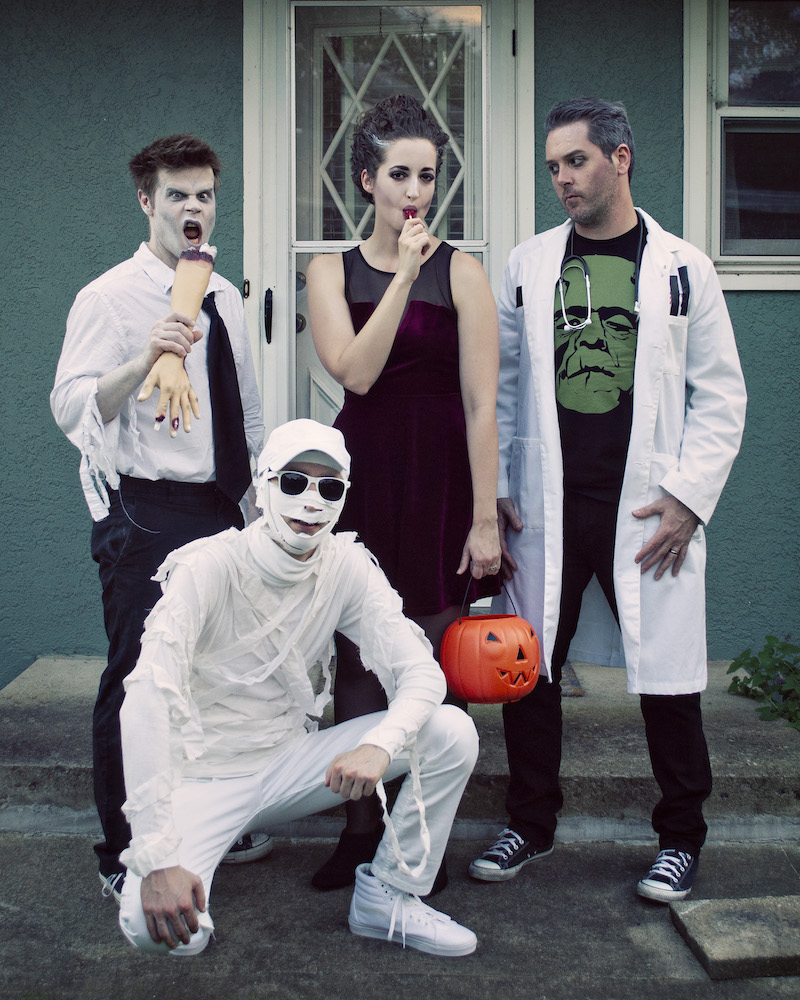 "Friday the 13th" is part of a wave of slasher films from the '80s, though several of Columbus' horror bands harken back to the '60s. Blair is a historian of horror bands and says the genre started with Screamin' Jay Hawkins' "I Put a Spell on You" in 1956. He'd perform the song by coming out of a coffin dressed in voodoo garb and carrying a skeleton staff. "Monster Mash" by Bobby "Boris" Pickett followed in 1962, then "The Munsters" with their surf rock-esque theme song and the 1930s comic-turned-TV show "The Addams Family" both aired in 1964. This solidified the '60s as the height of monster kid culture — a time when horror media first shaped a generation.
Yet not all horror bands draw inspiration from that era. Others, like The Lycan Bite, draw their ethos from one particular monster: werewolves.
"The thing werewolf movies have in common is no one is born a werewolf. Lycanthropy happens to people," explains guitarist and lead singer Scott Baker. "They're living their life and it T-bones them. That's a perfect metaphor for the pandemic, trauma, addiction, sexuality, heartbreak… It's like, I was doing just fine and now I can't go back to who and what I was before."
As Baker explains it, lycanthropy is universal. With an edgier, pop-punk sound more akin to Queens of the Stone Age, The Lycan Bite is an exercise in making the best of things. Their song "Pox" is about the pandemic and people's cavalier attitude toward spreading it, while their song "Fangs" is a party-rock anthem that opens with "Vampire in the streets / werewolf in the sheets." The juxtaposition is intentional.
"Horror has always been a way of delivering social commentary, and we need to address a lot of ills in the world," says Baker. "We have to bring that up, but also everything is a bummer, so let's have some fun. We bring both in, which is why we're always transforming, much like the gradual steps of a werewolf."
As for what makes central Ohio ripe for horror bands, there's no single genesis, but there are theories.
"Things have been getting progressively worse societally, and when things are at their worst, you get some of the best horror," Baker says. "Ohio is overwhelmingly blue in the cool parts, but you still have a lot of red parts. That's why we're seeing more spooky bands in Columbus. Columbus is a really horror-friendly town."