This story is part of the Underrated issue (Fifty Grande #2), which is available for purchase here.
The great British architecture critic Reyner Banham once wrote, "Like earlier generations of English intellectuals who taught themselves Italian in order to read Dante in the original, I learned to drive in order to read Los Angeles in the original." He was definitely onto something: getting around by car is as integral to the L.A. experience as pizza and packed subway cars are to New York. But rather than driving as an end in itself, the real essence of Los Angeles lies in all of the weird and wonderful places that this speedy, personalized mode of travel gave rise to in the first place.
L.A. grew up alongside its forces of transportation. The once-modest village was first strung together with distant parts of its future metropolis like the San Fernando Valley, Santa Monica and Hollywood through a large network of streetcars in the 19th century. Then came the automobile, followed a few decades later by the freeway, and over the next half-century, the region's population exploded across the landscape via multiplying ribbons of superhighways. They began in earnest with the serpentine Arroyo Seco Parkway from downtown to Pasadena (opened in 1940, now the northern end of the 110) and have culminated in the multilane hellscape of the 405 at rush hour. But despite the city's reputation for apocalyptic traffic, it remains possible to have breakfast on the beach, lunch in the Valley and dinner downtown any day of the week, with plenty of time to spare in between.
That easy mobility, combined with a confluence of cultures and deep love of fantasy, meant that over time, L.A. became home to a treasure chest of architectural oddities: a grove of Craftsman houses here, a pagoda there, some idealistic modernism here, a little deco there. Southern California was built in no particular order, in a cornucopia of styles, from traditional to futuristic. In almost every town and neighborhood across the region, wonderful, whimsical, weird anomalies, time capsules, stylistic tributes and avant-garde archetypes were built for every purpose imaginable.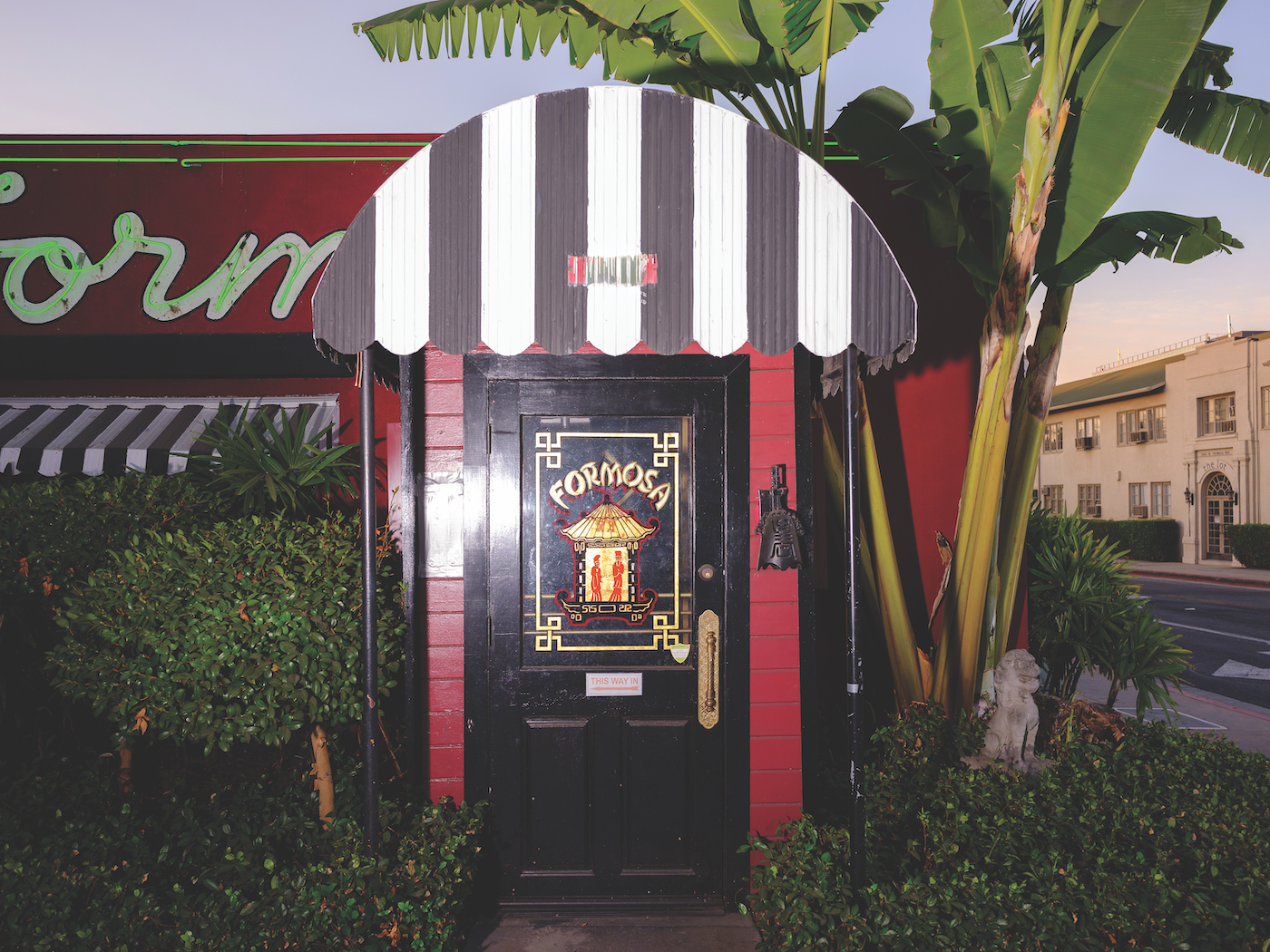 THE WONDERFUL WHIMSY OF RESTAURANTS
Quite often, though, the most wonderful and whimsical were the restaurants: among the best surviving classics are Clifton's downtown (recently restored to its former glory and once famous for its unusually humane pay-what-you-can policy); old-school dives like Chili John's in Burbank; classic bars like Tom Bergin's on Fairfax; Googie showpieces like Pann's on La Cienega; themed curiosities like the Clearman's North Woods Inn chain with its giant fake-snow-covered roofs; and stalwart classics like Musso & Frank, Canter's, Formosa, the Pacific Dining Car, Yamashiro and Smoke House. And because L.A. hasn't grown in concentric circles like most cities, which generally have one primary locus of wealth and culture that radiates outward, a good number of these classic haunts have been able to resist market forces, remodeling or redevelopment for a few decades longer than if they were they built in, say, New York, Seattle or Miami. Of course, a great many have been bulldozed or plastered over — beloved hangouts like the Brown Derby and the Ambassador Hotel, a host of Googie treasures and countless roadside oddities — but L.A. has been just a tiny bit kinder than most American cities to this part of its living history.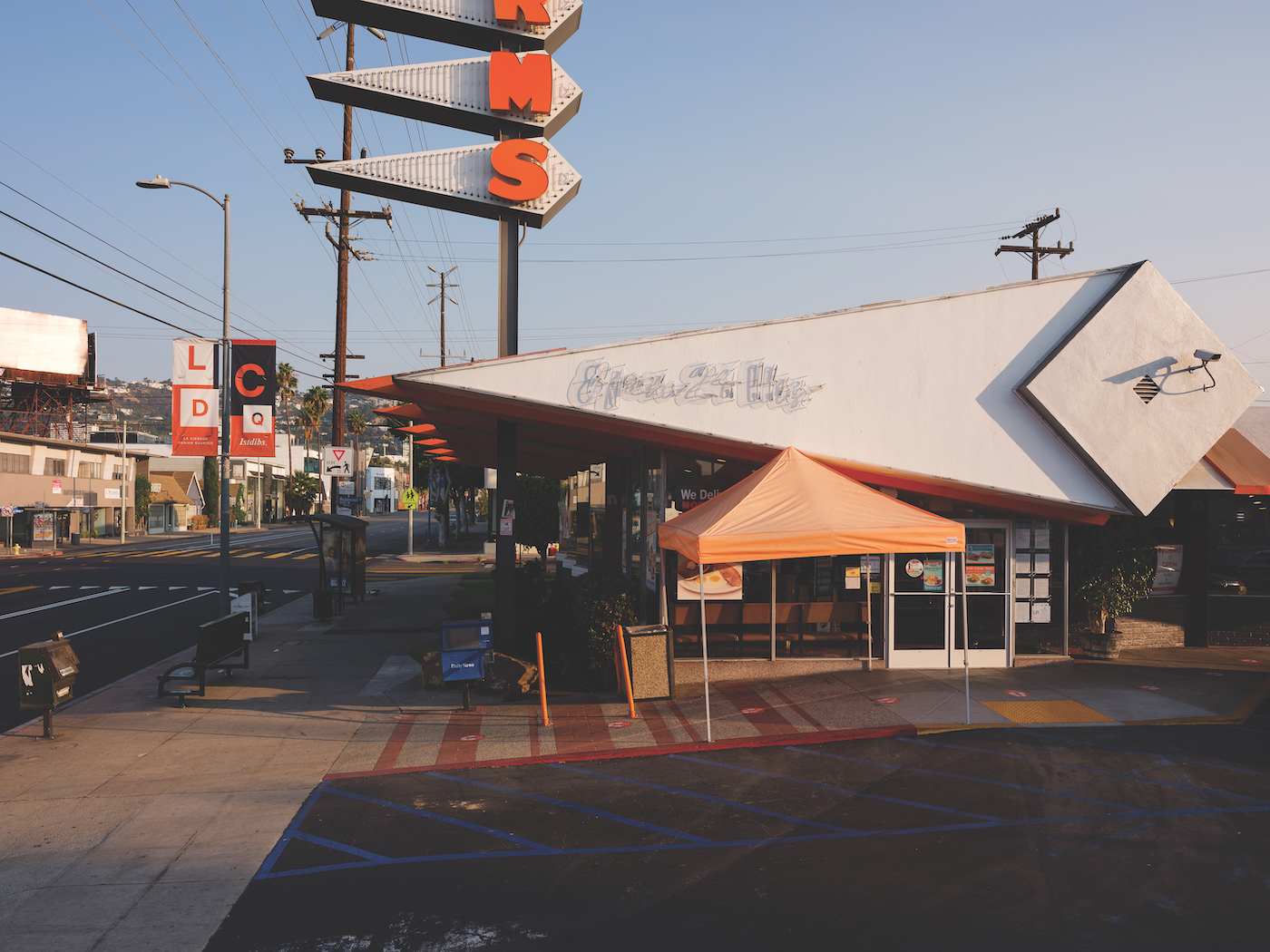 Enter COVID-19. Like every other restaurant, the interiors of these places have been closed to the public for the better part of 2020. Most remain open for carryout or have improvised new exterior dining spaces, but who wants to pay top dollar for a fancy meal at Musso & Frank without actually getting the Old Hollywood experience of Musso & Frank? Does a Bobby Burns in a plastic cup on a folding table in the parking lot of Tom Bergin's really sound like the start of a solid Friday night? And if you can't linger on that vinyl booth in relaxed conversation over coffee and pie for hours, why not just cook at home instead of stopping at that mid-century diner? These are places that, each in their own way, are far more than the sums of their parts. Their magic is, frankly, not often in their food, but rather in their evocativeness, in their ability to transport visitors to other times and places. And so, with their interiors closed, every one of these classic restaurants still in business is struggling even more than most to weather an already impossible time.
SAVE TAIX FRENCH?
This moment is embodied especially well in the stalled effort to save Taix French, an Echo Park mainstay opened in 1927 and equally beloved by hipsters, bankers, Hollywood types and grandparents. Taix was partly on the chopping block before COVID hit, but its partial closure is only hastening its demise. The old building, with its deep booths, low-light ambience and wood paneling, sits on a particularly valuable piece of land on a hip stretch of Sunset Blvd., and so one opportunistic developer rightly figures that Taix is worth many more dollars demolished and replaced by a high-density condo tower than as an anachronistic French restaurant. And yet legions of people continue to root for its improbable rescue because they are keenly aware of the intangible value of a place that has been an institution and a cornerstone of its neighborhood for generations. It's a place that simply cannot be replaced but almost certainly will be.
Other venerable spots have closed permanently due to the pandemic too, including, as of this writing, the restaurant at Alpine Village, an enormous 1960s-themed smorgasbord in Torrance, and Conrad's, a two-location chain of family restaurants with attached cocktail lounges in Pasadena and Glendale. The world-famous Pacific Dining Car has also been shuttered, though its owners claim it will eventually reopen. The good news must be taken with a grain of salt, in any case, as its contents have already been partially auctioned off. Dozens of others are on the brink of collapse.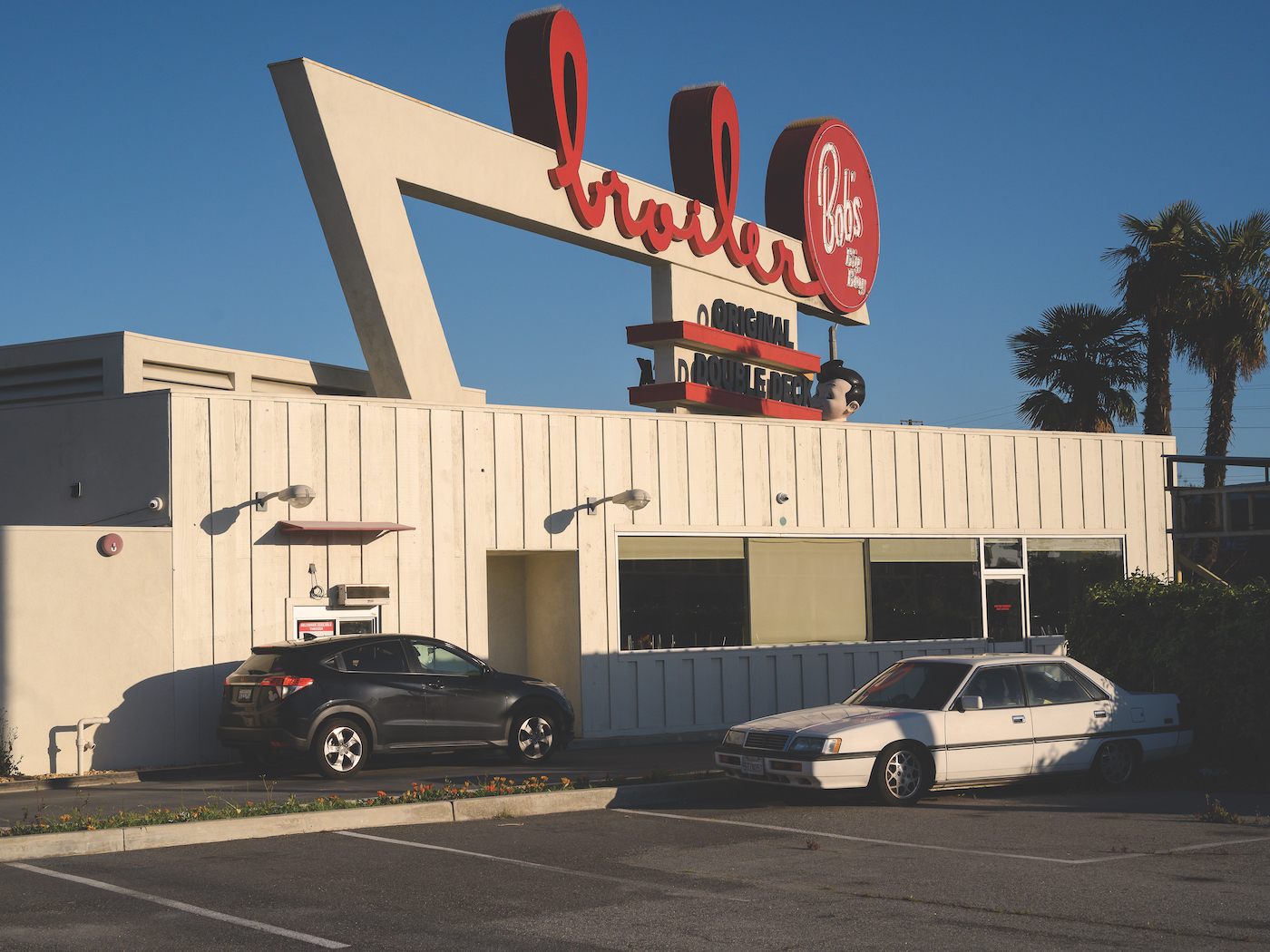 CONRAD'S CLOSES
Of the losses so far, Conrad's was by far my favorite, and I've taken its death especially hard. Both locations permanently closed without notice after Los Angeles' second ban on restaurant dining-in took effect over the summer of 2020. Until its end, the place was singularly special and gloriously unselfconscious in its squareness. Waitstaff, most of whom worked there for decades, wore neat aprons over starched white shirts and served with a prim, friendly formality that made the place feel like a true time warp. Items like cottage cheese and baked grapefruit were about as up-to-date as its healthy menu options got, and most of its regulars were card-carrying members of the way-over-the-hill crowd. Still, Conrad's was sparklingly clean and perfectly preserved in amber, unrestored and unblemished, in a way so few mid-century spaces are. It was the kind of place where Lou Grant would've lingered after the evening news over an Old Fashioned or two, a place to peruse the Sunday paper with an excellent cup of coffee, or to chitchat across a counter with a waitress named Joy or Paloma or Hilda over cheesecake at 3 a.m. Sadly, Conrad's elegant understatement meant it never caught on with hipsters the same way as more modernized local favorites like Brite Spot or the 101 Coffee Shop. So it has slipped away without any public lament, so far as I can tell — no wistful goodbye in Eater nor long, evocative history in the L.A. Times. And so, here is a goodbye to you, dear Conrad's: at least one earnest memorial in print.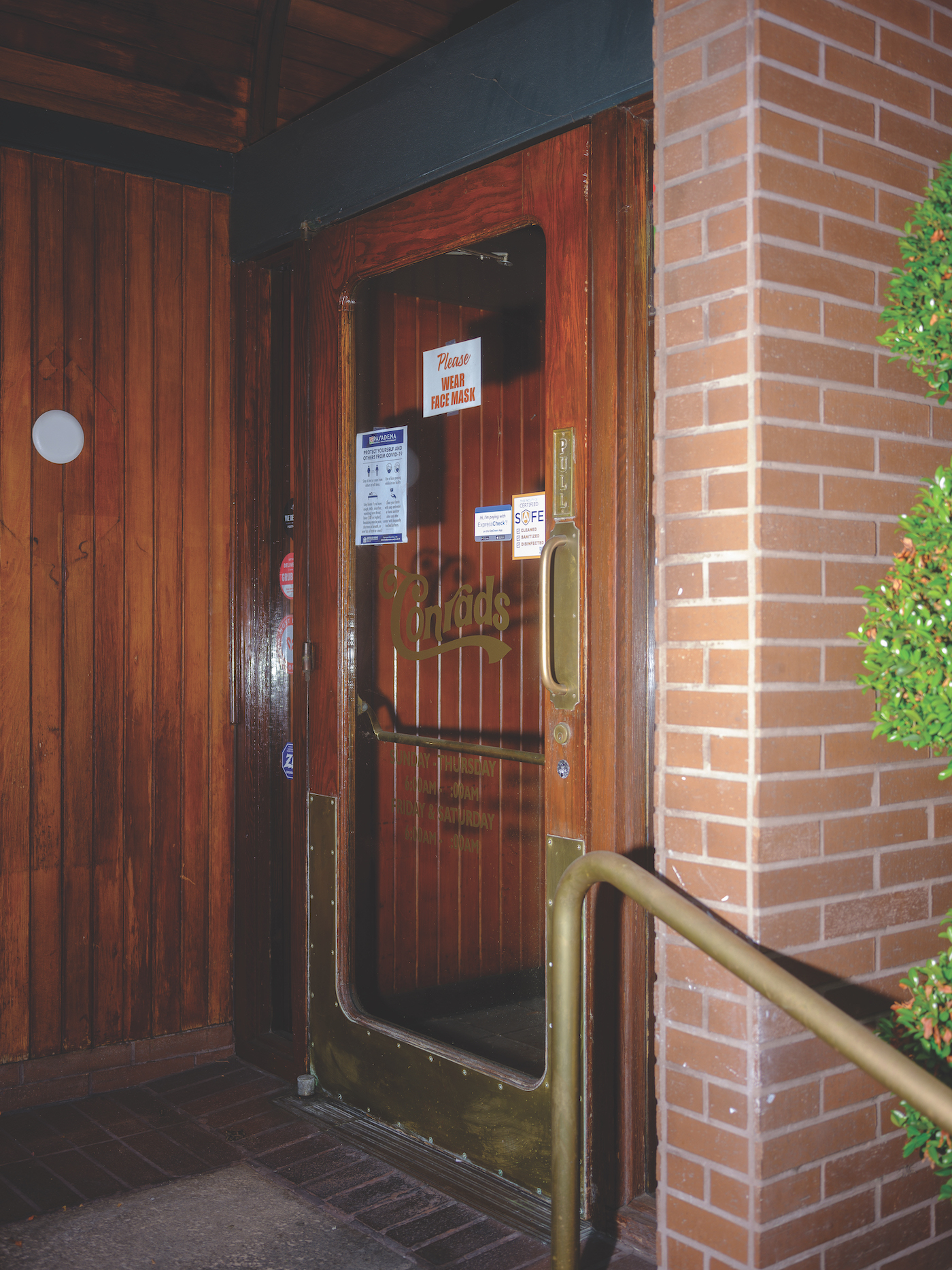 The Conrad's chain predated its Pasadena and Glendale locations, but these last remaining buildings were perfect archetypes of one vanishing strand of late modernism that maintained a fundamental geometric rationality but dispensed with the chrome, ceramic and steel vocabulary of space-age machine architecture. In its place were softer materials in earthy palettes: varnished woods, floral carpets, brass fixtures, glazed tiles. Anyone can spot the in-your-face specialness of Googie showstoppers like Pann's from miles away, but the magic of places like Conrad's only reveals itself quietly, over time. They're low-slung and understated, hunkered down behind moats of green leafy plantings and rectilinear except for one or two angular flourishes.
The style can directly trace its origins to a 1958 design by Thomas Wells, an associate of Vladimir Ossipoff, for a Waikiki location of the long-defunct Snack Shop chain. It was a zen reaction against zany Googie in lava rock, landscaping and wood, designed for a time when America was exhausted of assassinations, riots and Vietnam, and when terrestrial concerns like air pollution at long last began to capture more urgent attention than scattershot dreams of colonizing the moon. Philip Langdon, in his 1986 book Orange Roofs, Golden Arches, wrote in reference to the style kick-started by Wells' design that, "By the middle of the 1970s, restaurants recorded an entirely different mood than that of 20 years before. Americans felt more in need of solace than of stimulation. The country was dispirited, and it wore its feelings on the roadside." And if that were true in the mid-'70s, there may never have been a better time for quiet old Conrad's than 2020.
I sit down over a milkshake with Colton Weiss, owner of the Mel's Drive-in chain, at a booth in their Santa Monica location while customers lunch under the now-standard jury-rigged tent in the parking lot. Over the years, Weiss' family has saved several iconic restaurant buildings around L.A. by purchasing and reopening them as Mel's Drive-ins. This particular location, at the true western terminus of Route 66, was opened in 1959 as the Penguin Coffee Shop, and converted into a Mel's in 2017 after spending the better part of two decades as a dentist's office. Working from historic photos, the family re-created the restaurant's original layout, unearthed its plastered-over stone column walls, installed proper terrazzo and vinyl and sourced fixtures that came as close to the originals as possible. They even spruced up and kept the original penguin sign out front.
When I first sit down, a waitress tries to shoo me outside, mistaking me for one of many customers daily who try to colonize tables inside the restaurant despite tabletops marked with red X's and signage everywhere. "People really want to come inside, and so while they can't come in, we're doing whatever we can to bring the magic of the building out to them," Weiss says. Mel's has recently brought back carhops to all of its locations, started staging drive-in movie screenings in its parking lots and inviting car clubs and celebrities to generate buzz around socially distanced hangouts. Mel's is rolling with the punches, and its willingness to try new things is perhaps the best vision for keeping these very special places going strong into the future: the name on the sign out front is less important than keeping the magic of a place alive. Even if for now it means drinking coffee from a paper cup in a tent just outside one of these wonderful, underrated old places, do patronize them wherever you roam. In L.A. and beyond, we'll need them even more in the future.