This story appears in Fifty Grande Magazine #3, the Road Trip issue.
We asked a handful of notable chefs and artists what they have on their ultimate road trip playlist. Let's get to it!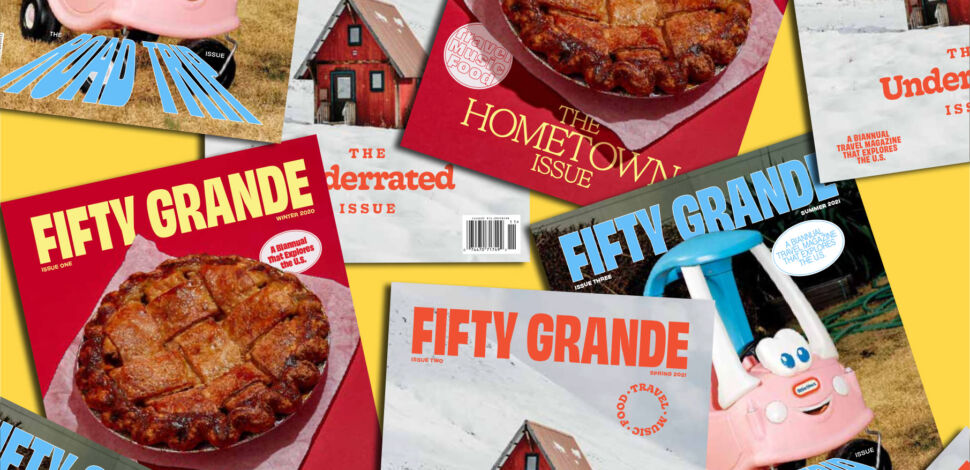 Kelly Fields (chef, owner of Willa Jean in New Orleans, La.)
"My hands-down favorite road trip playlist is 'Muscle Shoals Sound (1964-1980)' on Spotify. The artists who recorded here really created a canon of music that just represents the best records ever produced in the regional South and beyond. It's such a special place, with such a special sound. Give the playlist a solid loud listen with the windows down."
Andrew Matarazzo (indie pop artist, actor)
"I always choose music based on what type of trip I'm setting the tone for. If it's a relaxing trip, I love Sabrina Claudio, SZA, Billie Eilish, Rosalía. But if it's going to be a crazy vacation, I'll listen to throwback pop songs and heavy beats like Drake, Diplo, Rihanna and TroyBoi."
Flora Cash (pop duo)
"The ideal road trip playlist is heavy on Americana in the broader sense of the word, with country vibes from John Denver, Willie Nelson, Hank Williams Jr. and a few sprinkles of classic rock summer staples like Chuck Berry, Tom Petty or Creedence Clearwater Revival. There's something gauzy and surreal about a road trip, and for us the playlist needs to be somewhat light and playful to complement that."
Rene Johnson (chef, Blackberry Soul Fine Catering)
"When I'm on the road, Marvin Gaye and The Isley Brothers really get me going. The sing-along in my car is hilarious."
Chloe Tang (pop/R&B songwriter, artist)
"I always have to start out with some high-energy vibes, like from Megan Thee Stallion or Rico Nasty. Once I'm in the groove of being at the wheel, I'll transition to some chill R&B/singer-songwriter songs to keep me in a peaceful mood, [songs like] 'Japanese Denim' by Daniel Caesar and 'Stuck On You' by Giveon. I usually get a second wind of energy when I'm nearing my destination, and that calls for a nice mix of throwbacks to celebrate making it through the long drive. Gotta have some Rage, Snoop, JoJo, Britney to finish it out."
Dan Pelosi (chef, @GrossyPelosi)
"I am forever listening to anything that was played on stage at Lilith Fair, windows open, singing along with my sisters and taking over the world with every entirely off-key note that comes out of my mouth and flies into the wind. Indigo Girls, Tracy Chapman, Fiona Apple and of course The Chicks, though I don't think they ever played Lilith Fair. There is no better way to pass the miles."
Jeff Mauro (Food Network chef, author, host)
"'Pink Housees' by John Cougar Mellencamp, because a roundtrip requires a bit of 'Merica, and Wilco's 'Yankee Hotel Foxtrot'; the whole album, because there's no better soundscape to listen to as America zips on by."David Cook (rocker): "A steady diet of Big Wreck, Jimmy Eat World, Nine Inch Nails, Sevendust and Our Lady Peace. They've been my go-tos for years."
What's on your ultimate road trip playlist? Let us know in the comments.