Leaf peeper: noun, a person who visits particular areas, especially in New England, to view the autumn foliage.
I am a child of New England. I have a tendency to grunt "yeah" and shrug instead of saying "you're welcome." I take curves in the road like a racecar driver. I'm snobby about maple syrup. There's also a very specific ache that I get when the hills or mountains around me riot in reds and ambers. Like the opposite of homesickness. I imagine it's how people who grew up near the desert might feel about sunsets. Describing it always feels like bad poetry. Seeing it is something different altogether.
Even though some New Englanders grumble about the leaf peepers, the foliage is too good not to share, so I've made you a list of some of the best places in the United States to take it in. As you might expect, the following list is heavily focused on New England. Don't worry: skip to the bottom and there are a few other places to visit if you can't make it to the northeast. However, if you can, I have included the directions to what I think is the perfect rural New England road trip.
Before you begin, there are a few unassailable facts you should know about leaf peeping:
The drive between stops is often just as beautiful as the stops themselves. Do your best to stay off the highways.
While cities are great, small towns and rural areas are better — they have more trees.
Leaves are better when peeped from the top of a mountain or near a body of water. This might have something to do with blue and orange being complementary colors, but we probably shouldn't think too deeply about it and just accept it as truth.
I've made a few suggestions in each place for where and how to see the leaves. Most of the places offer particularly good hiking or walks in the area. Many are near ski mountains, which have great accessibility since you can usually ride up the mountain on a lift or a gondola, even in the fall. We're going to start in Maine. As any aspiring leaf peeper should know — the leaves change first farther north.
The Forks, Maine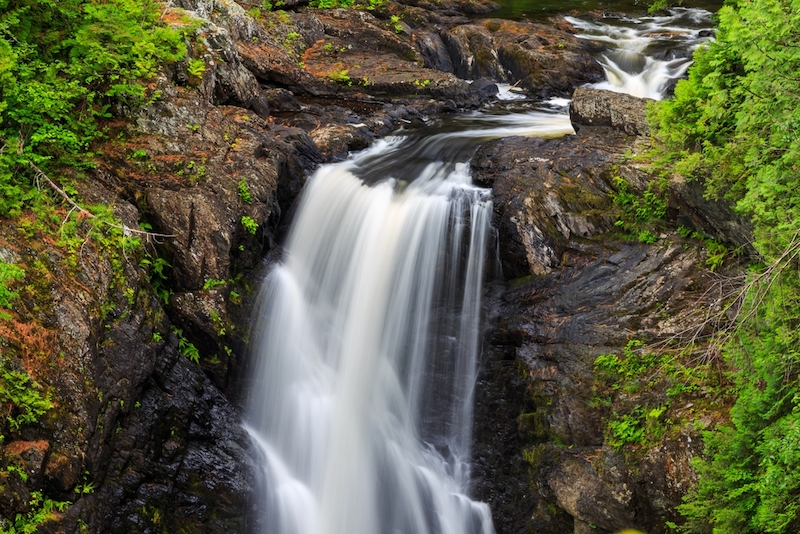 The Forks sits at the meeting of the Dead and Kennebec Rivers in the northernmost stretch of the Appalachian Mountains. The biggest draw near The Forks is Moxie Falls, which is one Maine's tallest waterfalls, but there are a ton of other hikes as well (like Mosquito Mountain) that offer views of the leaves. Depending on your sense of adventure, you may also be interested in doing some white-water rafting or renting an ATV. Alternatively, you could pick up some food at The Marshall Inn and go on a moose watching trip, leaves included.
How to get there from here: The Forks is on the Old Canada Road Scenic Byway (also known as US-201). You're going to take that south and hang a right onto Route 2 in Skowhegan. Prepare yourself for some twists and turns. Take a left down Route 16 when you hit New Hampshire.
Notable stops on the road: Bethel, Maine
Glen, N.H.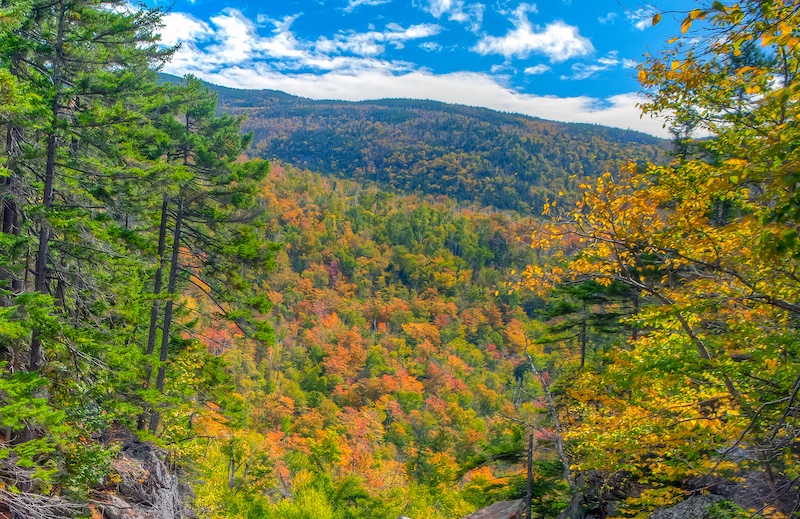 You will not be alone in venturing to this part of New Hampshire for the leaves. Glen is just south of Mt. Washington, the highest peak in the northeast and part of the White Mountains. You can take your car and earn that infamous "This Car Climbed Mt. Washington" bumper sticker by going up the Auto Road, a somewhat treacherous and steep route up the mountain. However, if the bumper sticker is too mainstream for you, there are other ways to view the changing leaves: chairlift, gondola or even zipline. There's also a local event in nearby Jackson for the entire month of October called the Return of the Pumpkin People that I am very keen on and involves numerous displays of pumpkin-headed scarecrows around town.
How to get there from here: This is our most confusing route, but I promise, it's not that bad. The best part about rural areas is that there are generally fewer roads — much harder to take a wrong turn. Take US-302 to I-93 north in Littleton. Switch on to I-91 north in St. Johnsbury. Go west on VT-58 in Orleans.
Notable stops on the way: Nancy Cascades Lower Falls, Crawford Notch State Park, St. Johnsbury, Vt.
Montgomery, Vt.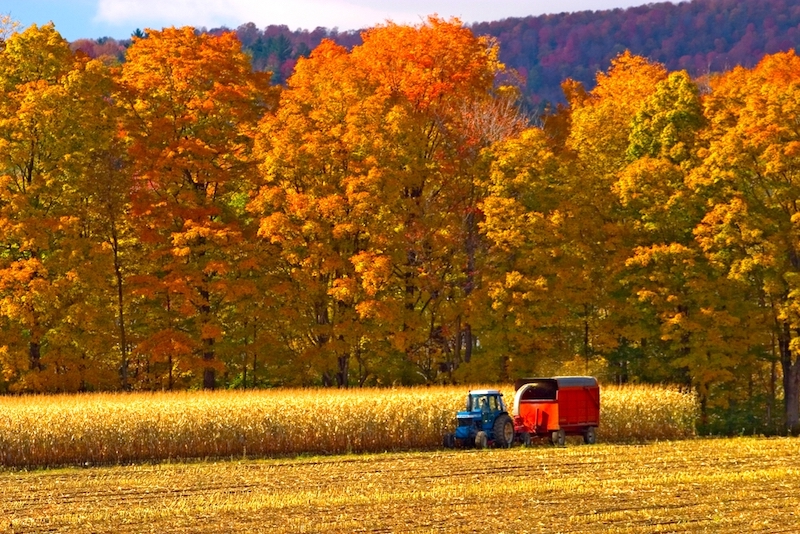 Montgomery is beautiful. My first job out of college was driving a bookmobile in northern Vermont, and during the falls, while I bombed around on dirt roads in a 24-foot truck with the leaves around me exploding with color, it felt like I had the best job on earth. There are also six covered bridges (a quaint New England staple) in Montgomery, reportedly the most of any town in the nation — your Instagram will thank you later. The town sits just south of Jay Peak and Jay State Forest and west of Hazen's Notch, if you're looking for some good hiking or a ride up the mountain. While you drive, keep an eye out for some barn quilts — they're colorful geometric paintings hung on the sides of barns all over Franklin County that I never understood but always loved.
How to get there from here: Take VT-118 to US-105. Take a left on Route 7 in St. Albans. A note: we are on Route 7 for basically the rest of this trip.
Notable stops on the way: St. Albans, Vt.; Burlington, Vt. Mt. Philo in Shelburne.
Vergennes, Vt.
While Vergennes doesn't sit high in the mountains like some other places on this list, it takes the cake for quaint New England towns. It's got old mills at Vergennes Falls Park, a number of walking trails, a town green and a strip of shops down Main Street. This is the New England of Amy Sherman-Palladino's dreams. There's also the Lake Champlain Maritime Museum, where you can catch glimpses of the Adirondacks across the water. Additionally, and I cannot stress this enough, you should stop and eat in Vergennes. Try the breakfast panini at Vergennes Laundry or splurge for the duck at Black Sheep Bistro.
How to get there from here: Just keep cruising south down Route 7.
Notable stops on the way: Middlebury, Vt.; Bennington, Vt.; Killington, Vt.; Mount Greylock, Mass.
Stockbridge, Mass.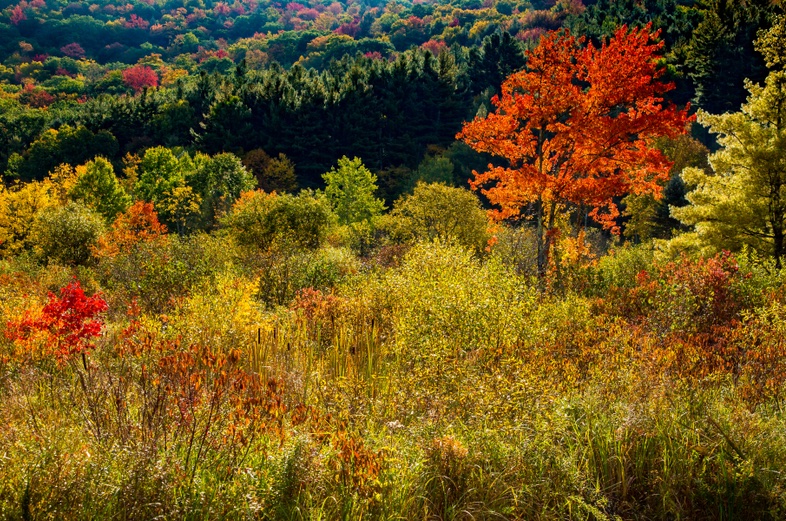 There is a shocking amount to do in Stockbridge for a town of about 2,000 people. The Norman Rockwell Museum is great not just for the Americana; it also sits on 36 acres of gardens and walking paths with views of the surrounding Berkshire mountains. Down the road, there's Naumkeag (yes, the house has a name), a 19th-century country estate with eight acres of gardens and a number of walking paths. If you'd like to do some hiking, head to Monument Mountain just south of Stockbridge in Great Barrington. For something to eat, try The Lion's Den at The Red Lion Inn, a recommendation from my parents — apparently the place is haunted, but in a fun, spooky way.
How to get there from here: Folks, we are still on Route 7. Take a left on 44 in North Canaan when you get to Connecticut.
Notable stops on the way: East Mountain State Forest; Butler Sculpture Park
Norfolk, Conn.
Am I including Norfolk because it's 10 minutes from where I grew up? Yes, I am. In my defense, this little town is very cute, and I did warn you this was a biased list. I would suggest taking a hike at Campbell Falls State Park or up Haystack Mountain — there's a lookout tower there that will make you feel like Rapunzel and lets you look out over the Litchfield Hills. After, you can catch a show or lunch at Infinity Music Hall and Bistro and check out the Berkshire Country Store. If you're traveling with kids (or if you're just kind of a kid yourself), check out this really, really big slide at the Norfolk elementary school down the road.
Notable farther stop: Kent, Conn.
For those of you who really can't make it to the northeast and don't want to complete the very specific road trip I have planned out for you, here are a few off-the-beaten-path locations in places that rival New England for fall color.
Oneida, Tenn.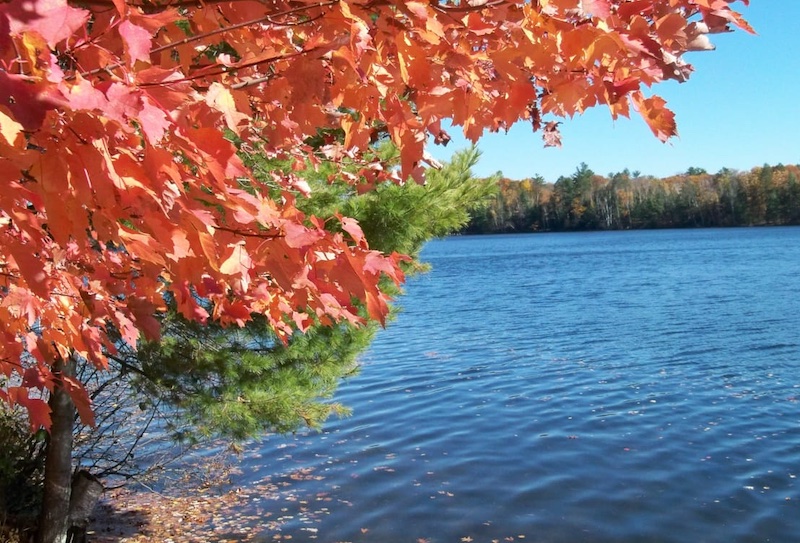 While many might look to the Great Smoky Mountains for autumn colors in Tennessee, Oneida sits on the Cumberland Plateau, which offers views of gorges and rises above the Tennessee River Valley. You can explore Big South Fork National River and Recreation Area by foot or take a drive along Route 297.
Ontonagon, Mich.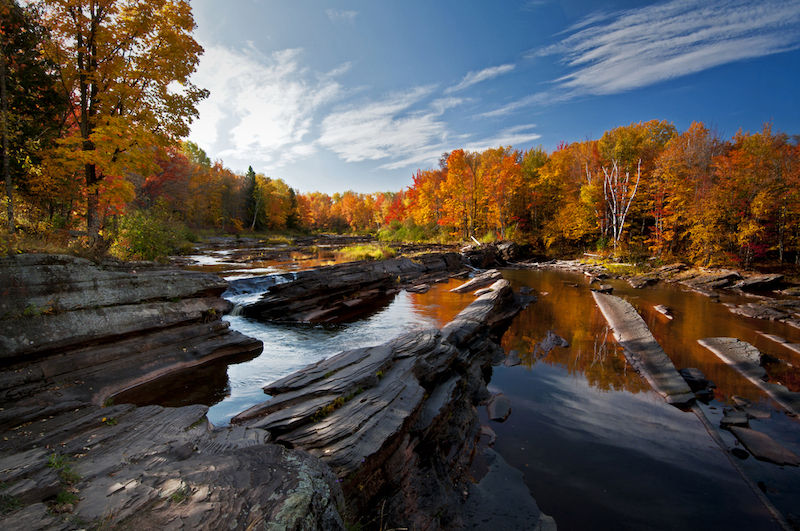 Ontonagon is on the western side of the Upper Peninsula of Michigan. Right next door is the Porcupine Mountains Wilderness State Park, which combines two essential components of leaf peeping: excellent mountain views and a beautiful body of water — Lake Superior. Drive south along US-45 to go check out the Ottawa National Forest.
Bonners Ferry, Idaho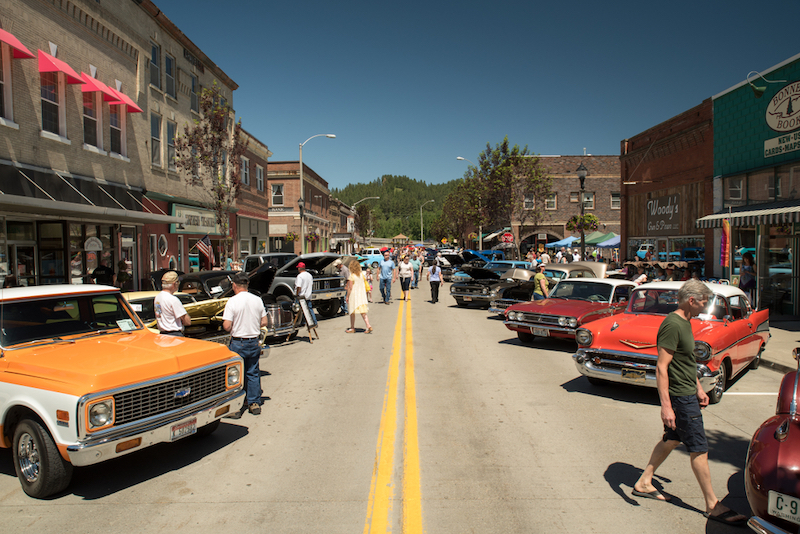 Bonners Ferry is a small town in the upper panhandle of Idaho. To its immediate west is Kootenai National Wildlife Refuge on the edge of the Selkirk Mountains. Notably, the town is right along the International Selkirk Loop, which runs around the mountains through Washington and British Columbia as well as Idaho. And if this list is geared toward anything, it's road trips. Maybe Bonners Ferry can act as a launching place for a new one.