Updated May 2023
America is home to absurdly beautiful and pristine lake towns—you know about the beaches, but, the lakes, guys! The lakes! — that are the ideal getaway for summer. For some, that might look like checking into a luxe lakeside resort and for others, it might mean renting a vacation rental with friends, or something inbetween. Whether you want to work up a sweat on a steep hiking trail, glide across a glistening lake whilst windsurfing, or identify tasting notes at a local winery, now's the time to visit one of America's greatest summertime lake towns. 
Chelan, Washington – Lake Chelan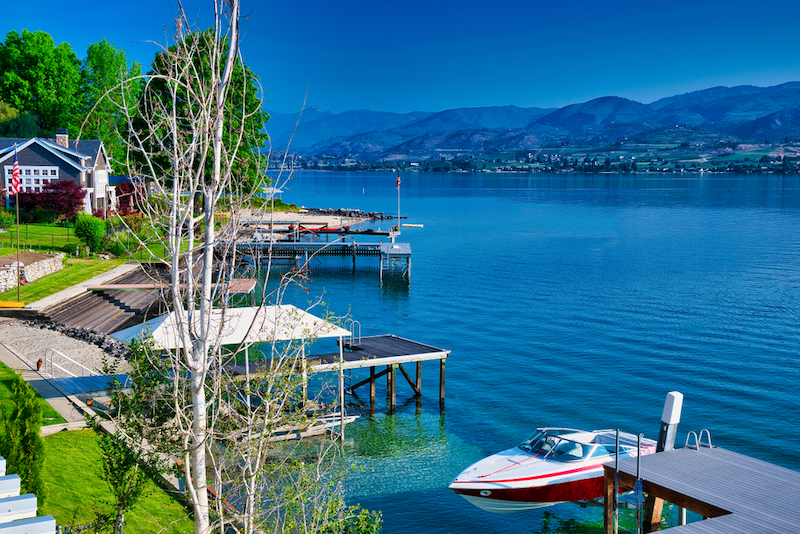 Nestled along 55 miles of the Wenatchee National Forest, Lake Chelan is a sun-filled escape frequented by those hoping for a break from the Seattle rain. Nature lovers flock to Chelan for its proximity to some of the best hiking trails that the state has to offer while boasting stellar opportunities for fishing, swimming, and kayaking. Situated deep in Washington's wine country, Chelan has more than 30 impressive wineries where you can unwind after a long trek through the pines. Check out the tasting room at Cairdeas Winery and try one of their Rhône-inspired wines.
Grand Lake, Colorado – Grand Lake/Shadow Mountain Lake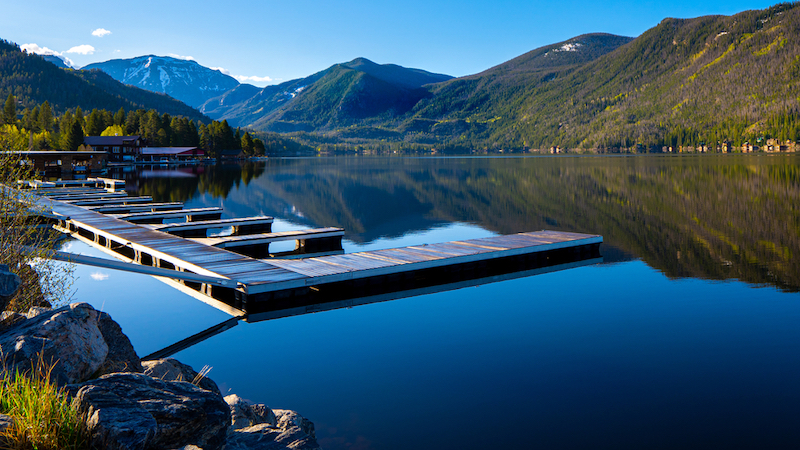 If Paul Bunyan had to choose a lake town to spend his summers in, it would be Grand Lake. A mere two-hour drive from Denver will land you in the heart of the Rocky Mountain National Park. Explorers can take a short hike to Adams Falls while those who prefer to take things a bit slower can breathe in the fresh mountain air while fly-fishing in the state's largest natural lake. Stay at one of the town's luxury resorts or camp under the stars, but do yourself a favor and order the stuffed French toast at Huntington House Tavern the next morning. 
Hot Springs, Arkansas – Lake Hamilton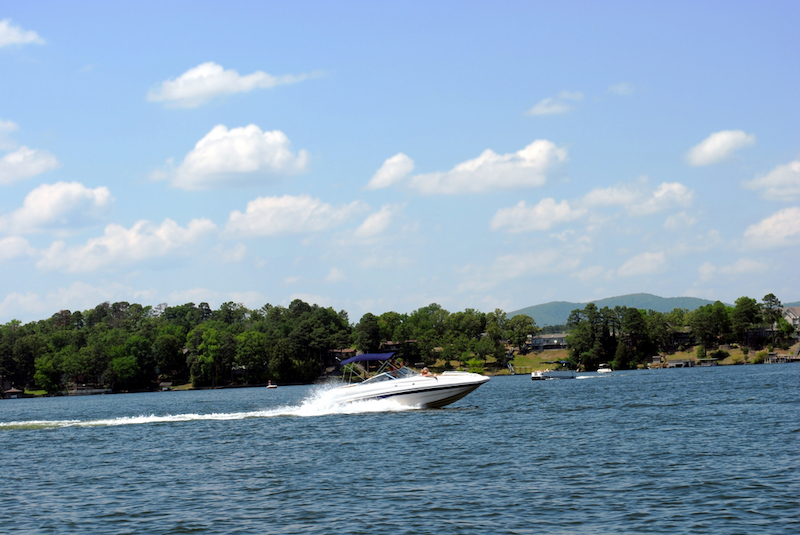 Named after the natural hot springs in its center, this mountain city is has been a destination for its spas since the 1800s. Known as a spot visited by Al Capone and former President Bill Clinton (who was born just an hour and half away in Hope), the hot springs get most of the attention, but don't sleep on the Lake Hamilton. The 7200-acre man-made lake is located in the southwest part of the city and is a major tourist destination in the state. It's known locally for its clear(ish) waters, bass fishing, and a boating and party destination in the summer months.
Lake Charles, Louisiana – Lake Charles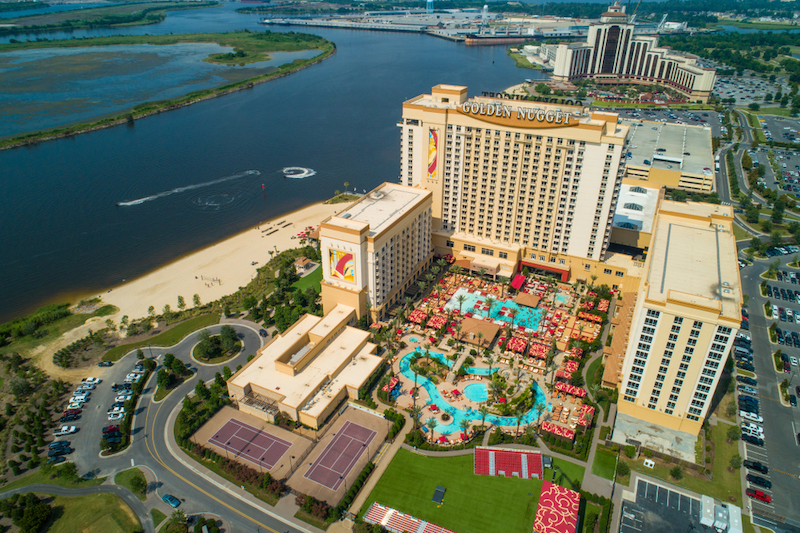 Travel two hours east of Houston and you'll find yourself in the thick of Louisiana Boudin Country on Lake Charles, Prien Lake, and the Calcasieu River. Home to country singer Lucinda Williams, tourists visit to stay at the L'Auberge Casino Resort where they can float along a lazy river after hitting the slots, or the Golden Nugget (pictured). Outdoor enthusiasts can go crabbing along the Creole Nature Trail for an easy, breezy day trip. If you're a fan of all-things Cajun, visit in July when they hold the annual Cajun Music and Food Festival.  
Lake Geneva, Wisconsin – Geneva Lake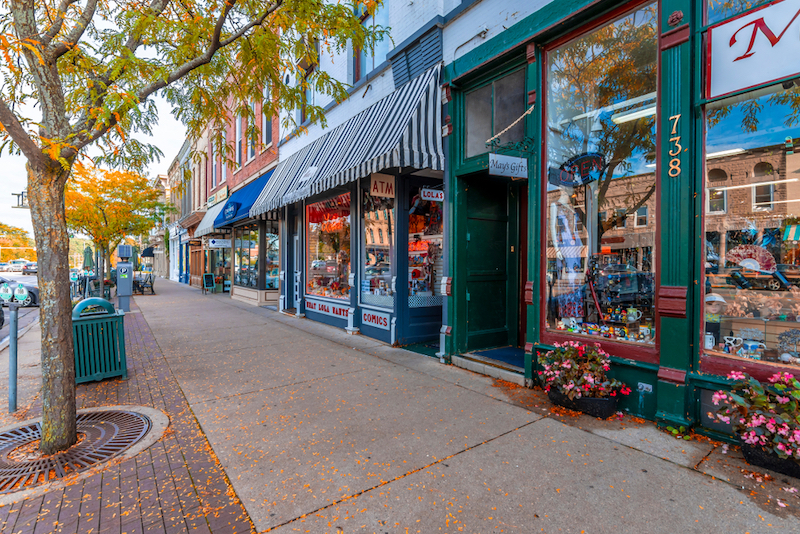 A pristine 26-mile trail surrounds Wisconsin's Geneva Lake, providing vacationers the one-of-a-kind opportunity to get their steps in while taking a walking tour of the lake. If you're looking for a less grounded getaway, visit the Lake Geneva Balloon Company and take a hot-air balloon flight above the town. Still not ready to let your feet touch the ground? Take a zipline canopy tour before indulging in water sports like kayaking or paddleboarding around the lake.
Lake George, New York – Lake George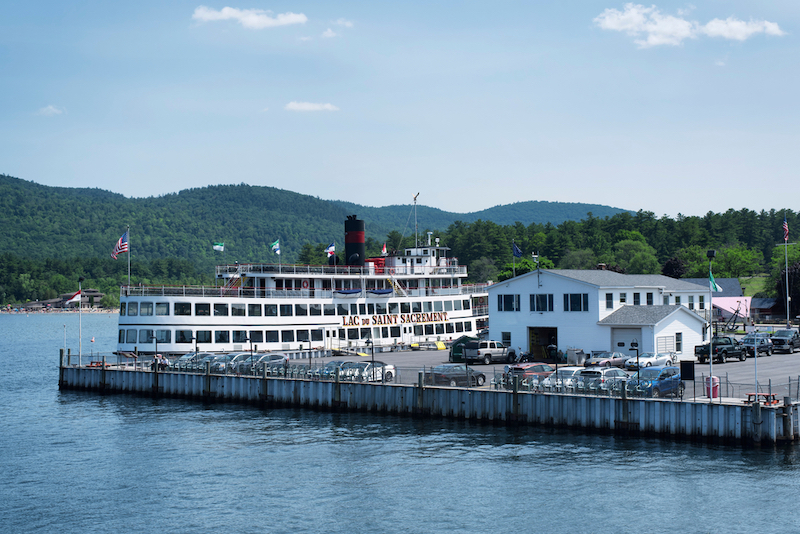 Affectionately nicknamed "Queen of American Lakes," Lake George is sprawled along the southeastern end of New York's Adirondack mountains. This lake town is a favorite hideout for those who love the finer things in life and can get away with asking questions like "Where do you summer?" Architecture enthusiasts can take a steamboat cruise and gaze at some of the region's million-dollar lakefront real estate before hitting the Adirondack Winery to sip on a watermelon-infused rosé.
Lake Havasu City, Arizona – Lake Havasu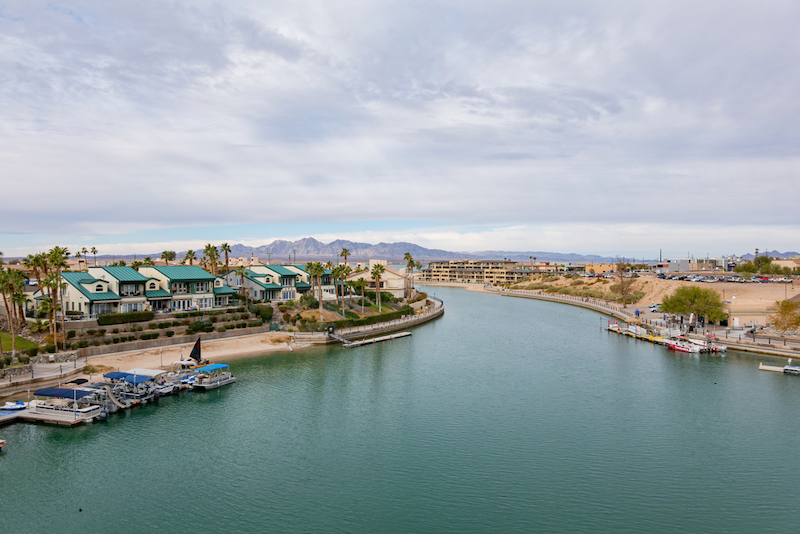 Lake Havasu City has made a name for itself as one of America's foremost destinations for summertime party people. Located on the edge of the Arizona-California border, visitors also come to take ATV tours through gold mining sites and to stroll across the London Bridge which, yes, formerly spanned the River Thames in London. When you're ready to cool off, rent a motorboat tiki bar from Cruisin Tikis Havasu to explore this oasis.
Lake Placid, New York – Lake Placid/Mirror Lake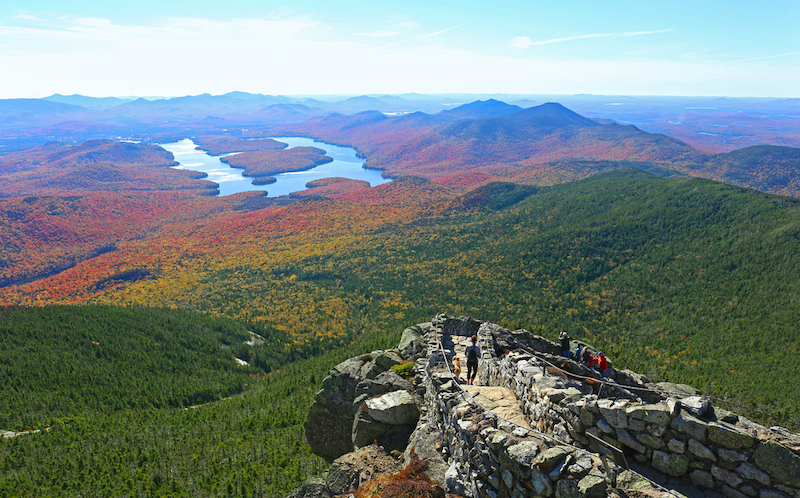 Lake Placid is a celebrated village in the Adirondack Mountains that hosted both the 1932 and the 1980 Winter Olympics. While the town has a reputation of being a winter wonderland for skiers, pleasure-seekers know that summertime is when Lake Placid comes alive. With temperatures hovering around the mid-70's, the lake is your canvas for watersports like fishing, canoeing, and swimming. Those who would rather stay on dry land can unwind with a Salt Therapy session at the Mirror Lake Inn Resort & Spa. 
Lakeway, Texas – Lake Travis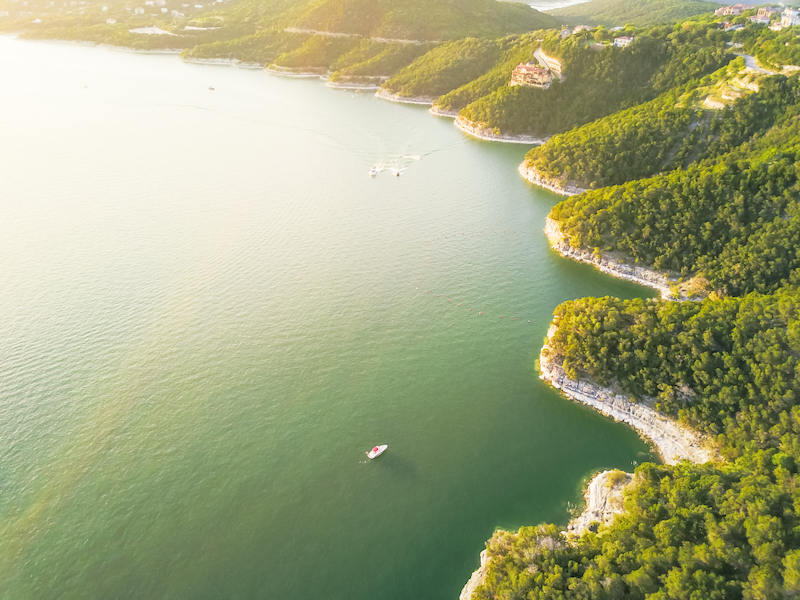 Lake Travis has become an iconic lake getaway for Texans looking to cope with the sweltering summer temperatures and cool off along the reservoir's 65-mile stretch. College-aged kids love to boat hop at Party Cove where spring break never ends while families can find fun at a floating lakeside water park. After a long day of watersports, you can sip margaritas lakeside at The Oasis on Lake Travis.
Mackinac Island, Michigan – Lake Michigan/Lake Huron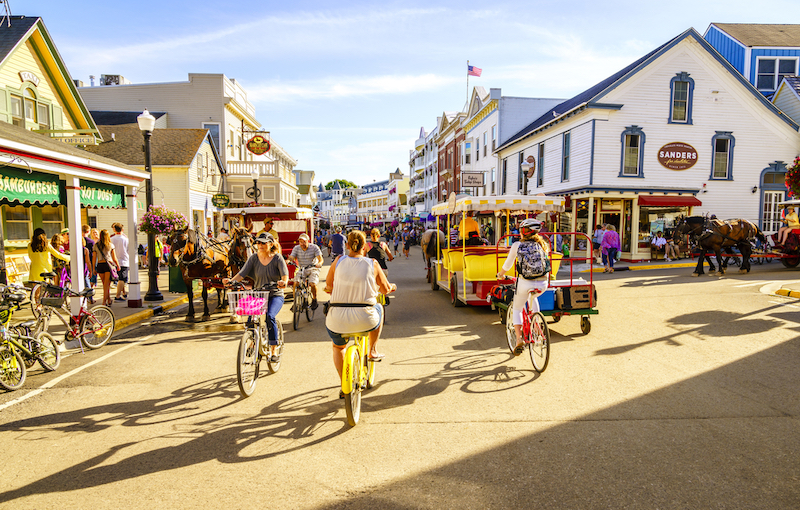 Situated between Michigan's upper and lower peninsulas is one of the country's most magnificent summer lake experiences. Accessible only by boat or ferry, the charm of Mackinac Island is that it is completely car-free. Both residents and visitors must explore the island by foot, bicycle, or horse-drawn carriage. History buffs can visit one of the island's notable forts before indulging in afternoon tea service at the Grand Hotel's parlor. Before leaving Mackinac, make sure to pick up some fudge from one of the island's signature shops for the trip home.
Okoboji, Iowa – West Okoboji Lake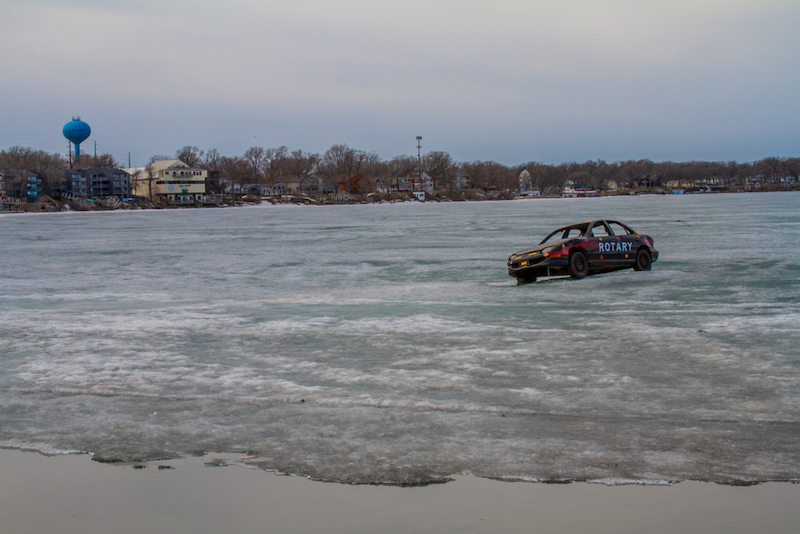 West Okoboji Lake is the largest of Iowa's five glacier-carved lakes, creating the perfect backdrop for the best lake town in the Hawkeye state. Visitors can climb aboard the Queen II Excursion and take a trip around the lake before catching a show at the Okoboji Summer Theatre. Those who would rather work on their tan can relax at one of the town's public beaches before tucking into some cedar plank salmon at Yesterday's Restaurant.
Osage Beach, Missouri – Lake of the Ozarks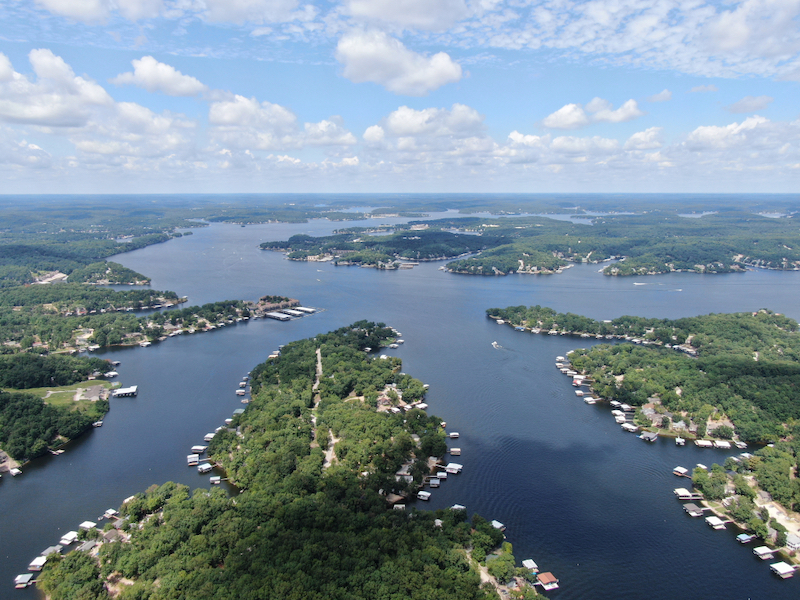 Known for having more shoreline than the California coast, Missouri's Lake of the Ozarks has become a popular vacation spot for travelers from all over the Midwest. Those looking for their lost shaker of salt can take a load off at Osage Beach's Margaritaville Resort. The all-inclusive getaway is also home to the only indoor waterpark in the Ozarks making Osage Beach a perfect lake town for kids of all ages. 
Sandpoint, Idaho – Lake Pend Oreille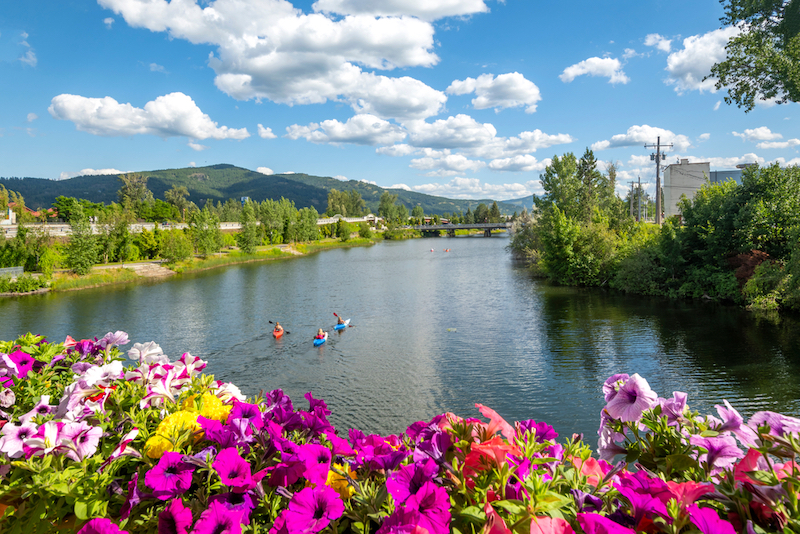 Seated between the Cabinet and Selkirk mountain ranges, Sandpoint is home to Idaho's largest glacial swimming hole, Lake Pend Oreille. Tourists typically visit this hamlet to hit the snowy slopes in winter, but those in the know prefer this summer hideaway to its sister lake town Coeur d'Alene an hour south. Work up a sweat mountain biking on the Gold Hill Trail before swimming in the crystal clear waters at Green Bay. Make sure to visit in early August for live music and dancing at The Festival at Sandpoint. 
South Lake Tahoe, California – Lake Tahoe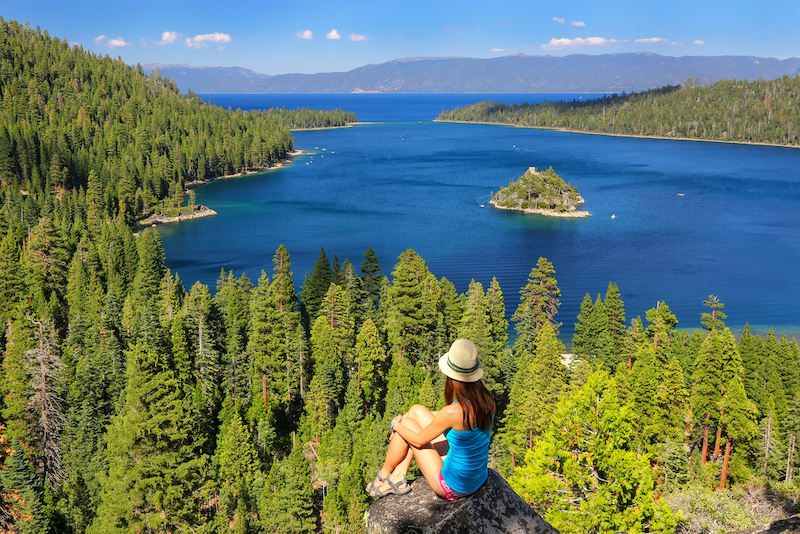 Each summer, a multitude of people descend upon North America's largest alpine lake making Lake Tahoe a shoo-in as one of the country's favorite lakes. On the California side in South Lake Tahoe, tourists can look forward to fishing, jet skiing, and canoeing before checking in at The Landing Resort and Spa for an ultra-luxe, restorative experience.
Wolfeboro, New Hampshire – Lake Winnipesaukee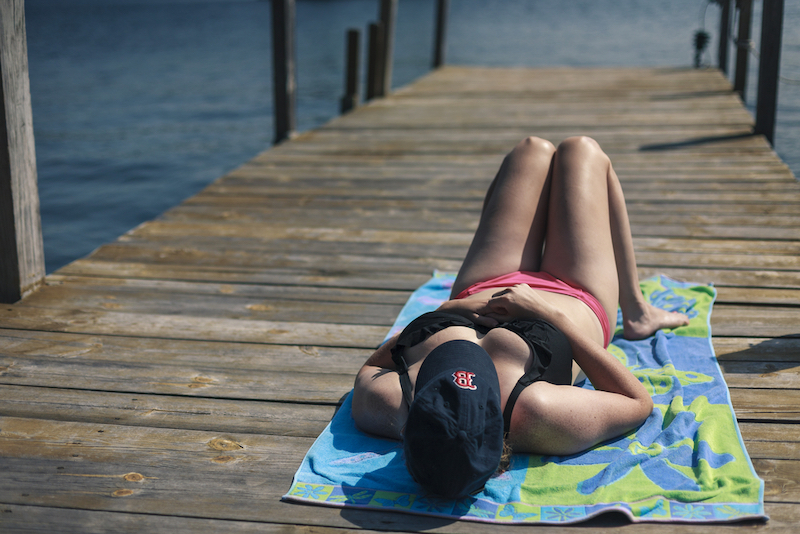 Dubbed "The Oldest Summer Resort Town in America," each year crowds descend upon this picturesque town to cool off in Lake Winnipesaukee. Wolfeboro is a quintessential New England hideout loved by everyone, including celebrities like Jimmy Fallon, Drew Barrymore, and NBA luminary Dwyane Wade. Imagine strolling down streets dotted with art galleries or taking a scenic cruise on a paddleboat and you're in Wolfeboro. Stay at the historic Pickering House Inn in the heart of downtown and check out weekly summer concerts at Cate Park.