There was a time not long ago when mention of a romantic hotel conjured up images of lukewarm sparkling wine, carpeted walls and a bed that would gyrate like a frat boy after one too many White Claws. At best, you got a honeymoon suite with one of those strange and alluring tubs shaped like a coupe glass, and at worst, you got a heart-shaped mattress with polyester bedding that reeked of Drakkar Noir.
These days, in the words of the prophetic and funky Fatboy Slim, "We've come a long way, baby." Some of the country's oldest and most historic properties have managed to maintain their gorgeous facades and fixtures while offering guests all the amenities they'd expect from a modern resort and then some.
We've assembled a list of America's most palatial, lavish and classic romantic hotels for your immediate and amorous consideration.
10 Fitch – Auburn, N.Y.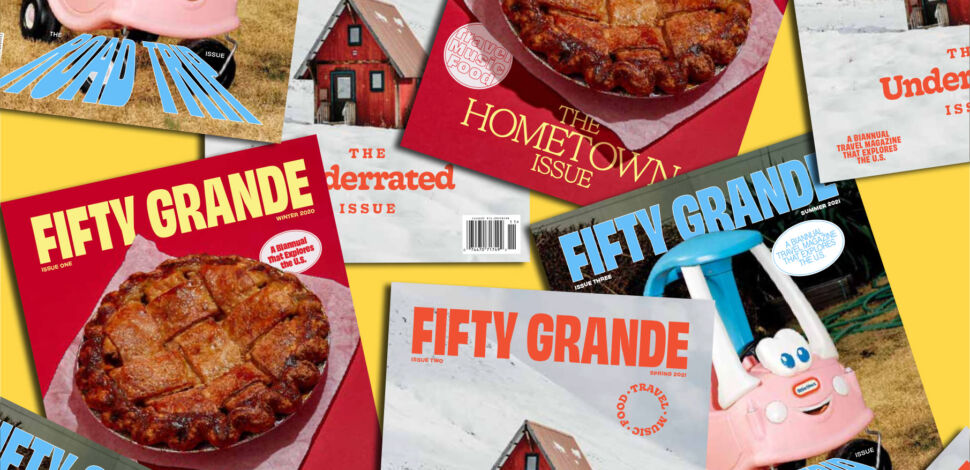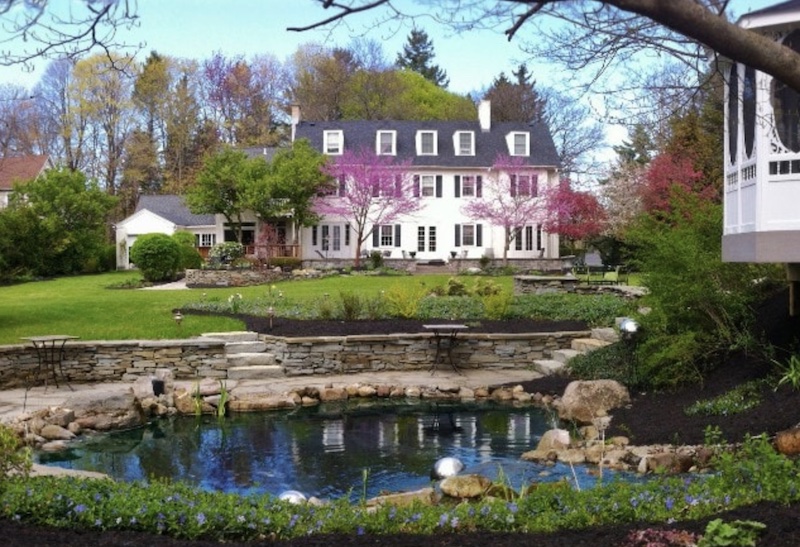 10 Fitch is a boutique Colonial Revival inn located in New York's Finger Lake region that offers an elevated, private bed and breakfast affair. With only three accommodations, the retreat allows sweethearts to properly decompress away from the hustle of city life. Each suite has a sitting room, bedroom and bathroom and is well-appointed with classic fixtures and handcrafted furnishings that escort guests to a simpler time. The property is situated on a tree-lined street and boasts perennial gardens, koi ponds, waterfalls and a vast veranda for guests to enjoy. For an added dash of romance, couples can visit the nearby Aurelius Winery for a tasting before returning to the inn for complimentary homemade chocolate chip cookies.
10 Fitch, 10 Fitch Ave., Auburn, N.Y.
(315) 255-0934
The Adolphus – Dallas, Texas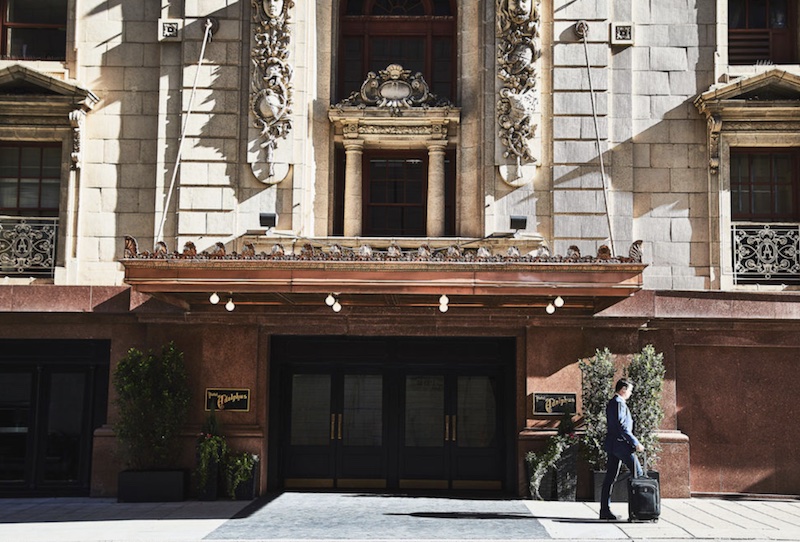 Set between the Financial and Arts Districts in downtown Dallas, The Adolphus debuted in 1912 and is an opulent landmark beloved by guests who appreciate classical style. As the saying goes, "Everything's bigger in Texas," and luckily, the hotel provides a sizable number of accommodations for couples seeking a luxurious getaway. The rooms boast amenities like plush beds, rainfall showers and individual climate controls — some like it hot! — allowing visitors to get so cozy that they need never leave their chambers. Lovebirds visiting for Valentine's Day can book a rejuvenating couples massage before tucking into an inviting three-course feast in The French Room.
The Adolphus, 1321 Commerce St., Dallas, Texas
(214) 742-8200
Camden Harbour Inn – Camden, Maine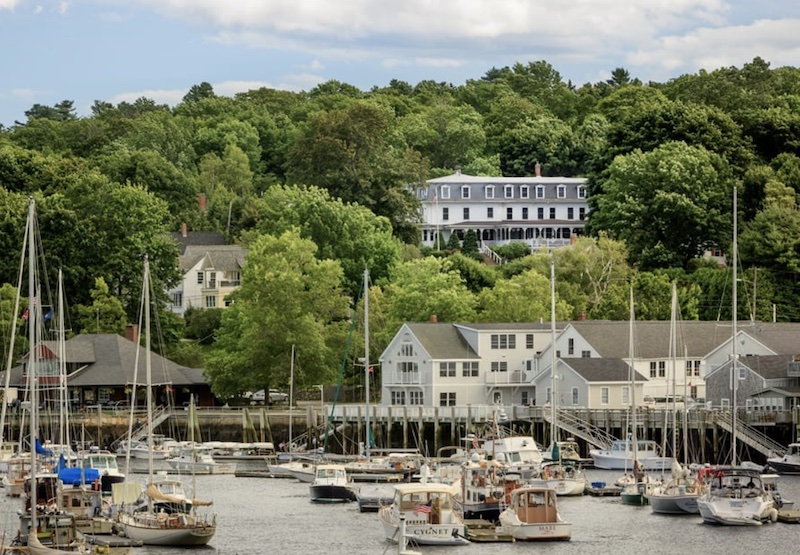 Since the late 1800s, Camden Harbour Inn has been an exclusive and awe-inspiring destination for romancers seeking ritzy and classic New England accommodations. The two-story Victorian charmer sits between rich green trees and offers sweeping views of Camden harbor and Penobscot Bay. The attention to detail is spot on, including nightly turndown service with chocolates, complimentary beverages and snacks and feather bedding to sink into after a jaunt through downtown Camden. And since you're in Maine, in the summertime, the hotel will take you on a two-hour lobster fishing excursion, followed by a lobster cooking class, lunch and later in the evening, a five-course lobster tasting menu.
Camden Harbour Inn, 83 Bayview St., Camden, Maine
(207) 236-4200
The Chanler at Cliff Walk – Newport, R.I.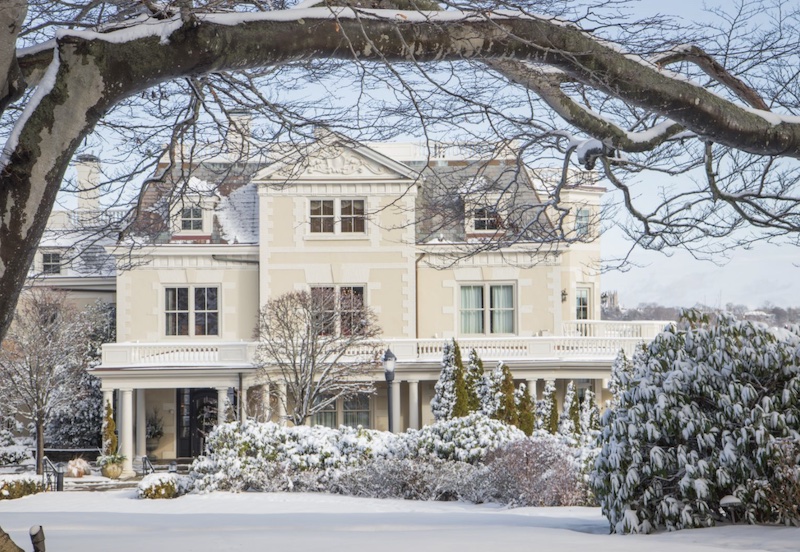 Among the country's most romantic and elite attractions is The Chanler at Cliff Walk. The 1873 mansion sits on the National Recreation Trail and has hosted noteworthy guests like Henry Wadsworth Longfellow and President Teddy Roosevelt. They dial up the amorous charm with luxe amenities, antique furnishings and bespoke interiors decorated in Renaissance and English Tudor styles. For those who want to impress their date, opt to splurge on an Ocean Villa and enjoy cliffside views, an outdoor hot tub and a rejuvenating sauna. When you're ready to leave your quarters, tuck into an eight-course degustation meal at Cara.
The Chanler at Cliff Walk, 117 Memorial Blvd., Newport, R.I.
(401) 847-1300
The Cloister – Sea Island, Ga.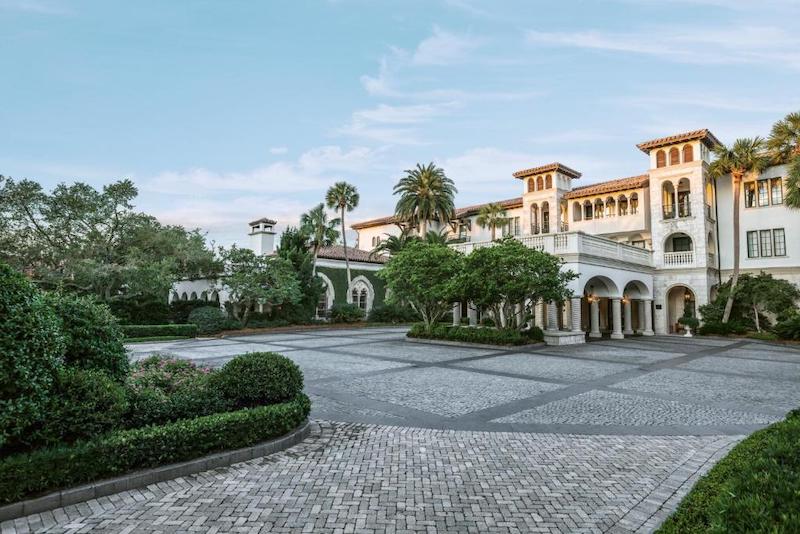 Classical Spanish-Mediterranean architecture, wood-beamed ceilings and three championship golf courses are a few gilded amenities that await at The Cloister. Perched next to the Atlantic on Georgia's Sea Island, the hotel opened in 1928 and has since become a sprawling 1,000-acre resort complete with a yacht club and five miles of private beach. Aside from five-star accommodations, the Cloister offers a range of activities, making it a great getaway for active couples. Voyagers can go on hunting expeditions, embark on fishing charters and test out their racket skills at the onsite tennis center. At the River Bar you'll find a menu inspired by European brasseries as well as unobstructed panoramic views of the Black Banks River.
The Cloister, 100 Cloister Drive, Sea Island, Ga.
(912) 638-3611
The Don CeSar – St. Pete Beach, Fla.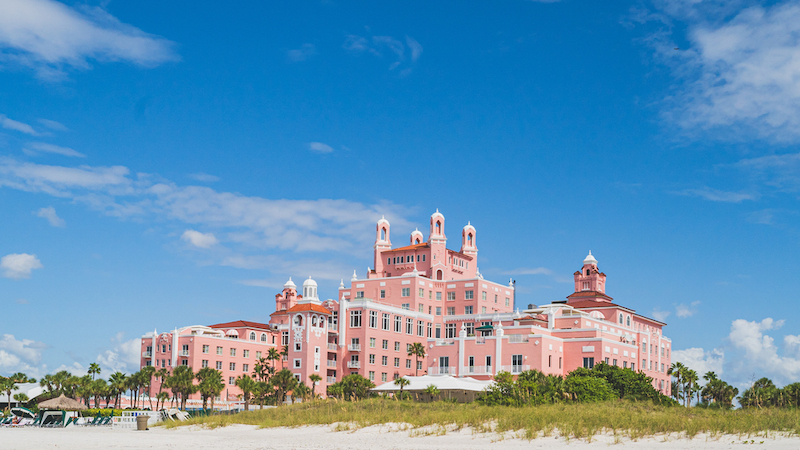 Situated on Florida's Long Key barrier island, The Don CeSar is an opulent resort that premiered in 1928 and hosted notables like F. Scott Fitzgerald and Al Capone. Dubbed "The Legendary Pink Palace," the palatial and flushed hotel is surrounded by palm trees and overlooks the Gulf of Mexico and St. Pete Beach's soft, white sands. Beyond the retreat's rosy exterior, you'll find tropical-inspired suites overlooking the water, two heated pools and a spa complete with couple's treatment rooms and aroma-infused steam rooms. Art enthusiasts can visit Morean Arts Center and view the Chihuly Collection's colorful glass sculptures.
The Don CeSar, 3400 Gulf Blvd., St. Pete Beach, Fla.
(844) 338-1501
Glenmere Mansion – Chester, N.Y.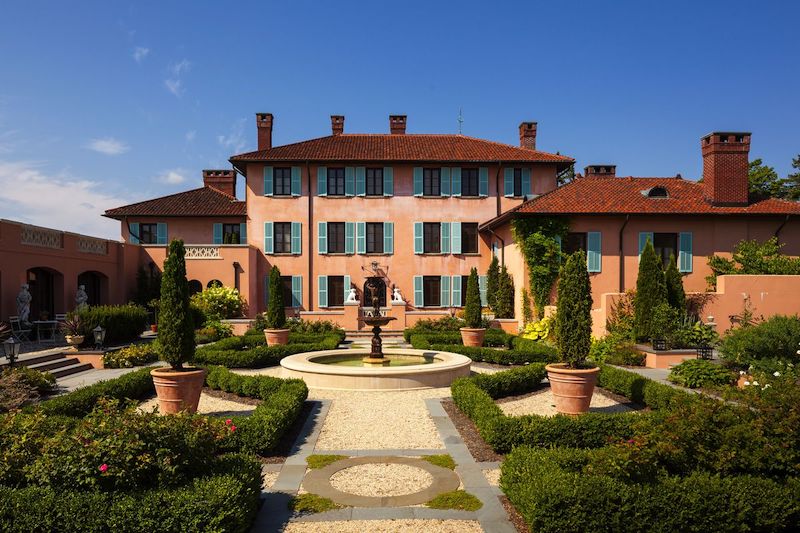 New Yorkers pining for a slice of Tuscany can travel one hour by car from Manhattan to the grandiose Glenmere Mansion. Located in Chester, a quaint village in the lower Hudson Valley, the hotel sits on 150 acres of countryside. The estate was designed and built in 1911 to resemble a Tuscan villa and still maintains its Italian facade. With 18 suites and penthouses, Glenmere ensures that only a select group enjoy top-notch seclusion and serenity at a time. Accommodations include marble bathrooms, heated floors, custom Italian linens and even Juliette balconies in some suites. Outside, the grounds are expertly manicured and designed by landscape architect Beatrix Farrand (who happens to be novelist Edith Wharton's niece). Couples looking to reconnect with nature can explore the acreage through one of many trails or a game of croquet. The mansion also offers a steamy hammam.
Glenmere Mansion, 634 Pine Hill Road, Chester, N.Y.
(845) 469-1900
Grand Hotel – Mackinac Island, Mich.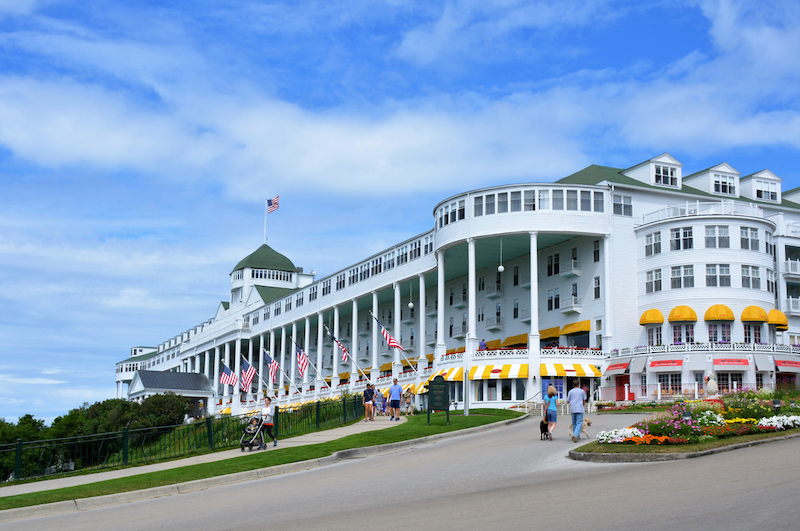 The stately, sprawling and hard-to-miss Grand Hotel, which you probably know for its "longest porch in the world," is a must-visit when heading to Mackinac Island. You'll arrive on the island via ferry since cars have been prohibited since 1896, and you're encouraged to slow down and explore the region via walking, bicycling or carriage rides. Afternoon tea in the hotel's parlor is the perfect way to unwind after a busy day of taking carriage tours, golfing and splurging at the local boutiques. The hotel itself is cheerful and airy, showcasing classical decor and richly colored fabrics that transport guests to a time free of emails, alarm clocks and automobiles.
Grand Hotel, 286 Grand Ave., Mackinac Island, Mich.
(906) 847-3331
The Hermosa Inn – Paradise Valley, Ariz.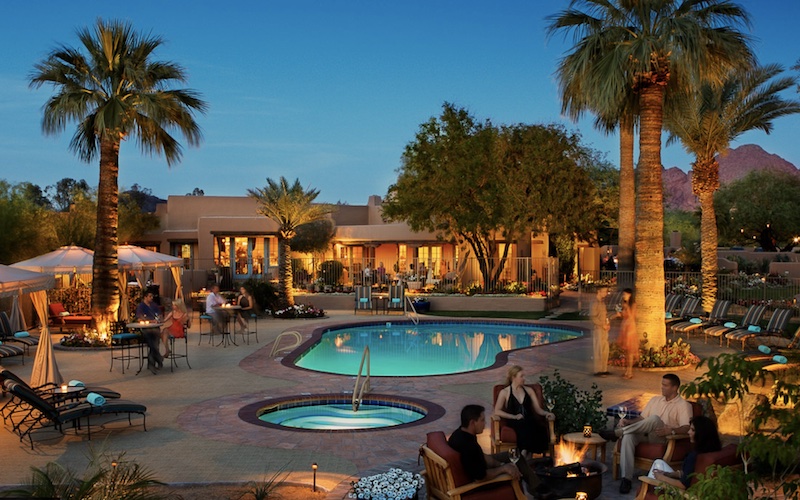 The Hermosa Inn is a serene and intimate escape in the knolls of Camelback Mountain. Situated in Arizona's "Valley of the Sun," between Phoenix, Scottsdale and Tempe, the historic hotel is a place of couples, from the desert wildflowers blooming along the grounds to the dimly lit cobblestone pathways that lead to the suites. The hideaway is shrouded by towering palm trees, making visitors feel hidden in plain sight upon arrival. Gilded rooms and freestanding casitas blend traditional Southwestern decor with modern amenities and include original pieces of artwork by famed artist and founder of the inn, Alonzo "Lon" Megargee. There are several cabanas for couples to lounge in when not cooling off in the pool, and dinner at LON's restaurant promises Arizona-inspired fare like seared duck breast and agave citrus shrimp.
The Hermosa Inn, 5532 N. Palo Cristi Road, Paradise Valley, Ariz.
(602) 955-8614
Mauna Kea Beach Hotel – Big Island, Hawaii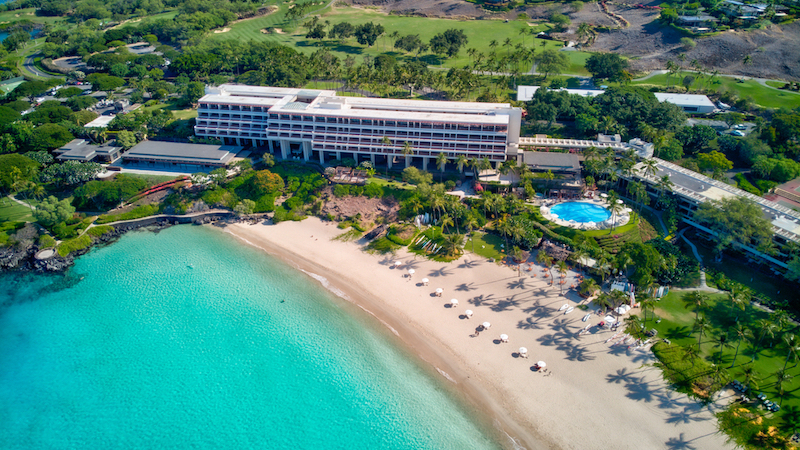 Situated off the Kohala Coast, the Mauna Kea Beach Hotel is the quintessential destination for sweethearts seeking an intimate Hawaiian getaway. The crown jewel of Hawaii's Big Island, the hotel was developed by Laurence S. Rockefeller in 1965 and remains a significant historic property today. The resort also overlooks the majestic Kauna'oa Bay, steps away from one of the island's only white sand beaches. There's an 18-hole championship course and adventurous duos may opt to go night snorkeling with manta rays — yes, this is real, and yes, we've heard it's fantastic. Conversely, couples who want to get up high can hop in a helicopter and take a breathtaking tour to view volcanos before being treated to a Hawaiian Lomi Lomi massage at the onsite Mandara Spa.
Mauna Kea Beach Hotel, 62-100 Mauna Kea Beach Drive, Waimea, Hawaii
(808) 882-7222
The Peabody – Memphis, Tenn.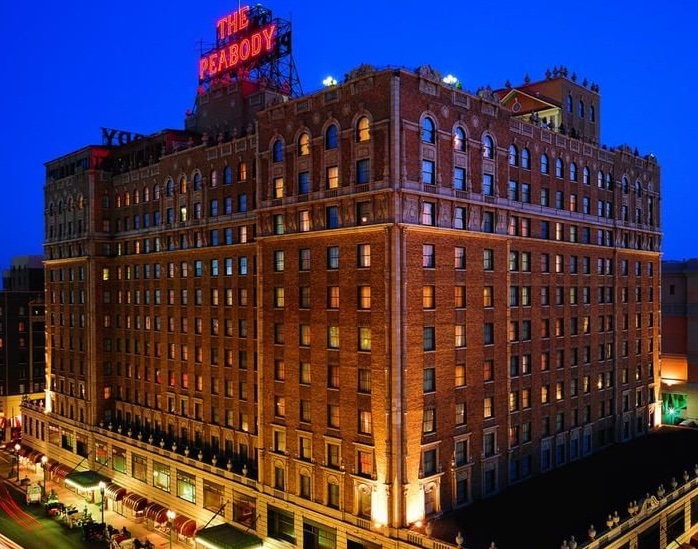 In the words of the immortal Johnny Cash, "You'll find me at the home of the blues," and specifically, when in Memphis, you'll find us at The Peabody hotel. The unique spot opened its doors in 1869, and its towering neon sign is now a signature part of the Memphis skyline. There's a "Love Me Tender" package that includes room service dinner for two, fresh flowers, champagne, chocolate-covered strawberries and more. Couples hoping to learn more about the legendary hotel can take a historical tour and view the world-famous resident Peabody ducks. If you're there in the spring, try to hit up one of the hotel's rooftop parties where you can marvel at the grand views of the Mississippi at sunset, enjoy live music and sip on Tennessee whiskey.
The Peabody, 149 Union Ave., Memphis, Tenn.
(901) 529-4000
The Saint Paul Hotel – St. Paul, Minn.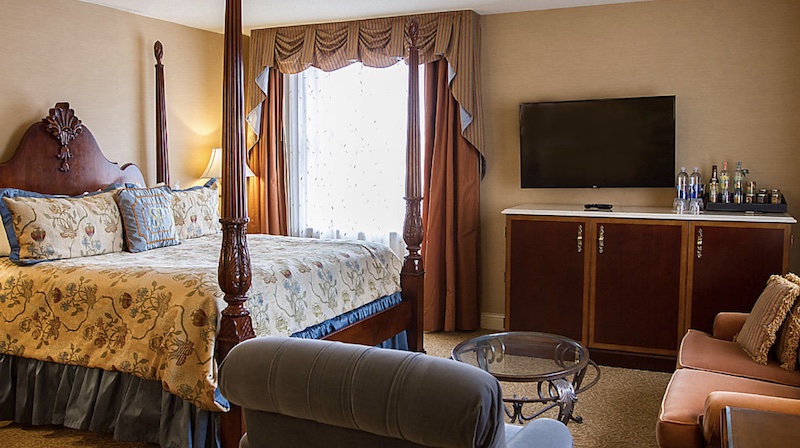 The Saint Paul Hotel made its debut in 1910 and has since hosted esteemed visitors like John F. Kennedy and Gene Autry. The hotel showcases impressive Italian Renaissance Revival architecture and offers unique and luxurious amenities like private etiquette classes and English afternoon high tea accompanied by a live pianist. Expect opulent rooms with antique four-post beds and to be treated like royalty, as the hotel is known for its stellar service. The retreat is located in the heart of St. Paul's Cultural District, making it a cinch for sightseers to get around or hop in a car and head to Minneapolis to visit the bustling Mall of America.
The Saint Paul Hotel, 350 N. Market St., St. Paul, Minn.
(651) 292-9292
Twin Farms – Barnard, Vt.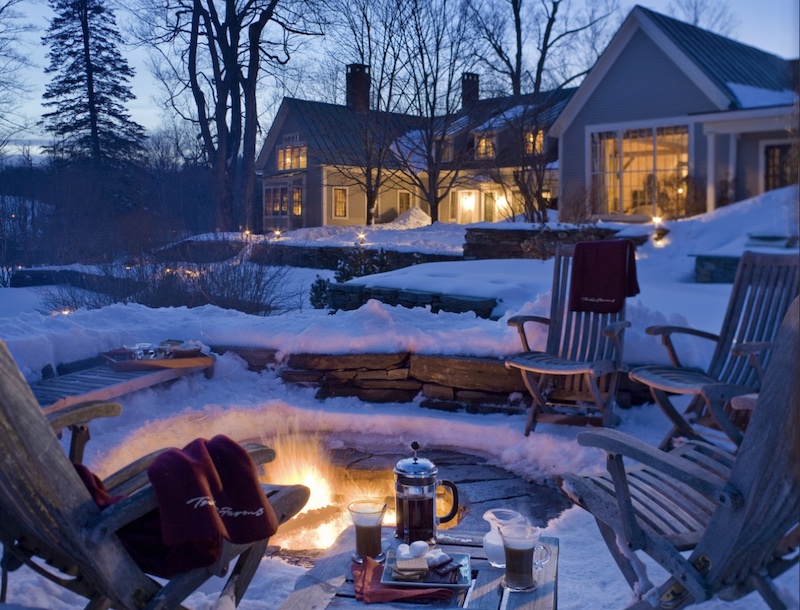 Vermont's Twin Farms offers the bespoke and imaginative accommodations that people travel far to experience. Previously owned by Nobel Prize-winning author Sinclair Lewis, the farmhouse estate was built in 1795 and sits upon 120 hectares of lush New England mountains, fields and forests. A stay at the inn promises guests an all-inclusive experience covering everything from meals and activities to one-of-a-kind cottages and suites with art from the founder's private collection featuring Cy Twombly and David Hockney. You can take in Vermont's countryside using one of the two Volvos provided for use or hit the trails and breathe in the fresh air via mountain bike. Couples who want to relax like Victorian royalty can indulge in a chef-curated picnic in one of the property's many meadows before drifting across the nine-acre pond via canoe.
Twin Farms, 425 Royalton Turnpike, Barnard, Vt.
(802) 234-9999
West Cliff Inn – Santa Cruz, Calif.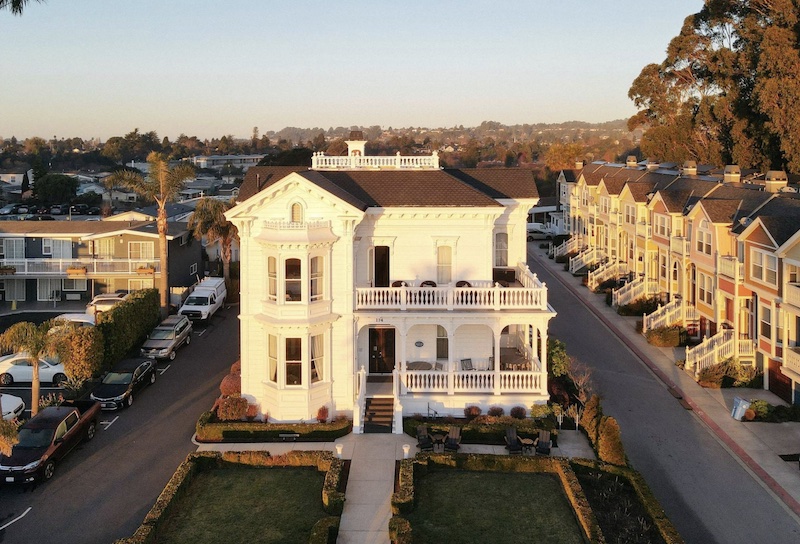 Located on a scenic bluff near Cowell's Beach in Santa Cruz, West Cliff Inn is a three-story Victorian manor overlooking California's Monterey Bay. The inn was built in 1877 and marries classic fixtures with breezy and vivid coastal decor. The retreat seems like the type of place that Sheryl Crow would go to soak up the sun in private, as there are just 10 rooms, providing guests ample opportunities to privately connect with their special someone. Couples are treated to wine and cheese tastings each afternoon and complimentary breakfast that goes beyond continental. After filling up on decadent Benedicts, take one of the inn's bicycles out for a cruise along the coastline before enjoying a brew at the Humble Sea Brewing Co.
West Cliff Inn, 174 W. Cliff Drive, Santa Cruz, Calif.
(831) 457-2200
Zero George – Charleston, S.C.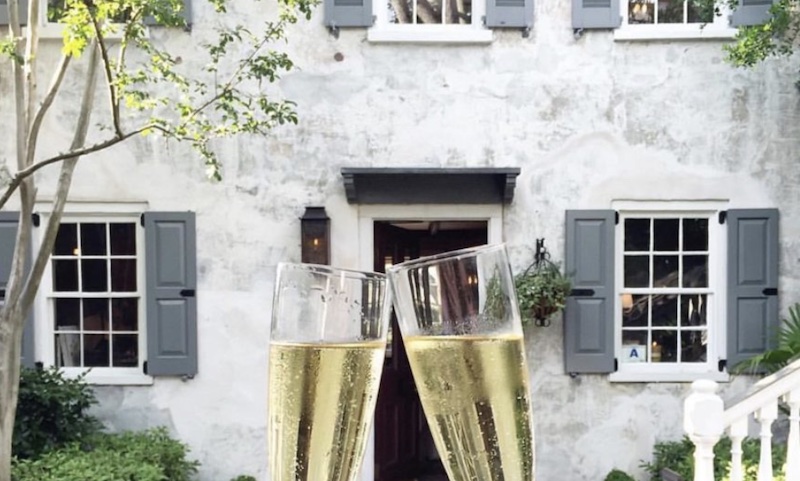 Charleston's Zero George has an established reputation as a Lowcountry hideaway for couples in search of a romantic retreat. Situated in the Ansonborough neighborhood, the boutique hotel was built in 1804 and consists of 16 studios surrounding a flourishing courtyard. Step through the property's wrought-iron gates and you will be greeted with a glass of champagne and views of billowing palm trees. The historic carriage houses have rich pine wood floors, and the rooms have crisp linens and Malin + Goetz goods. Couples looking to upgrade their experience can opt for champagne and chocolate-covered strawberries in the room or book a private sunset sail on the nearby harbor. Stroll through the Old Walled City via cobblestone streets and visit the Marion Square weekend farmer's market when you're ready to get out of bed.
Zero George, 0 George St., Charleston, S.C.
(843) 817-7900