This story is part of our first-ever music special, which includes the results of our music survey, the resulting top music cities ranking and an in-depth look at the most travel-worthy music cities across the country. See all the coverage here.
---
If we were to build a perfect city from the ground up, the planning priorities would go something like this: secure access to clean water, create a reliable energy system and build some kick-ass live music venues. If you're nodding your head then you're probably part of the 69% of respondents in our first-ever music survey who rate music a nine or 10 on a 10-scale, in terms of how important it is to you. Like our look at the best food cities, our music survey looked at people's interest in the topic, how and where it guides travel planning, and we ranked the top cities in America to visit, according to our readers.
Put another way: As a music fan, when you're considering travel plans, these are the cities that should be high on your list to visit.
For this survey, respondents needed an interest of five or higher in music, and have listened to live music in the market that they voted on. The survey was conducted in December 2022 and results were based on 1320 respondents. Here are the top 20 live music cities in America.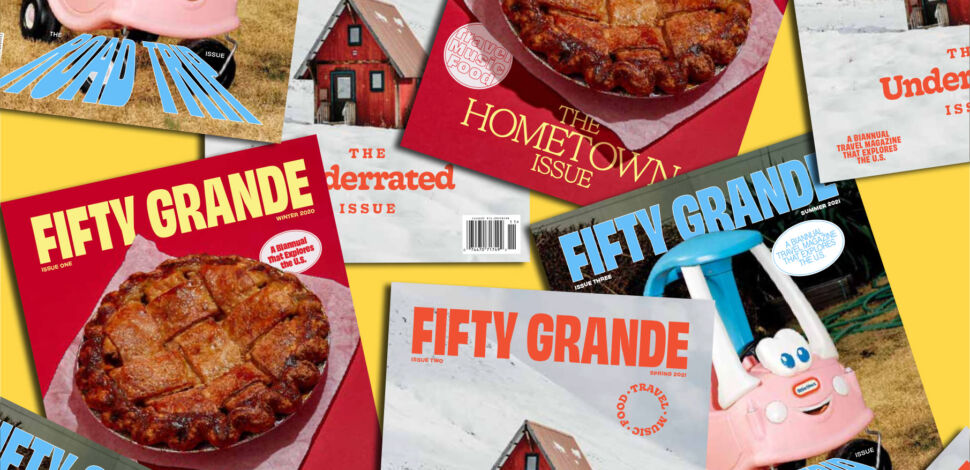 18. Portland (tied)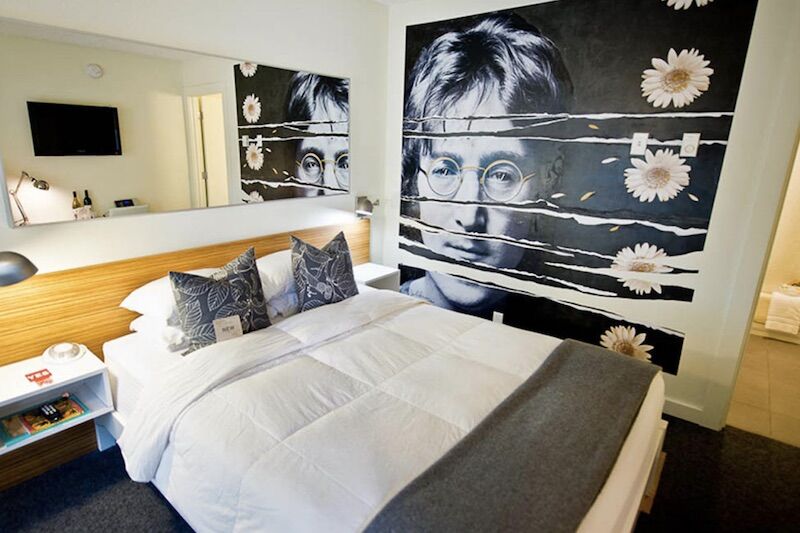 Portland's Jupiter hotel.
Portland is one of our country's gems, something we've expressed many times. It's not a surprise it made the cut in our music survey since it's home to unique music venues (like McMenamins Crystal Ballroom, Mississippi Studios) and some cool hotels that imbue the experience with a music vibe, like the Jupiter. For upcoming festivals in Portland, check out our Festivals page.
18. Columbus (tied)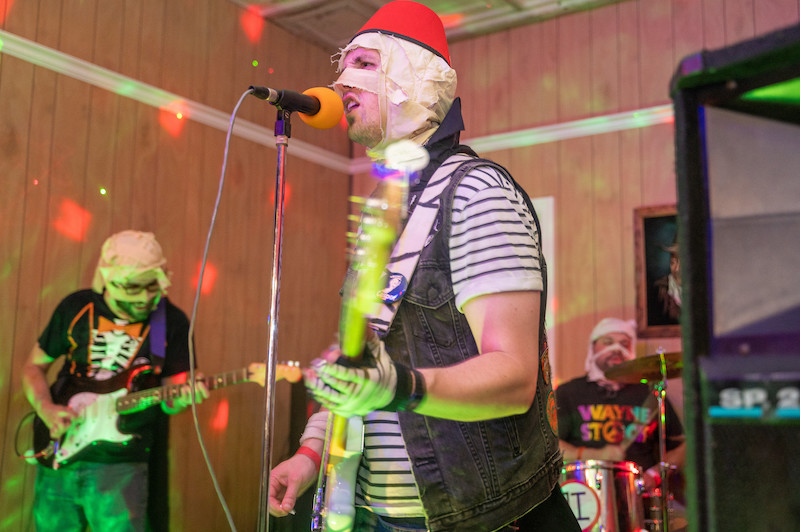 Ohio's Mummola playing live. Photo by Joseph L. Harris.
If you have a passing familiarity with Columbus, you've probably heard about its notable chefs or a cool underground bar. What you haven't heard about is the city's horror band scene, which undoubtedly helped Columbus tie with Portland and Dallas for 18th in our top music cities in America survey.
18. Dallas (tied)
Few stages in Texas have seen as much as the recently reopened Longhorn Ballroom's, and it's one of the venues that makes Dallas a live-music destination. Getting to know the Longhorn is like getting a crash course on the Dallas scene. Check out our report here.
17. Kansas City
(Pictured: Liney Blu at a recent Manor Records showcase. Not a traditional music venue, Manor Records transforms natural wine bars and distilleries into outlets for music discovery.)
Kansas City openly defied Prohibition in favor of a thriving jazz scene and music is still a significant thread of KC's dynamic tapestry. If you've never been, it's worth visiting for the music scene alone, but the city has much more. Here's our guide for music lovers to spend a weekend in the city that came in at #17 in our top music cities in America survey. 
15. Philly (tied)
Music venues across the country have upped their food game over the past decade and one of the examples is Johnny Brenda's in Philly, which is tied for #15 in our top music cities in America survey. The club's restaurant has a bar menu with a touch of class, and it serves venue patrons as well as the bands backstage. Get more details in our wrap of the best venue restaurants across the country. 
15. Detroit (tied)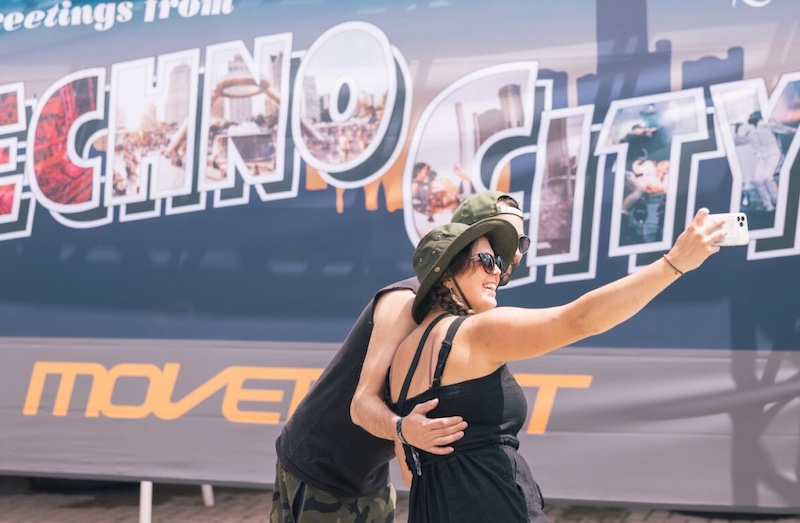 Festival goers outside of Movement Electronic Festival 2022. Photo via Shutterstock.
The home to Motown is also the place that birthed techno. In 1981, DJ and producer Juan Atkins invented techno in Detroit. Not Miami. Not Vegas. Detroit. And not only does Detroit have cool labels, myriad record stores but it's a festival destination. Case in point: over Memorial Day Weekend, Hart Plaza in downtown Detroit will come alive with 120 artists performing across six different stages for the Movement Electronic Festival. For more festivals and events to plan for this year, see our Festivals page.
13. Seattle (tied)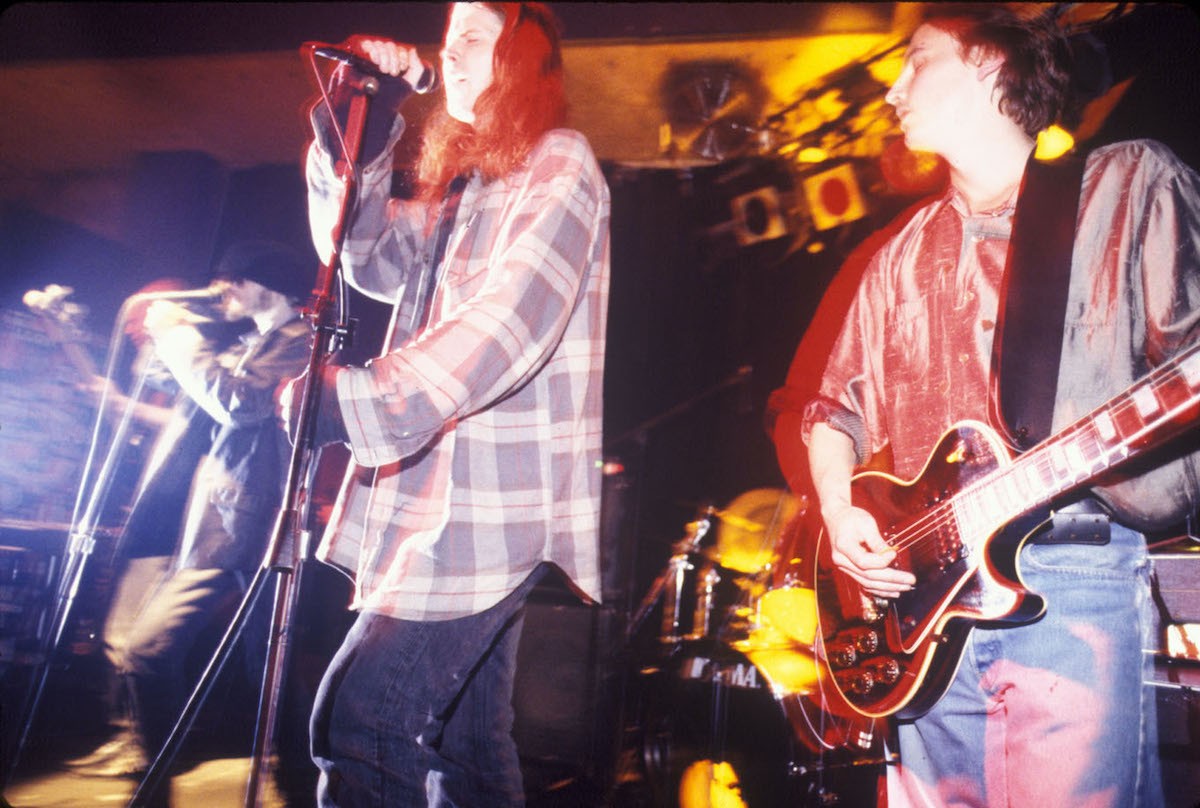 Mad Season with Mark Lanagen live at the Croc, April 22, 1995. Photo courtesy of Lance Mercer.
Another tie! Seattle tied for #13 in our survey of America's best live music cities. If Seattle's place as an influential music hub is news to you, we recommend reading the untold story of the Croc as a primer on the scene's history.
13. Asheville (tied)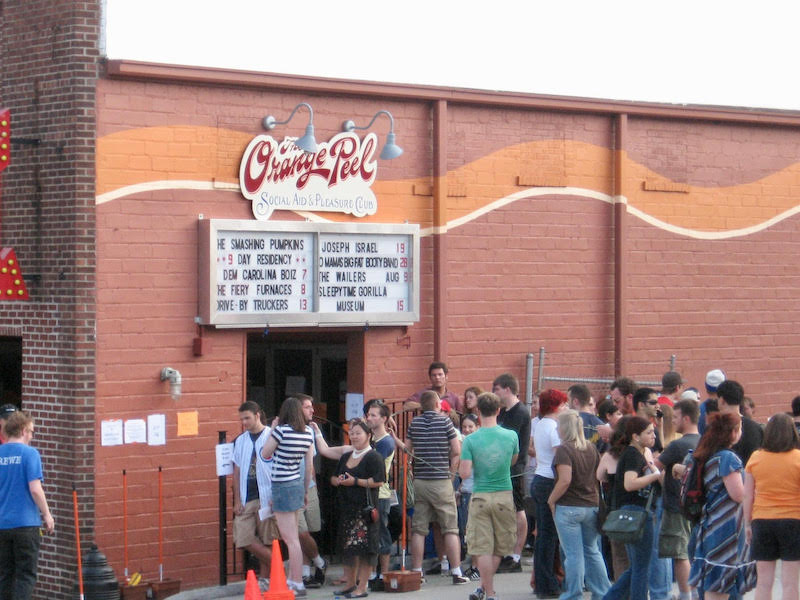 The line for a Smashing Pumpkins show in 2007. Photo by Aaron Fish.
If you're thinking that Asheville's rep as an eclectic mountain city awash in craft beer, panoramic mountain vistas, and bohemian vibes sounds like the perfect home for live music, you'd be right. The Orange Peel, a 1000-person downtown local institution, is an important area music hub and should be a stop during your next visit. See the exclusive oral history of the Orange Peel here. 
12. Washington DC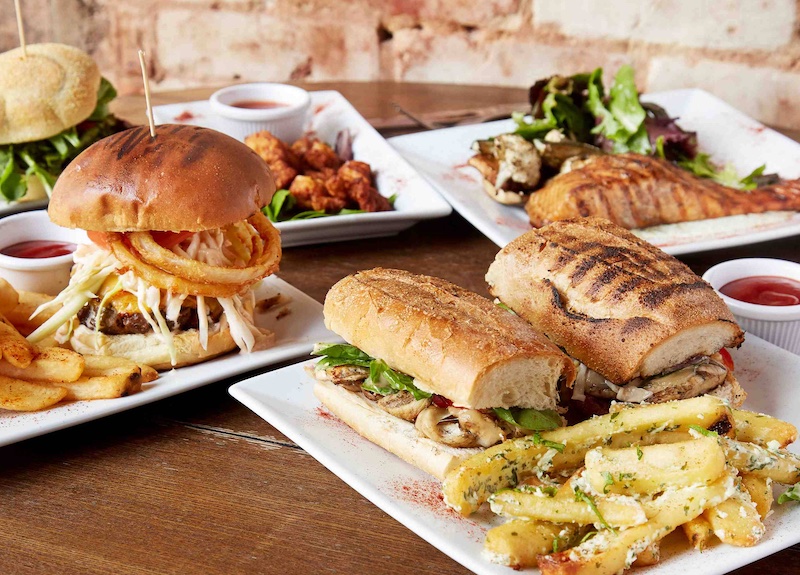 The food at DC9. Photo courtesy of the restaurant.
You won't find fancy fare at DC9 in the nation's capital. That doesn't mean what they make isn't great, though. People swear by the venue's burgers, which are made from all-natural beef and served with garlic fries. D.C. didn't land at #12 on our survey of best live music cities because of the food, but it's worth noting for when you're planning your next trip here. See all of the music venues across the country have upped their food game here.
11. Boston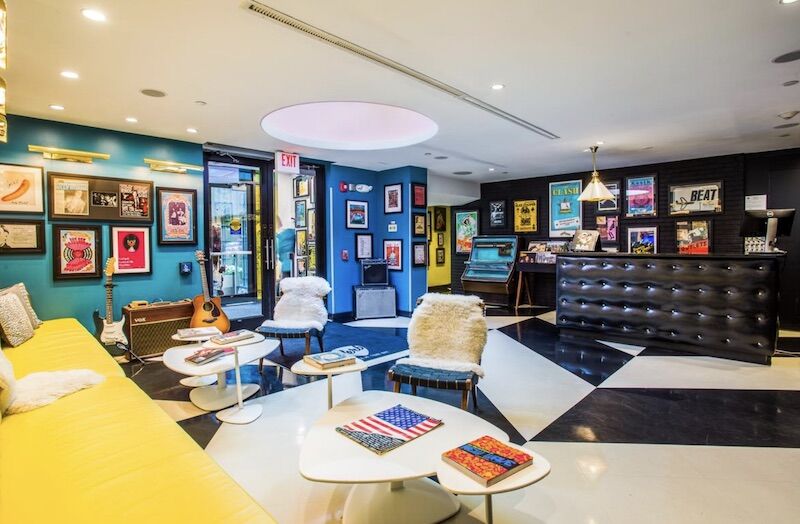 Lobby at The Verb Hotel in Boston.
Boston's got a long history of being a place that fosters indie and live music, but it's never set to rest on its laurels. When visiting, besides checking out the historic Middle East club in Cambridge, check out the Verb Hotel — which is right next to the location of now-defunct legendary alternative rock station WBCN, for Boston music buffs — for a Cliff-Notes primer on Beantown music. This hip but affordable boutique sits in the shadow of Fenway Park and feels like a midcentury music lounge that's moonlighting as a local music tribute. See our guide to Boston here.
10. San Francisco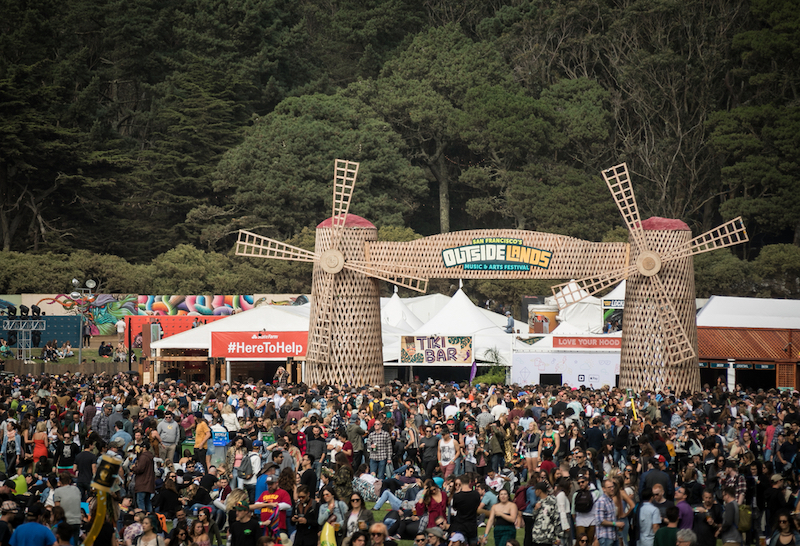 From what you've told us, Outside Lands, Noise Pop, Bottlerock, Mill Valley, 420 Hippie and Hardly Strictly Bluegrass, and iconic record stores are just some of the reasons why San Francisco landed at #10 in our top music cities in America survey, but we're well aware of how great SF is. We hand-picked it as a place to visit in our Where to Go in 2023 wrap, due to its status as a trailblazer in the sustainability movement. If you've never been we recommend you visit. For more festivals and events to plan for this year, see our Festivals page. 
9. Denver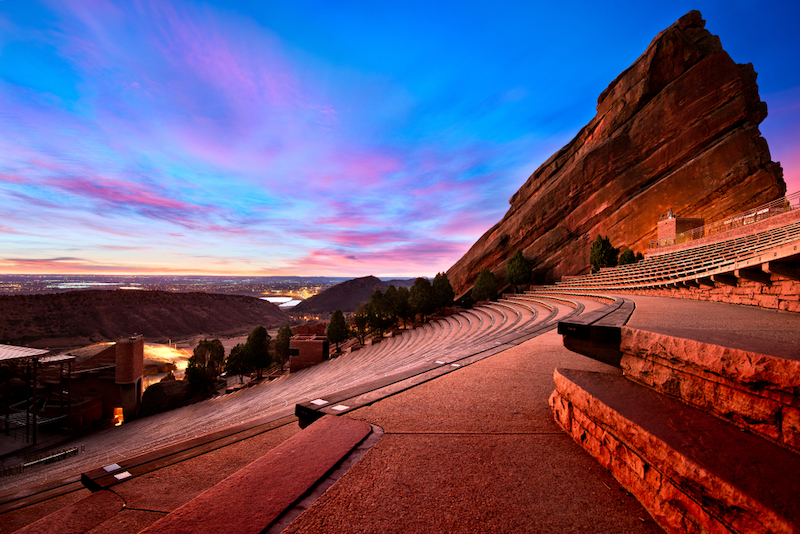 Just 30 minutes outside of the city, Red Rocks Amphitheatre may be America's most unique and naturally beautiful outdoor music venue. Located in Morrison, Colo., the open-air amphitheater is built into a behemoth rock formation and surrounded by sheets of brilliant red sandstone. Inside the Denver city limits is plenty of music, too. The Bluebird Theater is over a century old and still hosting shows. Adele, Oasis, Portugal. The Man, Tame Impala and Vampire Weekend have all played there, along with plenty of other big names and local artists. For a full look at the best things to do in Denver, the #9 city on our list of the top music cities in America, see our guide. 
8. Memphis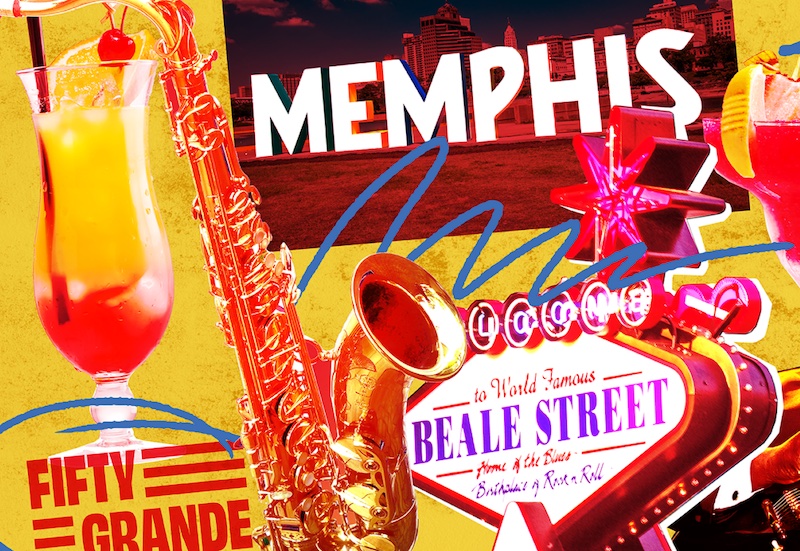 "There's nothing glamorous or trendy about Memphis or the blues," our correspondent wrote about his recent visit to Beale Street. "That's part of the allure. They're the antithesis of the bleached-blonde country music and bachelorette parties up I-40 in Nashville." Get a sense of the city and why it ranked #8 in the survey right here.
7. Chicago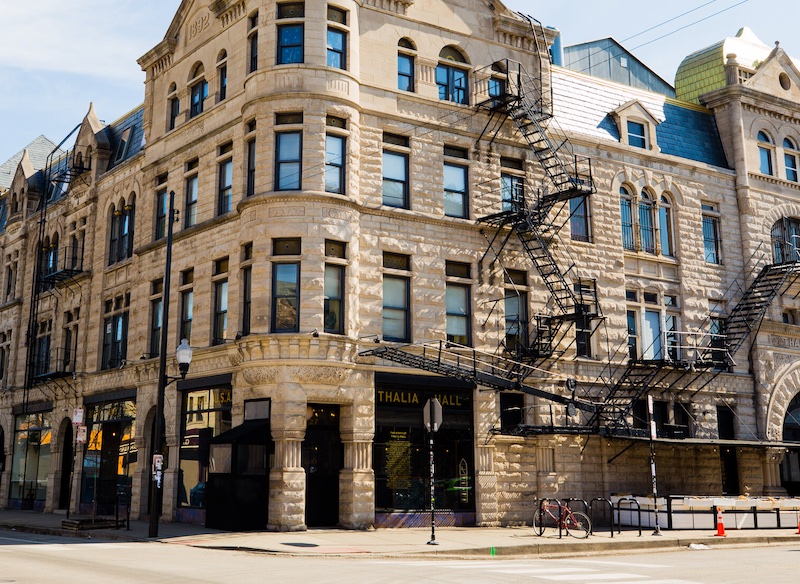 Chicago's Thalia Hall. Chicago ranked seventh in our top music cities in America survey.
When Thalia Hall opened in Chicago in 2013, it wasn't just a venue: the 130-year-old multi-story building houses a primo music hall where fans can catch podcast tapings, rock concerts and sold-out comedy shows, as well as restaurants and bars, including one that specializes in boozy punch. Its marquee restaurant, Dusek's, serves two spaces — a dining room and a tavern — with two separate menus. Check out all the venues across the country with superb food offerings and see our guide to Chicago — complete with a visit of The Vic — right here. 
6. Las Vegas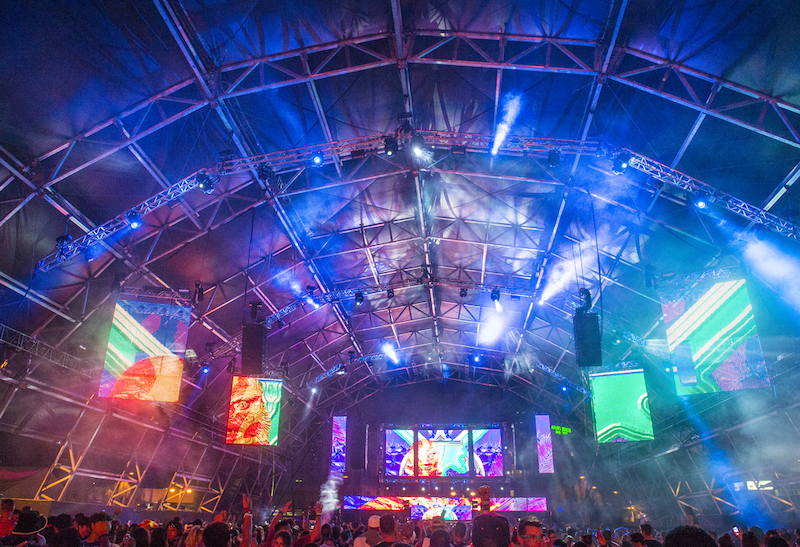 Vegas? Yes, Vegas. Two things exist at the same time: There is the Las Vegas you've heard about — mostly in movies, TV and a wack marketing campaign — and a real Las Vegas. Fortunately for us, they both embrace music. For upcoming festivals, which you'll mostly find around the Strip, see our festival page. For the off-the-Strip places to check out (Artifice, Double Down Saloon), see our guide to the city that ranks #6. 
5. Los Angeles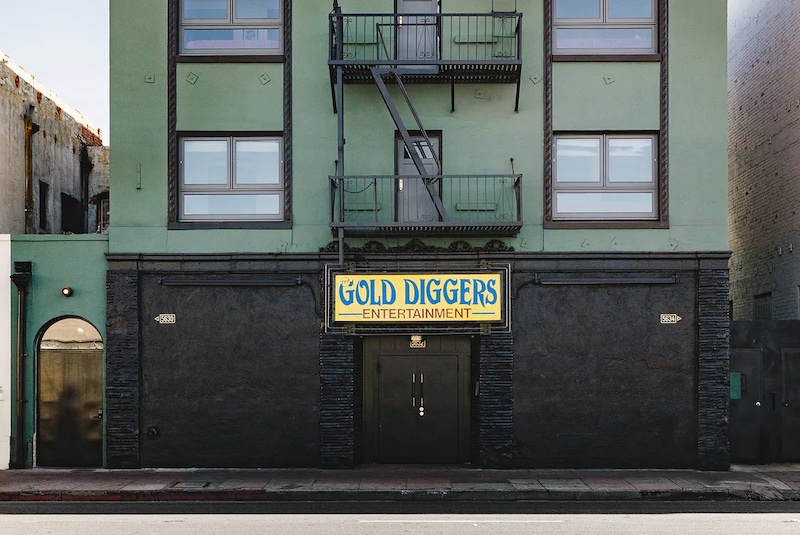 Top music cities in America: #5, LA. The entrance of Gold-Diggers Hotel and Recording Studio in Los Angeles.
We're in top-five territory now. Where do we even begin with LA? *Deep breath* It's home to the "greatest music store in the world," flush with iconic music hotels and hotels with superb soundtracks, and, most importantly to this survey, some of the most iconic live music venues in the country. It's also a mecca for the festival circuit — Desert Hearts, Beachlife, Rolling Loud, Skyline, Skull & Roses are here, for starters, and it's within reach of Beyond Wonderland and Coachella — which we know from our survey is one of the drivers for people to travel. When you're planning your next trip to Los Angeles, you should consider a stay at Gold-Diggers, the unique hotel-studio-bar operation, to immerse yourself in LA's vibe.
4. Austin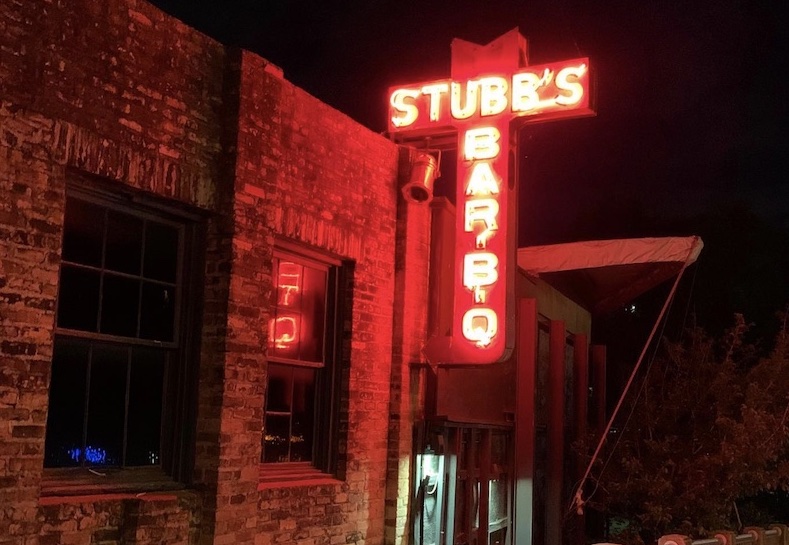 Stubb's in Austin, ranked #4 music city in America.
Austin has long trumpeted itself as the Live Music Capital of the World, and for years, even as recently as 2022, it's been the fastest-growing or one of the fastest-growing cities in the country. It's home to ridiculously mega large music festivals SXSW and Austin City Limits and one of the most iconic music venues in the country, by our estimation. Sometimes music's influence on the city shows up in unexpected ways, too. At the Hotel Saint Cecilia, for instance, you can borrow vintage LPs from a library to play on in-room Rega turntables or chill to the curated 70-song soundtrack of folk, classic rock, jazz, alternative, blues that's unique to the hotel. You can find more hotels that pay special attention to their musical offering here. And if all of that Austin is too much, you can always take a 27-city musical road trip just beyond Austin. 
3. New York
We sometimes expect so much from New York City — which you voted as the #3 top live music city in the country — that it feels like a loss when its not perched at #1 by any measure. But, the city with some of the most iconic hotel bars, iconic live music venues, best music hotels, hotels with hidden musical histories and best bookstores, is anything but a loss when it comes to live music. In fact, rock is blooming again in the city.
2. New Orleans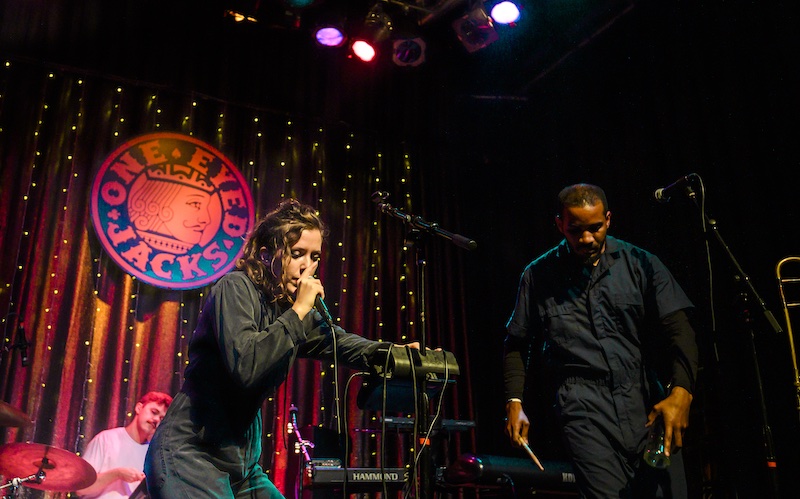 Top music cities in America: People Museum performing in New Orleans, #2 in the survey. Photo by Katie Sikora.
The city voted atop of our best food survey last year is near the top for music, too. Not surprising when you consider the confluence of French, Spanish, African and American influences that make the birthplace of jazz such a unique American city. When you visit, catch the New Orleans vibe at Preservation Hall or a set at the Spotted Cat. There are also artists who have spent their entire careers in the city and state, and they are refashioning New Orleans music anew. We looked at eight artists for you to catch next time you're in the Big Easy. 
1. Nashville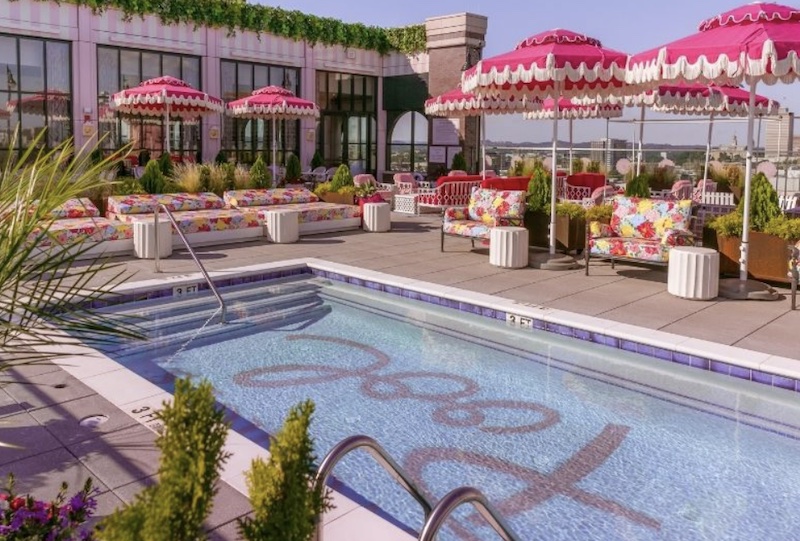 Graduate Nashville in our top music city in America, Nahsville.
At its core, Nashville's always been about music first. It stands proudly in its cowboy boots thanks to its historic country roots, which are on display today at meccas like the Country Music Hall of Fame, Ryman Auditorium and Grand Ole Opry. Its music venues, like the Bluebird Cafe, are the stuff of music legend and where many budding stars have been discovered. But, you clearly know all this, since respondents of our 2023 music survey voted for Nashville more than any other city in the country, as the best place to visit for live music. Before you hit the town, you need to hook up a place to stay and Nashville's hotel landscape has transformed in recent years. To begin planning your next trip, check out the best hotels for music lovers as well as our guide to the city. If you want to get a vibe for a night out before you go, see our weekend of drinking in Music City.