Sometimes, after hearing yet another story about people walking their pet alligators through Wal-Mart, one might wonder, "What on earth would possess anyone to go to Florida?" But then we recall that long before the Sunshine State was known as a hotbed of questionable choices, it was more known for something far nicer: its beaches. America's tropical vacationland is still home to some of the most mesmerizing beaches in the world, and with 1,350 miles of shoreline, finding the best ones can be a tall order. Here are our esteemed picks for the best beaches in Florida.
Anna Maria Island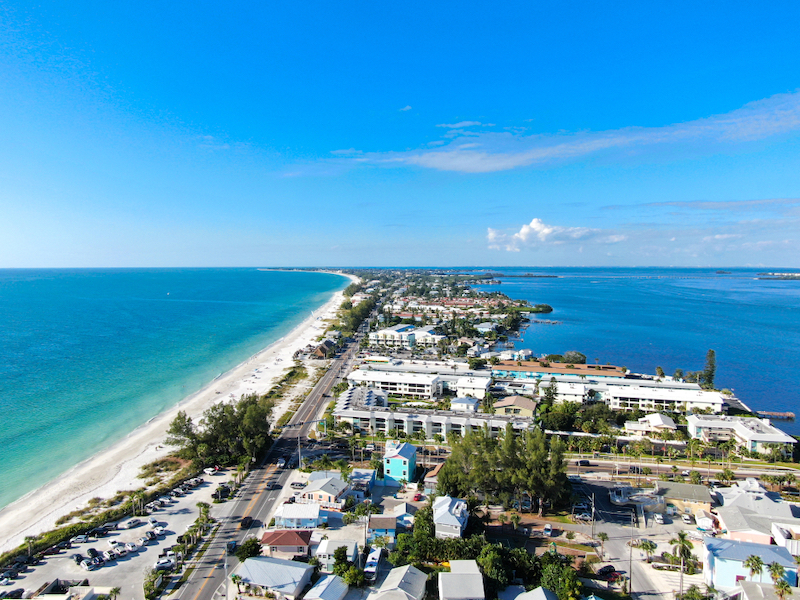 Any western-facing beach in Florida can say it has the best sunset in the state, but Floridians' consensus winner will be the ones on Anna Maria Island. The unobtrusive little island near Bradenton feels like small-town USA was dropped on the Gulf of Mexico, where restaurants with tables in the sand and dollar-bill-covered bars welcome families who've been visiting for generations. Palm and pine trees give the beach on Anna Maria a wilder quality than others along the Gulf Coast, and contrasted against the aquamarine waters it feels almost Caribbean. Don't come here expecting a wild time, but for soft breezes and breathtaking sunsets, Anna Maria Island's tough to beat.
Bahia Honda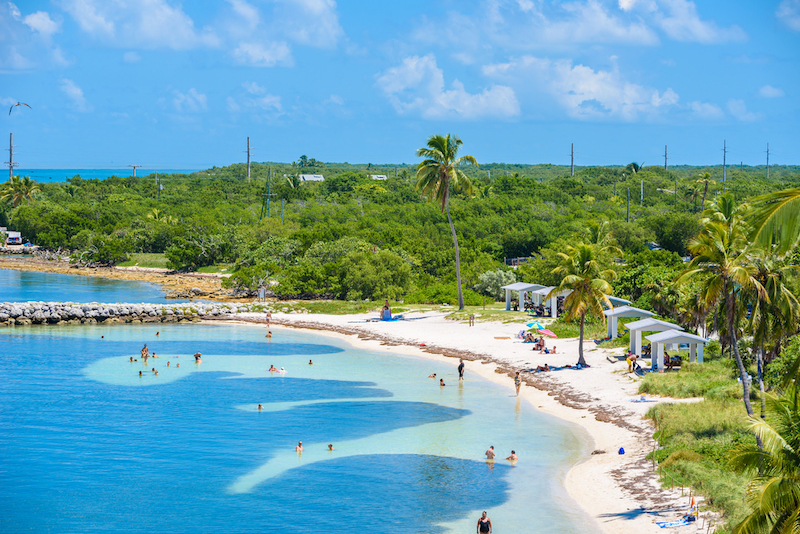 The Florida Keys are a magical place where stress just seems to slip away as soon as you cross the Overseas Highway. But most outside Florida would be surprised to learn the Keys are surprisingly lacking when it comes to beaches. The lone exception is Bahia Honda State Park. The park is really two beaches in one, where you can soak up your sun with a slice of history under the old Bahia Honda Railroad Bridge at Calusa Beach or gaze out at the ocean from the mile-long stretch of white sand along Sandspur Beach. It's also home to some of the best snorkeling in the state, with a colorful coral reef just offshore.
Blowing Rocks Preserve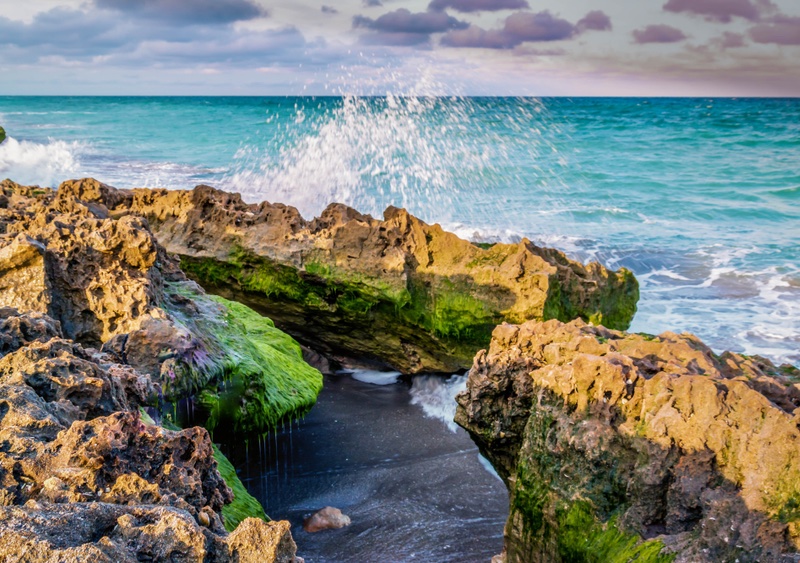 Typically, lists of great Florida beaches are headlined by wide stretches of beach with emerald green ocean and powdery sand. But this beach near Jupiter is special precisely because that's what it's not. Blowing Rocks is a curious collection of Anastasia limestone formations set along the Atlantic coast, where towering waves crash in and create spouts stretching up to 50 feet. It's a loud, angry stretch of coastline that offers a truly different Florida beach-going experience, but it's beautiful and otherworldly in a way no other beach in the state can be.
Cocoa Beach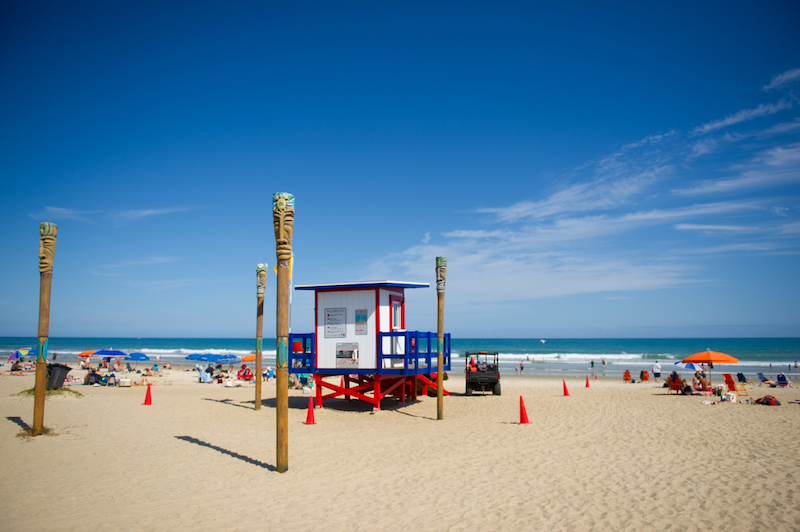 Most of America probably associates Cocoa Beach with shuttle launches, and while it's definitely a great place to rocket-watch, it's also Central Florida's best coastal escape. About an hour east of Orlando, the wide sands here are often filled with families taking a day off from Disney and college kids throwing a tailgate without a football game. The odd juxtaposition somehow works — probably because the beach is so wide — and on the right day surfers also descend on Cocoa, adding to the mix. It's an eclectic collection of sunbathers, even by Florida standards, and a surprising gem to stumble upon during a vacation to the theme parks.
Crandon Park Beach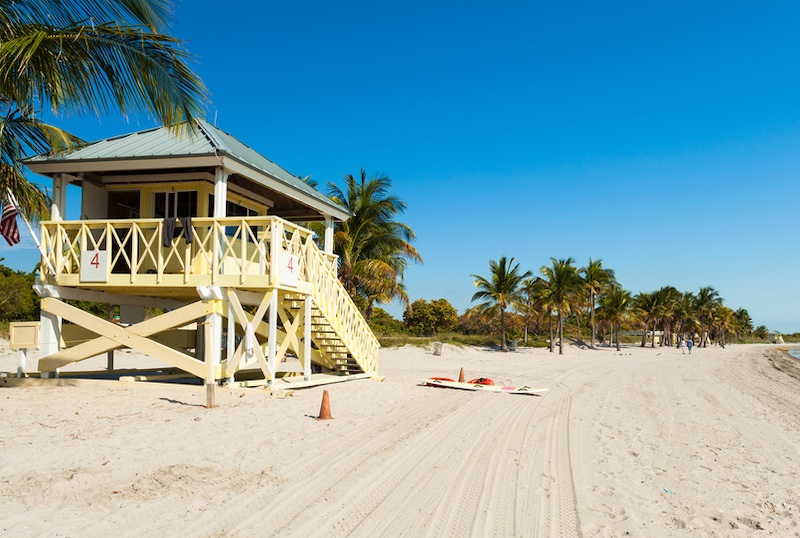 While the rented Lambos and plastic body parts of South Beach are most people's vision of Miami's beaches, the city's best are a little further south. Just across the Rickenbacker Causeway from downtown Miami you'll find Key Biscayne, the far-emptier island paradise that locals love. Crandon Park sits along the serene shores of Biscayne Bay, where palm trees and picnic huts line a bright stretch of soft white sand. The still bay waters make it an ideal spot for paddleboarding, kayaking or even snorkeling. And if you'd rather just lounge on shore, you won't typically be bothered with loud tourists.
Guana River State Park
Perhaps the most unheralded of Florida's beautiful beaches hides in the far northeastern corner just north of St. Augustine. That's where you'll stroll the golden sands of Guana River State Park, the odd Sunshine State beach backed by towering sand dunes, and allegedly the spot where Ponce de Leon first laid eyes on Florida. Whether or not that's true, this beach is a true state treasure, offering expansive stretches of sand with nary a tourist and crashing blue waves. The sand here is natural, so the crushed-shell surface can run a little coarse. The upside is it's also one of the best spots in the state to find shark teeth.
Marco Island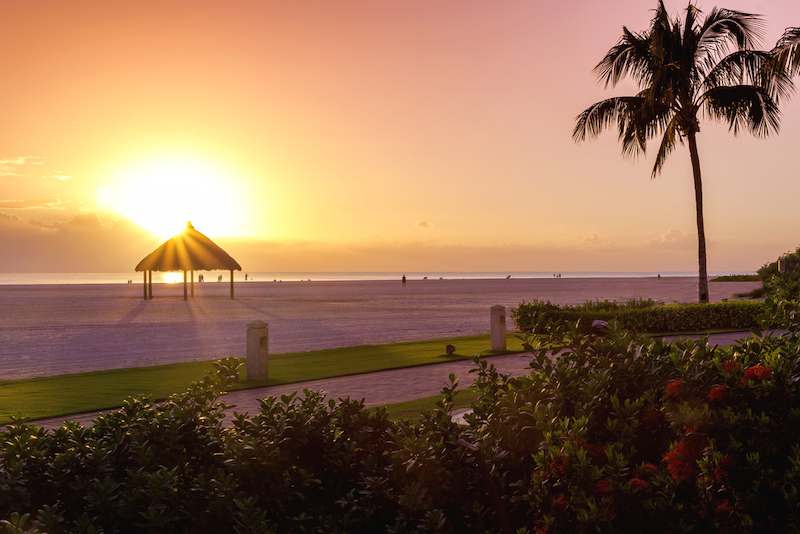 The edge of the Everglades meets the soft sands of the Gulf Coast at this tropical paradise just west of Naples. The last of the Ten Thousand Islands offers some of the best shelling in Florida, where a barefoot stroll along the silky sand will have you picking up intact shells from all varieties of marine life. It's also the odd Florida beach where you can jump on a Jet-Ski and find yourself smack in the middle of the Everglades, where mangroves, roseate spoonbills and the occasional alligator await. Back on land, you can enjoy the sunset from the Kane Tiki Bar, a seaside hut from the JW Marriott with one of the best rare rum collections in the country.
Panama City Beach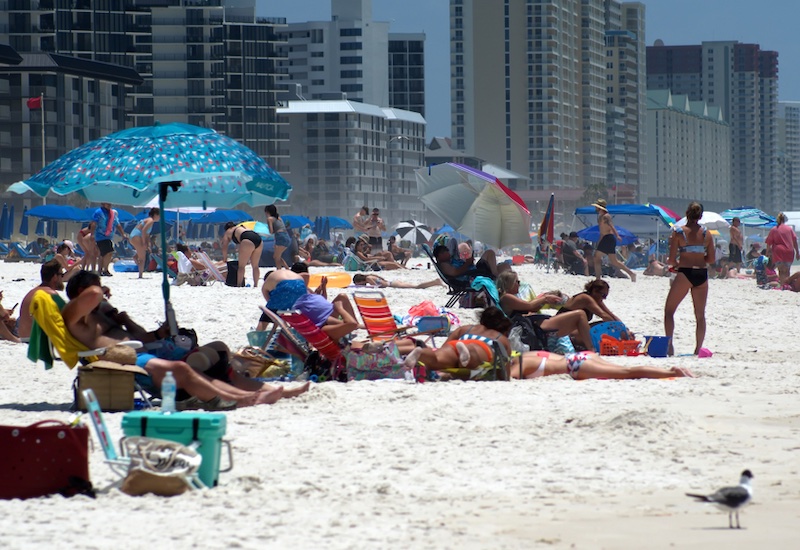 Despite its longtime reputation as the place for half the SEC to play beachside beer pong, Panama City Beach boasts an absolutely spectacular shoreline. It's cleaned up its spring break reputation, and now a trip to PCB rewards visitors with calm, turquoise waters and 27 miles of powdered sugar sand. The Gulf of Mexico is endlessly inviting, but the waters off the shore aren't just a pretty tableau of blues and greens. They're also home to one of the largest populations of bottlenose dolphins in the world, who can often be seen leaping towards the sky not far offshore.
Siesta Key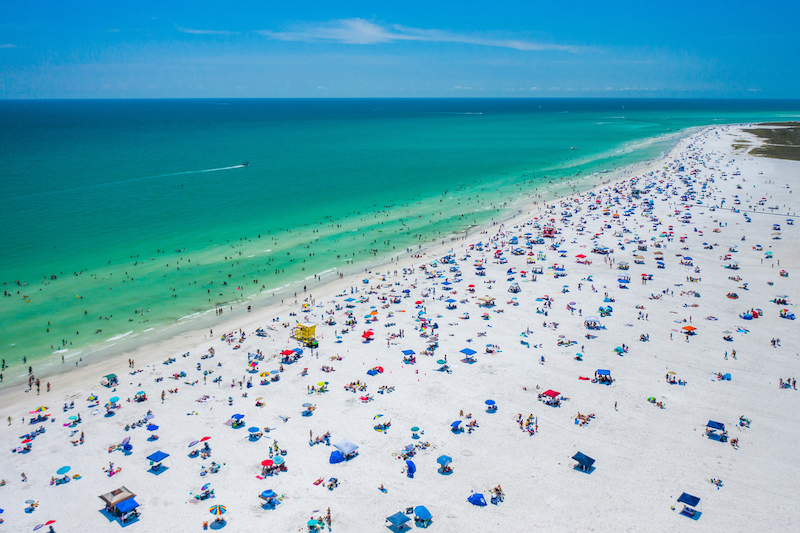 Dubbed the Best Beach in America by the illustrious Dr. Beach in 2011, this little island just south of Sarasota brings the best combination of soft sand, beautiful water and stunning sunsets in the state. Sure, it may also have garnered itself a reality-show rep for being home to over-indulged children and careless wealthy parents. But spend an evening with the salty locals at the Siesta Key Oyster Bar and you'll learn that's just made-for-TV malarkey. Siesta Key is the model for laid-back vacation paradise, and a no-fuss place for family vacations, retirement or a lower-key spring break.
St. Andrews State Park
Sometimes you want some outdoor action during your beach vacation, and if that's the case St. Andrew's State Park might be the best spot in the state. The park offers five different landscapes, where guests can hike through pine forests, bird-watch in marshland and relax on a pristine barrier island all during the same visit. The small island between the Gulf of Mexico and St. Andrews Bay is home to a great variety of wildlife, a popular stop for egrets, herons and other migratory birds, as well as alligators who lounge around the park's manmade lake.