This story appears in the Unplugged issue, in stores February 28 and available here.
Cincinnati's historic Over-the-Rhine neighborhood is distinct for its hidden infrastructure of 150-year-old lager tunnels German immigrants built to keep beer cold. Prohibition shut down the breweries lining the streets above, and modern refrigeration robbed the tunnels of their purpose. Gentrification followed, and as the brewers moved elsewhere, the tunnels were repurposed or altogether lost. But when a new tunnel was unearthed in 2012, entrepreneurial developer Josh Heuser saw an opportunity to build Ghost Baby, which has turned out to be the most applauded Cincinnati bar since Japp's, the city's last most lauded and nationally recognized cocktail bar, which opened in 2010 when drinks historian Molly Wellmann repurposed a 19th-century wig shop.
Urban legends don't form overnight, however. Heuser — who co-founded Cincinnati's popular BLINK Festival and just broke ground on his first hotel, at FC Cincinnati's TQL Stadium — didn't acquire the space until 2018, and there were some notable setbacks along the way, including the persistent cries of a mischievous apparition, amplified by the tunnel's pin-drop acoustics.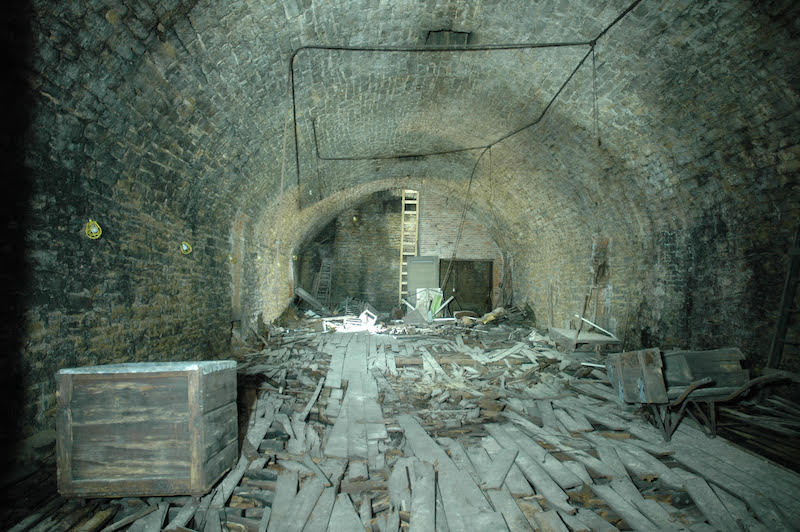 "Folklore states that construction started, a worker was hanging lights across the ceiling, and when he hung the second light he heard something shatter," Heuser recalls. "When he looked back he saw the first bulb had blown, and when he looked up, he saw the little feet of a ghost work their way up his ladder. He left the space and swore he'd never return."
That hasn't scared off the regulars who seek out twin purple lamps outside an unmarked door along Republic Street, and make their descent to The Rattle Room, a casual cocktail bar in the shape of a baby's rattle, serving grown-up pacifiers like smoked old fashioneds and Jell-O shot Cosmopolitans, before taking a peek behind a velvet-curtained archway hiding The Den, which evokes two eras of bygone decadence; swank 1920s supper club banquettes line cavern walls bathed in jewel-tone light channeling 1980s Miami.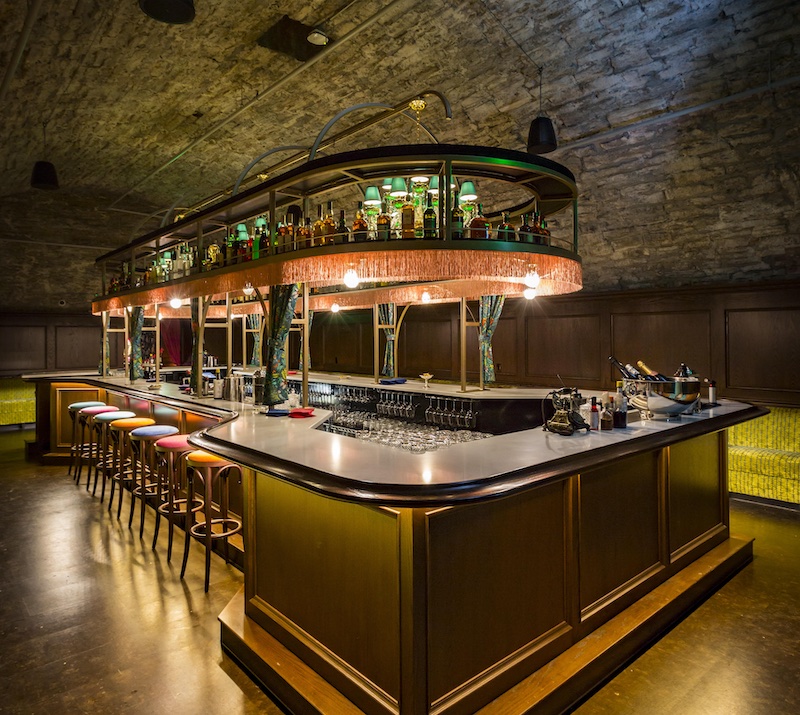 Ghost Baby's unique architecture means it could only host unplugged musicians and alternative performances; however, Ghost Baby booker Justin Hailey, himself a local musician, was up to the challenge, conscious of how OTR was once a hub for local opera and vaudeville acts.
"We've been fortunate to partner with organizations like the nearby Cincinnati Symphony Orchestra and Queen Bee Cabaret to keep things fresh, and while I know there's no way to predict what guests might dig, I strive for artists that are thought-provoking as well as pleasing to the senses."
The stage has been a boon for a cross-section of unconventional talents that play the backroom Den five nights a week, including open-mike exhibitionists, renowned bullet-catching mentalist Banachek and torch-song vocalists who can capture an audience like Julee Cruise playing the Roadhouse in "Twin Peaks."
In fact, Ghost Baby isn't so different from Silencio, the Paris nightclub designed by "Twin Peaks" creator David Lynch, who transformed another unearthed subterranean environ into a spooky-sexy nightclub where '90s hip-hop classics are paired with potent Negronis six stories beneath 142 Rue de Montmartre in Paris' Second arrondissement.
Silencio is rumored to share its space with Molière's corpse, but it's hard to hear him rolling over in his grave when the room is bouncing to Biggie.
While the stage acts at Ghost Baby have no choice but to unplug, there are technological advancements within. Wi-Fi ensures tornado warnings and frustrated texts from friends running late because they can't find the front door will all find their way to the sub-sub-sub-sub-subbasement.